Suddenly found yourself stuck at home for the next few weeks?


No worries, these Famous museums offer virtual tours that are not only a lot of fun to check out but also a supplement to your child's learning.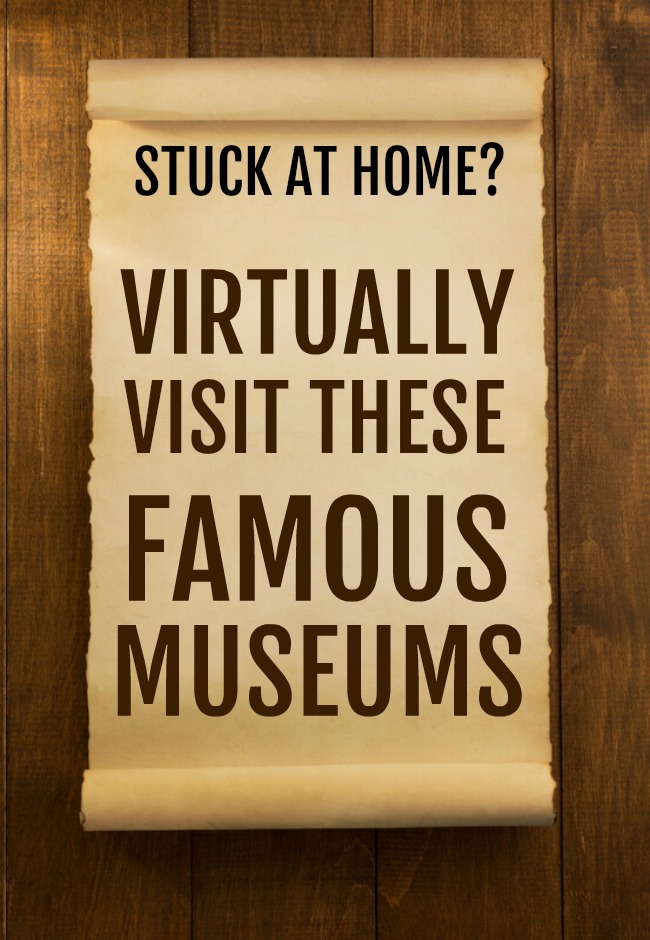 You can choose from various virtual museum tours from London to Mexico and experience them from the comfort and of course, the safety of your own home.


Naturally choosing to self-quarantine and social distance yourself at this time can pose a lot of issues, including having enough food and supplies to last you but also in terms of finding ways to entertain your whole family.


You may find that boredom sets in quickly and start looking into ways to bust the monotony without spending all your time watching Netflix.


Google Arts & Culture has you covered with a great way to get a little culture and education at the same time by teaming up with museums and galleries around the world to bring you virtual tours and online exhibits.


This collection is especially good for parents and students who are looking for ways to stay on top of their studies while schools are closed.


Best Virtual Museum Tours to take when Social Distancing at Home!


British Museum, London




Located in the heart of London, the British Museum allows virtual visitors to tour the Great Court and discover the ancient Rosetta Stone and Egyptian mummies. You can also find hundreds of artifacts on the museum's virtual tour.


Guggenheim Museum, New York


Google's Street View feature lets visitors tour the Guggenheim's famous spiral staircase. You can also discover works of art from the Impressionist, Post-Impressionist, Modern and Contemporary eras.


National Gallery of Art, Washington, D.C.


This famous American art museum features two online exhibits through Google. One that I found really interesting is the exhibit of American fashion from 1740 to 1895, including clothes from the colonial and Revolutionary eras.


Musée d'Orsay, Paris


This popular gallery houses dozens of famous works from French artists who worked and lived between 1848 and 1914. Get a peek at artworks from Monet, Cézanne, and Gauguin, and others.


Pergamon Museum, Berlin





As one of Germany's largest museums, Pergamon has a lot to offer. This historical museum is home to plenty of ancient artifacts including the Ishtar Gate of Babylon and the Pergamon Altar.


Rijksmuseum, Amsterdam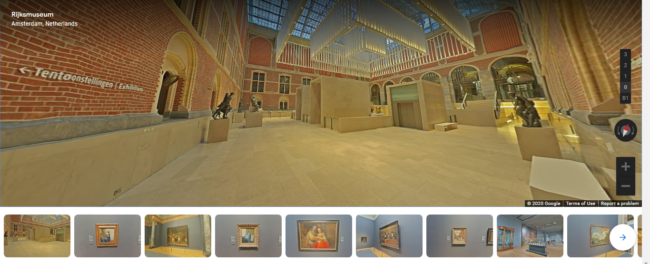 Google offers a Street View tour of this iconic museum, so you can feel as if you're actually wandering its halls. Explore the masterworks from Vermeer, Rembrandt and more.


The J. Paul Getty Museum, Los Angeles


European artworks from as far back as the 8th Century can be found in this California art museum. Take a Street View tour to discover a huge collection of paintings, drawings, sculptures, manuscripts, and photographs.


National Museum of Anthropology, Mexico City


Built in 1964, this museum is dedicated to the archaeology and history of Mexico's pre-Hispanic heritage. There are 23 exhibit rooms filled with ancient artifacts, including some from the Mayan civilization.


To see even more of Google Arts & Culture's collection of 500+ museums, visit the collection's website.


Some more posts you might find helpful…


Summer Science Experiments

Best Family Board Games

Indoor Activities for Kids