This is a sponsored post written by me on behalf of Clorox. All opinions are 100% mine.
With a 7 year old daughter who loves playing outside and getting as dirty as she can possibly get at all times Clorox Bleach is a staple in our home. I use clorox for all sorts of things from cleaning up mildew in the bathroom, cleaning plastic toys and I even use it to keep my flowers nicer longer. It has so many great uses but of course my favorite one is to keep my whites looking white. Especially the socks around here. We won't mention how dirty those get.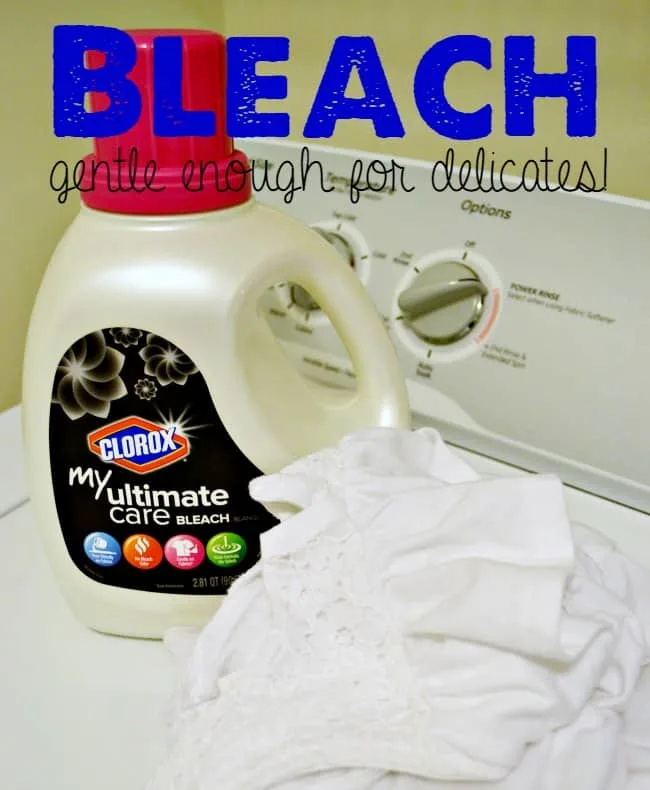 I recently tried out their new Clorox MyUltimate Care Bleach and now I have a new favorite use, keeping my delicate whites looking great. I know that I have always been a little leery about using bleach on anything that was very delicate because well it is strong enough to clean my mildew from my bathroom. However, this MyUltimate Care bleach is specifically for delicates and I loved it. Now I don't have to worry about ruining those clothes but I can get all of them looking bright instead of dull and blah.
I have always trusted the Clorox brand and this new product is just another hit for their books. I also like that it doesn't have that bleach odor which means I can smell the detergent and fabric softener in my whites too. Yay! You can also pour it directly onto your fabric it is that gentle and you don't have to be afraid of the splashing either.
Of course like any other cleaning agent you should always read the label. The label isn't there for giggles it is there for your guide to use the product safely and effectively.
The Clorox MyUltimateCare Bleach is forumulated to pre-treat stains and gently whiten your most delicate fabrics. If you want to give this bleach a whirl then you can find it exclusively available at Target.