So I have a hundred and one errands to run today so just a super quick post. Ok, so maybe not quite that many but it feels like it.
I just wanted to post real quick on my hubby's DIY Dry Erase Board. If you are new or don't recall me saying before my hubby is an Army Recruiter and they needed a new (larger) Dry Erase Board in the office. Apparently the large ones retail for $200-$300ish dollars and while the Army tends to spend money on the most random wasteful things they weren't willing to spend money on something that could actually be useful. Go figure!
After doing a little investigating my hubby found out you could get large sheets (4×8) of "Mark R Board" at Lowe's for the low price of fourteen dollars. Sweet! So this past weekend he took a few minutes and made him and the guys he works with a custom board. This board is huge at 4×6 so obviously not the size for everyone but they did have smaller precut sizes if you didn't want to mess with a large piece.
The hubby just attached a wood frame around and some support in the back so the total cost was right around $20. I'm actually glad the Army didn't pay for a $200+ board because wow that is way overpriced compared to a simple (30 minutes at most) DIY project. I even had a 2×4 piece left over for my own purposes. 😉
Here is the one and only picture (sorry a little blurry) that I snapped right as he was getting ready to load it up and take it to the office. haha!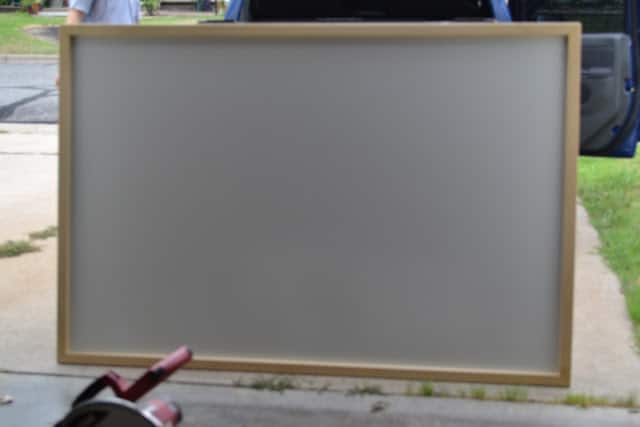 Has anyone else made them a DIY Dry Erase Board?
I've done the white board behind a glass frame style but I really had no idea that Lowe's carried this type of stuff. I think i'm going to have him frame out the leftover piece and use it in the office.