Choosing the correct makeup foundation can be daunting and a real pain in the butt. Especially when you are choosing from numerous shades, coverage, and something that will work for oily, dry or normal skin. You want to look natural and like you're not wearing foundation as opposed to a fake tan on your face that doesn't match the rest of your body.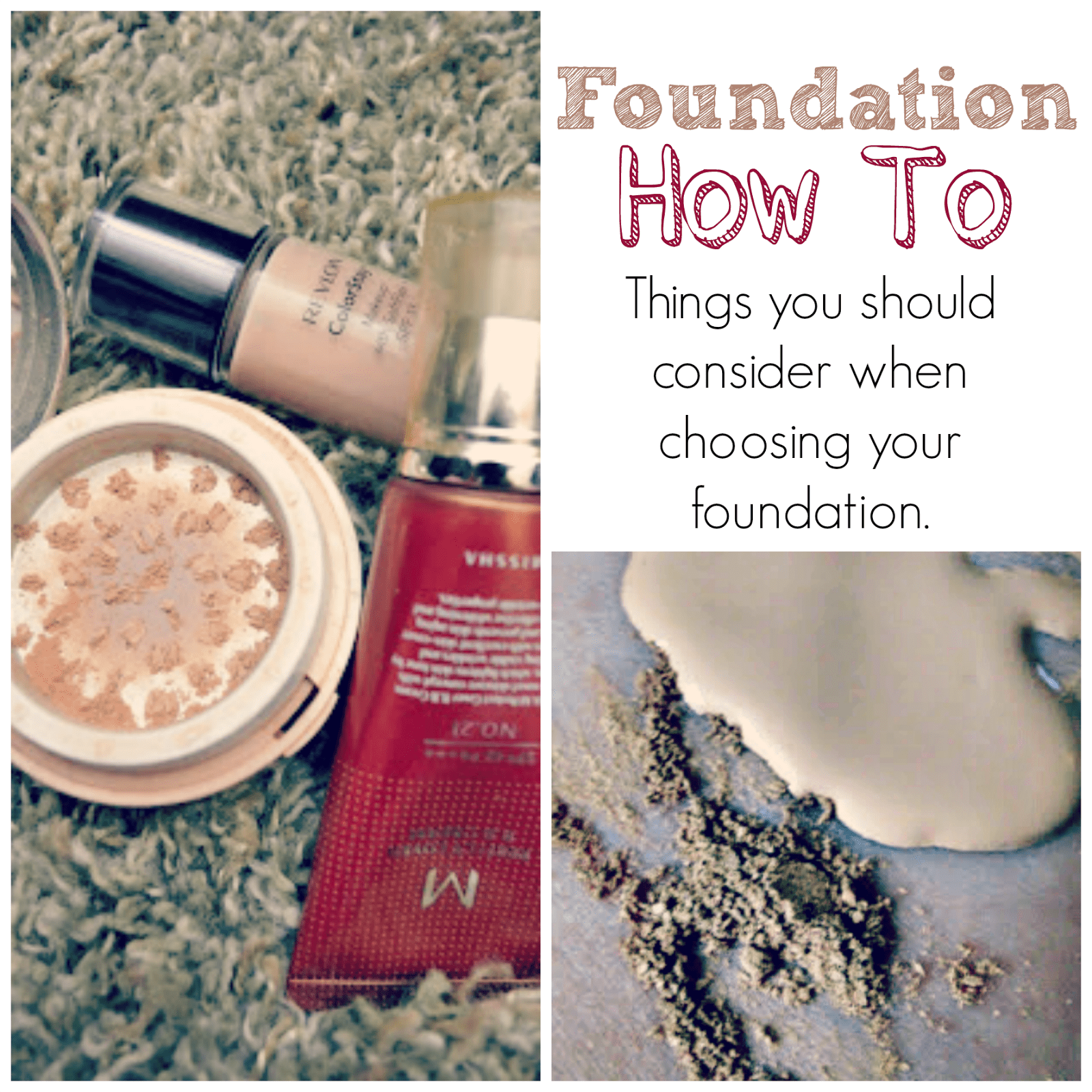 Which formula will work the best for me?
There are all kinds of foundations, which is just another ticker on the pain in the butt process of finding the right one to work for you.
Liquid and cream foundations, if you have dry skin, like myself, these foundations are going to be the best option for you. They will help hydrate your skin and keep it from looking flaky. If you tend to still have problems with flaky skin even with liquid/cream foundation then a good foundation primer will help as well.
Pressed powder, liquid to powder, or mineral foundations, these foundations tend to leave a matte finish, which works great and the best choice for those who have oily skin. These foundations will also work well for those who have normal skin who want that matte foundation look, often great for women who have signs of aging.
Mousse/Airbrush foundations, these are pretty new in terms of foundations. They are made to sit on the skin and mask the look of wrinkles, lines, scars, etc. This type of foundation is made for those of all skin types.
So I know the type I need, how do I match my skin tone?
You want your foundation to be invisible on the skin, or nearly invisible. If you can see a line, so can everyone else. The key is not trying to cover up your problem areas but to make them appear less noticeable. Don't try to match your dark spots because it's just going to make you look super unnatural and cakey. This is why concealer plays a big role. You want your concealer to be a shade lighter than your actual skin tone to counter dark spots.
Fair and ivory skin can be a little tricky because you would think they are the same but they aren't really. While they are both characterized by the paleness and sensitivity to the sun. Fair skinned people are usually warmer and more pinkish in color. Whereas, ivory skin tends to be more cooler. Flip your wrist over and give your veins a look. If they are more greenish then your undertone is probably warmer, more blueish, cooler.
Olive and medium skin is typically warm and various shades darker than fair and ivory skin. These tones respond to sun by tanning as opposed to burning.
Dark skin also has a broad range of shades which range from light brown to dark ebony.
Knowing what tone you belong in is the easy part. Picking the right shade is a different story. Don't just guess your skin shade out of various shades, go where testers are available and try them out. When you have found the right foundation it will have "disappeared" leaving a even and smooth look. If you can't find that perfect shade don't hesitate to buy a shade lighter and darker to find your perfect blend.
Another important note is that your skin changes with seasons, sometimes dry and sometimes oily, light and darker. Don't commit yourself to using one foundation all year long. It is likely you will need something different for different times of the year.
Do you have a problem finding the perfect foundation for you or have you found the one that does the trick?