As I type this i'm getting ready to head out for a 10 hr drive to go see my family. I'm sooo excited!! I haven't seen everyone (other than video chating) in 6 months. So this is just a heads up that next weeks posts will all be pre-scheduled. I will be checking in and commenting but it may not be as quickly as normal.
On to the good stuff…
We finally finished my moms bench and it is in the truck loaded and ready to bring to her. I'm not sure what she is excited about more us coming to visit or her bench. Haha! Just kidding… She just wants to see her grandbaby. Shhh… just don't say baby around my 4 year old. 😉
**don't mind the messy background**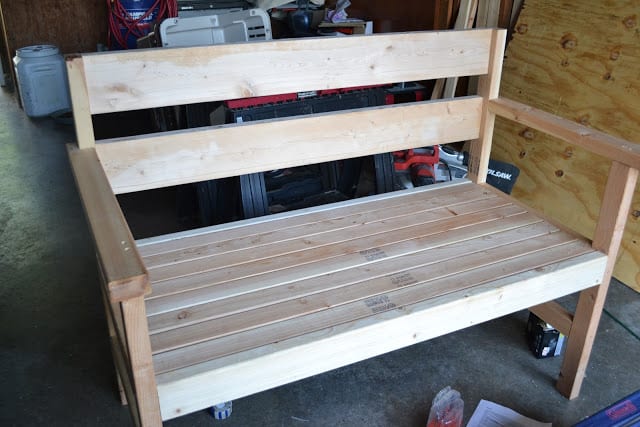 The bench still needs to be sanded and we are leaving it unfinished for now so that my mom can choose to finish how she wishes. Once she gets it all fixed up i'll have her send me a pic so I can show the completely finished product.
If you are interested in building this garden bench for yourself you can find the plans we used here.
I hope you all have a great weekend. I know I will! 🙂
**TN BOUND**