Slowly but surely every part of our new place is coming together. The unfortunate thing is one of the last rooms in a disarray is the home office, where I spend all my time blogging.
Here is what it looks like as a type this….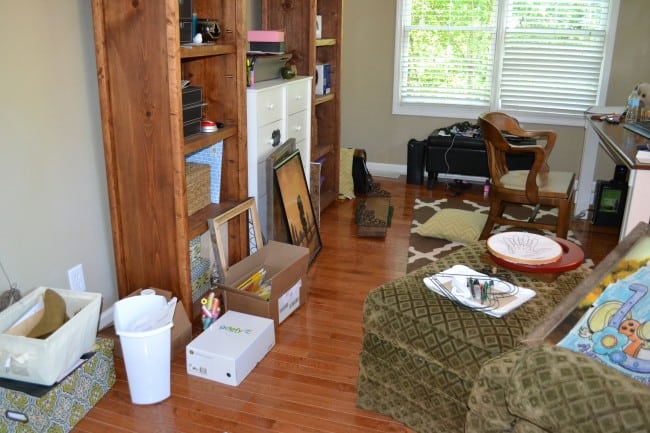 Yeah, not pretty and definitely lacks any organization. Good thing I have a nice view out my window otherwise I would be suffocating in a pile of mess. At least one thing came out of this messy room and that was the inspiration to write a blog post. One that shares with you my mood board for how I plan to get this room on track. You know until it strikes again and I want to redecorate.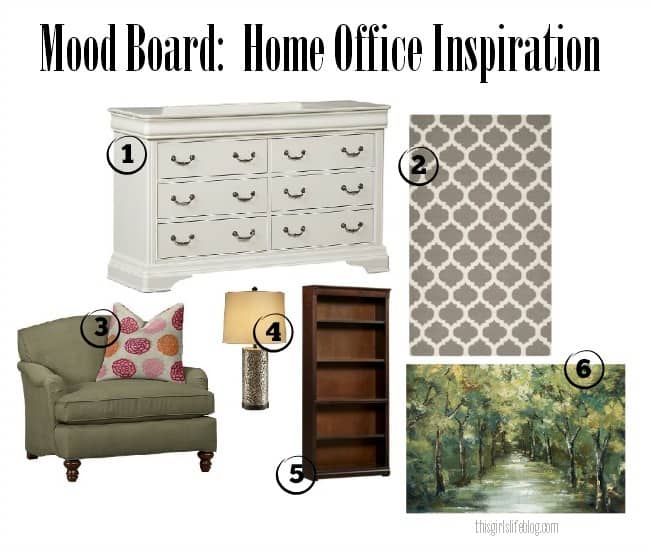 My plan is to use a dresser for all of my arts and crafts storage. Each drawer dedicated to different areas. So I will have drawers for stamps/stencils, paints, glues, ribbon/trim, etc. I love my desk despite it currently being cluttered but I do plan to put a bookcase in the corner so I can keep my stuff that I reach for often like my printer, mail and various other papers tidy. I want a great piece of art to display over the dresser so that when everything is put away this area can be used for a place to relax and read. Which is why I want a great reading chair to snuggle into. Of course I will want to get a few accessory pieces like a lamp and then a rug to tie it all together.
Here are the inspiration pieces that I found.
1. Orleans Dresser
2. Ravenna Rectangle – Area Rug​
3. Melody Matching Chair
4. Elgin Table Lamp
5. Ridgeway Bookcase
All of these inspiration pieces I found at Havertys and even better they are currently running a Labor Day sale.
How do you keep the decor in your home on trend?
They would love for you to share your purchases on Instagram using the hashtag #HavertysInspired.
You can follow or like them on their various channels.
Website | Mobile Site | Blog | Facebook | Pinterest | Twitter
Havertys helps you bring your vision to life. Visit Havertys.com to find a store near you, detailed product information and design tools to guide you in your home decor purchases.
This is a sponsored conversation written by me on behalf of Havertys. The opinions and text are all mine.