Disclosure: This post was sponsored by the maker of OxiClean™ through their partnership with POPSUGAR Select. While I was compensated to write a post about their Max Force™ Laundry Stain Remover, all opinions are my own.
It is inevitable that stains happen and they happen at all stages of life.
Whether you have a newborn who is staining onesies with spit-up, a toddler who is getting spaghetti sauce all over their brand new outfit, or a big kid who comes home from school with who knows what on their clothes to even a teenager with sports stains. That's right… the stains are never ending.
Even as adults we manage to get plenty of stains on ourselves, grease stains from cooking, grass stains from working in the yard, etc. So that is why we are all wondering how to remove tough stains. I bet we have all googled it at some point, right? My daughter comes home from school with grass and dirty stained knees all the time. I remove those tough stains with one name, OxiClean™.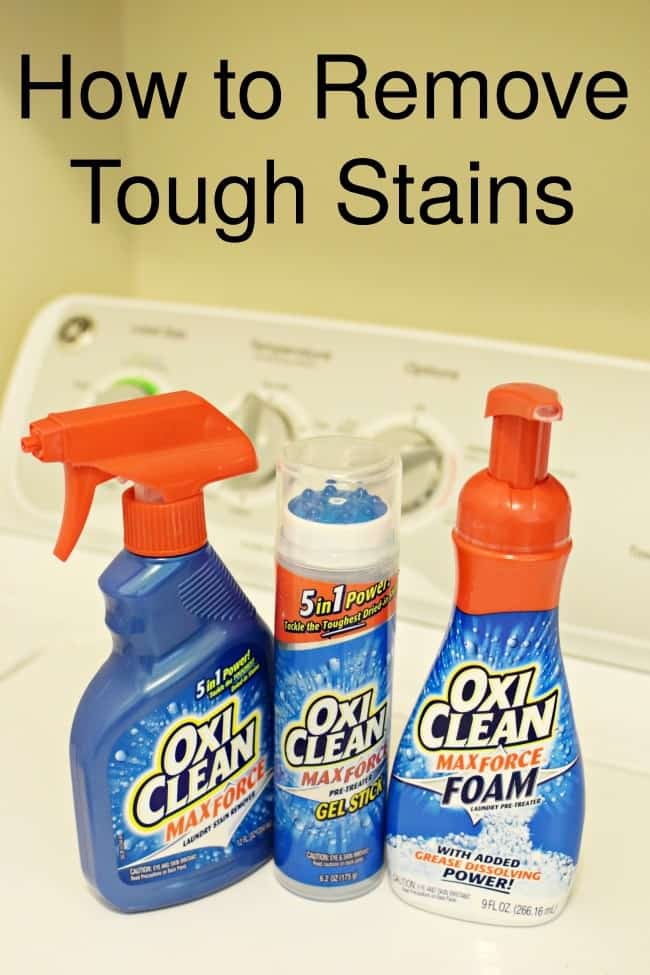 Pretreating is the best and easiest way to remove stains. OxiClean™ has a wide variety of awesome Max Force™ Laundry Pre-Treaters.
How to Remove Tough Stains!
Max Force™ Gel Stick
The Max Force™ Gel Stick is a great pre-treater for uses on things like grass, chocolate, perspiration, BBQ sauce, mustard and more.
My daughter played t-ball when she was younger and she probably spent more time playing in the grass than playing the actual sport. Needless to say she had grass stained knees on her little ball pants every week. Normally that would be a headache to get out but by placing a little Max Force Gel Stick™ directly on the stain then allowing it to stand for 5-10 minutes before washing they came out crisp and ready to go again.
Max Force™ Trigger
The Max Force™ Trigger is another great pre-treater. This one is perfect for blood, spaghetti sauce, chocolate, BBQ sauce, mustard and more.
Spaghetti sauce, that is another stain that is going to be a given when you have kids. Who doesn't have that one picture of your kid with a face full of spaghetti and ultimately all over their cutest little outfit? No problems taking care of that though. Just spray on the Max Force™ Trigger pre-treater, let stand for 5 minutes or you can even go up to a week and wash with warm water. That cute outfit will be back to cute in no time.
Max Force™ Foam
The last but certainly not least OxiClean™ pre-treater is the Max Force™ Foam. The Max Force™ Foam is great on tough grease stains like cooking oil, food grease, butter and more.
As a mother who cooks for her family daily (well lets be real, almost daily) getting cooking stains or grease stains on my clothes is a given. I love that all I need is a pump or two of the Max Force™ Foam, gently rub it in and wait 5 minutes to up to a week before I wash, and it will make my clothes come out like new again.
For all three of these pre-treaters, they should be tested in an inconspicuous area prior to using. You can use them on white and colored fabrics. Although please do not use them on silk, wool, leather or fabrics labeled as dry clean only.
Treat stains with OxiClean™ Foam while they are fresh, or as soon as possible. For set-in stains, allow foam to penetrate overnight, or up to a week.
Although stains can be super stubborn, OxiClean™ makes them easy to be dealt with at every life stage. Just be sure to get to the stains as soon as possible. The sooner you get to the stain, the easier and more likely to get it removed.