This is a sponsored post written by me on behalf of Tooth Tunes.
I don't have the best dental genes to be quite honest so it is really important to me that my daughter learns how important it is to take care of her teeth. The unfortunate part is that teaching kids how to have good dental hygiene can be frustrating. It is usually much easier to just brush them yourself but they want to be big kids and do it on their own as well as you want them to learn to do it on their own. Here are some fun ways to get your kids learning how to properly take care of their teeth and encourage them to continue to do so.
1. Explain the importance! How are they going to know why they should brush those pearly whites if they don't know why they should do it to begin with. If you know someone who has had a bad bought with their teeth then maybe that would be a good story to share.
2. Make it a contest! What kid doesn't like to play a game? Start a who can make their teeth look the whitest or who can make their teeth really shine contest. That will get them brushing their teeth just to see if they can win and really everyone wins.
3. Dissolving Agent! Show them exactly what and where that plaque and yuckies are hanging around. They may have white teeth and not think that they need much brushing but showing them will be a big help.
4. Fun toothbrush and toothpaste! Let them choose which toothbrush and special toothpaste they want. I know it is a lot easier to just buy the cheap stuff and be done but if you have to spend a little more for a character toothbrush to bribe your child into brushing their teeth well this will be money well spent.
5. Toothtunes! The recommended brushing time is 2 minutes. I can barely get my daughter to do anything for two solid minutes but with the help of tooth tunes and hearing music in her mouth she would probably brush for 10 minutes. Not only does she brush the full solid 2 minutes she looks forward to brushing her teeth in the mornings and again at bedtime. Clearly it's not because she is all about great dental health at this point. She just loves the music and right now that is ok with me. The toothbrush is getting her to brush without a fight and in turn that is building a healthy habit. At the end of the song a little character comes on and goes "Yes"… Like yay you did it!! Keep them motivated for the next time around, right?
All of these tricks are great but the best is modeling good behavior. Your kids learn from YOU! When you show that you care about your teeth and make it look like fun your kids will in return want to do the same thing.
Which means you know I had to get in on the tooth tunes to set the good example right? Okay okay… I really just wanted to rock out to "Rock & Roll All Nite" by KISS and who am I kidding, it was awesome. 🙂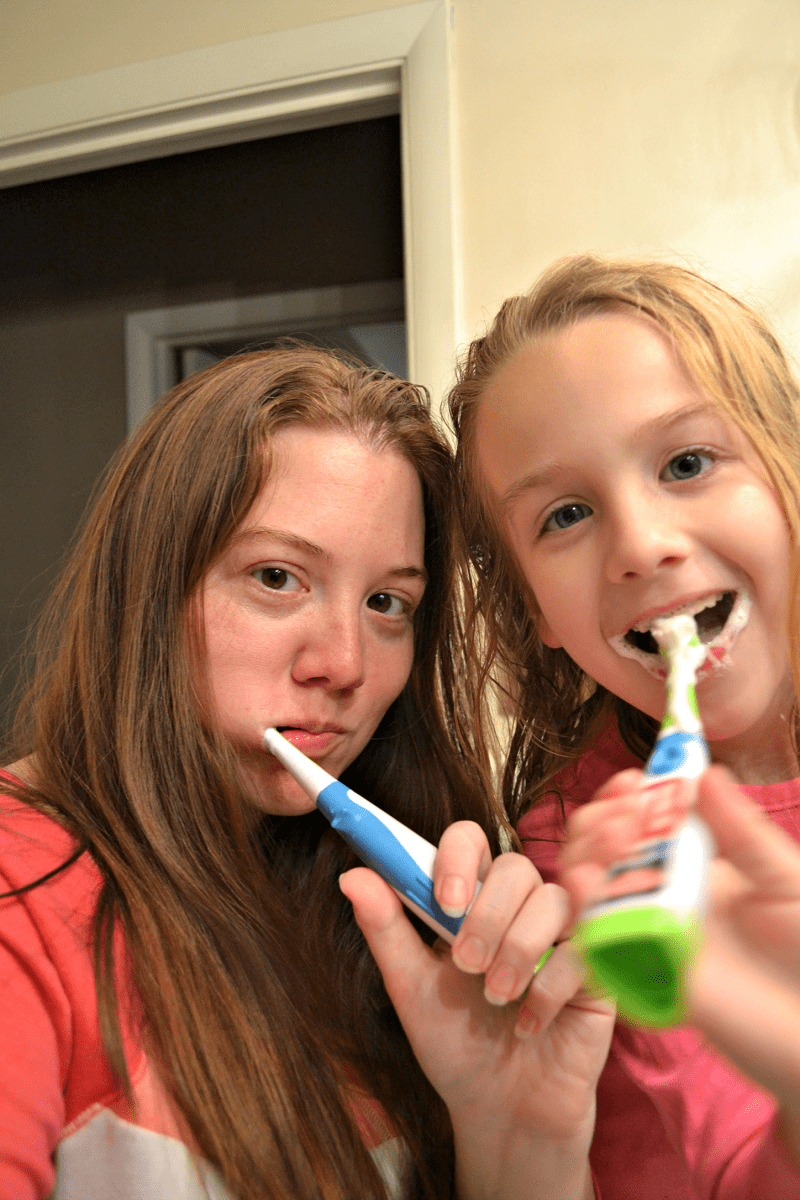 My daughter was listening to One Directions "What Makes You Beautiful" on hers and hello what 1Directioner wouldn't love that?
It is almost Easter but you still have plenty of time to sneak a couple of these fun toothbrushes in their baskets. You know since they are going to be eating all that candy the bunny brings them.
What is your best tip to get kids to brush their teeth?
For fun….What song would you want your #toothtunes to play?
This is a sponsored post written by me on behalf of Tooth Tunes.