I have seen animal storage jars at several different places on the web and pinned them for office inspiration knowing I wanted to do something similar but with of course my obsession, birds.
I found these 2 little birds while doing some shopping in Estes Park, Colorado back a couple of months ago and knew exactly what I was going to do with them. The birds didn't come white but spray paint is always my right hand friend. 😉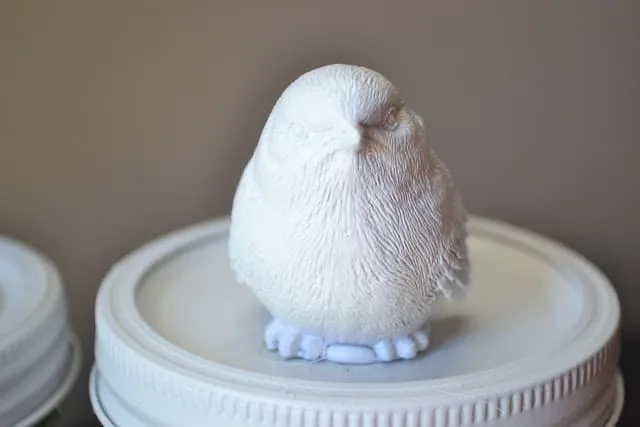 These were super easy to make.
Materials:
mason jar w/ lid (or any jar with lid will work)
spray paint
embellishment (I used birds but there are TONS of options)
glue (I used the glue gun but epoxy or super glue might work better)
Instructions:
Attach your embellishment to your lid with your glue. I used a glue gun but I don't know how long it will hold. I think a epoxy or super glue will be your better choice. This is were you can personalize your storage jars to your taste. I love birds so that was a no brainer for me. This would be a great way to get holiday containers on the cheap. This would also look cute for personalized containers for a kids room. How about a matchbox car for the boys??
Once you have glued your item on, spray paint (another great way to personalize with color) your item and lid. Once that has dried you are all done and have some super easy and super cute storage jars.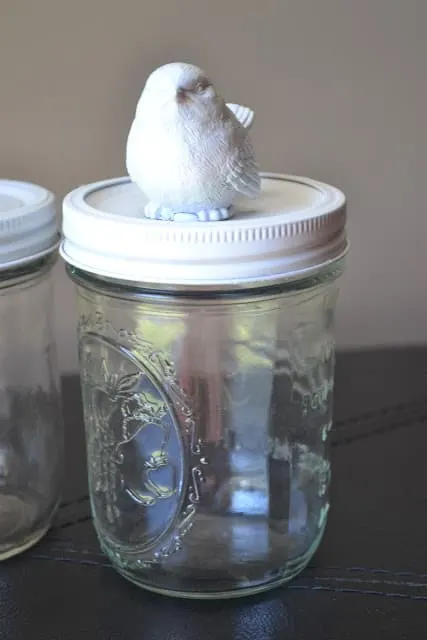 Don't forget to link up at
weekly Wednesday's blog hop
and to enter the
giveaway
if you haven't already. 🙂
*sorry about the glare on the pictures*