The outdoors beckons and for us it's our back patio that is calling. As I mentioned in a previous post we have been doing some sprucing up and getting things ready for our summer enjoyment. Which means getting this patio in tip top shape. First we had to get rid of the ant mounds because those buggers like to pop up in the most annoying places. Anyone else have that problem? Once that was done it was time for some BEHR PREMIUM DECKOVER® Coating. We wanted to bring back to life our concrete and BEHR PREMIUM DECKOVER® Coating​ was apparently just what we needed.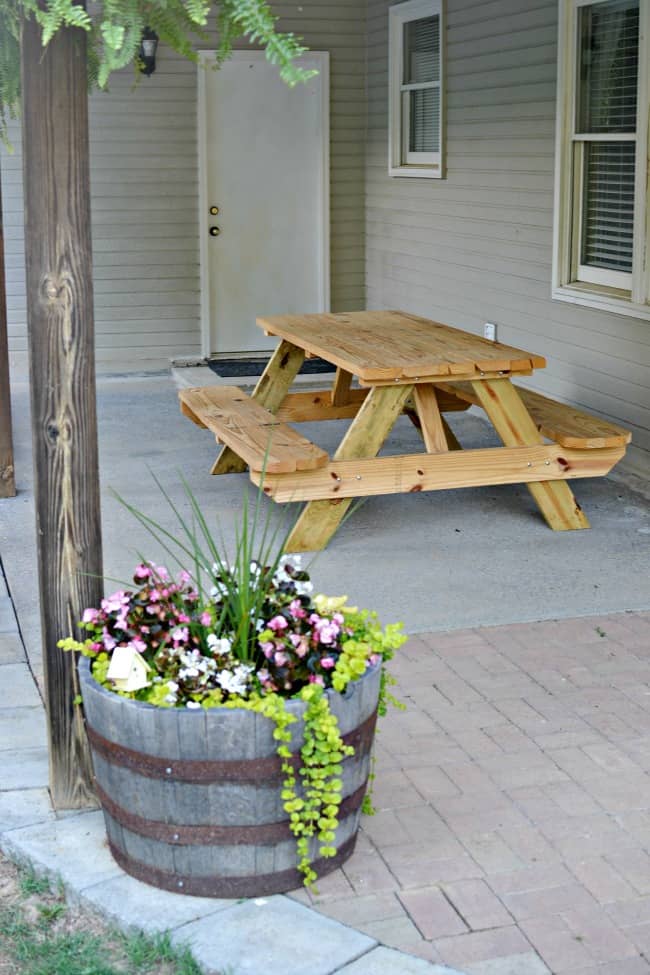 If you haven't heard of this product before then let me give you a little product information.
BEHR PREMIUM DECKOVER® Coating​​ is an 100% acrylic formula that conceals cracks and splinters up to 1/4″ deep. It also comes in 54 solid custom colors plus they offer additional limited color matching as well. I'm pretty sure they have something to suit everyones personality and needs. The formula creates a durable smooth coating that revitalizes your old tired decks, patios and porches. Even if they have been previously stained (with proper prep of course)! Definitely a budget friendly option which makes this budget friendly mama happy.
My little family loves to be outside because it restores our focus on family time. We are constantly bombarded with the television, phones, tablets, computers and more when we are inside the house. When we step outside we are usually doing something together like building a piece of furniture (which you all know is my favorite), grilling out and having a backyard picnic or even spending time playing a fun board game outside in the fresh air.
Here are 5 easy ways you can have a backyard getaway with your own family this summer.
1. Have a picnic!
Like I mentioned one of our own favorite ways to enjoy our backyard is with barbecuing and having a picnic. Even if you don't have time to cook a whole meal you can still enjoy your backyard. Pack yourself a meal or even takeout, bring a blanket and picnic in your own yard. I mentioned we bought a picnic table last month and we have been enjoying it loads already.
2. Get wet!
If you have a pool then grab your swimming gear and get out there. We had a above ground pool in our old place before we moved and it was one of our favorite summer time activities. Unfortunately this yard is a little to sloped for a pool but that won't stop us from enjoying the water. Grab some sprinklers or how about some water balloons. We didn't put up the swimming pool before we moved at the end of last summer but we sure did have tons of fun squirting each other with water guns.
3. Throw a party!
We live a little too far to throw a party with our family members but we could always invite over the guys my husband works with. How about your neighbors? Put out some chairs, light up your tiki torches and just have a good time enjoying each others company.
4. Gardening!
Even though we probably have the brownest green thumbs of them all we still love to "try" and grow our own veggies every year. Some years it works out and some years it doesn't but that is the fun of it.
5. Soak up the vitamin D!
You don't always have to be doing something specific when you spend time outdoors. I bought me a hammock last year and it was fabulous. Lather up on some sunscreen and enjoy a good book, listen to some music and just enjoy the sounds of the bird chirping and the trees whistling in the wind.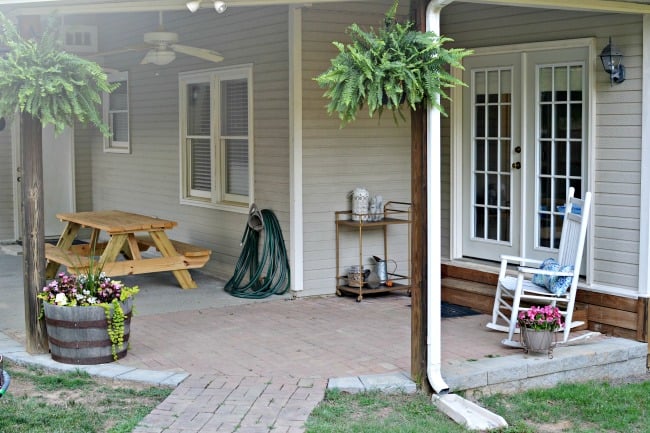 If the outdoors makes you happy like it does us then spend some time on making that space your haven. If you want to check out BEHR PREMIUM DECKOVER® Coating you can find it at your local Home Depot.
This is a sponsored conversation written by me on behalf of BEHR®. The opinions and text are all mine.