I love live plants. But… (and that is a big but) they are so hard to maintain. My brown thumb has grown a few green spots but it definitely still has a lot of brown mixed in.
This is why I love a preserved boxwood. It still gives that warm and cozy feeling you get from live plants except without all the care. What I also love about boxwood is that they can be used and loved in all seasons.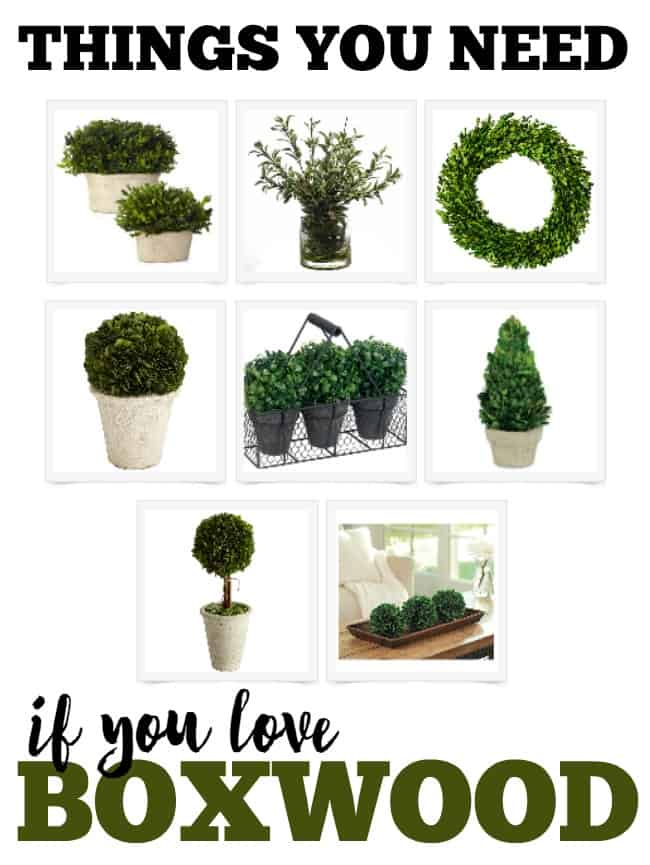 (This post contains affiliate links.)
Check out some of my favorite and must have items and things you need if you love boxwood.

If you are thinking "well I don't know much about preserved boxwood" or "what it's all about" then let me just give you a brief intro on boxwood.
Boxwood is, of course, an evergreen foliage that looks good all year long and for years to come. The good thing about preserved boxwood is that it does not need any water or really any care to maintain its gorgeous look.
I also love that you can add bits to a wreath or topiary, etc to give it a new look at different times of the year. Say you want to add in some wheat during the fall or babies breath during the spring.
There are also articles on how to preserve boxwood on your own. Now that is a little out of my comfort zone so I usually stick to purchasing already preserved pieces. So let me know… Do you love boxwood too?