As a blogger I spend a great deal of my time in my home office. This means I always want new ways to add a little fun and do a little sprucing. Here are a few ways to spruce up your home office. No guarantees but for myself having an inviting and comfortable place to work makes for more productivity.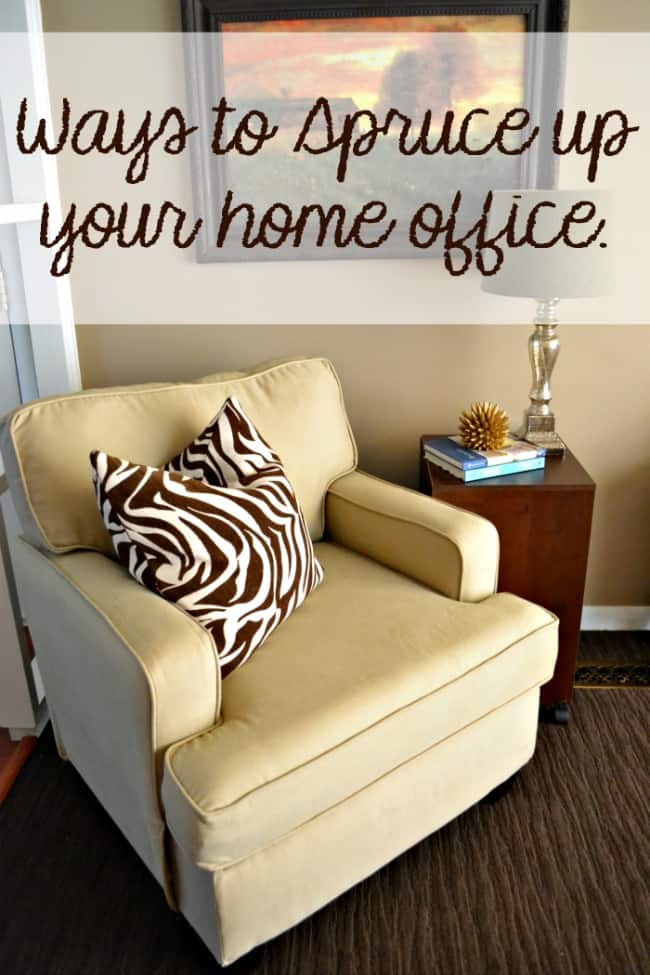 Fresh Flowers: So fresh flowers can get a little expensive. However, if you have flowers growing around your home then you can pick a few of those or pick up a bouquet at a big box store. You will find that you can usually get a bouquet for less than $10. My favorites are carnations because they smell great and last for quite some time.
Storage: If you tend to have papers spread out every where think about finding a storage solution that will look nice and keep you organized. Clutter stresses me out and makes me lose focus so keeping my office looking streamlined is important. Throw away any trash and file and store as needed. The Easy2Go Mobile Filing Cabinet above acts as double duty for me as storage and a pretty side table for a few books and a lamp.
Work Station: A work station or desk that works for your needs. I posted about my desk here. I love it. It is nice and long which provides me with amble room to spread out my blogging planner, idea book, etc. Included in this work station is a comfortable chair. If you are a blogger, work from home or spend time at your desk for long periods, a comfortable chair is essential.
Cozy Furniture: Whether you want to have an extra place for yourself or spruce up your work environment for visitors having a padded place to sit comes in handy. For instance, my office does double duty as a quite place to sit, relax and read for myself. I love this SoFab Coco Chair from Staples. It is the perfect place to host a friend or jotting down some of those blogging ideas.
Pictures/Art: I like to add pictures of my daughter and husband around my office. When I need a little pick me up or smile from a particularly hard day I can catch a glimpse of their photo and it gives me that boost I need. I also like to add inspirational quote art on the walls. This is just another way to keep pushing forward when all you really want to do is give up.
Photo: Javonni Christoper Via Flickr
Office Supplies: I love colorful office supplies. I don't know what it is but being able to write in purple, pink, green, etc pens is so much fun. Yes, even at 31 years old. 🙂
Make your office unique to your own tastes. When you are surrounded by things you love like fresh flowers, cozy furniture, inspirational wall art and colorful pens and paper you are sure to be more productive. If you still can't get past the procrastination with a new spruced up home office well then at least it looks pretty.
To get one of you started in sprucing up your own home office, Staples is offering one lucky winner $100. Yay, exciting!
How do you spruce up your home office?