This is a sponsored post written by me on behalf of Tom's of Maine. All opinions are 100% mine.
I love to read "what's in my…" posts but it has been awhile since I have done one of my own. The last one being the what's in my gym bag. As summer is getting closer and traveling is on a lot of our minds I thought I would share with you what I put in my travel toiletry bag.
I use a hanging toiletry bag and I love it because I can hang it up and not worry about it cluttering up the counter space. Which is usually at a premium to begin with when you have to share with your whole family. My bag has individual spots and I separate them accordingly.
The first clear pocket I store my contact supplies in. It doesn't matter where I am going, if I am going to be gone for more than a day then I travel with all my contact supplies. If you have glasses or wear contacts then I am sure you know what I mean.
In this pocket…
Contact Solution
Contact Eye Drops
Contact Case
Extra Contacts
Glasses
The next clear pocket is where I keep all my hygiene related products. This includes my toothbrush, toothpaste (though not shown because I need to purchase a new travel tube) and of course deodorant.
One of my favorite deodorants is Tom's of Maine. It is a Long Lasting Natural Deodorant that has no aluminum, no petrochemicals, no parabens or artificial fragrances or preservatives. Tom's of Maine does not test on animals and I also love Toms of Maine because it is clinically proven to last 24 hours. Which is great because no one wants bad body odor, am I right?
If you have never tried Toms of Maine and are on the hunt for a good product then you should definitely check it out. Even better 10% of Tom's of Maine profits go back to helping people and the planet. It is important to note that this is a deodorant (anti-odor) not an antiperspirant (anti-sweat), thus it does not protect against wetness and does not include aluminum as an active ingredient. If you perspire a lot, you may need to choose an antiperspirant, depending on your day's activities. Our bodies all have our own unique chemistry. If your body is used to a different product you will have to give it time to adjust to a natural formula. It's the same as if you drinks tons of soda and then quit cold turkey. Your body will go through changes before it decides that yes the natural water is the good stuff. Yes… I did just reference deodorant to soda but you know, that's just how we roll around here.
The last larger pocket…
This is where I keep everything else, which is mainly my makeup. I will throw in all of my everyday makeup, including remover wipes, travel size shampoo, razor and occasionally medication as well.
That is my travel toiletry bag in a nutshell. I don't carry around tons of extra stuff, mainly just the essentials to see and smell good. 🙂 Which brings me to my tip for packing travel bags. Only take the essentials you will need for each specific trip. If you know you will only wear the same makeup you always wear don't pack 3 eye shadow palettes.
I love comments so let me know, what are your travel toiletry bag essentials?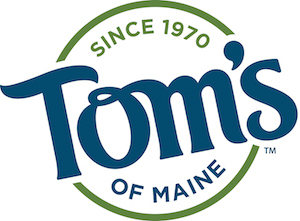 Check out Tom's of Maine on Facebook here!