This is a sponsored post written by me on behalf of Cracker Barrel. All opinions are 100% mine.
Yep, that is what today's post is about. Why I love and I do mean LOVE Cracker Barrel and why you should totally love it too. If you haven't been to one then you should come to the south and enjoy a little taste of their country fixings. Like right now!
ROCKING CHAIRS

: The front of the building invites you in with a front porch like atmosphere. A whole line of rocking chairs for your sitting pleasure. If you have to wait for seating then you can rock to your hearts content on their own front porch. All while playing a rousing game of checkers.
CHECKERS

: I just mentioned playing checkers so the next reason I love cracker barrel is because they offer you a spot to play checkers. This isn't just any checkers this is big checkers. You can also buy these same checkers in their retail shop.
PEG GAMES

: Speaking of playing games while waiting. They even have peg games on every table to continue your game play while waiting for your food. Have you played this game before? What is your ranking?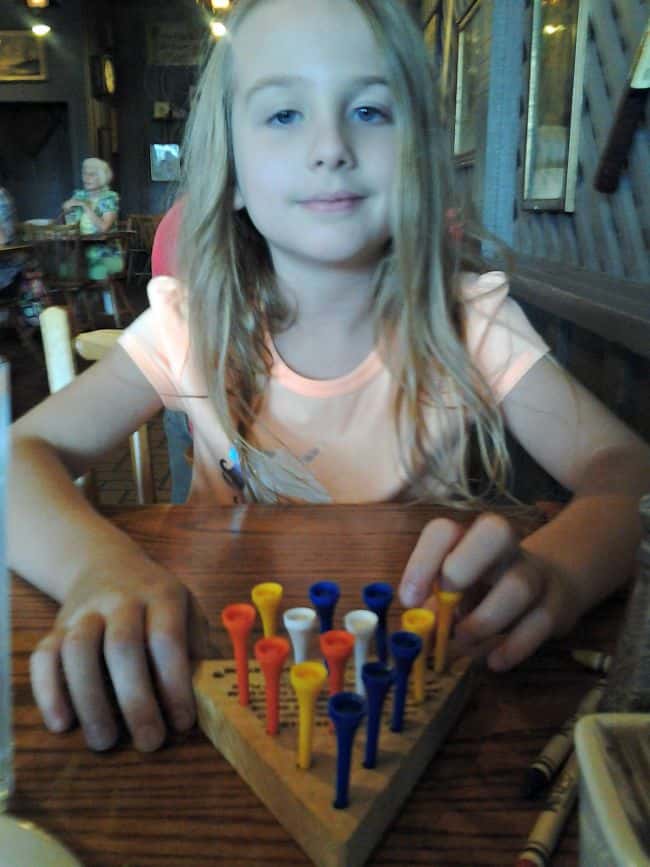 RETAIL SHOP

: Yes, they have all sorts of products for your retail therapy needs. Some of my favorites are all the holiday items. They have the cutest Halloween decor in stock right now. Plus, I got this super cute flip flop night light back earlier this summer. Love it! Check out Cracker Barrel's Retail Store online.
NOSTALGIA

: They sell old fashion candy. You know the ones that bring back memories and remind us of our childhood. We are from Tennessee and love Goo Goo Clusters, which are also made in TN. Guess where we bought our Goo Goo's when we lived in Kansas. Yep, Cracker Barrel!
THE FOOD

: Once you get past the candy you get to the food. The fresh made food with loads of menu items. They have the most awesome southern home cooked style food. Just like a southern mama makes. Haha! Plus, they have breakfast all day, every day. Whoop, Whoop!
DESSERT

: Yes dessert is food, but it gets its own bullet. It is that good! The coke-cola® cake is ahhhh-mazing.
THE BISCUITS/CORNBREAD

: I mentioned the dessert got its own bullet but so does the cornbread and biscuits. All I have to say is NOM NOM NOM!
DECOR

: If you have been following my Instagram then you already know how much I love the farmhouse and rustic decor. Cracker Barrel does vintage and rustic decor like no other restaurant. It is so much fun just looking at all the items hanging on the walls.
LOCATIONS

: They have 600 locations in 42 states. That means that hopefully wherever the military sends us we can find our favorite restaurant and feel like we are right back at home.
SERVICE

: The staff, whether it is the hosts, waiters, servers or cashiers are always super friendly.
QUALITY

: The overall experience when visiting Cracker Barrel is top notch for us. We love the atmosphere of the old country store. The decor is perfect, the service is amazing and the food is delicious.
So that is that… It doesn't matter where we are going, if we are eating dinner at a restaurant 85% of the time it is probably at Cracker Barrel. I mean eating and shopping all in one place. Yes, please! So let me know, have you ever been to Cracker Barrel?
We just went this past Friday. One of my favorite days to go since it's fish fry night. 🙂