Often times doing a whole new home renovation is just not in the budget. But that doesn't mean you can't transform your home with a few easy cosmetic and home improvement fixes that are wallet-friendly weekend projects.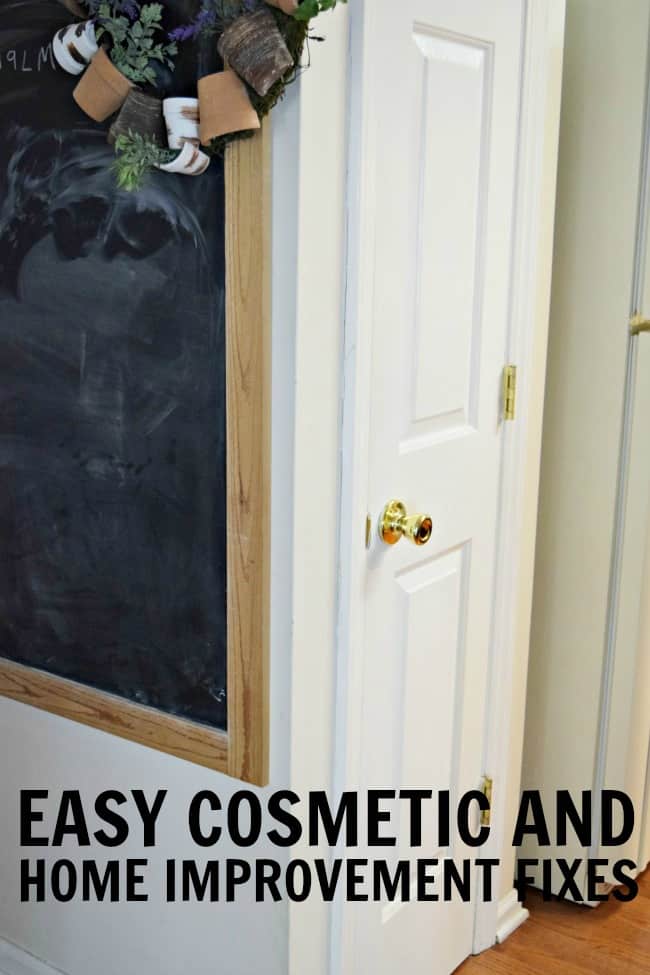 Make a first impression!

One of the biggest cosmetic updates can make a huge difference as it is the first thing most people see. Invest in a new front door or simply choose a great color to paint the old one for a quick refresh. This will be great for enhancing the curb appeal of your home.

Light it up!

Does your home have builder grade light fixtures? Pick out something you love and make your home a statement that says who you are and not the builder. There are also plenty of DIY solutions for lighting as well.

Change out the hardware!

Speaking of builder grade, often hardware on kitchen or bathroom sinks, cabinets and doors are the plainest of the plain. What about going with something fancy and fun. We switched out our pantry door to add a little jazz with this vintage style glass knob in a classic rosette. I love it and want to find other places I can add touches of this old vintage look.

Give it a facelift!

So maybe changing out kitchen cabinets or bathroom vanities are not in the budget. That doesn't mean you can't update them with a little paint. This might require a little more time than one weekend depending on the size and amount of cabinets but a facelift like this could add great value to your home.

Install a backsplash!

While we are talking about your kitchen, did you know many homes don't even bother with backsplashes? They aren't even that hard to install and you don't have to go crazy expensive to make a huge impression.
So if you have been thinking about wanting to renovate your home but just can't fit it into the budget at this time think about trying out one of these simple and easy home improvement fixes this weekend. I bet you will be surprised how much one thing can make a huge difference.

If you enjoyed this easy cosmetic and home improvement fixes post you also might like…
---