Discover the ultimate comfort food with our delicious chicken spaghetti with rotel and velvetta! Perfectly cooked pasta, tender chicken, and a savory, creamy, cheesy sauce come together in this easy-to-make dish that's sure to satisfy your taste buds. Get ready to enjoy a hearty and flavorful meal tonight!


Nothing says ultimate comfort food quite like this creamy and cheesy, homemade chicken spaghetti with Rotel and Velveeta.


It is comfort food with a big flavor to the max.


Who says spaghetti has to be traditional with pasta sauce?


Why not jazz it up with some good things like tender chicken, spicy tomatoes, and lots of cheese?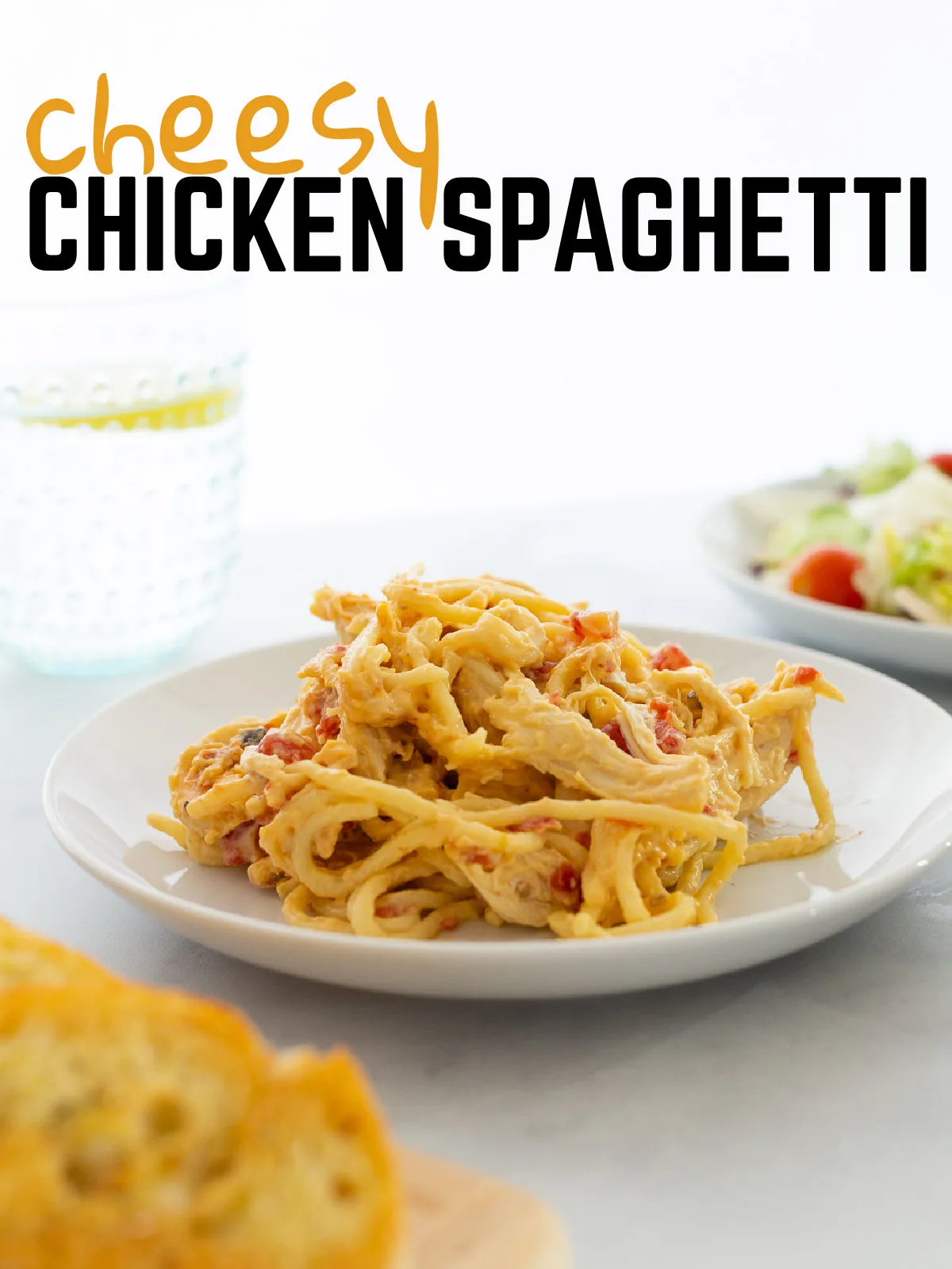 A quick and easy creamy chicken spaghetti casserole dish that all the kids love, because well; pasta, cheese, and chicken are perfection.


It is great as a stand-alone complete meal or you can have it with something like garlic bread.


You really can't go wrong with this southern recipe that all of your friends and the whole family will find addictive.


It is one of our most popular recipes and a family favorite.


Like the Three Cheese Manicotti recipe, this is another one of our favorite homemade pasta dishes.

It also makes for great leftovers as well.




Reasons You'll Love This Recipe


Flavorful and Spicy: Rotel diced tomatoes and green chilies add a spicy kick to the dish, enhancing its overall flavor profile. The combination of these ingredients provides a unique and delicious taste.


Easy to Make: Chicken spaghetti with Rotel is relatively easy to prepare, making it a convenient option for busy weeknights. Many people appreciate the simplicity of the recipe.


Comfort Food: It's a classic comfort food that reminds people of home-cooked meals and gatherings with loved ones. The creamy, cheesy, and spicy elements make it a satisfying and comforting dish.


Versatile: You can customize the recipe to suit your preferences. You can adjust the level of spiciness by choosing the type of Rotel (mild, medium, or hot), and you can add other ingredients like bell peppers, onions, or mushrooms to personalize the dish.


Family-Friendly: This easy chicken spaghetti recipe is often a hit with both kids and adults. The combination of pasta, chicken, and cheese is generally appealing to a wide range of palates.


Leftovers: It reheats well, so you can enjoy it for several meals, making it a practical option for meal planning.


Cheesy Goodness: The dish is loaded with melted cheese, which adds a creamy and indulgent element that many people find irresistible.


Satisfying and Filling: The combination of pasta and chicken provides a hearty and filling meal, making it a great choice for those looking for a satisfying dinner option.




Ingredients for creamy a chicken spaghetti recipe with Rotel


½ Package of Spaghetti Noodles (8 ozs of a 16 oz pkg) - These are the base of the dish, providing a hearty pasta component.


2 Boneless Skinless Chicken Breasts (you could also use store-bought shredded rotisserie chicken to save time or leftover chicken) - The chicken is the main source of protein in the dish. Whether using fresh chicken breasts or pre-cooked rotisserie chicken, it adds a delicious and meaty component to the recipe.


1 cup Chicken Broth (you can just use the broth from boiling the chicken) - The chicken broth serves multiple purposes. It's used for cooking the chicken breasts, infusing them with flavor, and also provides a liquid base for the sauce, contributing to the overall savory and chicken-flavored profile of the dish.


1 lb Velveeta Cheese - Velveeta cheese is a key ingredient for creating a creamy, cheesy sauce that coats the pasta and chicken, giving the dish its signature richness and flavor. If you are not a fan of velvetta you could substitute for shredded block cheese.


1 Can Rotel Tomatoes (we prefer mild Rotel) - Rotel tomatoes, especially the mild variety, add a subtle kick of spiciness and tanginess to the dish. They provide a contrast to the creamy elements, enhancing the overall flavor profile.


1 Can Cream of Chicken Soup - Cream of chicken soup contributes to the creamy consistency of the sauce, making it thick and velvety while adding an extra layer of chicken flavor.


1 Can Cream of Mushroom Soup - Cream of mushroom soup adds depth and an umami richness to the sauce. It complements the chicken and cheese flavors while providing a hint of earthiness.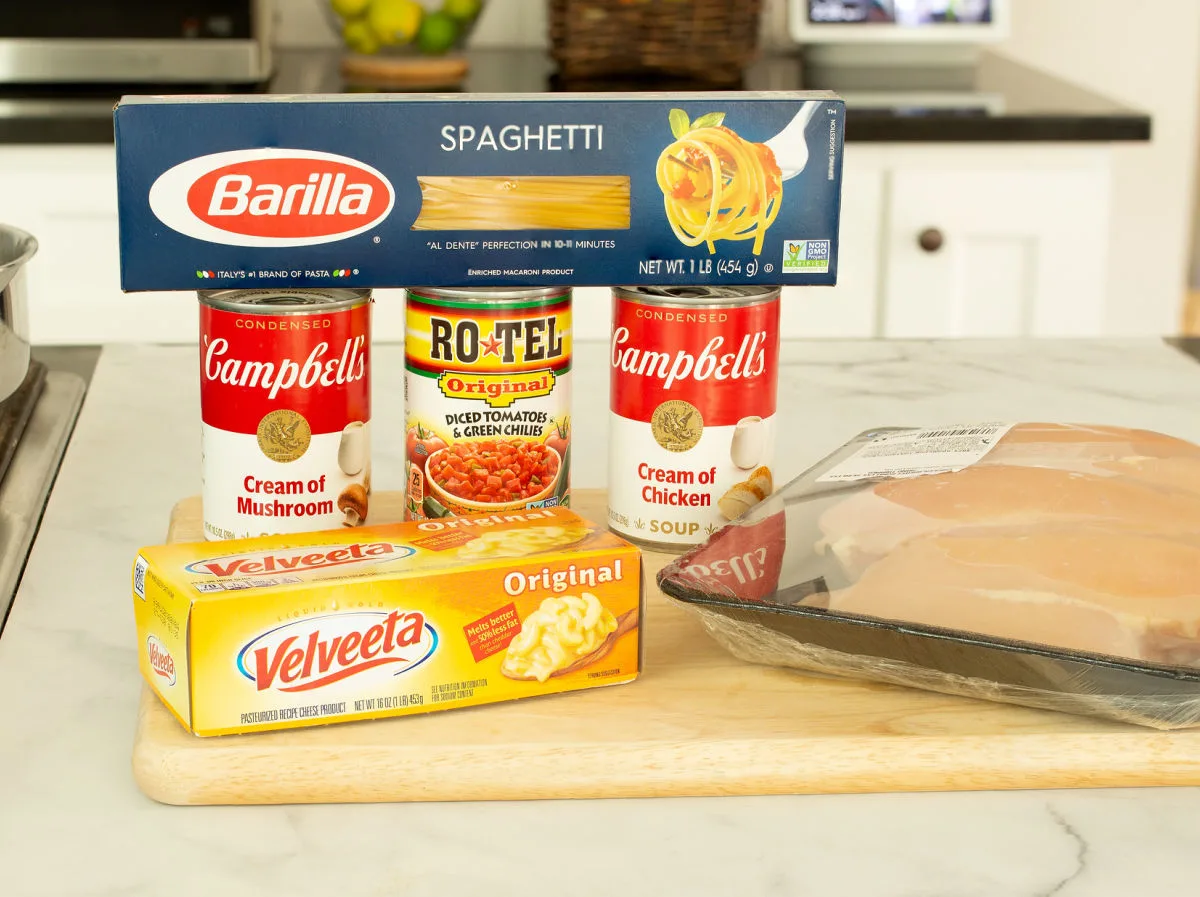 Recommended Tools


Stock Pot (for boiling chicken)
Saucepan (for making the cheese sauce)
Casserole Baking Dish (for putting it all together)
Electric Mixer (optional, but works amazingly well for shredded chicken)




This recipe serves approximately 6 people but you can double the recipe to make even more of this gooey dish for leftovers, a large family, or a larger crowd.


How to make Homemade Chicken Spaghetti with Rotel and Velvetta!


Preheat the oven to 350 degrees.


Bring a pot of water to a rolling boil and boil the chicken breast over medium-high heat until fully cooked.


You can use chicken legs or thighs if you choose just discard the bones and skin.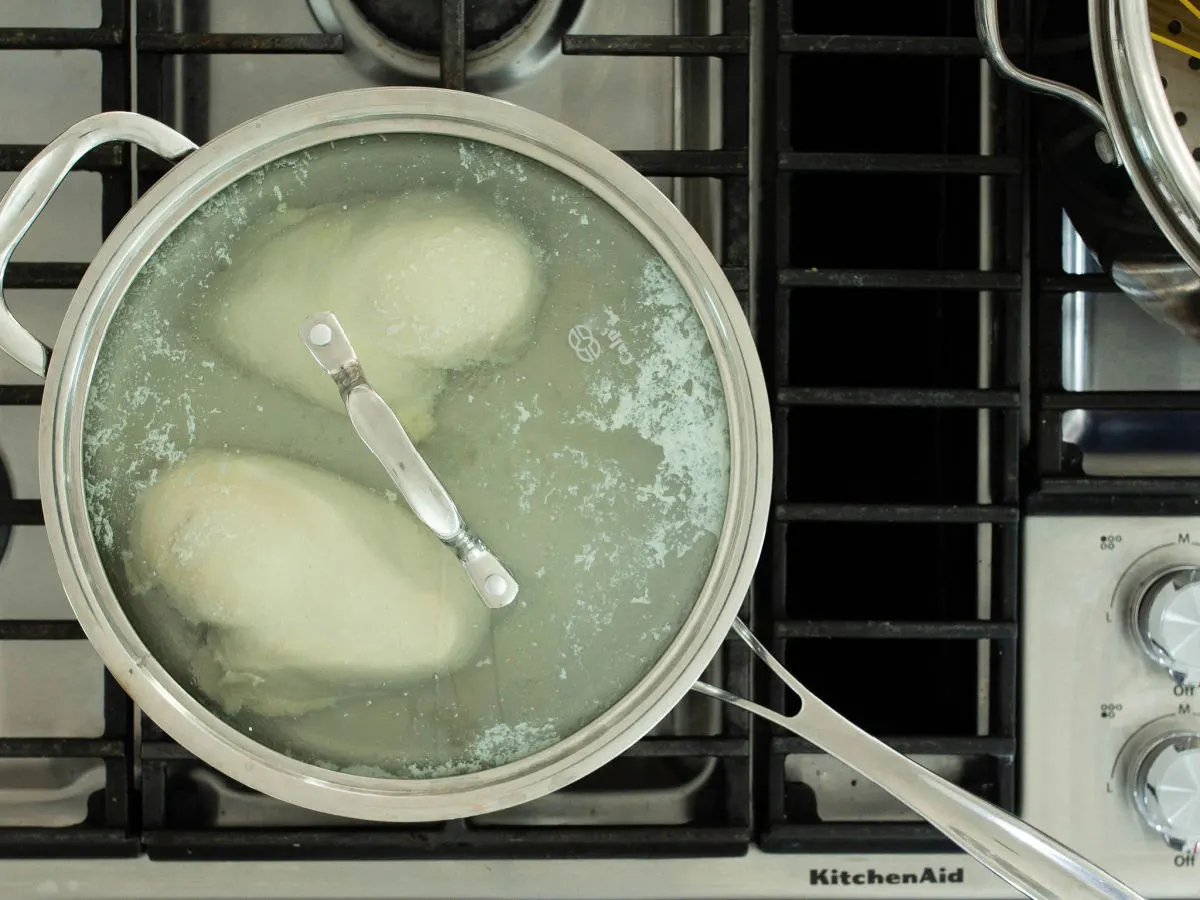 Remove chicken and 1 cup of the chicken broth for later use.


Shred the cooked chicken into pieces.


I like to use my Ninja Chopper or Kitchenaid for this, they both work great for shredding chicken.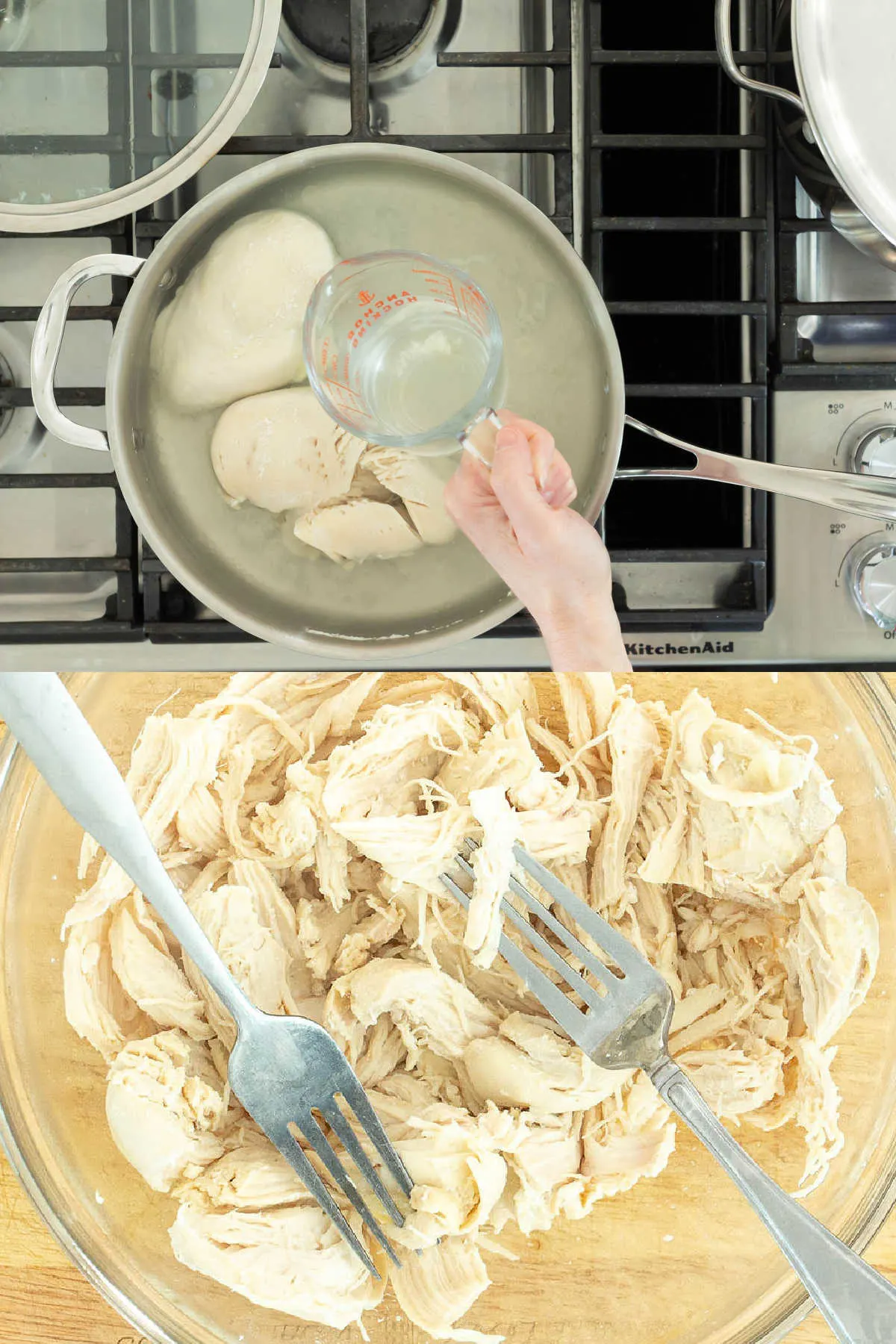 Cook spaghetti (in the pasta water or new water) according to the package directions and until al dente.


Cube your Velvetta and mix with the 1 cup of chicken broth and heat on low heat until the cheese melts.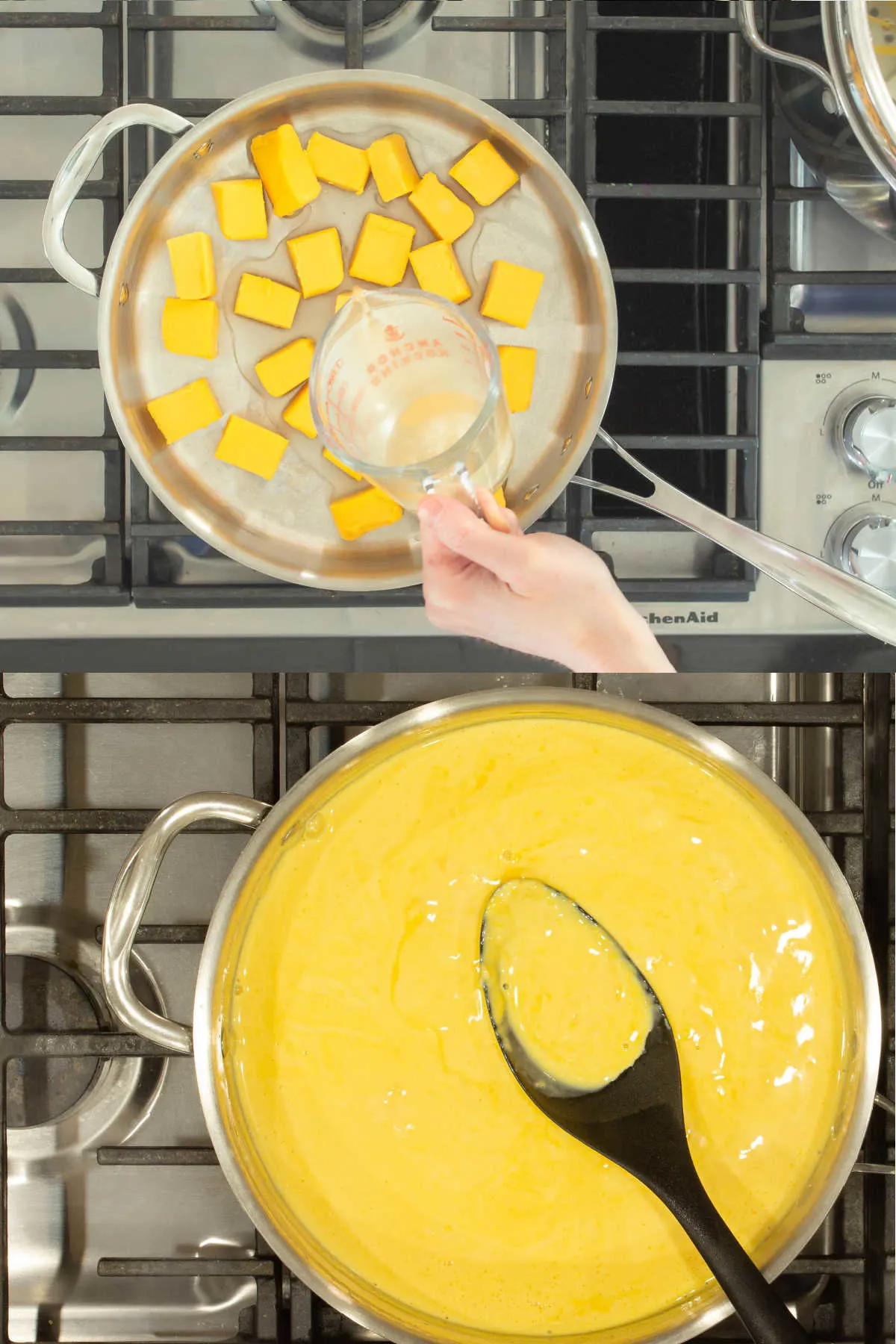 Combine the Rotel, both cans of soup, chicken, and cooked spaghetti with the creamy cheesy sauce.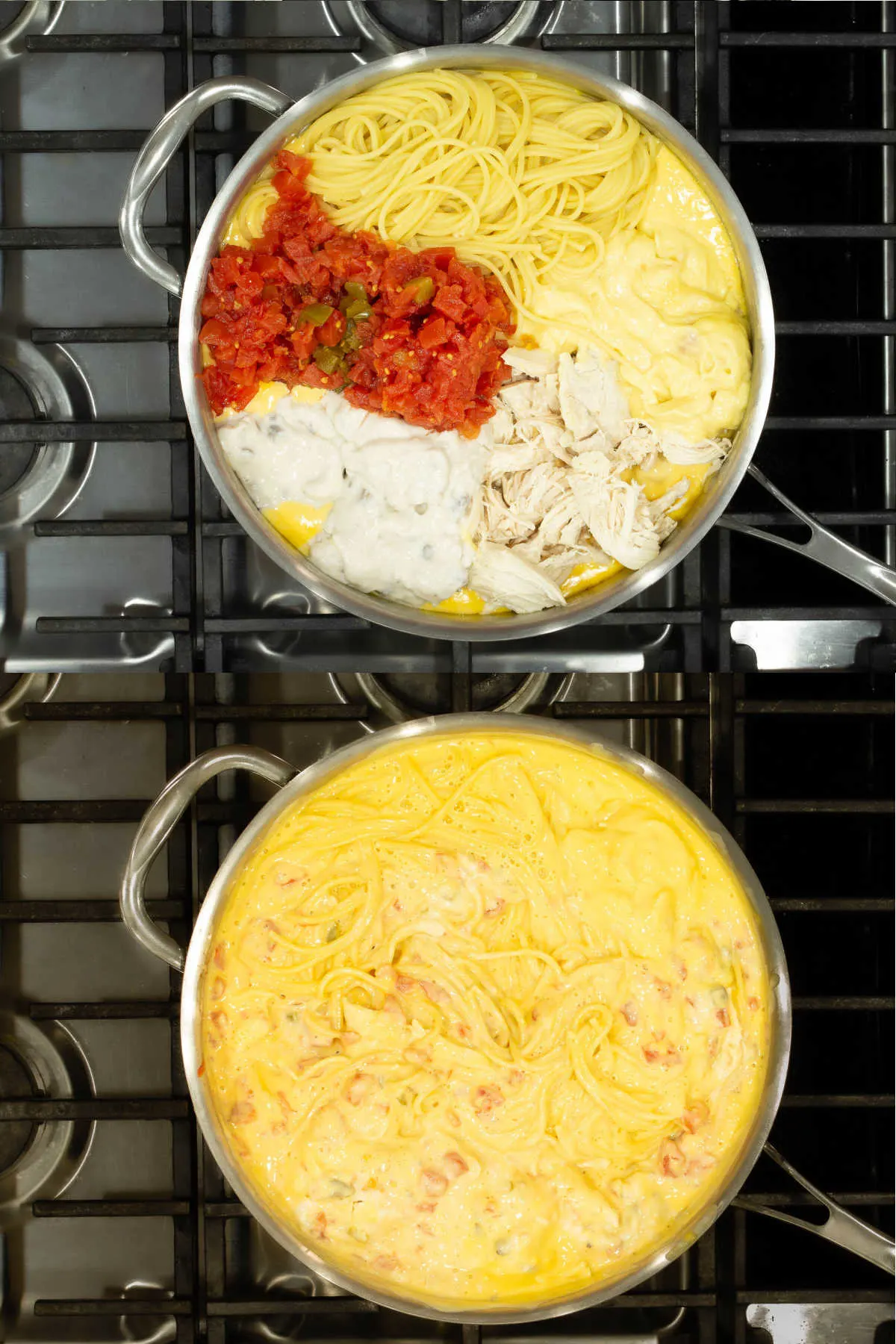 Bake in a 9×13 inch casserole dish at 350 degrees for approximately 45 minutes.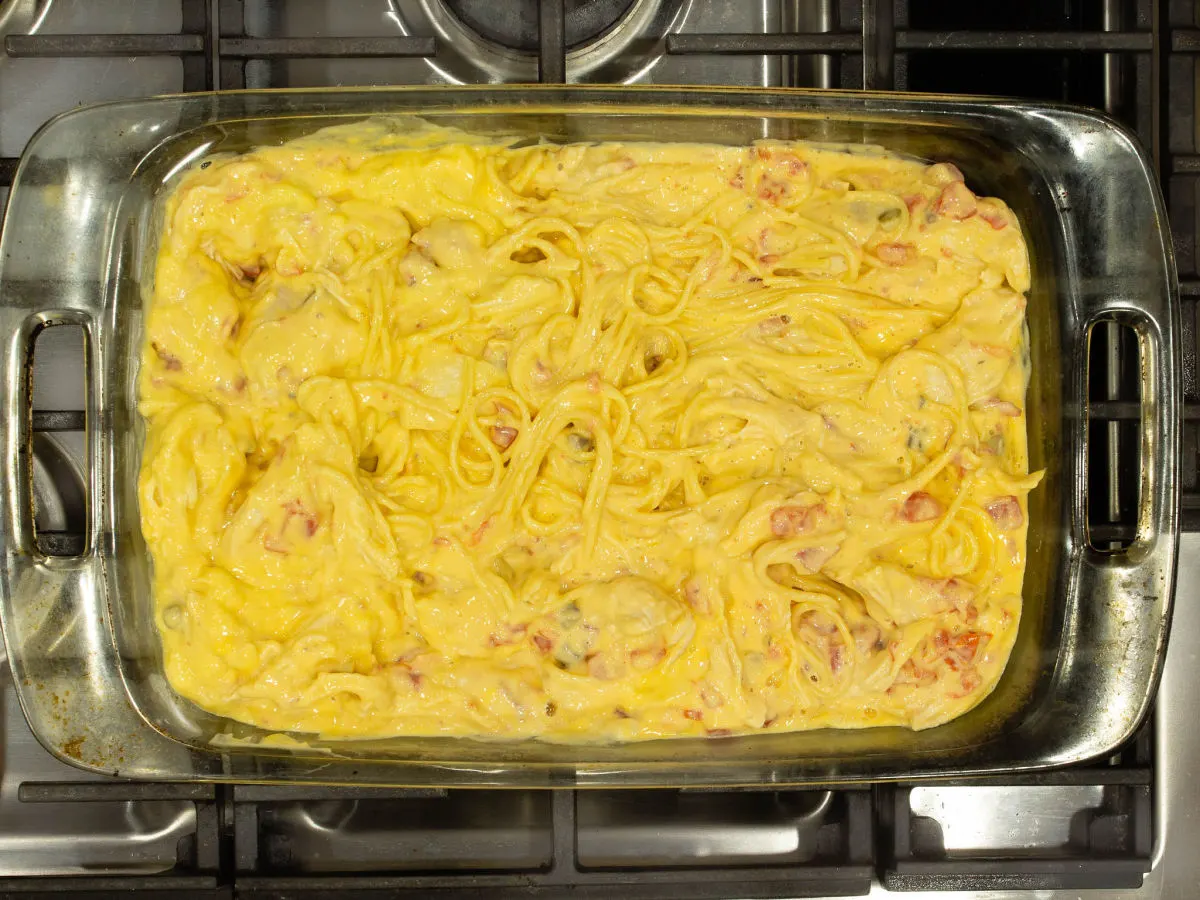 You can add some chopped green onions, bell pepper, red peppers, or green chilies on top for a garnish if you prefer.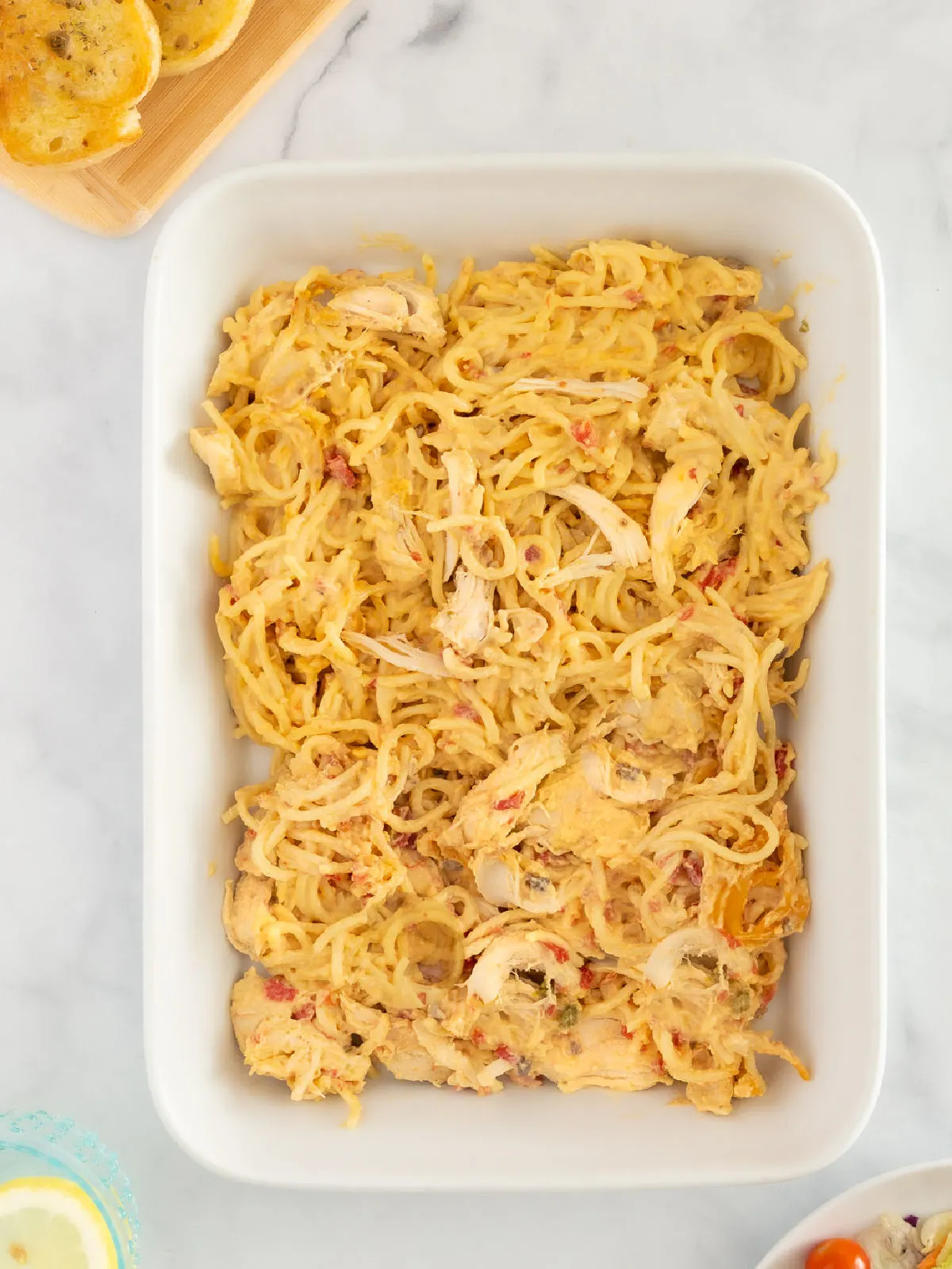 Frequently Asked Questions


Can you freeze Rotel chicken spaghetti casserole?


This cheesy chicken spaghetti freezes exceptionally well, go ahead and make it in advance. Once you place it in the casserole dish, you don't need to bake it first, just freeze it for up to four months.


It is important to note that the consistency of the creamy sauce won't be exactly the same when reheated from frozen. When you're ready to enjoy it, you can thaw it in the refrigerator overnight. Alternatively, you can reheat it directly from frozen, but it may take longer to warm through.


How to store leftovers for this recipe!


For best results, store in an airtight container and refrigerate for up to 3-4 days. Allow the chicken spaghetti to cool to room temperature before storing it.


Do not leave it out at room temperature for more than two hours to prevent bacteria growth. If you have a large batch of chicken spaghetti, divide it into smaller portions. This makes it easier to store and reheat only what you need at a time.


Can I use different types of pasta?


Yes, you can use different pasta shapes like penne or rigatoni. However, keep in mind that the cooking time may vary depending on the pasta type.


What can I substitute for Rotel tomatoes with green chilies?


If you can't find Rotel, you can use diced tomatoes and add some chopped green chilies or jalapeños to achieve a similar flavor profile.


Can I prepare this dish in advance for a party?


Yes, you can prepare chicken spaghetti ahead of time and refrigerate it. Reheat it in the oven or on the stovetop before serving.


How do I prevent the pasta from becoming mushy when reheating?


To prevent overcooking the pasta dish during reheating, slightly undercook it when initially preparing the dish. When reheating, heat until just warmed through.


Can I add extra vegetables or ingredients?


Absolutely! Many people add bell peppers, onions, mushrooms, or other vegetables to enhance the flavor and nutrition of the dish.


Can Chicken Spaghetti be made in the slow cooker?


Yes, you can make chicken spaghetti in a slow cooker! Slow cooker chicken spaghetti is a convenient and delicious option, especially if you prefer a hands-off cooking method.