Hamburger Hashbrown Casserole is the perfect quick and easy dinner to throw together on a busy night. It will hit the spot!



A cheesy, ground beef recipe that is creamy and delicious and perfect for dinner tonight. A recipe that the whole family is going to love!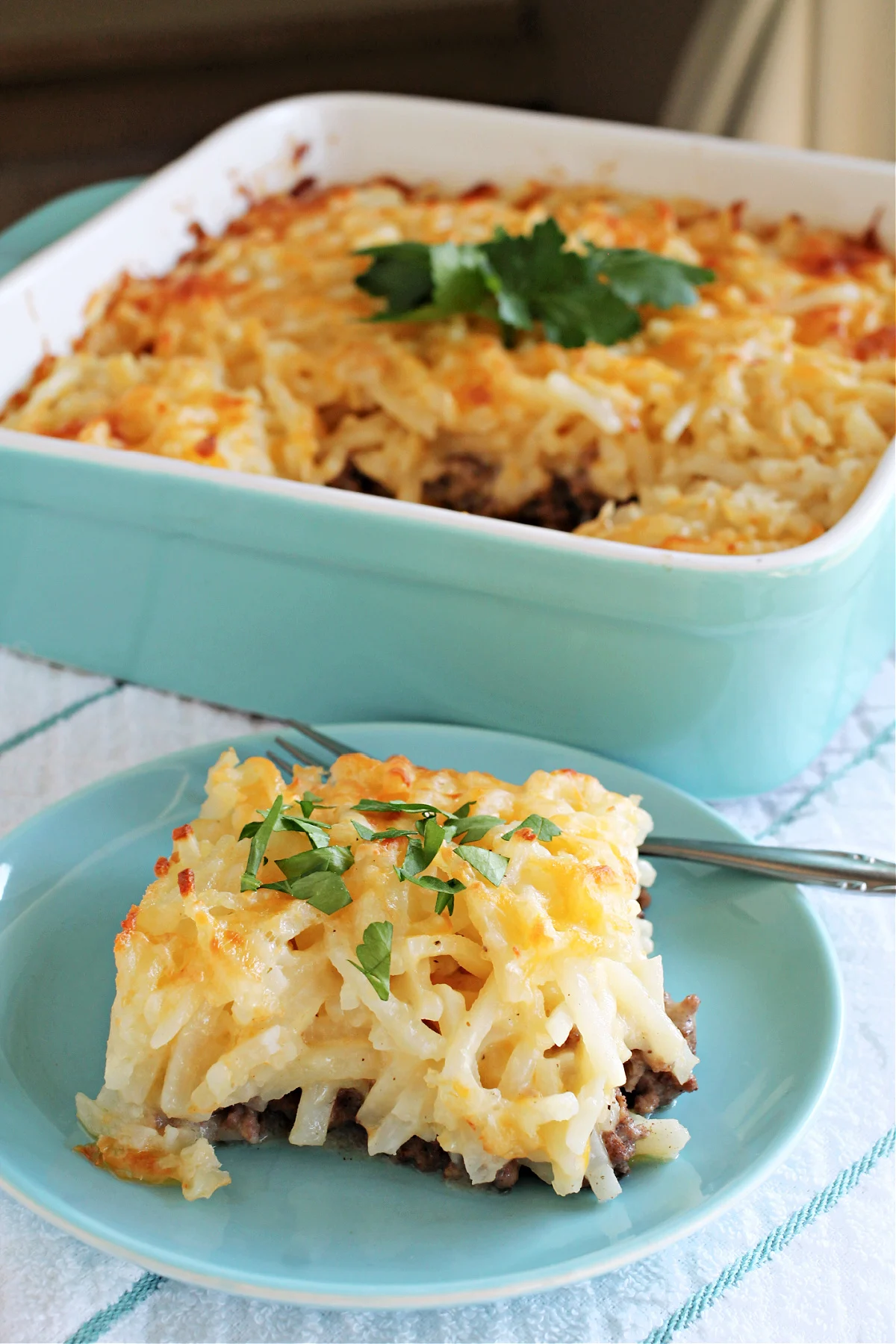 Having a busy weekday schedule means quick-fix dinners are a must. Busy moms and dads mean busy nights and having an easy meal is always a great idea.


If you have kids you know what I mean, but even if you don't have kids there are plenty of nights when you don't want to cook a full meal with sides.


Sure we could run out and grab fast food but it's still cheaper and better for you to cook meals at home. That is the beauty of these easy casseroles.


Some of the easiest and cheapest dinners are one-dish meals and we are certainly a fan of them in our family.


I hope that this delicious recipe will become a new family favorite for you too.




Why you'll love this recipe!


Convenience: Casseroles are a convenient way to make a one-dish meal that can be prepared in advance, making them ideal for busy weeknights or for meal prep.


Comfort food: Hamburger hashbrown casserole is a classic comfort food that can be enjoyed by many people. It's warm, hearty, and satisfying.


Versatility: Ground beef hashbrown casserole can be customized with different ingredients and spices, so you can make it your own. You can add vegetables, cheese, or other proteins to create a dish that suits your tastes.


Crowd-pleaser: Hamburger hash brown casserole is a dish that is sure to please a crowd. It's easy to make in large quantities, making it ideal for potlucks, family gatherings, or parties.


Leftovers: It makes great leftovers that can be enjoyed for days after it's made. It's a great way to stretch your food budget and save time on meal prep.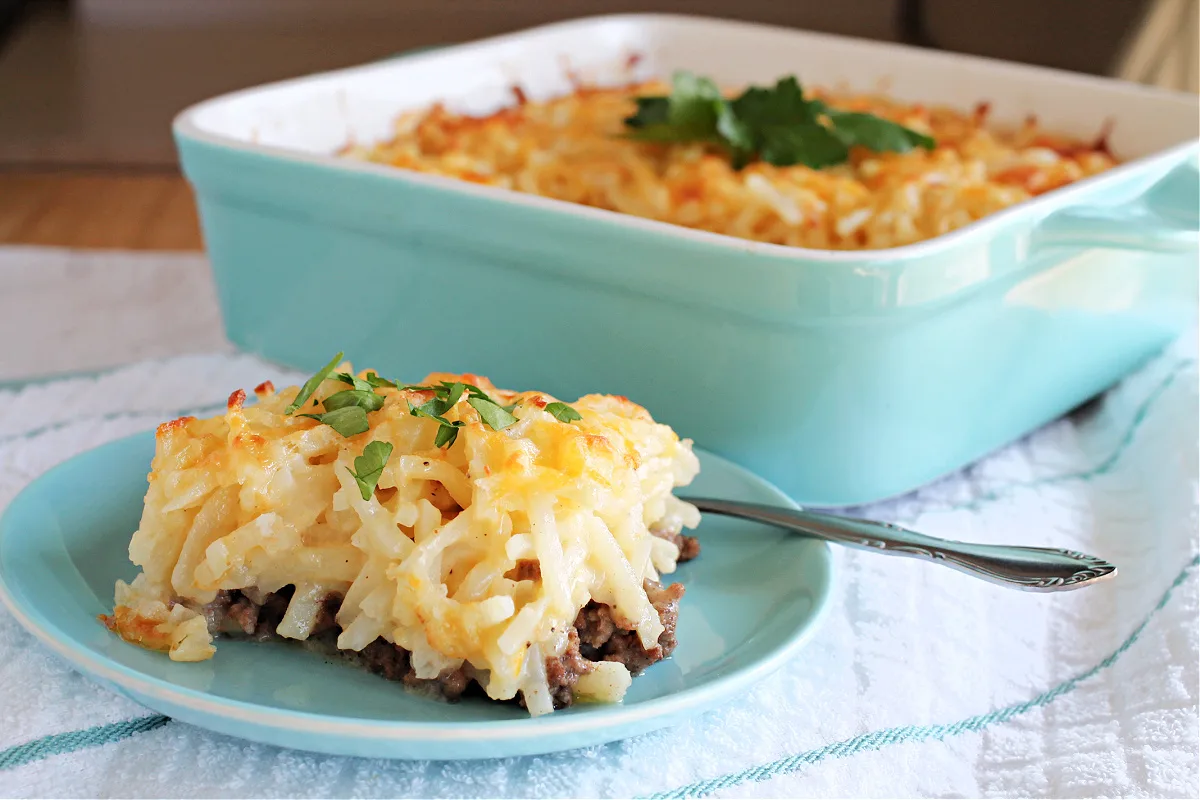 Ingredients you will need for this easy recipe:


2 lbs. ground chuck hamburger (you can use lean ground beef if you prefer) - This is the main protein source in the casserole. It adds flavor, richness, and substance to the dish. Ground chuck hamburger typically has a higher fat content compared to lean ground beef, which can enhance the flavor and moisture of the casserole.


1 ½ cups shredded cheese - we use mild cheddar (plus extra optional) - Cheese is a classic ingredient in many casseroles. In this case, mild cheddar cheese is used, which provides a creamy texture and a rich, cheesy flavor. It also forms a delicious crust when baked.


1 can cream of chicken soup (10.5 oz) - This is a common ingredient in casseroles as it serves as a thickening agent and adds creaminess and flavor to the dish. In this recipe, it contributes a savory, chicken-flavored element to the casserole. You could also substitute this for cream of mushroom if you prefer.


1 cup milk - Milk is often used in casseroles to create a creamy and smooth texture. It helps to combine the other ingredients and distribute flavors evenly throughout the dish.


½ cup butter (melted) - Melted butter adds richness and flavor to the casserole.


1 package of hash browns (20 oz, thawed) - Hash browns are a key component of this casserole. They provide the "hashbrown" element, which is a popular and comforting breakfast food. They also add texture and substance to the dish.


salt & black pepper to taste - These are common seasonings used to enhance the overall flavor of the casserole. They help balance the richness and bring out the flavors of the other ingredients.




How to make Hamburger Hashbrown Casserole


First, you want to start off by browning your hamburger meat in a large skillet on medium heat, and go ahead and preheat your oven to 350 degrees.


If you like to season your ground beef while cooking we enjoy this homemade taco seasoning.


Mix together in a large bowl the cheese, cream of chicken soup, milk, melted butter, salt, and pepper, then add the hash browns.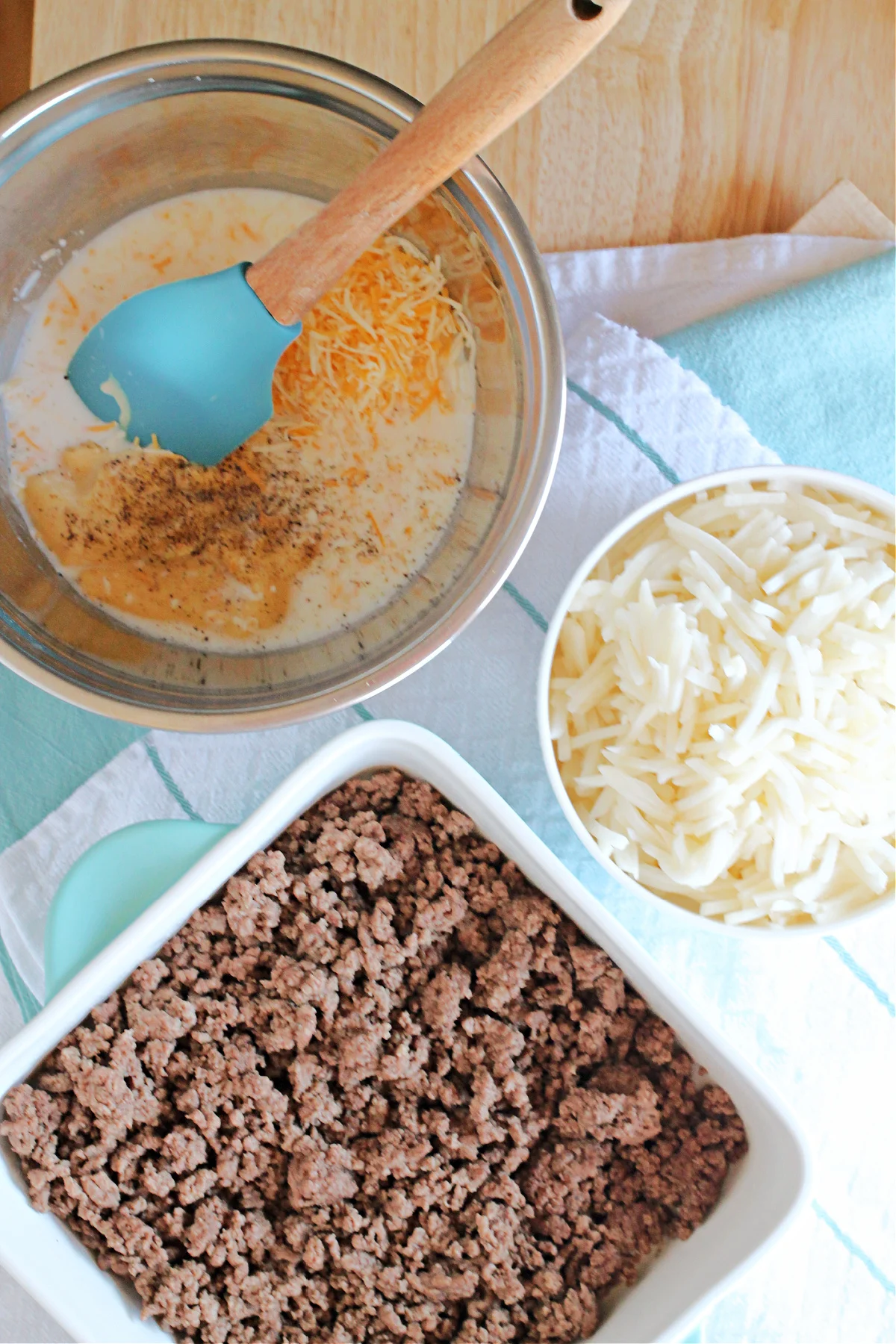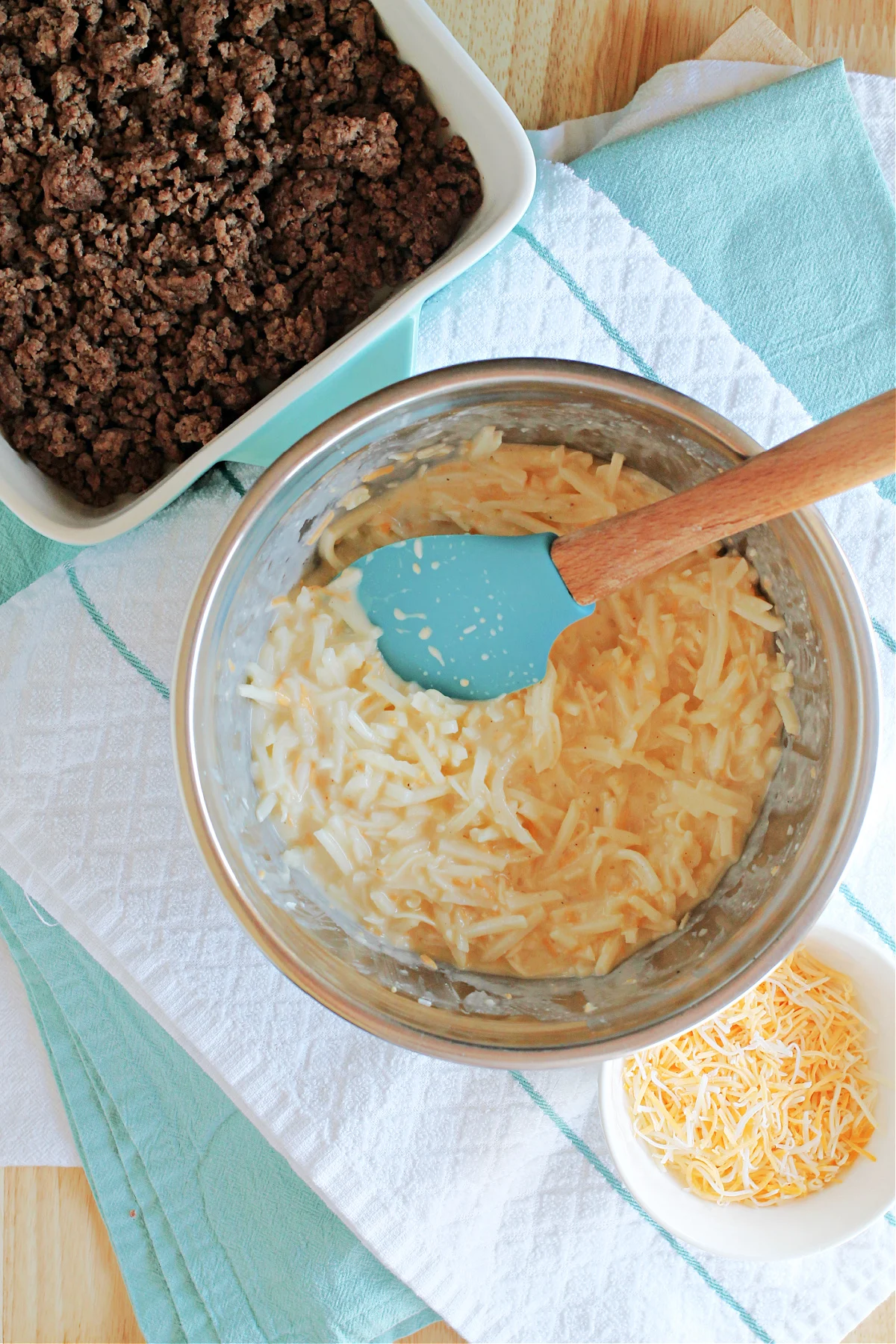 Once you have all of this thoroughly mixed, layer the browned hamburger meat in a 9x13 pan and spread the mixture on top of the burger.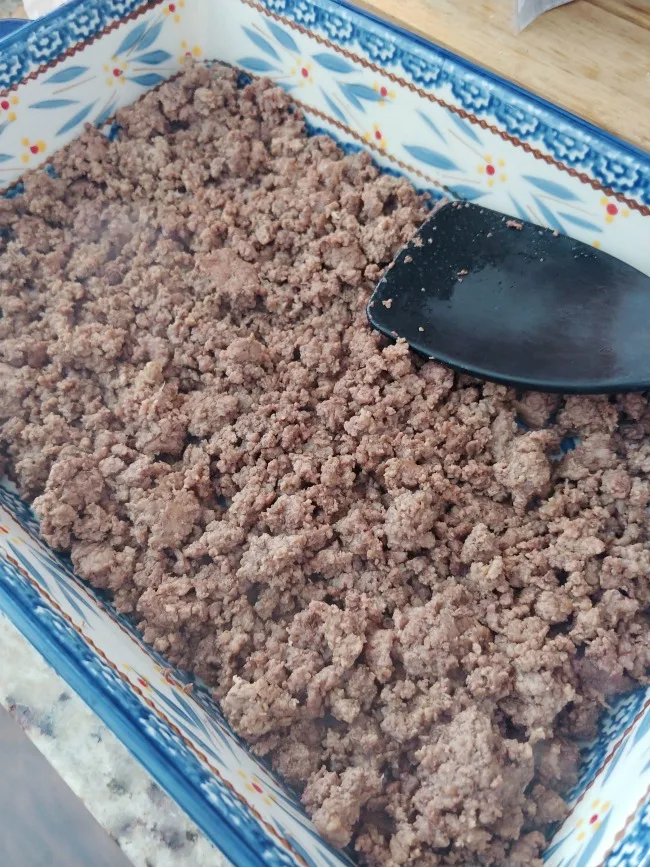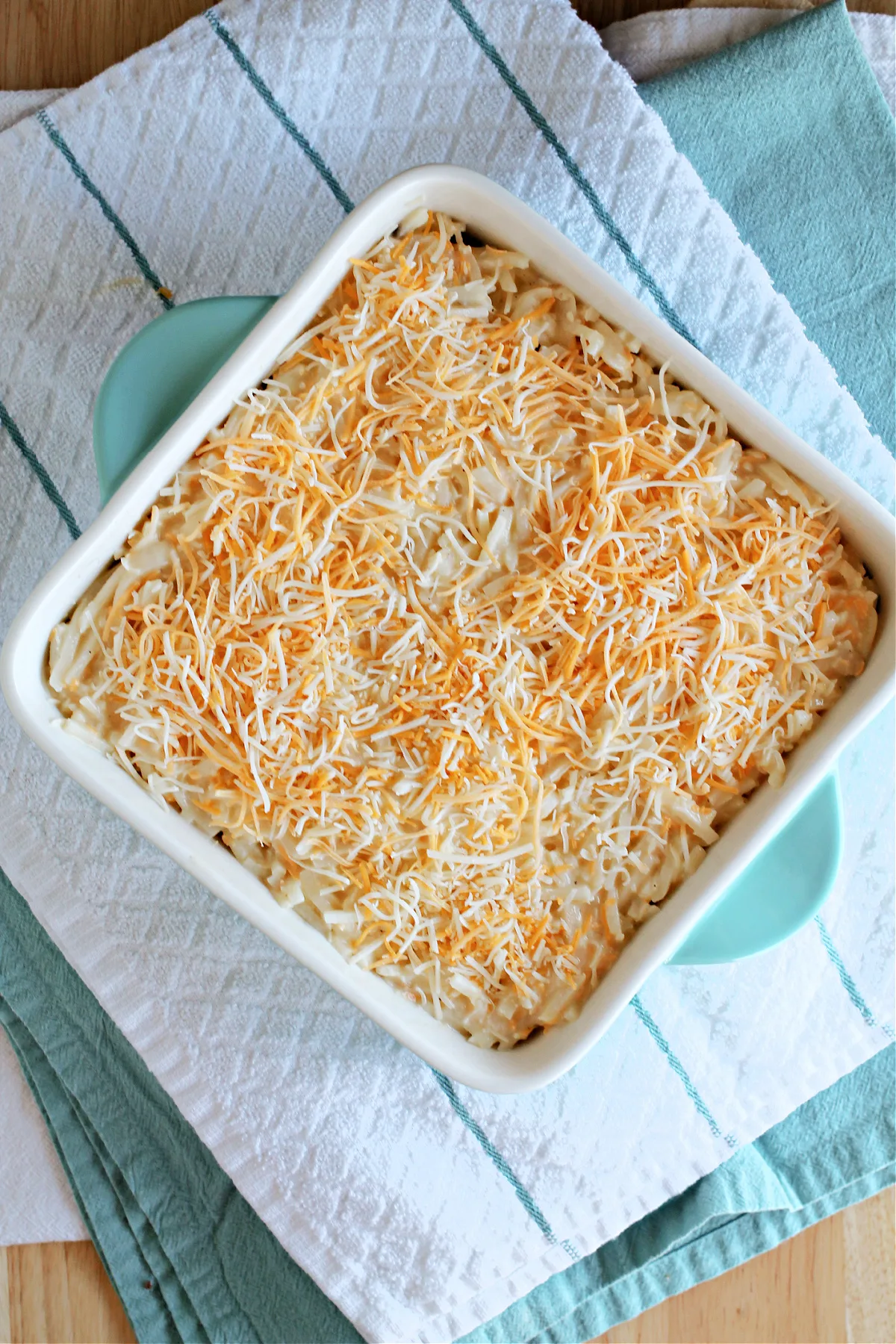 You can add extra cheese on top of the casserole dish if you choose at this point and then cook in your preheated oven for approximately 1 hour.

The dish will be ready when your potatoes are golden brown.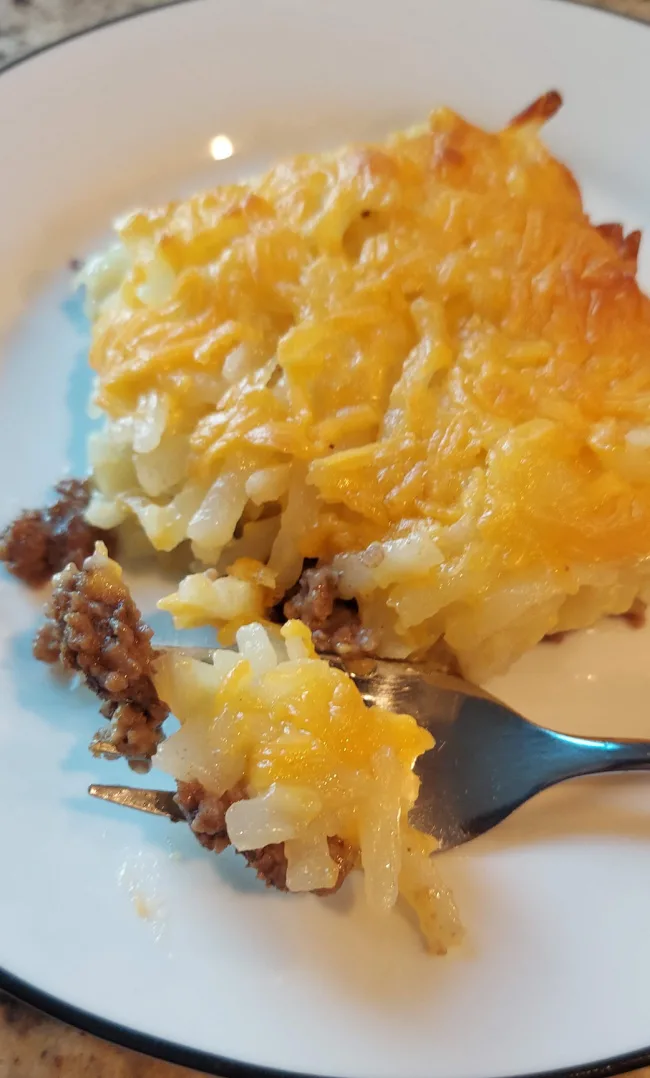 I will be honest when I say this dish doesn't look fancy and is quite hard to photograph but it is certainly a tasty one that you won't want to miss out on trying.


I feel like it is a great addition to any meal planning menu and it is more or less easy on the grocery budget.


Not a ground beef lover?

No problem... The best thing about casseroles, in general, is that they pretty much all have a few basic ingredients.


You can even use this basic hashbrown casserole with meat recipe and change up the meat to your desired preference.


All casseroles contain...

the main ingredient
secondary ingredients
a starch
a binder
and a topping


The main ingredient is usually some type of protein like hamburger meat, chicken, or tuna.


There are lots of options for a secondary ingredient, you can just pick your favorite vegetable but here are a few extra ideas for ingredients you can add or adjust in this recipe.


red peppers
green beans
diced onions (or you could add in onion powder)
peas


The starch is simple enough to add, pick something like potatoes (tater tots), pasta, or rice, and choose a binder such as cream of chicken plus a little extra milk, sour cream, or water so it's not too dry.


The last is topping it with something delicious like cheese or crackers.


A simple formula to have quick and easy meals just the way you like.

A great way to create the best combination that works for your family.




Serving and Pairing Suggestions


Salad: Serve a fresh green salad with a light vinaigrette or ranch dressing on the side. The crispness of the salad provides a nice contrast to the creamy casserole.


Steamed Vegetables: Steamed or roasted vegetables, such as broccoli, carrots, or green beans, make a great side dish. They add color, nutrition, and a bit of crunch to your meal.


Garlic Bread or Dinner Rolls: Serve some warm garlic bread or dinner rolls on the side to mop up the delicious sauce from the casserole.




Frequently Asked Questions


Can I cook this Hashbrown Hamburger Casserole in the Slow Cooker?


Yes, you can! First, you will want to brown the ground beef mixture and drain. Then mix all the ingredients, including the beef, and cook in the crockpot on high for approximately 3 hours or on low for around 6 hours. Top with your leftover cheese at the last 5 minutes of cooking time.



What should I serve with this Cheesy Ground Beef and Hashbrown Casserole?


Because this dish is very filling we usually either eat it as a one-dish style of meal or we will serve it with a simple refreshing side salad.



Can I use frozen hashbrowns instead of fresh ones?


Yes, you can use frozen hashbrowns instead of fresh ones. Just make sure to thaw them completely before using them in the casserole.



Can I prepare the casserole in advance?


Yes, you can prepare the casserole in advance and store it in the refrigerator until ready to bake. Just make sure to cover it tightly with plastic wrap or aluminum foil.



Can I freeze the casserole?


Yes, you can freeze the casserole for up to 2-3 months. Just make sure to wrap it tightly with plastic wrap and aluminum foil before freezing. To reheat, thaw the casserole in the refrigerator overnight and bake in the oven until heated through.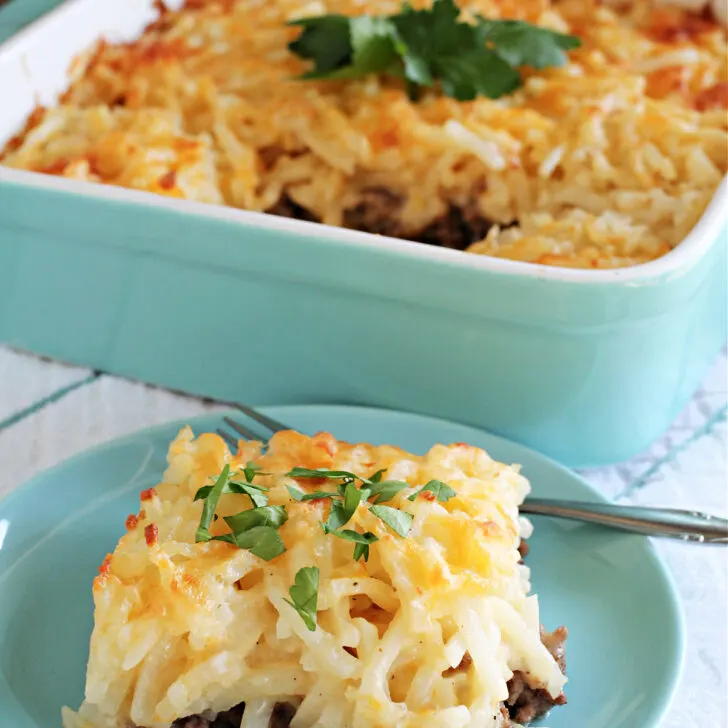 Hamburger Hashbrown Casserole
A cheesy, ground beef recipe that is creamy and delicious and perfect for dinner tonight.
Ingredients
2

lbs.

hamburger

1 ½

cups

shredded cheddar cheese

plus more for topping, optional

1

can cream of chicken soup

10.5 oz

1

cup

milk

½

cup

butter

melted

1

package of hash browns

20oz

salt & pepper to taste
Instructions
Brown hamburger meat.

Mix cheese, soup, milk, melted butter, salt, and pepper together then add in the hash browns.

Once you have all of this mixed, layer the hamburger in a 9x13 pan and then spread the mixture on top of the burger.

Top with more cheese if you desire and cook at 350 degrees for approximately 1 hour.
Nutrition
Serving:
1
g
Calories:
351
kcal
Carbohydrates:
18
g
Protein:
16
g
Fat:
24
g
Saturated Fat:
12
g
Polyunsaturated Fat:
10
g
Cholesterol:
79
mg
Sodium:
656
mg