I love fall and one of the best things about fall is that it is the perfect weather and scenery for great dates with your significant other.


If you haven't been on a date in a while (raises hand) or if you are just looking for a new date night idea then stick around and check out all these fun fall date ideas.


Whether you are just dating, you're engaged or already married these are perfect for every couple.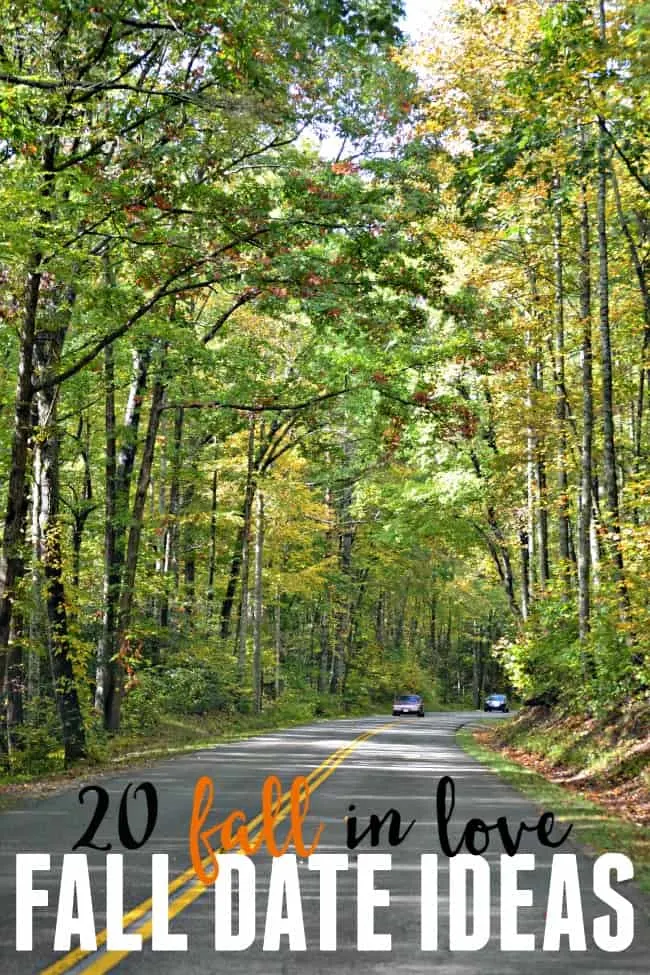 1. Go pumpkin picking for the perfect pumpkin.


2. Go on a bike ride. We have done the Virginia Creeper Trail in the past and it is a beautiful ride.




3. Surprise your significant other with a fall dinner night with something tasty like cheesy potato soup.


4. Go for a hike! Like biking, hiking during the fall amongst the gorgeous colors of orange and yellow makes for a perfect date day. Pack you a little bite to eat and have a picnic lunch too.


5. Go apple picking! What says fall like apple picking?


6. If you are into camping then you probably already know that the fall time is perfect camping weather. Pack up your gear and have a date weekend.


7. Build a bonfire and roast some yummy s'mores.


8. Pick out a favorite fall movie (or thriller for Halloween) and snuggle under the blankets.


9. Visit a national park. We particular love visiting Gatlinburg during fall.


10. If you have a fireplace then get a fire going and snuggle up and just relax.


11. Go for a horseback ride or a hayride among the falling and crunching leaves.


12. Go to a football game. We don't care for football around here but I know lots of couples who do and going to a game in person would be a great date day.


13. Go to a fall festival or fair.


14. Make caramel apples!


15. Find the perfect spot and watch the sunset or get up early and watch the sunrise together.


16. Go fly a kite!


17. Have a fall photoshoot.


18. Make haunted gingerbread houses!


19. Get lost in a corn maze!


20. Go on a fall scavenger hunt together.


What are your ideas of a perfect fall date night?