This shop has been compensated by Collective Bias, Inc. and its advertiser. All opinions are mine alone. #PourMoreFun #CollectiveBias
This past weekend it was perfectly gorgeous outside and that is were we spent all of our time enjoying one of our favorite treats, snow cones. Although we moved into this place at the end of last summer it was literally within a couple of weeks before school started so we didn't do much with the outside. However, now that it is spring and a new summer is just right around the corner we are ready to do some sprucing up. Which meant first we need to find some new seating. As much as we love to build our own furniture we decided that the time spent compared to the cost savings wasn't ideal on this project so we purchased a picnic table for our local home improvement store. Then we promptly enjoyed our first BBQ and easy mix snow cones on it the same night.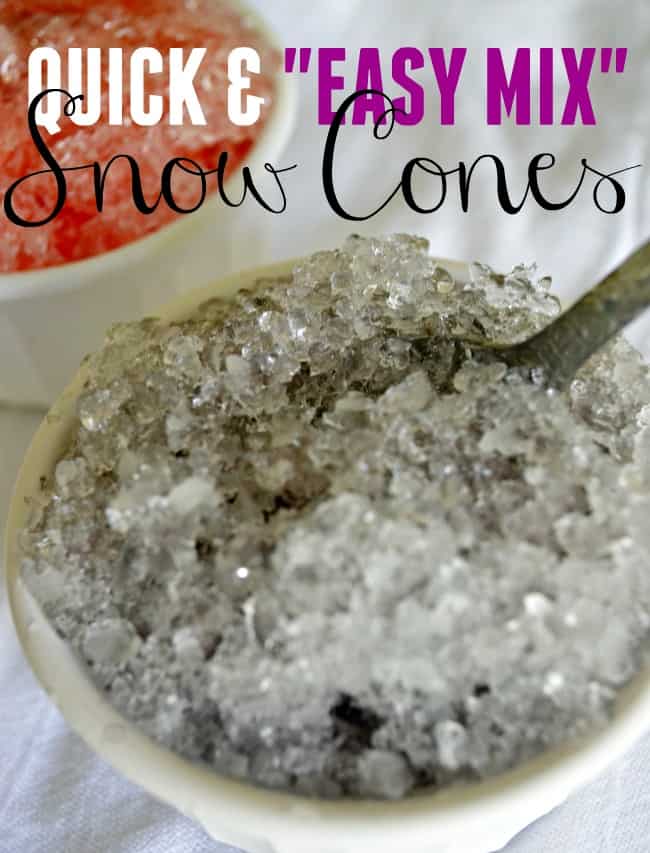 I have always made a KOOL-AID based syrup for our snow cones but now I have found a even easier way to make them in pretty much less than 5 minutes. We have started using the new KOOL-AID Easy Mix liquids. They come in cherry, tropical punch and grape which just so happens to be some of our favorites.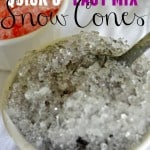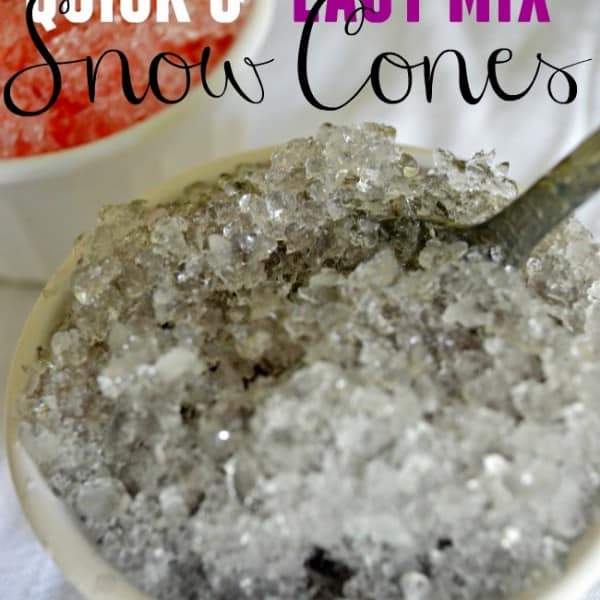 Quick and "Easy Mix" Snow Cones
Ingredients
Ice

as little or as much as you need

KOOL-AID Easy Mix Liquid

Approx 1 1/2 to 2 tbsps per cone
Instructions
Put as much ice as a you need in your blender (or snow cone maker).

Blend (chop) until smooth, adding water to help smooth as needed.

Scoop ice into a cone or cup. No special cones are needed, a cup works just as well.

Pour in your KOOL-AID Easy Mix liquid coating the ice. We used approximately 1 1/2 tablespoons for ours but the amount will depend on the size of your cup/cone.

Serve and Enjoy!
Recipe Notes
The Kool-Aid Easy Mix is already concentrated so no sugar is needed. Since we were pouring it over ice and it would dilute itself we didn't mix the liquid with extra water. If you are wanting to make just a glass to drink all you need to do is mix 1 1/2 tbsp with a 8 oz glass of water and you a ready to roll. No additional sugar needed!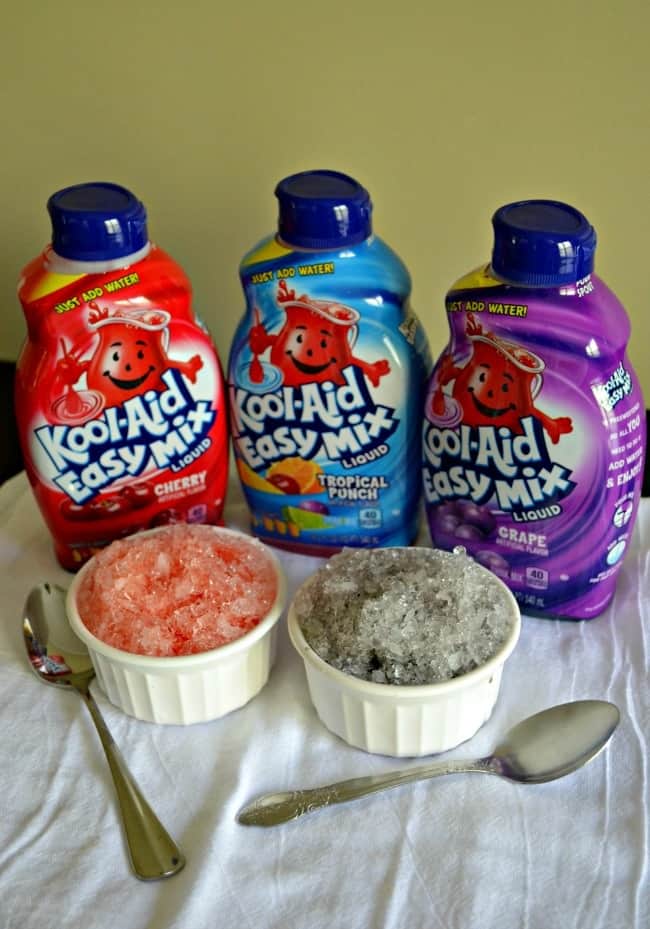 We are loving how really easy and convenient to make these snow cones are with the KOOL-AID Easy Mix. Plus it makes having a glass of yummy KOOL-AID super quick as well because all you need to do is just add water. Which is exactly what we enjoyed our first BBQ on our picnic table with.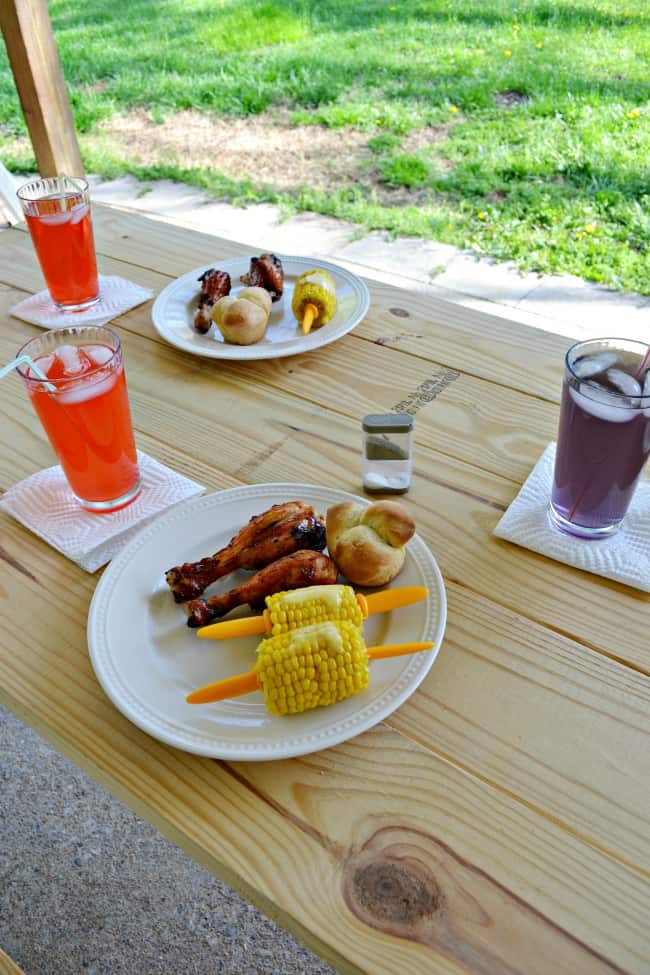 As you can tell in the pictures above we didn't even bother sanding our new table. We were ready to enjoy our dinner and snow cones. I will post pictures later of how the patio turns out. I think we will probably stain our new picnic table and then of course add in some new additional touches here and there.
If you are ready to enjoy your own snow cones on your patio too then be sure to head to Wal-Mart and pick up the new KOOL-AID Easy Mix liquid. You can find it with the regular KOOL-AID packages. They seem to be going pretty fast at our store as you can tell in the picture below. I picked up the last grape one. Phew, just in time! Also some Wal-Mart stores will be having demos with this new product. You can go here to check out if your local store is participating and when.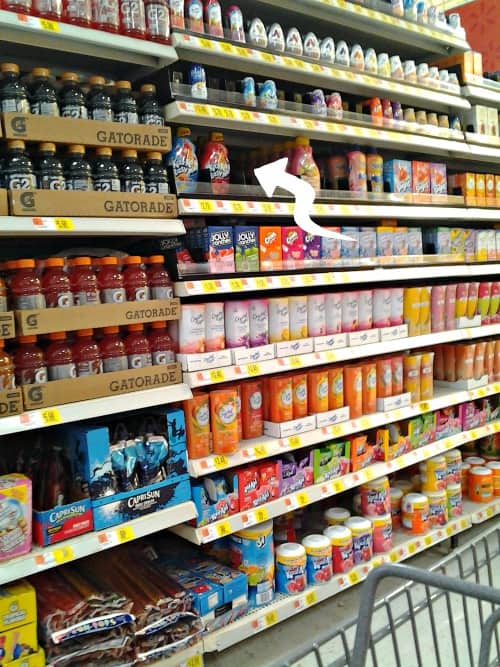 I love comments! Let me know… What is your favorite KOOL-AID flavor? Also be sure to check even more great Kraft recipes to go along with your tasty drinks.