This is a sponsored post written by me on behalf of Breyers. All opinions are 100% mine.
Today I am sharing with you this super yummy roasted white peaches with honeycomb and vanilla ice cream recipe.
This dish is fairly simple to make and is the perfect recipe to celebrate with Breyers® and their 150th birthday. 150 years! Breyers® was founded in Philadelphia in 1866 when William A. Breyer hand-cranked his first gallon of ice cream, which featured fresh fruits and nuts, and sold it to his neighbors. Lucky neighbors!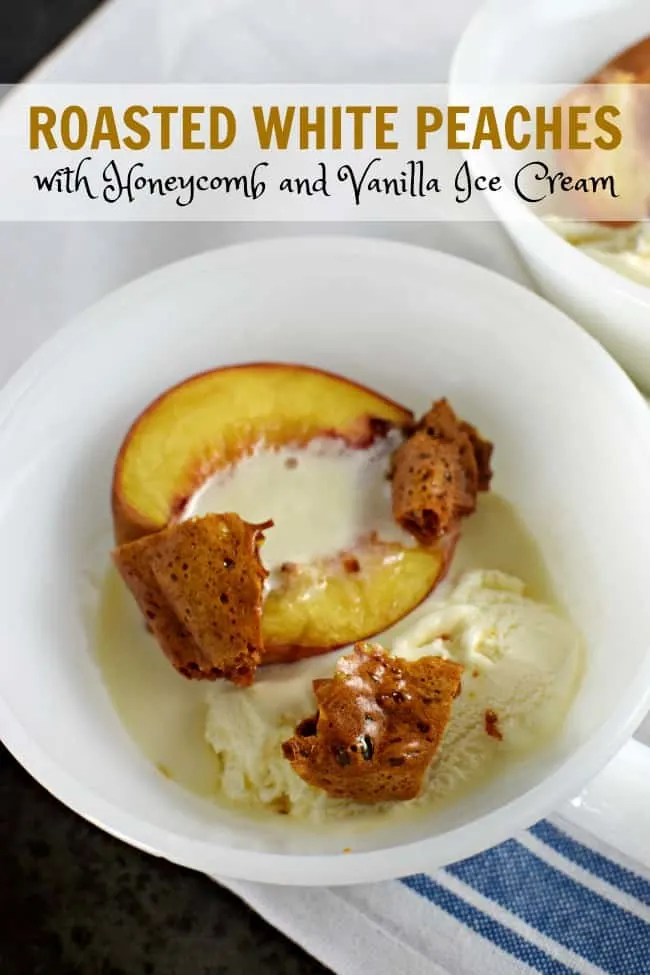 Breyers® partnered with chef Curtis Stone and his wife Lindsay Price Stone to create 12 delicious recipes featuring Breyers® Natural Vanilla Ice Cream.
One inspired by every month of the year. YUM! Who is ready to celebrate someone's birthday every month? me!
This Roasted White Peaches with Honeycomb and Vanilla Ice Cream recipe for July only requires a few simple ingredients and I have them listed for you below.
Roasted White Peaches with Honeycomb and Vanilla Ice Cream
Ingredients:
1 cup sugar, divided
1 lemon, zested
4 ripe but firm white peaches, halved, pitted
Nonstick cooking spray
1/3 cup honey
1 1/2 tsp. baking soda
4 cups Breyers® Natural Vanilla Ice Cream
Instructions:
Preheat oven to 425°F.
In a small bowl, whisk 3 tbs. sugar and lemon zest for about 1 minute, or until sugar is fragrant and moist. Arrange peaches, cut side up, in a 13×9-inch baking dish. Pour 2/3 cup water into dish. Sprinkle lemon sugar mixture over peaches and roast for 25 to 30 minutes, or until peaches are slightly softened and have released their juices.
Meanwhile, lightly spray a small baking sheet with nonstick spray. In a medium heavy saucepan over high heat, bring remaining sugar, honey, and 2 tbs. water to a boil, stirring constantly. Reduce heat to medium-high and cook, without stirring, for about 5 minutes, or until a candy thermometer reaches 305°F. Remove from heat and whisk in baking soda just until blended and mixture begins to bubble. Gently pour hot mixture onto prepared baking sheet and cool. Break honeycomb into small pieces and reserve in an airtight container.
Spoon 1/2 cup Breyers® Natural Vanilla Ice Cream into each of 8 bowls. Top with warm roasted peaches and warm juices. Sprinkle with honeycomb pieces and serve immediately.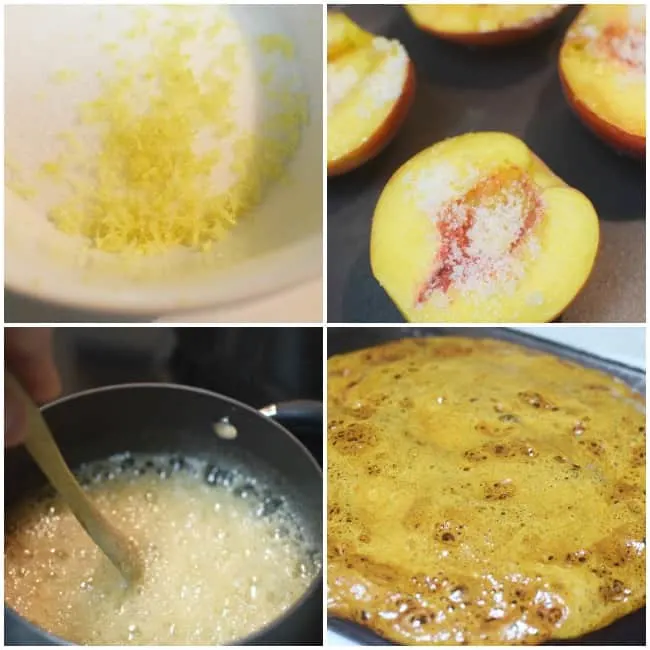 If you are a fan of peaches then this recipe is top notch. The warm peach mixed with the cold natural vanilla ice cream is incredible. Then add on top the honeycomb for a little crunch and you can't beat it.
The perfect treat for a hot summer night and to celebrate 150 years of excellent ice cream from Breyers®. We love it even more because all Breyers vanilla is real and from sustainably farmed, Rainforest Alliance Certified™ vanilla beans. Breyers only sources milk and cream from cows not treated with artificial growth hormones* You can't go wrong with those stats standing behind you.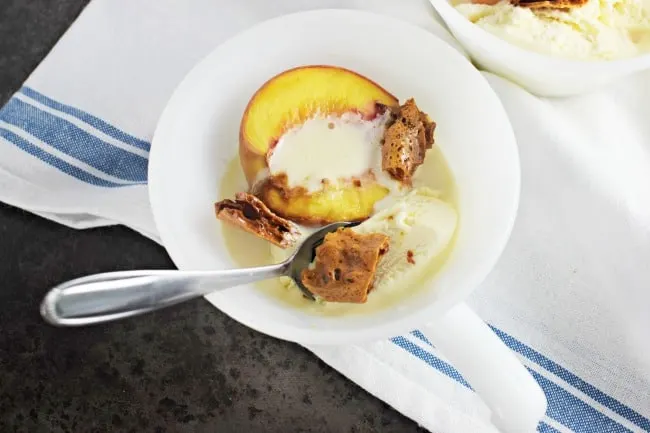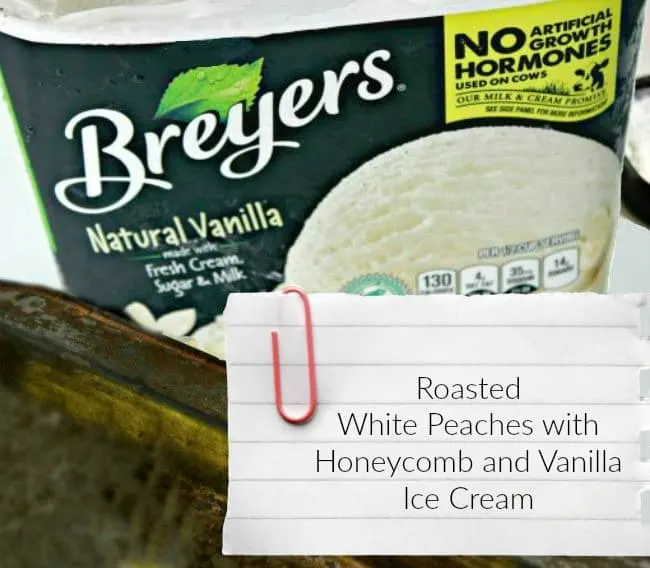 *Suppliers of other ingredients such as cookies, candies & sauces may not be able to make this pledge. The FDA states that no significant difference has been shown between dairy derived from rBST-treated and non-rBST treated cows.
Want to print this recipe?
Follow Breyers®: Pinterest | Facebook | Twitter