Growing up my parents always used Epsom Salt for soaking our feet.
Whether it was after ball games or we had blisters from our shoes soaking your feet in Epsom salt or having an Epsom salt bath was the thing to do.
I had no idea that there were so many awesome uses for Epsom Salt but I think you would be surprised what all you can use it for from a natural facial to watering your lawn.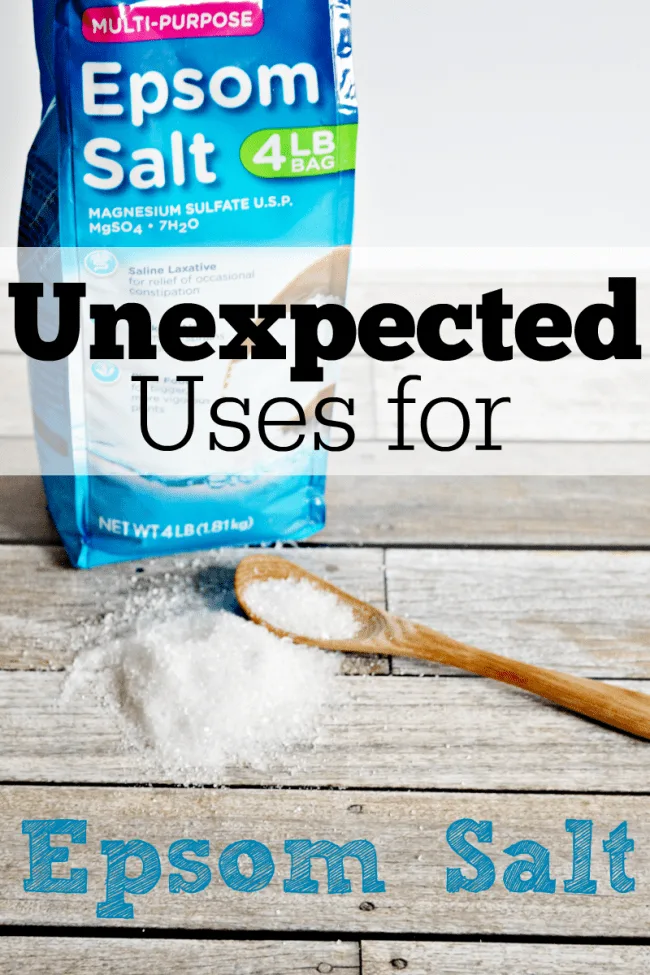 Splinter Remover! Soak your finger in a mixture of Epsom salt and water for easy removal of splinters.
This works great when your daughter puts her hand down in a prickly bush on vacation. Yes! That happened to us.
Tile Cleaner! Mix equal parts of Epsom Salt with your liquid dish detergent.
This makes a great scrub mixture for all your tile grout on floors and walls.
Super Green Grass! Make your grass bright green with 2 tablespoons of Epsom Salt and water.
Then have fun watering your lawn.
Fertilizer! Clearly if it helps make your grass green it's going to be great for fertilizing.
Add a little to the soil around your plants, even your household ones. This also acts as a natural insecticide deterring insects.
Face Exfoliator! The natural grittiness makes for a great exfoliator.
Add a few pinches to your regular face wash and scrub gently.
Epsom salt has antibacterial and anti-fungal properties making it a great treatment for acne. The face scrub will help exfoliate and help with any acne problems too.
Natural Hair Volumizer! Give your hair some volume by mixing one part hair conditioner to one part Epsom salt and work the mixture through your hair.
Leave on for 15-20 minutes and rinse as normal.
Fabric softener! Mix 4 cups of Epsom salt and 20 drops of essential oil to make your own do it yourself fabric softener crystals.
Use approximately 1/4 cup per load and add in the crystals at the beginning of your wash cycle.
Bath Soak! Okay, this one isn't so unexpected I think we all know that Epsom Salt is great for soaking in the tub.
Add approximately 2 cups to your bath water, grab a great book and get your relaxing on.
Soaking in an Epsom salt bath also helps relieve headaches, relieve cold symptoms, reduce swelling, and i'm quite sure tons of other benefits I don't even know about.