Here are the bookcases that we have been working on, for the office, in all their glory. I can claim 95% (ok 90%) of this build so let me say I really really love them, even more so now that I'm getting to finally put pretties in them (which will be a whole separate office makeover post later).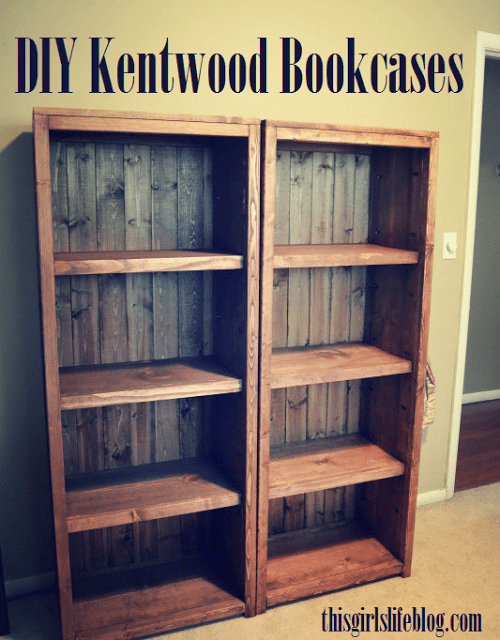 You can see the plans for this bookcase here if you would like to build your own. I love Ana and her plans. 🙂
We pretty much followed her plans to a t, minus a few tweaks here and there. If we had to do it over we probably would have went with the nail gun and glue 100% over using the Kreg Jig. We do love that little jig but don't prefer to use it on some builds. This was one of them.
We used EverTrue plank paneling for the backs which was somewhat of a pain. You can buy it (@ Lowe's) in packages of 6 planks and just hope you get something good in those packages. If you are going for perfect looking panels this is NOT for you. I, however, like the knotty look. 🙂 Also note that it will take 7 panels for one bookcase but the 8′ pieces will allow for your last panel to be pieced with leftovers. That is a-ok in my budget friendly book.
The stain used was Minwax English Chestnut.
I didn't keep up with the exact total cost of this project but it was right around $120ish for both bookcases, which isn't bad at all for solid wood.