Get ready to add a touch of whimsy to your space with this adorable DIY Sherpa Ghost craft!




These little specters are not only spooky but also cuddly, thanks to the cozy sherpa fabric.


You can conjure up a ghostly gang to haunt your home with just a few simple materials and a dash of creativity.


Whether you're decorating for the Halloween season or just in the mood for some ghostly companions, this craft is a boo-tiful way to unleash your crafty spirit!




It's that spooktacular time of the year, and we've got a DIY project that will haunt your heart—in the best way possible.


Say hello to our Sherpa Ghost, a whimsical creation that combines the eerie charm of ghosts with the snuggly warmth of Sherpa fabric.


In this ghostly crafting adventure, we'll guide you through the steps of conjuring up your own spectral companions.


This DIY Sherpa Ghost is not only a bewitching addition to your Halloween decor but also a cozy cuddle buddy for those chilly autumn nights.


So, grab your crafting cauldron, and let's brew up some fun together!




Why you'll love this post!


Magical Transformation: Dive into the enchanting world of DIY crafting as we unravel the secrets to recreating the whimsical Gus the Ghost from Pottery Barn. Watch ordinary materials transform into a charming specter, adding a touch of magic to your space.


Personalized Charm: Discover the joy of infusing your creation with your unique style. From the mischievous grin to the playful pose, each detail is a canvas for your imagination, allowing you to tailor Gus to fit seamlessly into your home decor.


Budget-Friendly Sorcery: No need for a wizard's wallet! This DIY project proves that creating something extraordinary doesn't have to break the bank. Unleash your creativity without the fear of haunting your budget.


Spooky AND Snuggly: Gus isn't just a ghost; he's a cuddly companion too! With the use of sherpa fabric, your creation will not only add a delightful spookiness to your space but also invite warmth and coziness.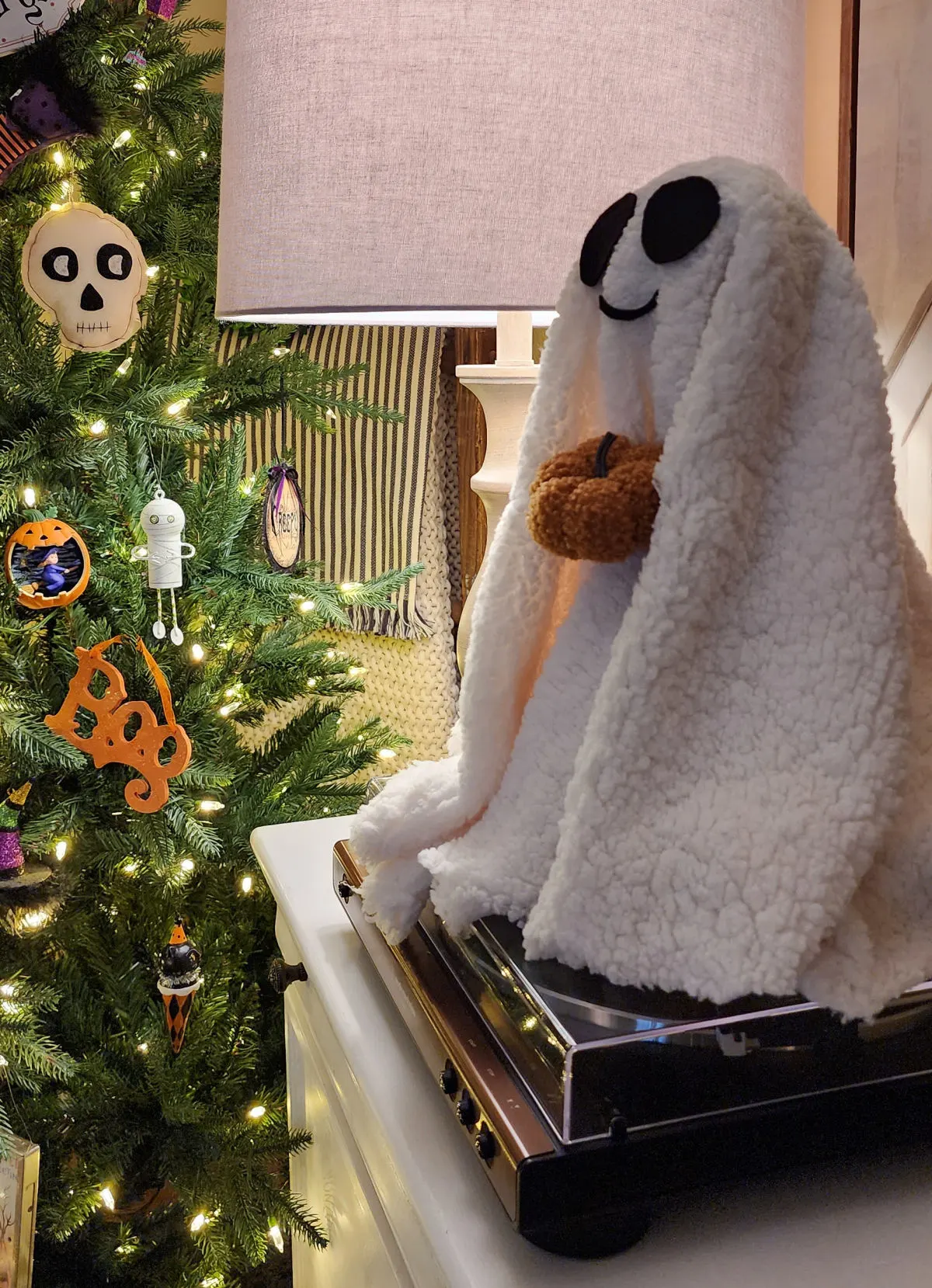 Pottery Barn Ghost Pillow Dupe (Gus the Ghost Copycat for Less)


I've looked at the adorable Gus the Ghost from Pottery Barn and wanted him but the pricetag is saying not today.


At around $100 with tax and shipping, little Gus would have to stay at the barn.


BUT..... with a little DIY crafting, we can easily recreate the magic of Gus the Ghost right in the comfort of your own creative cauldron and for just a fraction of the cost.


This craft ended up costing around $15 a ghost but that is without the fabric or the foam materials being on sale. If you wait til then you could even make it for less.


With a dash of creativity and a pinch of whimsy, we'll guide you through the steps to capture the essence of Gus.




Materials you will need to make a DIY Sherpa Ghost!


cream or white Sherpa Fabric (1 yard... you will have enough left over to make a smaller one if you would like)
Small Pumpkin (he could even be holding other things, I thought a battery-operated candle would be super cute in his "hands." Just be sure to get something lightweight so that he can hold it easily.)
Foam Cone (I picked up FloraFom because I found it the quickest but go with a regular foam cone, it's cheaper)
Craft Stick (If you are using FloraFom, you can probably attach it just fine with glue with a regular foam cone/ball)
Hot Glue and Glue Sticks
Scissors


You could even save more money by draping this over something you already own (like a teddy bear or vase) and eliminating having to purchase the foam products.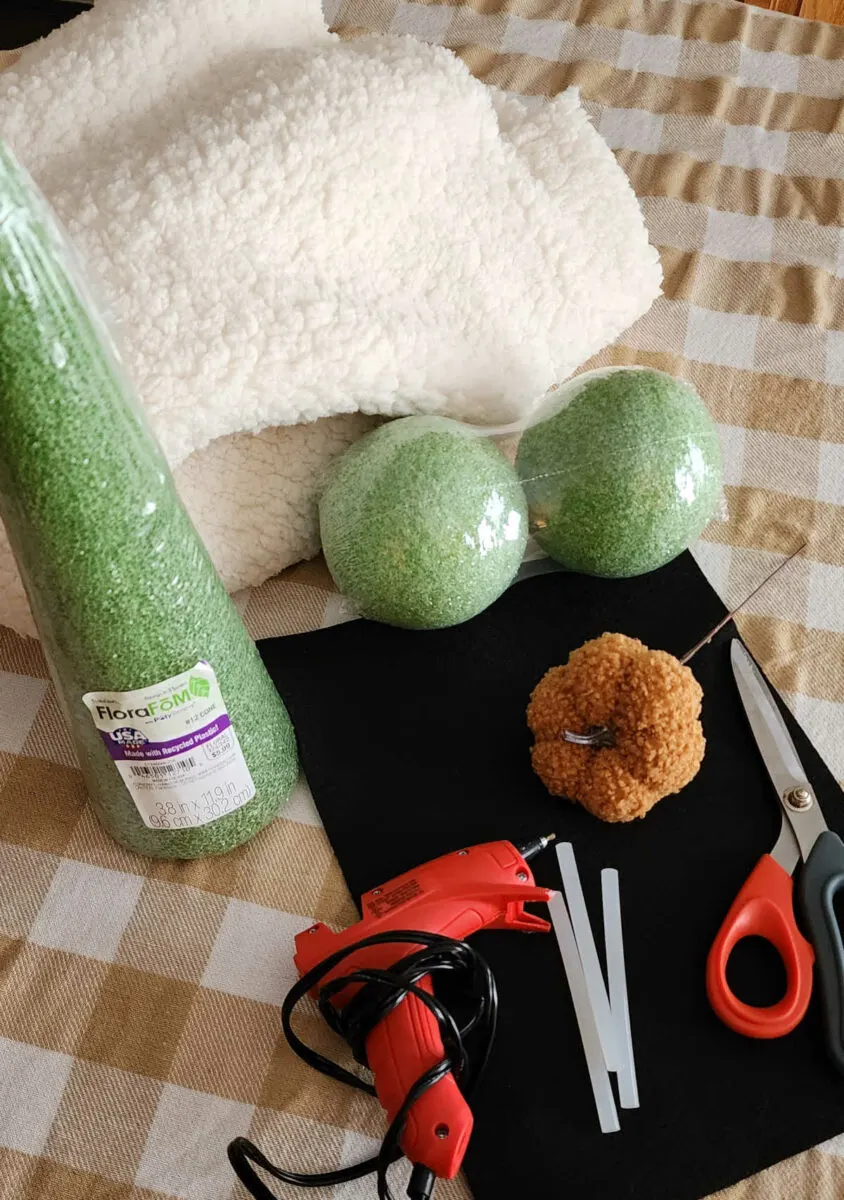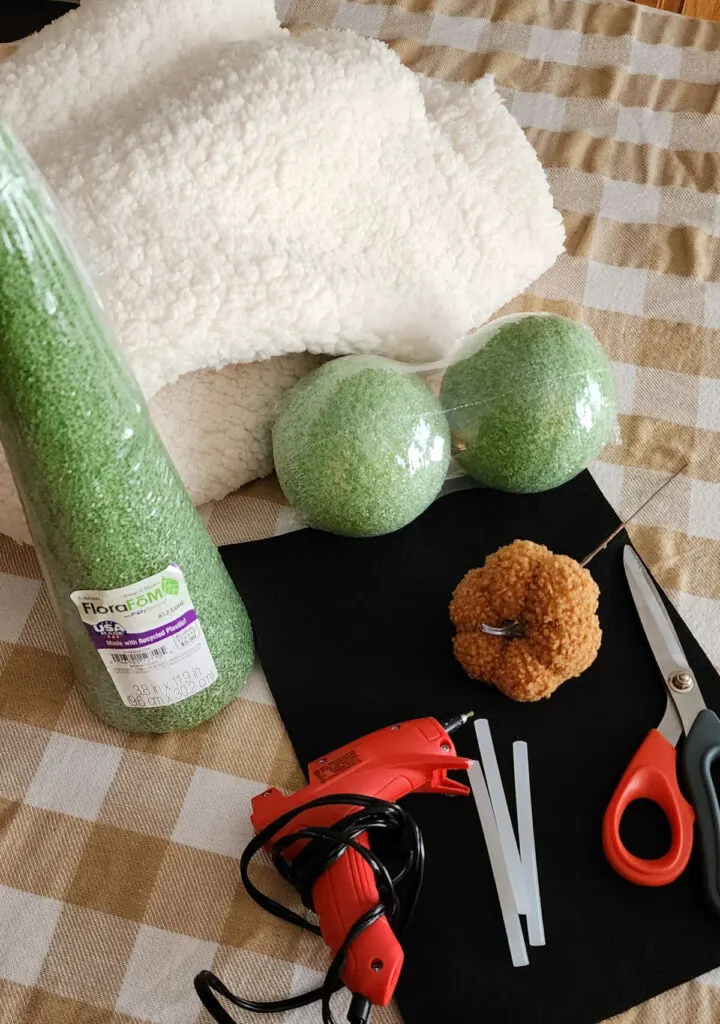 How to make a DIY Sherpa Ghost for Halloween!


Using a craft stick, stick it halfway into the foam cone and then stick the foam ball onto the other end of the craft stick to make the top of the head.


This will be the base of your sherpa ghost body. If you don't have a craft stick you could also use a skewer or something that will hold them together.


I do not recommend hot glue because hot glue and this type of foam do not mix, they will melt.


If you pick up the regular white foam cone and ball you can probably get away with hot gluing it.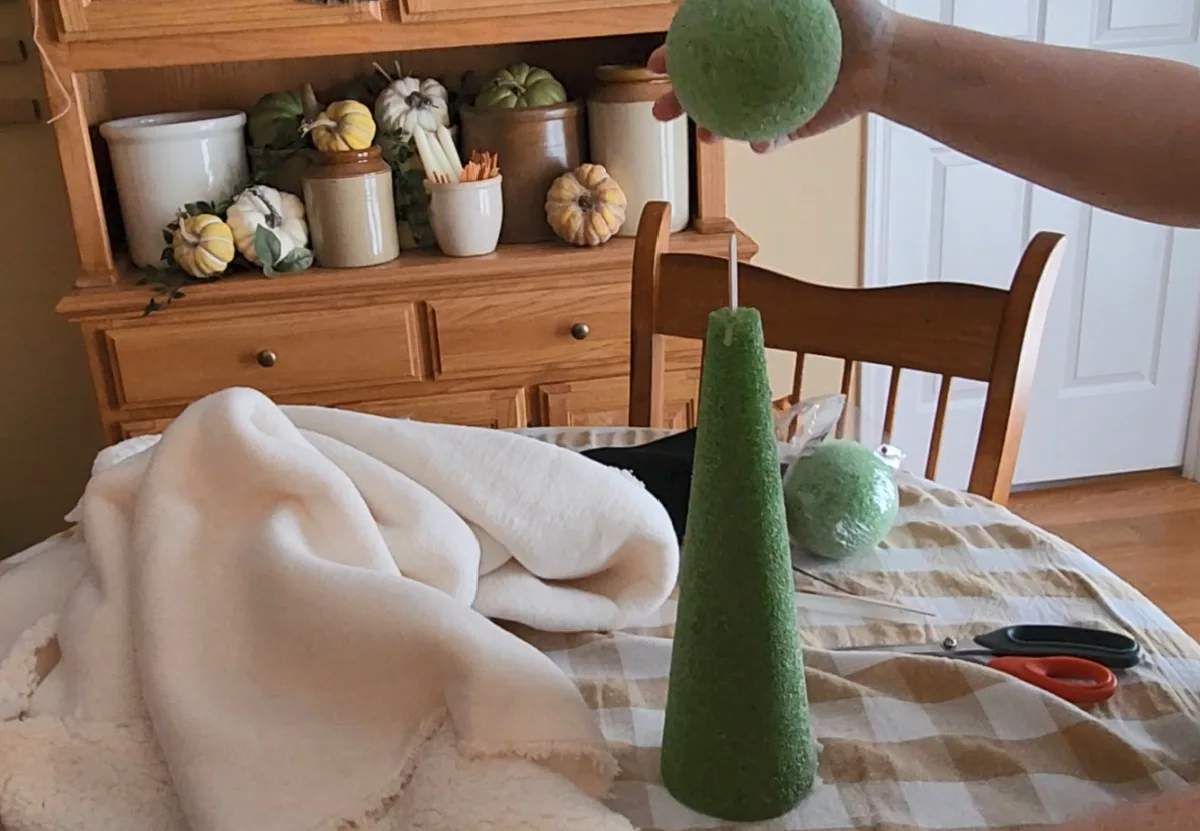 Lay your fabric over the foam base and fluff it to get your desired look, trim off the excess fabric.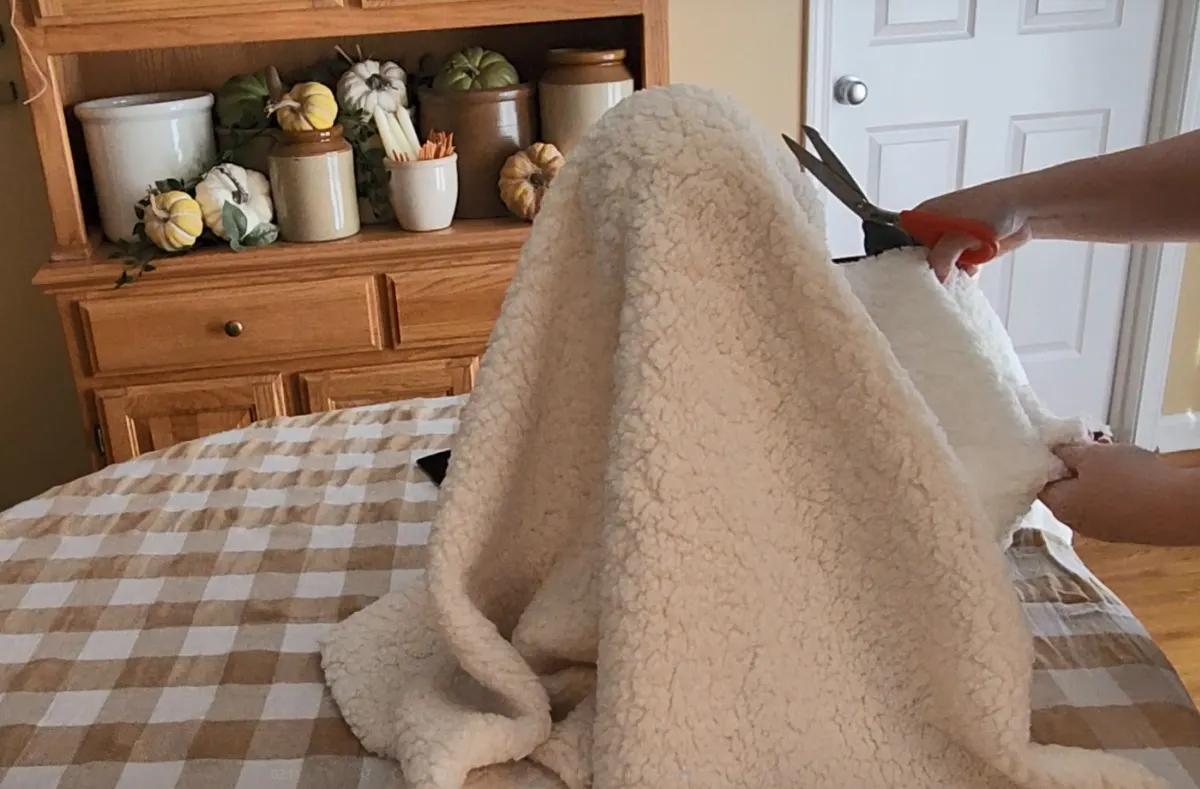 Cut out the ghost eyes and a mouth (if desired) from the black felt.


Gus the Ghost doesn't have a smile but I thought he looked charming with a cute little grin.


You can play with different expressions—happy, mischievous, or surprised!


Attach the facial features to the sherpa fabric using hot glue or by sewing them on.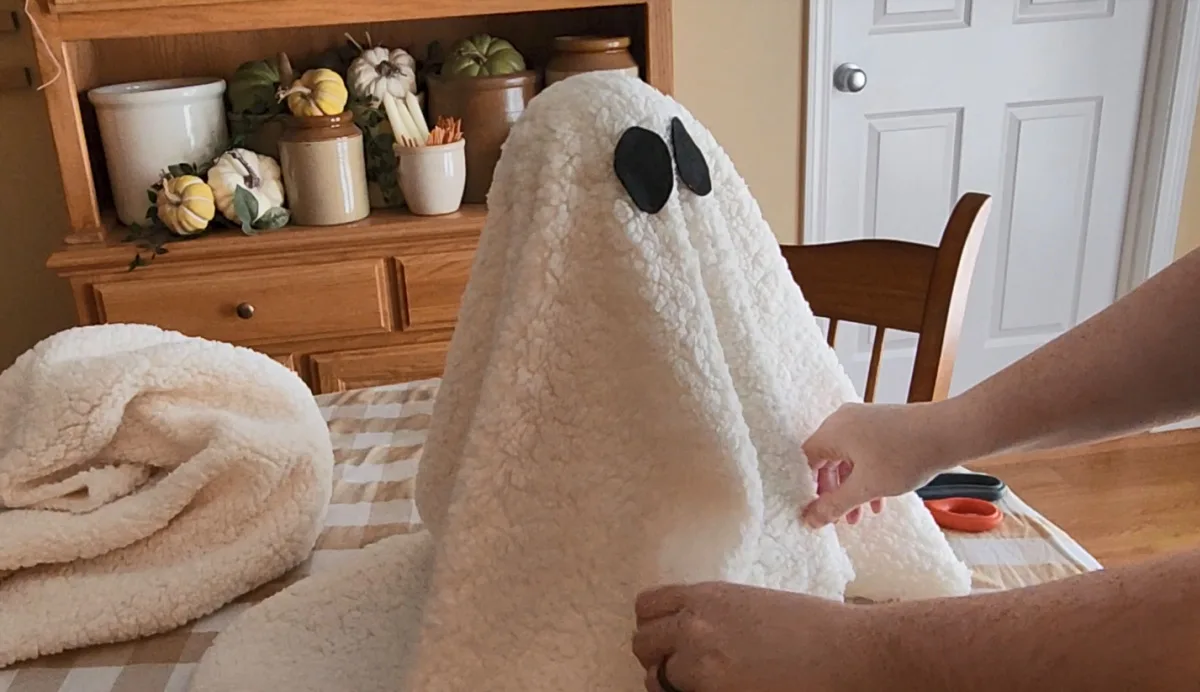 Attach your pumpkin using hot glue or by sewing as well.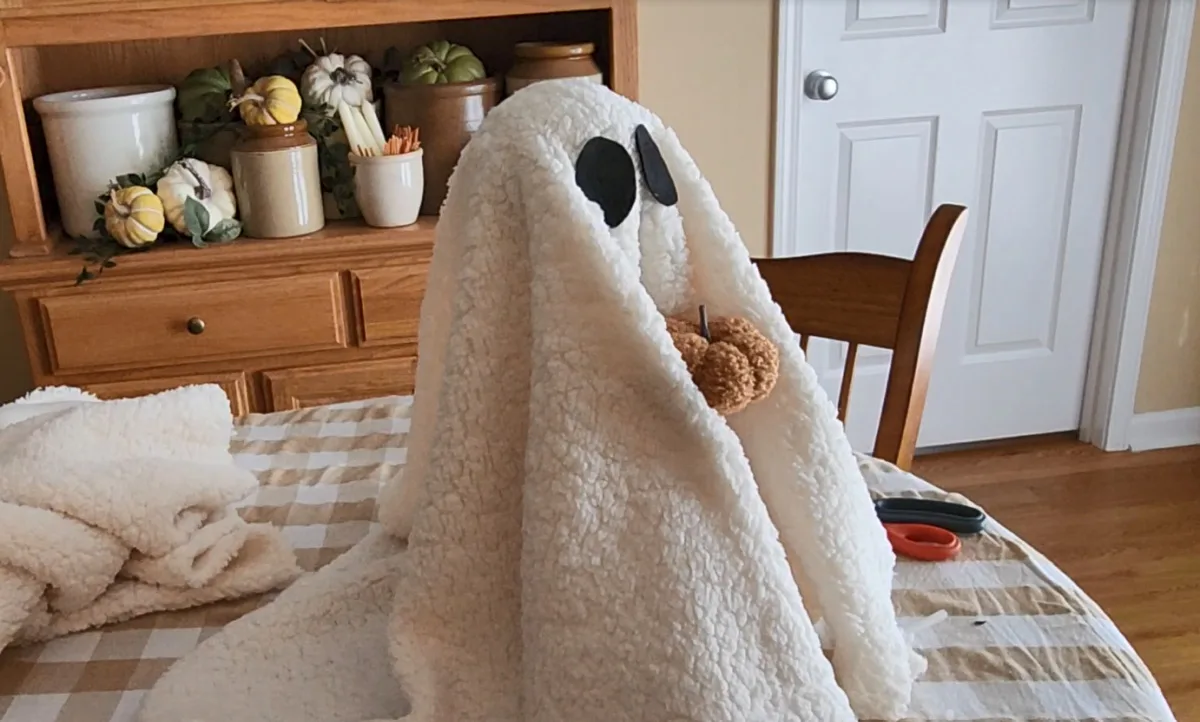 And there you have it—your very own DIY Sherpa Ghost!


Give your sherpa ghost a good fluff and style to your liking. Arrange it to create a whimsical and playful look.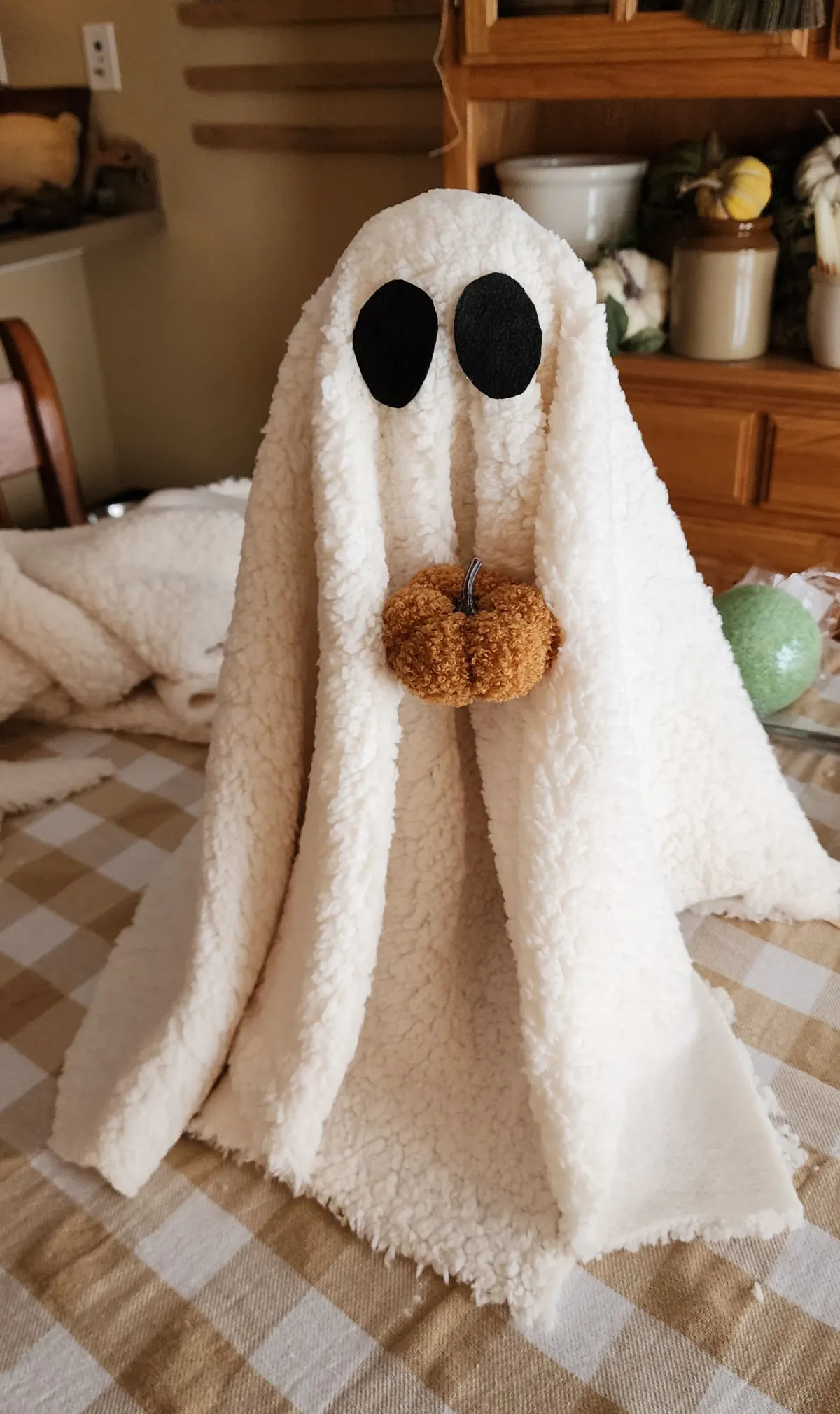 How to purchase one for less than Pottery Barn?


Amazon also has a version of Gus the Ghost for significantly less than Pottery Barn but you can still DIY this cute little ghost for even cheaper than Amazon.


However, if you aren't interested in DIYing but still would like to pick it up for less then you can find this little guy by clicking the picture below.


If he is showing out of stock, do a search on Amazon, there are several sellers.




Frequently Asked Questions



Can I use a different fabric instead of Sherpa?


Absolutely! While Sherpa adds a cozy and cuddly touch (and true to Gus the Ghost), you can experiment with different fabrics like felt, fleece, or even patterned cotton for a unique look. Let your creativity guide you!


Is this a suitable craft for beginners?


Certainly! This DIY Sherpa Ghost project is beginner-friendly. The simple cutting and gluing make it an excellent choice for those new to crafting.


Can I make different sizes of Sherpa Ghosts?


Absolutely. Adjust the size of your base to create a family of ghosts with varying dimensions. A mix of sizes can add a dynamic and playful element to your spooky decor.


How do I clean my Sherpa Ghost?


Gently spot-clean your DIY Sherpa Ghost with a damp cloth. Avoid submerging it in water, as sherpa fabric may not respond well to excessive moisture.


How long does it take to make a Sherpa Ghost?


It's a super quick project. I think I spent a total of around 10-15 minutes.




Happy Crafting!




Even more Cute DIY Halloween Crafts