Experience the timeless comfort of our Old Fashioned Recipe for Salmon Patties. These golden, crispy delights are a taste of tradition, blending flaky canned salmon with simple, wholesome ingredients.



Indulge in nostalgia with our classic old-fashioned recipe for salmon patties.


Crispy, flavorful, and made with pantry staples, these salmon patties are a timeless favorite.


Discover the perfect blend of ingredients that bring out the rich taste of salmon in every bite.


Try this easy-to-follow recipe today and savor the taste of tradition!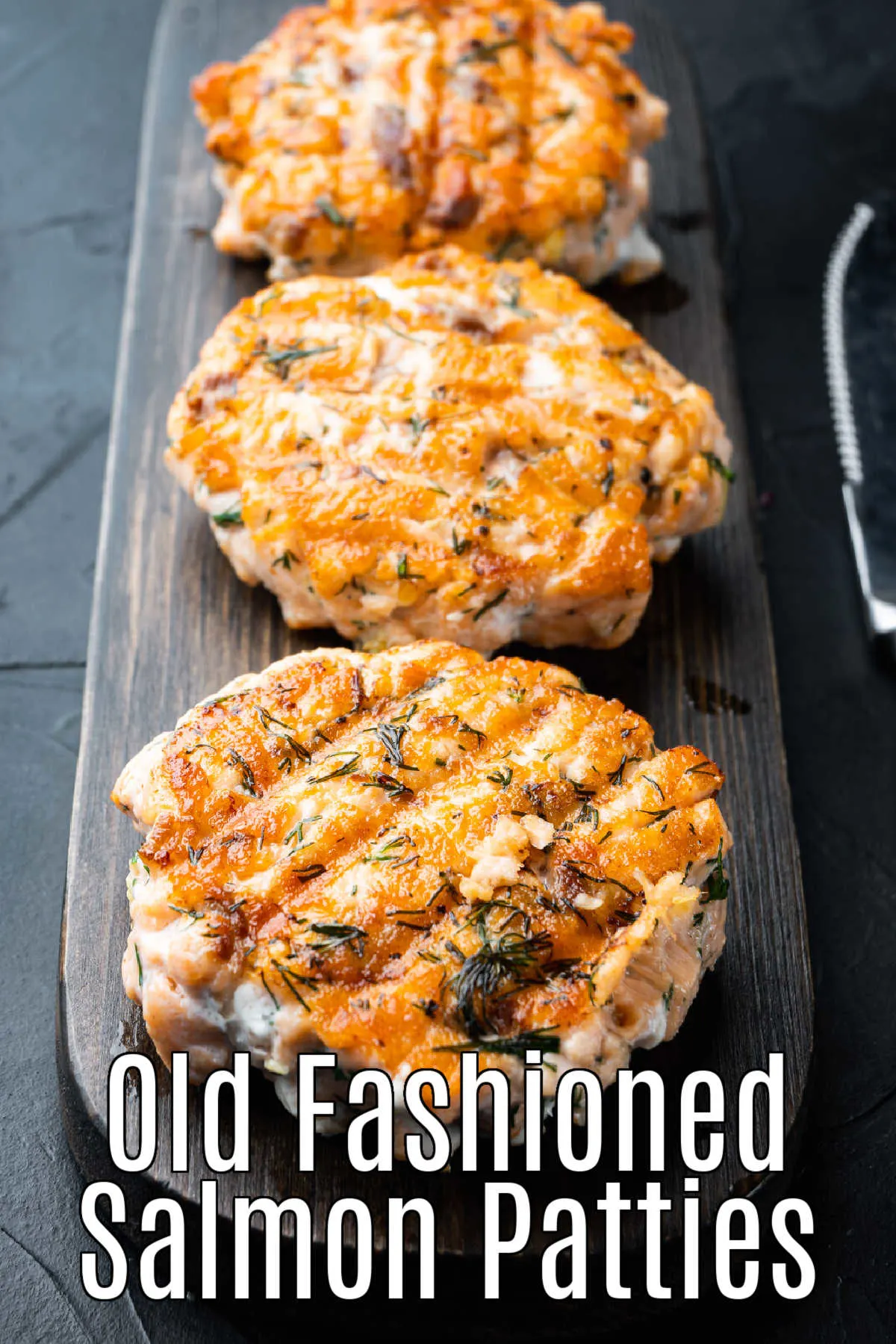 Picture this: a cozy kitchen filled with the comforting aroma of sizzling salmon patties, reminiscent of cherished family gatherings and simpler times.


In a world where culinary trends come and go, there's something truly special about the old-fashioned recipes that have stood the test of time.


Today, we invite you on a delightful journey back in time as we explore a classic recipe for salmon patties.


These golden, crispy wonders are a testament to the enduring appeal of traditional comfort food.


Join us as we uncover the secrets to crafting the perfect salmon patties that evoke memories of grandma's kitchen and the warmth of home-cooked meals.




What are salmon croquettes?


Salmon croquettes, also known simply as "salmon patties," are a popular dish made from canned salmon mixed with various ingredients, shaped into patties, and then pan-fried until they are golden brown and crispy on the outside.


They are a delicious and economical way to enjoy salmon, and they have been a staple in Southern and American cuisine for generations.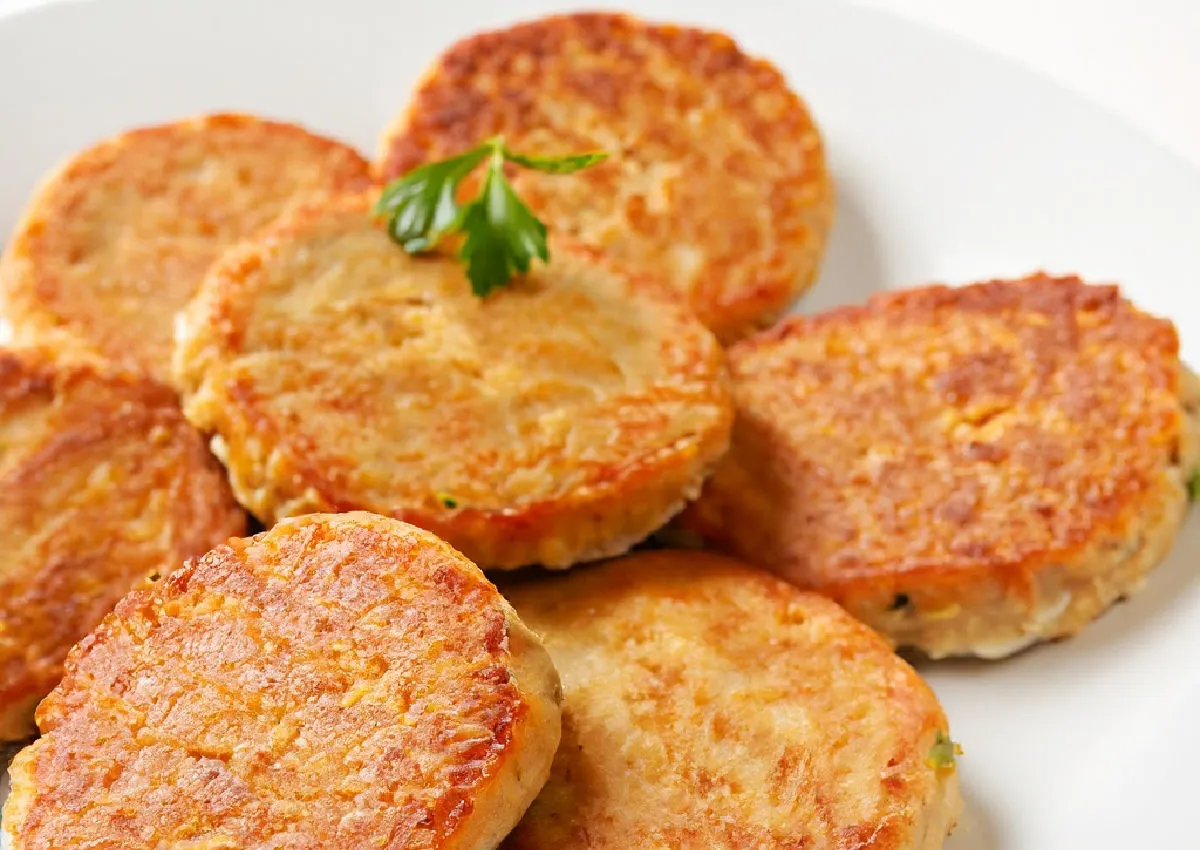 Why you'll love this recipe for salmon patties


Quick and Easy: This recipe is simple to prepare and doesn't require any fancy techniques or hard-to-find ingredients. You can have delicious salmon croquettes on the table in no time.


Budget-Friendly: Canned salmon is an affordable source of protein, making this recipe cost-effective while still delivering great flavor.


Versatile: You can customize the recipe to your taste by adjusting the seasonings and ingredients. Add fresh herbs, spices, or other seasonings to make it your own.


Crispy and Flavorful: The combination of pan-frying and the mixture's ingredients creates a crispy exterior and a flavorful, moist interior that's satisfying and delicious.


Perfect for Leftovers: If you have canned salmon in your pantry, this recipe is an excellent way to use it up and create a tasty meal.


Family-Friendly: Salmon croquettes are a hit with both kids and adults. They're a great way to introduce seafood to picky eaters.




Simple ingredients for salmon patties using canned salmon


· Salmon: This easy recipe starts with a can of canned pink salmon.
· Bread crumbs: Use store-bought panko breadcrumbs or make your own at home. You can also use saltine crackers.
· Onion: You'll need ¼ cup chopped onion for flavor and texture.
· Egg: An egg lends moisture and helps bind the patty together.
· Olive oil: Fry the salmon patties in olive oil. You can also use vegetable oil
· Salt and Black Pepper: Seasoned to taste.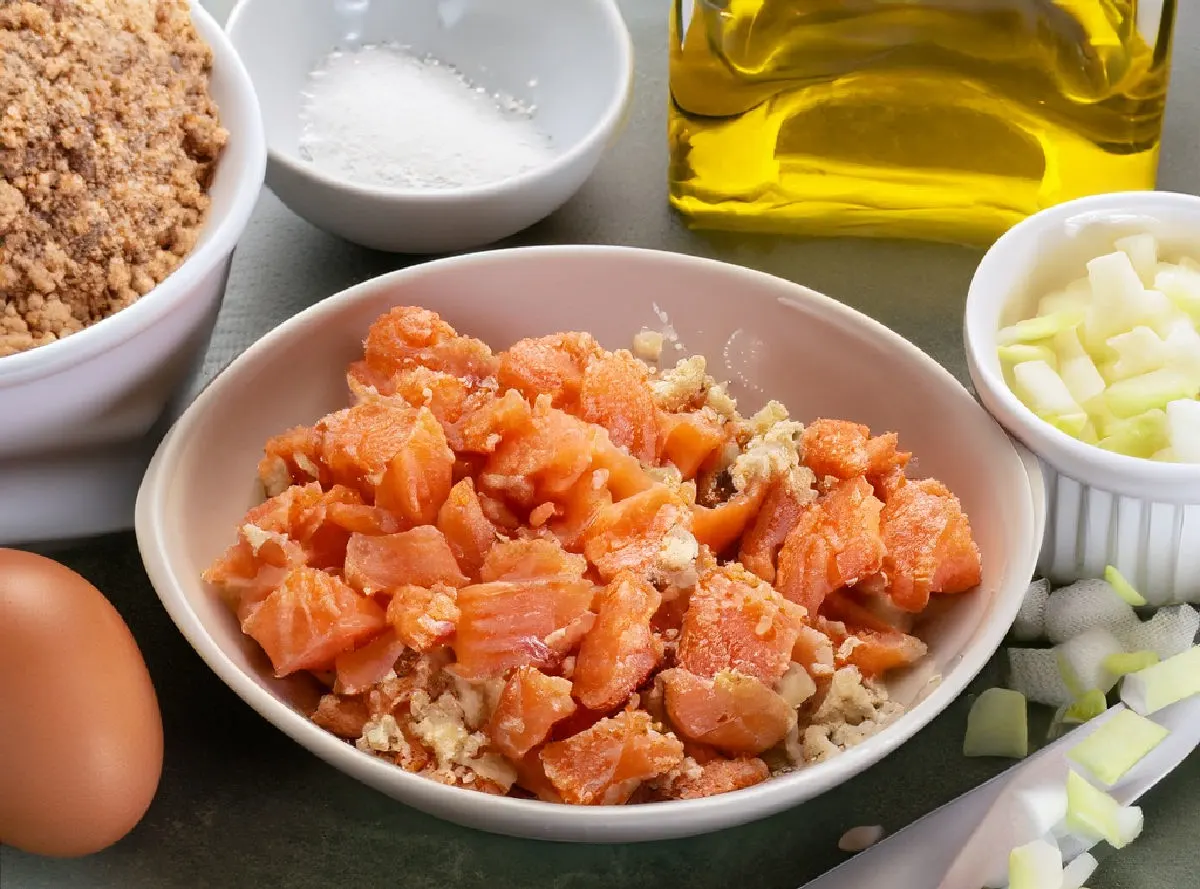 How to debone canned salmon


Deboning canned salmon is a simple process, and it allows you to remove any small, soft bones that may be present in the canned fish. Here's how to do it:


Open the Can: Start by opening the can of salmon using a can opener. Be careful when removing the lid to avoid sharp edges.
Drain the Liquid: Drain the liquid from the can using a strainer or by tilting the can over a sink. You can also gently press the salmon against the sides of the can to help remove excess liquid.
Inspect the Salmon: Take a close look at the canned salmon to identify any small bones. These bones are typically soft and can be easily removed.
Break Up the Salmon: Transfer the canned salmon to a clean work surface. You can use a fork to flake the salmon into smaller pieces. As you do this, keep an eye out for any bones, that may become more visible as you break up the fish.
Remove the Bones: Carefully pick out any visible bones using your fingers or a pair of clean, fine-tipped kitchen tweezers. Be gentle to avoid breaking the bones into smaller, harder-to-remove fragments.
Double-Check: After removing the visible bones, run your fingers through the flaked salmon again to ensure you've removed all the bones. Sometimes, smaller bones may be hidden or stuck to the fish.
Discard the Bones: If you'd like, you can place the removed bones in a small bowl or dish to ensure you've accounted for all of them. Dispose of the bones properly.
Use as Desired: Your canned salmon is now bone-free and ready to be used in your favorite recipes. You can make salmon croquettes, salmon salad, sandwiches, or any dish that calls for canned salmon.


It's worth noting that not all canned salmon varieties contain bones, as some brands and types may have already been deboned during the canning process. However, it's a good practice to inspect the salmon just to be sure. Removing the bones ensures a safe and enjoyable dining experience when using canned salmon in your recipes.




How to make old fashioned salmon patties


In a large bowl, combine the deboned canned salmon, breadcrumbs (or cracker crumbs), chopped onion, and chopped celery.


Add the beaten egg and mix everything well until it's thoroughly combined. You can add an additional egg if needed.


Shape the mixture into patties, typically about 2-3 inches in diameter and 1/2 to 3/4 inches thick. You can make them larger or smaller, depending on your preference.


Heat olive oil in a skillet over medium heat. Once the oil is hot, carefully place the salmon patties in the skillet.


Fry the patties for about 3-4 minutes on each side or until they are golden brown and crispy. Use a spatula to flip them gently to avoid breaking them.


Once cooked, transfer the salmon croquettes to a plate lined with paper towels to drain any excess oil.


Serve hot, garnished with a squeeze of lemon juice (if desired).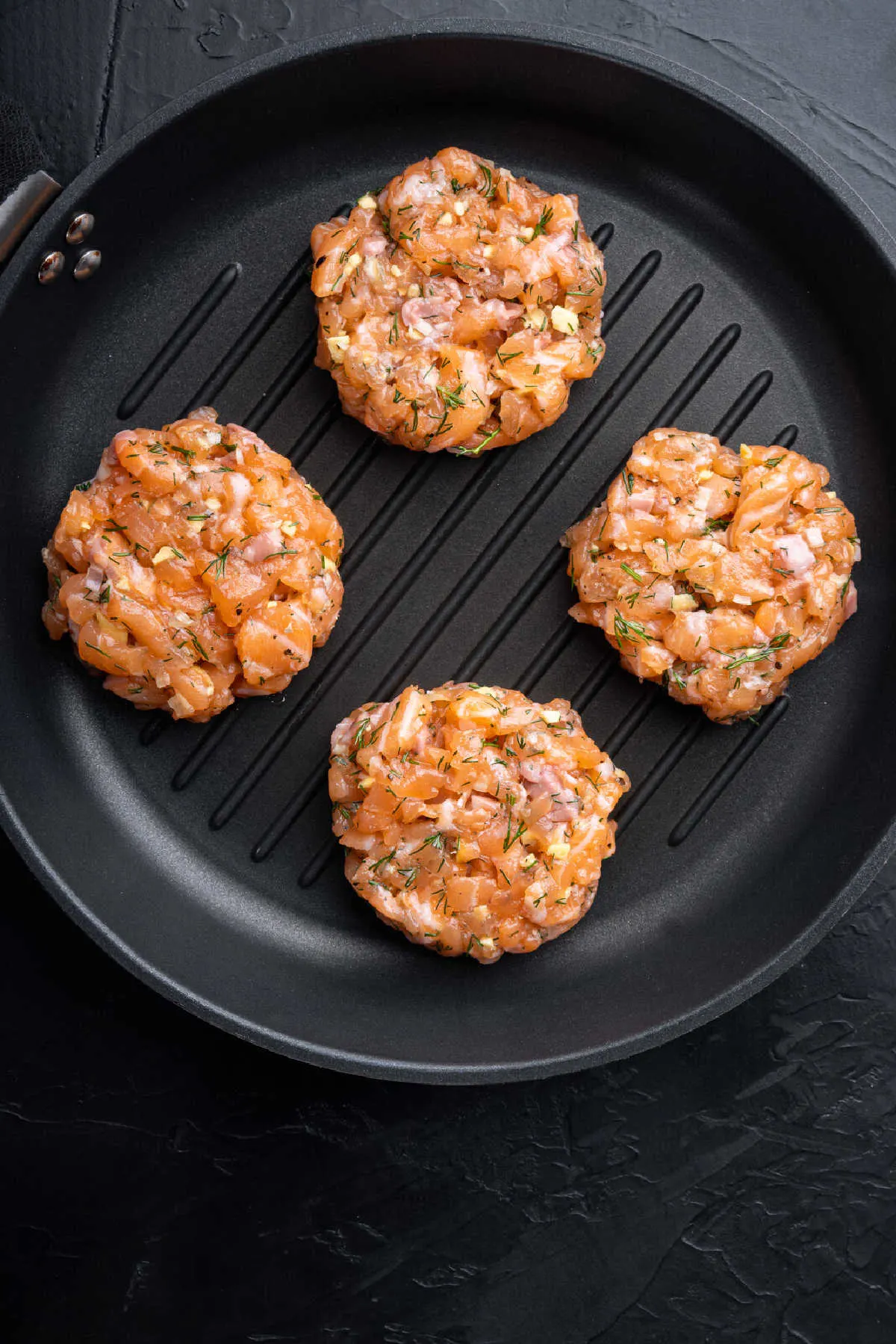 Variations for salmon patties


Salmon patties are a versatile dish, and there are numerous variations you can try to suit your taste preferences or experiment with different flavors. Here are some delicious variations of salmon patties:


Spicy Salmon Patties:

Add diced jalapeños, chili powder, or hot sauce to the salmon mixture for a spicy kick.

Herbed Salmon Patties:

Incorporate fresh or dried herbs like dill, parsley, chives, green onions, or cilantro for a burst of fresh flavor.

Asian-Inspired Salmon Patties:

Mix in ingredients like grated ginger, soy sauce, and chopped scallions to infuse an Asian flavor profile into your patties.

Mediterranean Salmon Patties:

Add ingredients such as chopped sun-dried tomatoes, kalamata olives, feta cheese, and oregano for a Mediterranean twist.

Lemon-Dill Salmon Patties:

Enhance the natural flavor of the salmon by adding lemon zest, lemon juice, and fresh dill to the mixture.

Cheesy Salmon Patties:

Mix in shredded cheese (e.g., cheddar, Swiss, or parmesan) to create a cheesy delight.

Veggie-Packed Salmon Patties:

Boost the nutritional value by adding finely chopped vegetables such as bell peppers, carrots, or spinach.

Cajun-Style Salmon Patties:

Season the patties with Cajun or Creole seasoning for a bold and zesty flavor.


Remember that you can adjust the seasonings and ingredients to your liking, making salmon patties a versatile and customizable dish that you can adapt to your taste and dietary preferences. Feel free to get creative and experiment with different combinations to discover your favorite variation.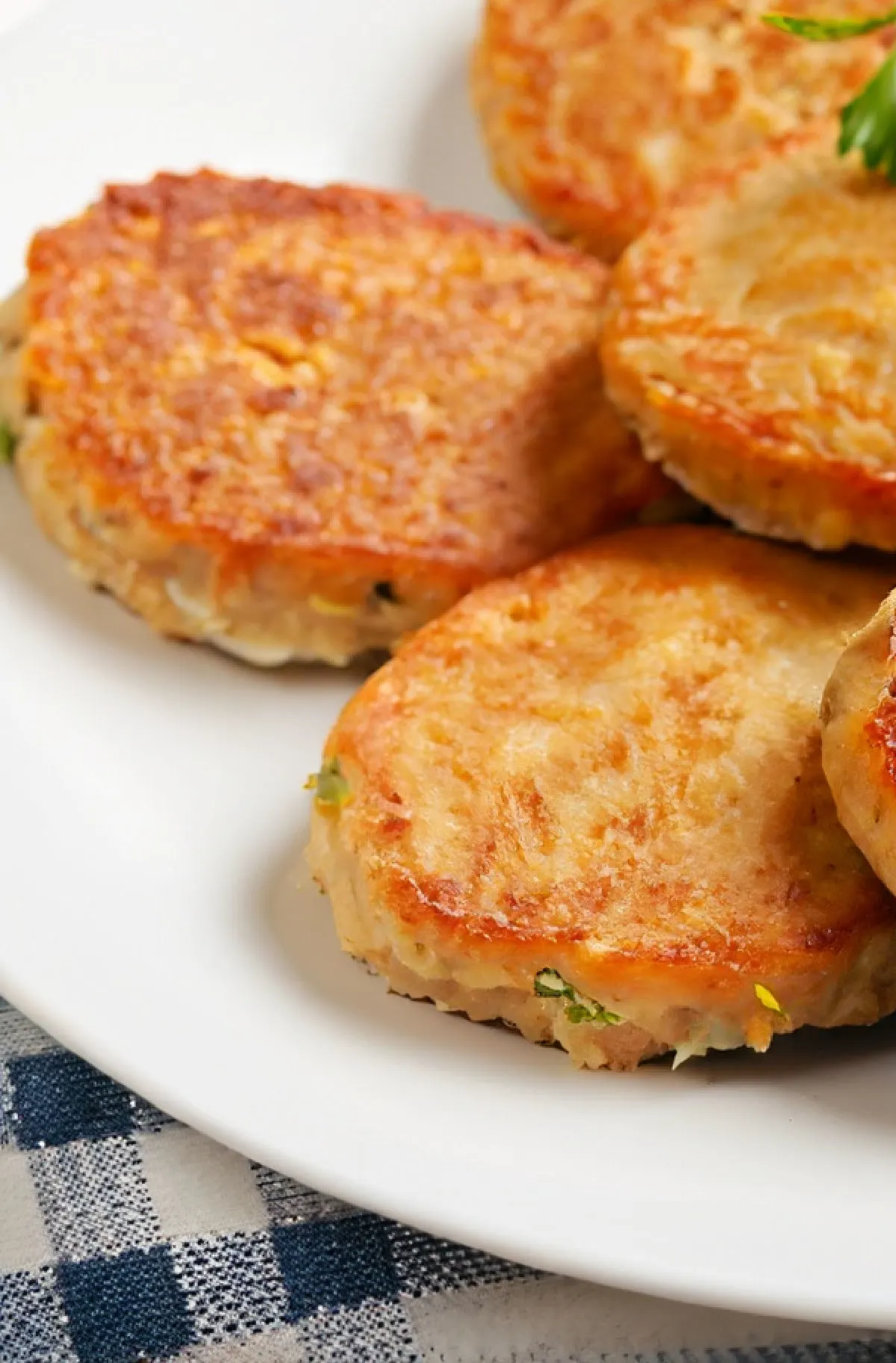 What to serve with salmon patties


Mashed Potatoes: Creamy mashed potatoes make for a classic and comforting side dish. You can also infuse them with garlic, herbs, or cheese for added flavor.
Coleslaw: A refreshing and crunchy coleslaw with a tangy dressing provides a nice contrast to the crispy texture of the salmon patties.
Steamed Vegetables: Serve steamed broccoli, green beans, or asparagus to add a healthy and vibrant element to your meal.
Rice: A simple bowl of white or brown rice is an excellent choice to soak up any sauce or dressing from the salmon patties.
Roasted Vegetables: Roast vegetables like carrots, Brussels sprouts, or sweet potatoes for a delicious and slightly caramelized side.
Salad: A fresh salad with mixed greens, cherry tomatoes, cucumbers, and your favorite vinaigrette dressing adds a light and crisp component to your plate.
Cornbread: Enjoy the southern tradition by serving cornbread on the side for a comforting and slightly sweet accompaniment.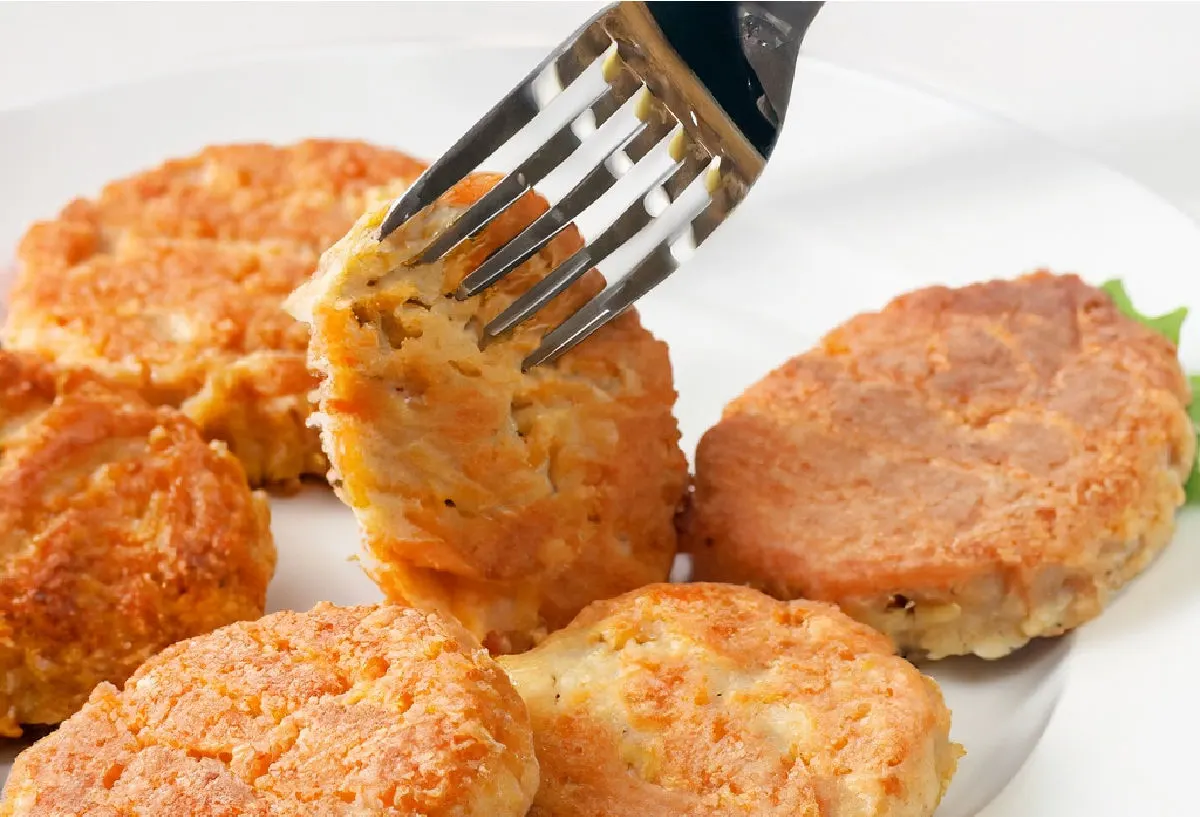 Frequently Asked Questions


Can I use fresh salmon instead of canned salmon?


Yes, you can use fresh cooked salmon, but canned salmon is a convenient and budget-friendly option often used in traditional recipes.


Can I freeze salmon patties?


Yes, you can freeze salmon patties. Place them on a baking sheet, freeze until firm, then transfer to an airtight container or freezer bag. They can be frozen for up to three months.


Can I make salmon patties ahead of time?


Yes, you can prepare the salmon mixture in advance and refrigerate it until you're ready to shape and cook the patties. This is convenient for meal planning.


How to Store Salmon Patties


Allow the salmon patties to cool to room temperature if they are freshly cooked. Place the patties in an airtight container or wrap them tightly with plastic wrap or aluminum foil. Store them in the refrigerator and consume the patties within 3-4 days for the best quality.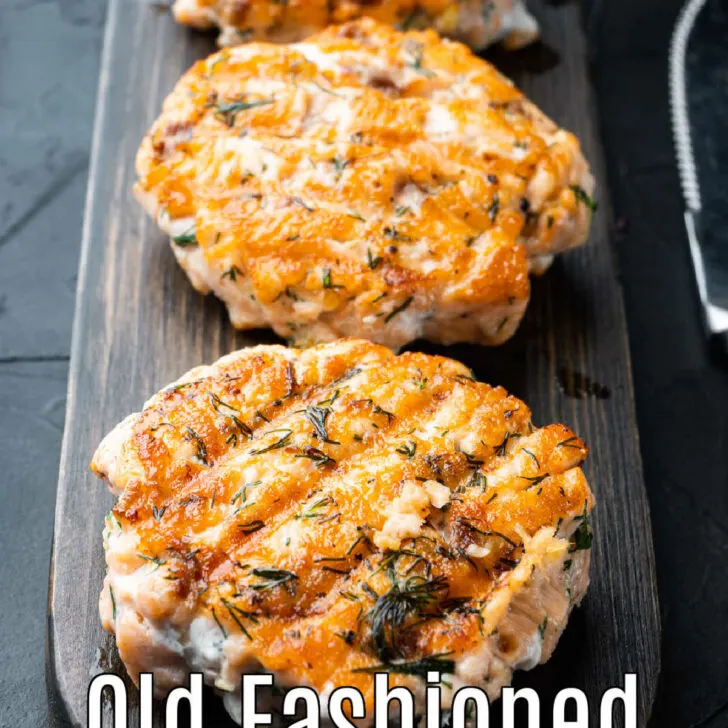 Old Fashioned Salmon Patties Recipe
Indulge in nostalgia with this classic old-fashioned recipe for salmon patties. Crispy, flavorful, and made with pantry staples.
Ingredients
1

can

14-16 ounces of canned salmon, drained and flaked

1/2

cup

breadcrumbs or crushed crackers

1/4

cup

finely chopped onion

1-2

large eggs

beaten

1-2

teaspoons

lemon juice

optional

Salt and pepper to taste

Olive oil for frying

or vegetable oil
Instructions
In a mixing bowl, combine the deboned canned salmon, breadcrumbs, chopped onion, and chopped celery.

Add the beaten egg and mix everything well until it's thoroughly combined. You can add an additional egg if needed.

Shape the mixture into patties, typically about 2-3 inches in diameter and 1/2 to 3/4 inches thick. You can make them larger or smaller, depending on your preference.

Heat olive oil in a skillet over medium heat. Once the oil is hot, carefully place the salmon patties in the skillet.

Fry the patties for about 3-4 minutes on each side or until they are golden brown and crispy. Use a spatula to flip them gently to avoid breaking them.

Once cooked, transfer the salmon croquettes to a plate lined with paper towels to drain any excess oil.

Serve hot, garnished with a squeeze of lemon
air fryer, easy salmon patties recipe, salmon patty recipe, easy weeknight dinner, delicious dinner, salmon flavor, salmon recipe, fish cakes,