Looking for that perfect flush without breaking the bank? Well, you're in luck! We've rounded up some fantastic drugstore dupes for your favorite MAC blush shades.


Get ready to add a pop of affordable and fabulous color to your cheeks without compromising quality. Let's dive into the world of budget-friendly beauty that doesn't sacrifice style.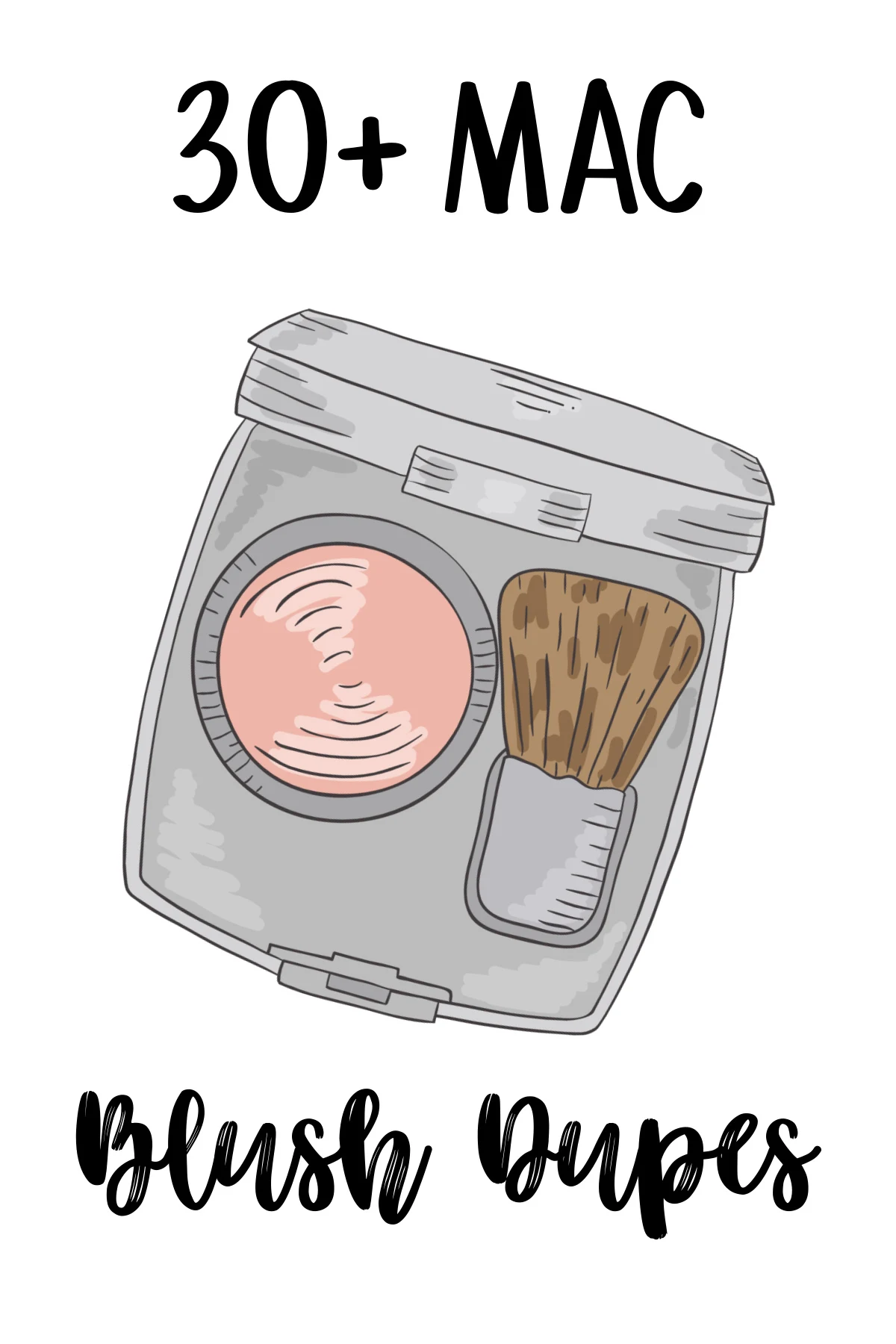 Welcome, beauty enthusiasts! If you've ever found yourself swooning over the gorgeous hues of MAC blush but hesitating at the price tag, you're not alone.


The quest for budget-friendly beauty that doesn't compromise on quality is a journey many of us embark upon.


Well, guess what? We've got your back!


In this blog post, we're unveiling the best-kept secrets of the makeup aisle—the ultimate drugstore dupes for your favorite MAC blush shades.


Get ready to elevate your glam game without denting your wallet.


Let's dive into the world of affordable alternatives and discover the perfect dupes that'll have you blushing in style.


**Some of these colors were/are limited edition/discontinued and no longer available except on online sites like eBay or Amazon.**




MAC Blush Drugstore Dupes


MAC BLUSH
DRUGSTORE DUPE
Frankly Scarlet
NYX Red
ELF Studio Berry Merry
Fleur Power
Milani Mai Tai
L'Oréal True Match Rosy Outlook
Dollymix
Elf Natural Radiance Flushed
CoverGirl Cheekers Plumberry Glow
Breezy
Elf Studio Blushing Rose
Desert Rose
NYX Professional Bourgeois Pig
WNW Color Icon Mellow Wine
Ambering Rose
Cover Girl Cheekers Sierra Sands
Emote
NYX Taupe
Expensive Pink
NYX Peach
WNW Penny
Marine Life
Sonia Kashuk Rosey
Peachy Keen
Revlon Peachy Keen
Physicians Formula Butter Blush Vintage Rouge
Pink Swoon
Elf Studio Pink Passion
WNW Color Icon Pearlescent Pink
Style
Rimmel Peach
Elf Studio Candid Coral
Milani Baked Blush Dolce Pink
Sun Basque
Cover Girl Soft Sable
NYX Terracotta
Milani Baked Blush Luminous
Peaches
NYX Cinnamon
Milani Baked Blush Luminoso
Stereo Rose
Milani Rose d'Oro
Well Dressed
L'Oreal Baby Blossom
Essence Satin Love
Melba
L'Oreal True Match Innocent Flush
WNW Apricot in the Middle
Margin
NYX Terracotta
ELF Studio Twinkle Pink
Dame
Maybelline Fit Me Medium Pink
Sunbeam
L'Oreal True Match Warm Chaud
Tippy
NYX Pinky
Warm Soul
Maybelline Sweet Cinnamon
Milani Baked Blush Rose D'Oro
Gingerly
NYX Professional Taupe
Breath of Plum
Milani Romantic Rose
Harmony
WNW Color Icon Mellow Wine
Coppertone
Maybelline Fit Me Blush Nude
Raizin
Black Radiance Toasted Almond
Blushbaby
CoverGirl Cheekers Brick Rose
Prism
ELF Studio Blush Candid Coral
Pinch Me
NYX Bordeaux
Sweet Enough
WNW Color Icon Blush Pearlescent Pink
Petal Power
Milani Tea Rose


If you love a good dupe be sure not to miss these other MAC lipstick dupes & MAC eyeshadow dupes posts as well.


Do drugstore dupes perform as well as MAC products?


It varies. Some drugstore products perform exceptionally well and are comparable to high-end brands, while others may not have the exact same quality. Reading reviews and trying out products can help you find the best dupes for your preferences.