Having your nails done can improve your mood and you don't have to spend tons of money to get it done. You can easily do a at-home manicure with these few tips to get a flawless look and keep it looking great too.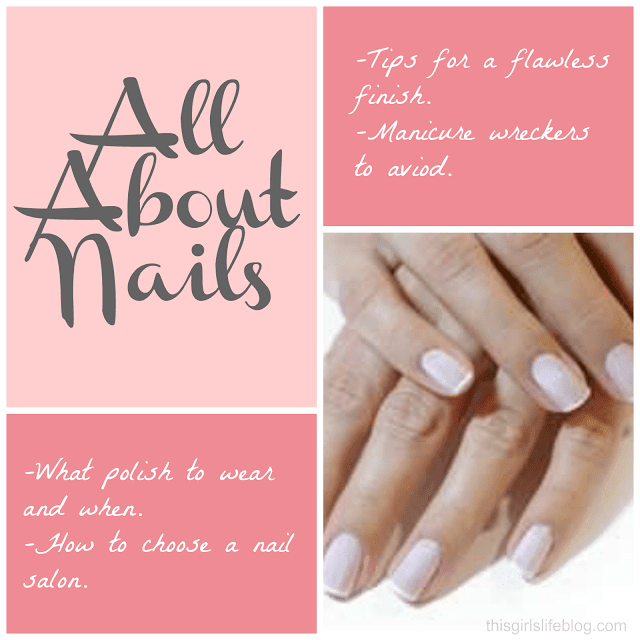 TIPS FOR A FLAWLESS FINISH:
Take care of your cuticles! Don't snip your cuticles, push them back and moisturize them daily. The easiest and least painful way to push them back is during or after a shower when they are soft.
Buff your nails! Nail buffers keep your nails smooth and even, whether your nail is unpolished or polished.
Apply a base! Even though bases take more time and sometimes easy to just want to skip right over them they will protect your nails from stains. This is definitely a must step for those of you who love to wear those darker shades. If your nails do get stained yellow. Pick up a lemon and start rubbing. This little trick will get your nails back to their beautiful white shade. 🙂 Also, a handy tip to remember when applying a base or polish is always wipe your nails with remover beforehand. This will get rid of any oil or moisture built up on your nails allowing polish to adhere better.
Lastly, just as important as a base, seal with a topcoat! To keep your polish lasting even longer it's recommended to reapply the topcoat daily or at least every other day.
TOP MANICURE WRECKERS TO AVOID:
Texting! Are you texting addicted? Don't be surprised if your nice manicure is ruined very quickly after tap, tap, tapping away. 😉
Scrubs/Washing Dishes! Just like scrubbing your skin or your dishes takes away the dirty it will also take away the nice and pretty as well. We might can limit our texting but we can't really limit our washing dishes or cleaning so pick up a good pair of rubber gloves.
Alcohol! No, not the drinking kind. haha! The hand sanitizer kind... it will erode your topcoat making your polish look dull and eventually wear off quicker.
Folding laundry/cooking! Doing anything with heat will soften your nail polish and again fade the color and begin to wear off.
WHAT TO WEAR WHEN:
Let's face it, as much fun as some bright punchy colors like this past Summer's tangerine were, they aren't appropriate on your fingers at all times. Here are some good nail color options depending on your various occasions.
Interviews: Clean and simple shades such as pale pinks and nudes.
Evening Out: Go adventurous with blues, yellows, or grays.
Formal Event: Wines and reds are great for an elegant touch.
Vacation Time: Hot pink, orange, and any fun color out there.
********************
Aren't up to doing your own manicure or you just like to have them done for a girls day out? Here are some tips on choosing the right nail salon.
HOW TO CHOOSE A NAIL SALON:
These are some of the things you want to look for in a good nail tech and salon.
1. Quality of Nail Products: This is a given. If they use cheap products keep on walking.
2. Time Taken: If they are running you out the door in under 30 minutes they are looking for quantity not quality.
3. Experienced Staff: Is your nail tech brand new? This doesn't always mean that the salon is bad at all but just keep a heads up on whether the techs are coming and going.
4. Pain during filing or drilling: Simple, pain is damage to your nails. You should never feel any pain when having your nails done.

5. The Nail Salon Conveyor Belt: one tech does this, another this, and another that. All nail technicians work differently and a good salon will have the same tech working on just your nails during your visit.
6. Cost: The old saying goes, you get what you pay for. The same concept goes in the nail business. You may be in for a bargain price but your nails will probably look like they were done at that bargain price too.


Do you do at-home manicures or head to the salon? What is your fave fall color to wear?