Cherry Fluff Salad is a beloved dessert that is easy to make and customize.


A popular no-bake dessert that can be made with just a handful of ingredients, including cherry pie filling, sweetened condensed milk, crushed pineapple, whipped topping and more.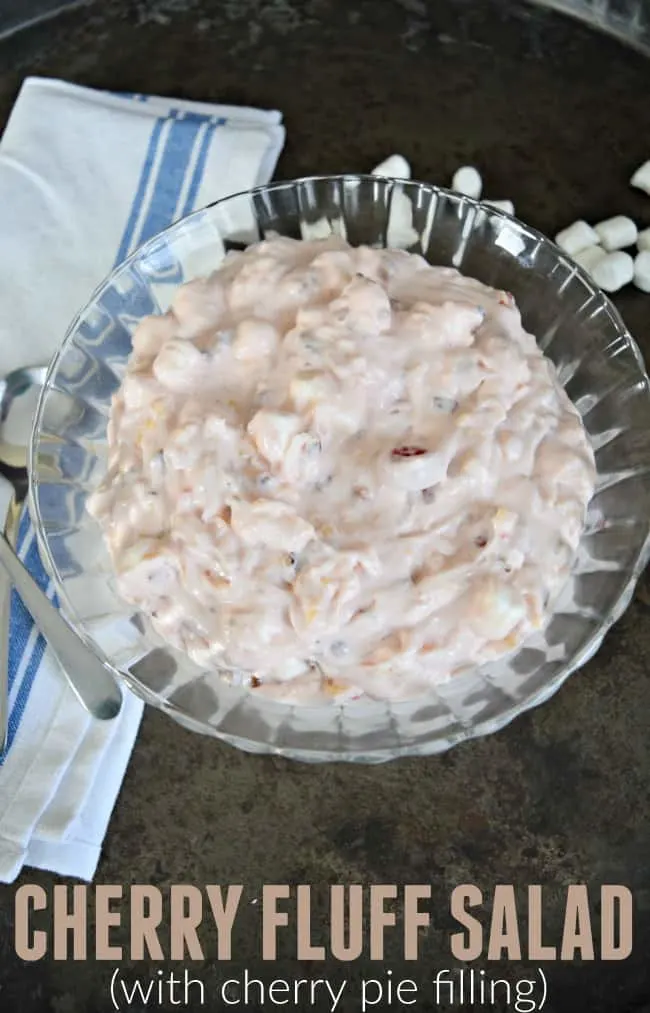 This creamy and refreshing dessert is perfect for potlucks, holidays, and parties, and can be easily adapted to suit different tastes and preferences.


It has a light pink color because of the cherry pie filling so it would also make a great dessert for a baby shower.


Whether you're looking for a classic recipe or a modern twist, Cherry Fluff Salad is sure to be a crowd-pleaser.


It makes a ton so you can feed lots of hungry mouths with this one.


Why you'll love this recipe!


Sweet and Refreshing: The combination of tart cherries, sweet pineapple, and creamy whipped cream creates a burst of flavor in every bite.


Light and Fluffy Texture: The marshmallows and whipped cream give it a creamy and dreamy consistency, making it a light and satisfying dessert option that doesn't feel heavy after a meal.


Easy to Make: Cherry Fluff Salad is incredibly easy to make, making it a convenient dessert for gatherings or potlucks. With just a few simple ingredients and minimal preparation, you can quickly whip up this dessert in no time.


Versatile: This super versatile dessert can be customized to suit different preferences and dietary needs. You can use canned or fresh cherries, leave out ingredients if needed or use sugar-free or low-fat options for a healthier twist.


No-Bake Option: Cherry Fluff is a no-bake dessert, which means it's perfect for hot summer days or when you want a dessert that doesn't require turning on the oven. This makes it a convenient option when you're looking for a quick and easy dessert that doesn't require any baking or complicated steps.




Ingredients to make Cherry Fluff Salad!


1 8 oz tub of Cool Whip
1 14 oz can of sweetened condensed milk
1 21 oz can cherry pie filling
1 20 oz can, of drained crushed pineapple
2 cups mini marshmallows
1 cup shredded coconut
½ cup chopped pecans or walnuts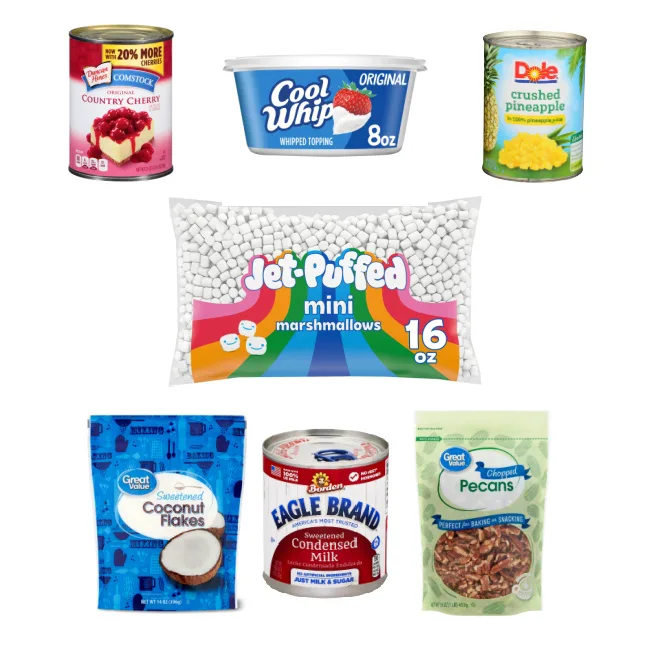 How to make Cherry Fluff Salad


Combine together in a bowl your cool whip, condensed milk, cherry pie filling and crushed pineapple.


Next add in your mini marshmallows, coconut and pecans (or walnuts).


Stir and refrigerate for approximately 2 hours before serving.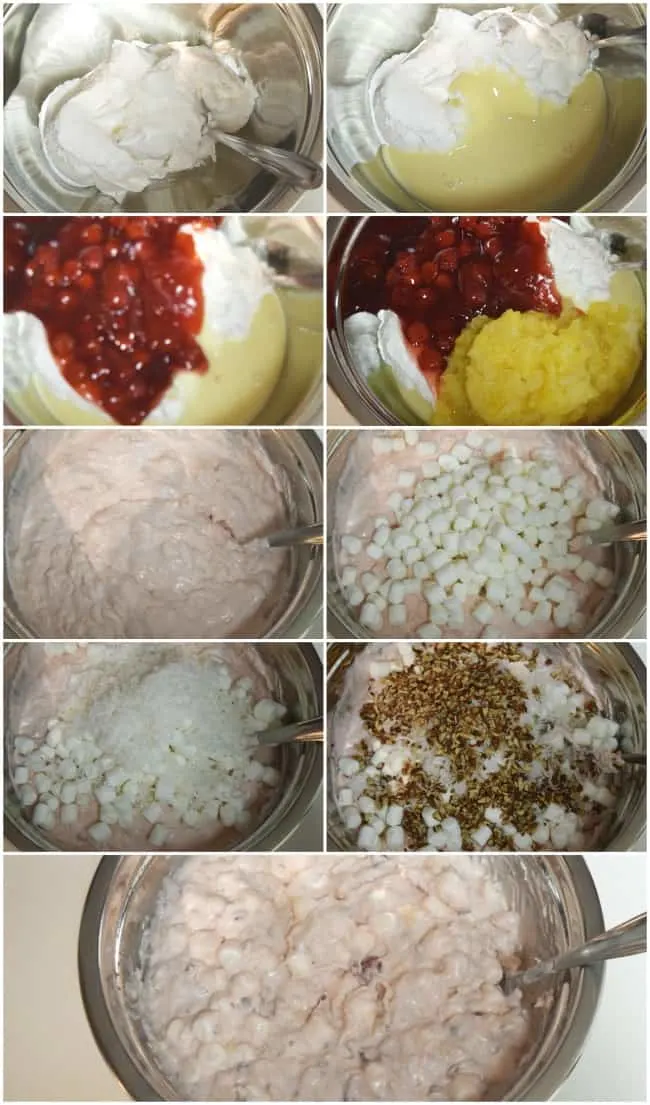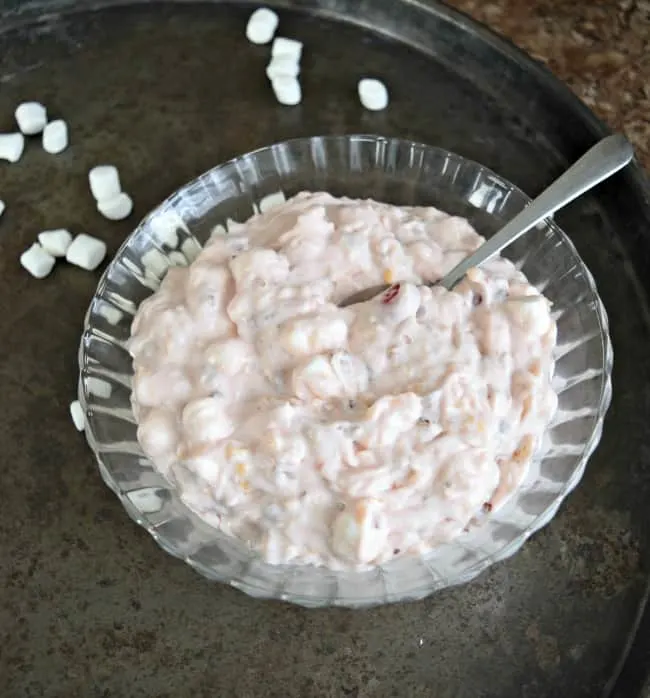 How long does Cherry Fluff Salad last in the refrigerator?
Cherry Fluff Salad typically lasts for about 2-3 days when stored properly in the refrigerator. However, it's important to note that the actual shelf life may vary depending on various factors, such as the freshness of the ingredients used, the storage conditions, and the recipe variations. To ensure the longest possible shelf life store in an airtight container.
Can I make Cherry Fluff Salad in advance?
Yes, the recipe actually tastes better the longer it is allowed to chill. However, I would not make it to far in advance as the marshmallows tend to get soggy after some time. I think an ideal would be 12-24 in advance at most.
Can I freeze Cherry Fluff Salad?
Because this recipe contains whipped cream and other perishable ingredients, which may not freeze well, it's not recommended. It is likely freezing would change the texture, consistency, and flavor.


Want to print or save this Cherry Fluff Recipe?