Looking for a delicious and refreshing summer treat? Look no further than Orange Creamsicle Fluff Salad!


This creamy and fruity dessert is made with mandarin oranges, marshmallows, and a combination of orange jello and instant vanilla pudding.


It's the perfect addition to any picnic, potluck, or BBQ.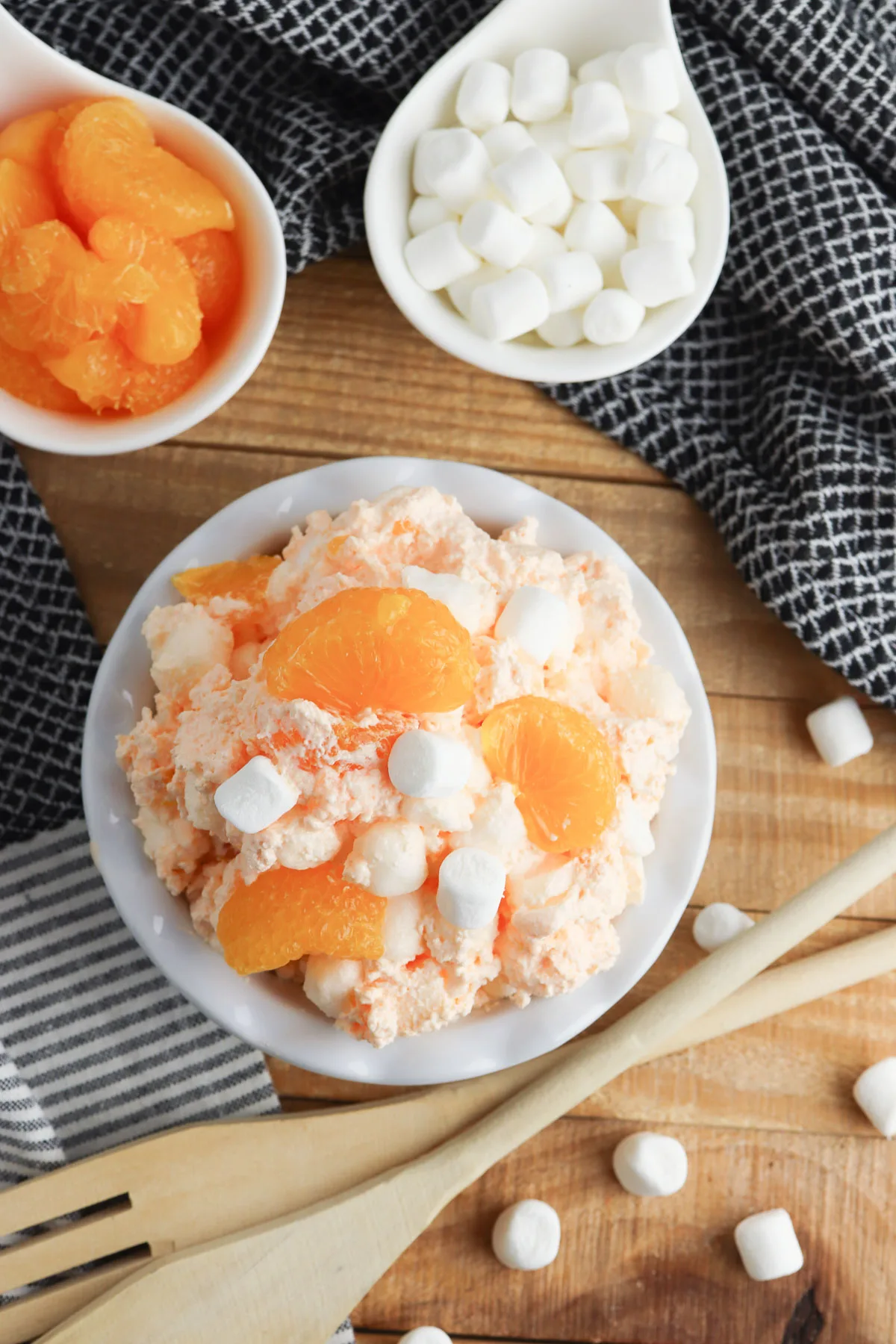 With its retro flavor and light, airy texture, this citrus-inspired take on the classic Watergate salad is sure to be a crowd-pleaser.


So why not give it a try and see for yourself why Orange Creamsicle Fluff Salad is the perfect summer treat?




Why you'll love this recipe!


It's easy to make: Orange Creamsicle Fluff Salad is a simple and easy dessert to make. You don't need any fancy equipment or complicated techniques to prepare it. You can whip it up in just a few minutes.


It's refreshing: This dessert is perfect for summer or any time you want a refreshing treat. The combination of creamy and fruity flavors makes it a refreshing dessert that is perfect for hot days.


It's versatile: You can customize creamsicle orange fluff salad to your liking. You can use different flavors of gelatin, add fruit or nuts, or adjust the sweetness to suit your taste.


It's light and fluffy: This dessert has a light and fluffy texture that is a nice change from heavier desserts. It's perfect for those who want to indulge in something sweet without feeling weighed down.


It's a crowd-pleaser: creamsicle fluff is a dessert that everyone loves. It's perfect for potlucks, picnics, and other gatherings. You can make a large batch to feed a crowd, and it's sure to be a hit.




Ingredients for Creamsicle Orange Fluff Salad


1 3-ounce package of orange gelatin
1 cup boiling water
1/2 cup cold water
1 8-ounce container of frozen whipped topping, thawed
2 11-ounce cans of mandarin oranges, drained
2 cups mini marshmallows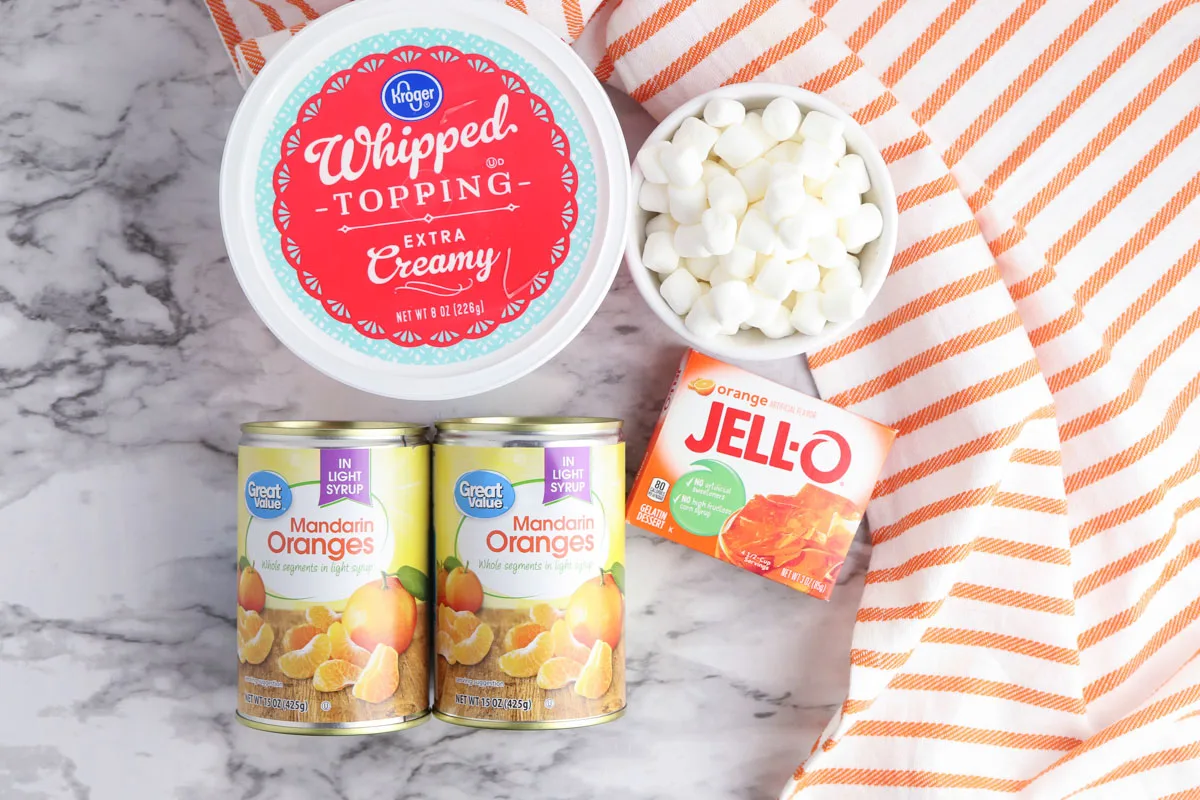 Orange Creamsicle Fluff Salad


Stir together the orange gelatin and boiling water until the gelatin is dissolved.


Add the cold water and stir to mix.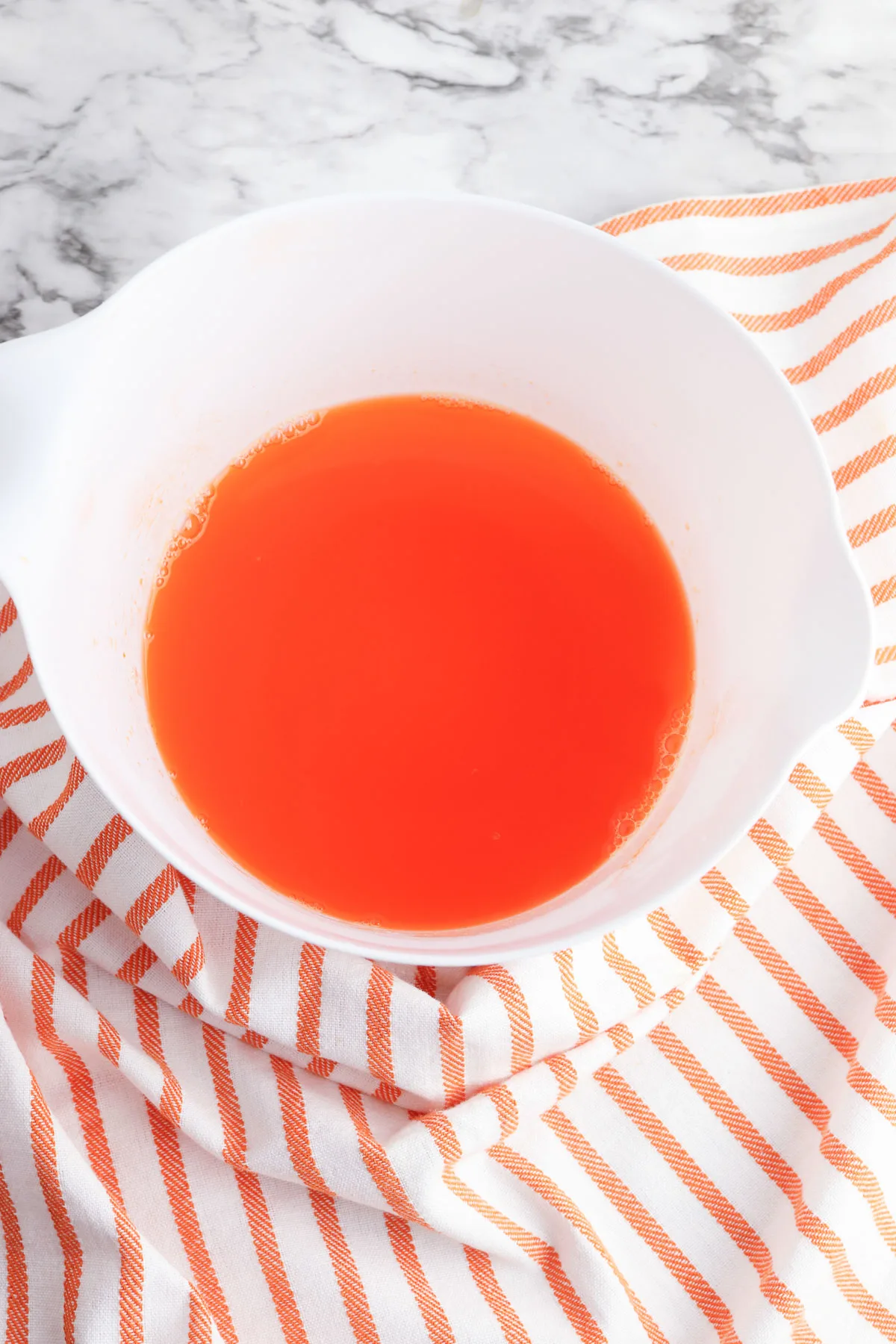 Place the bowl in the refrigerator to chill for one hour.


Add the whipped topping, oranges, and mini marshmallows and stir to mix.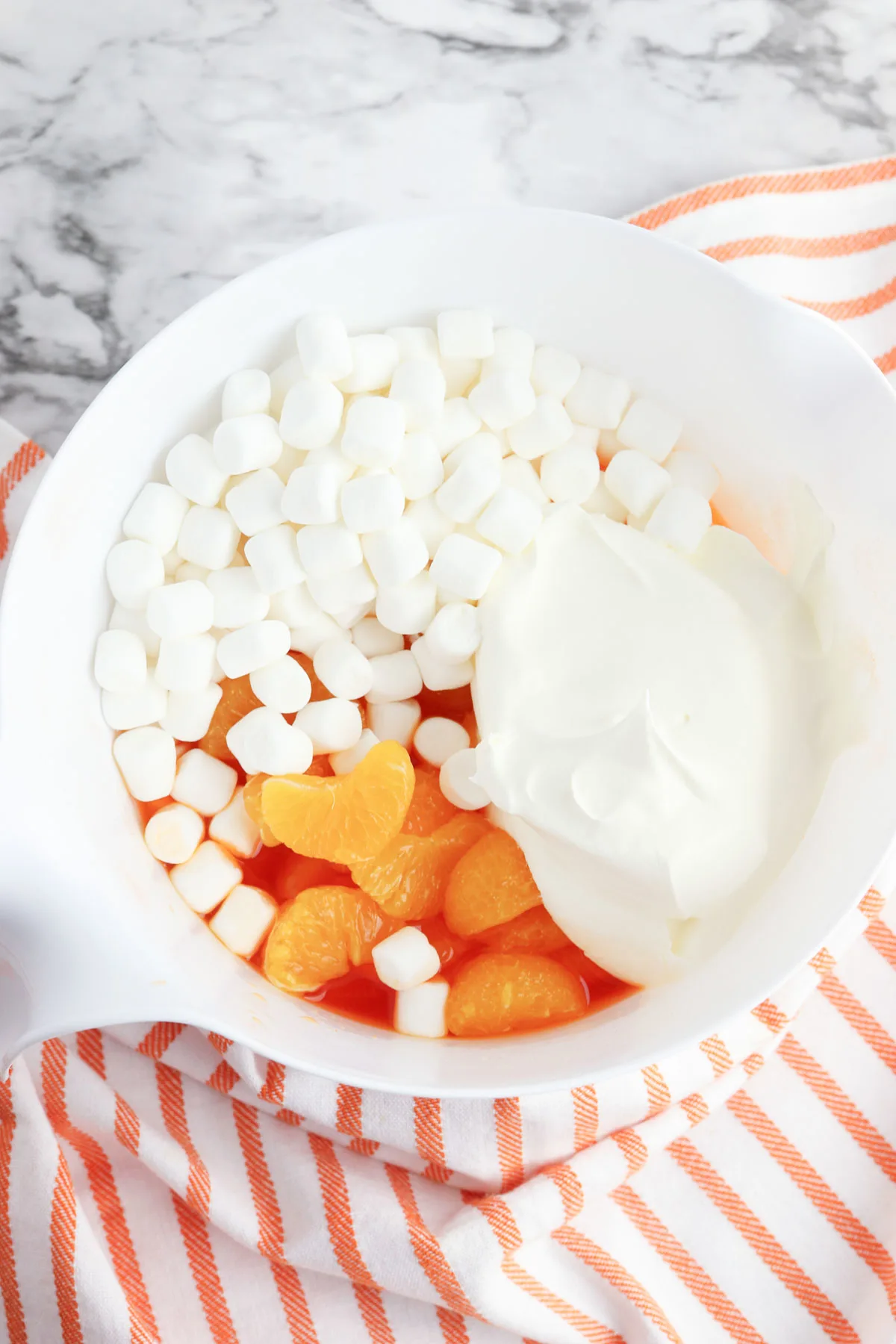 Refrigerate for one hour before serving.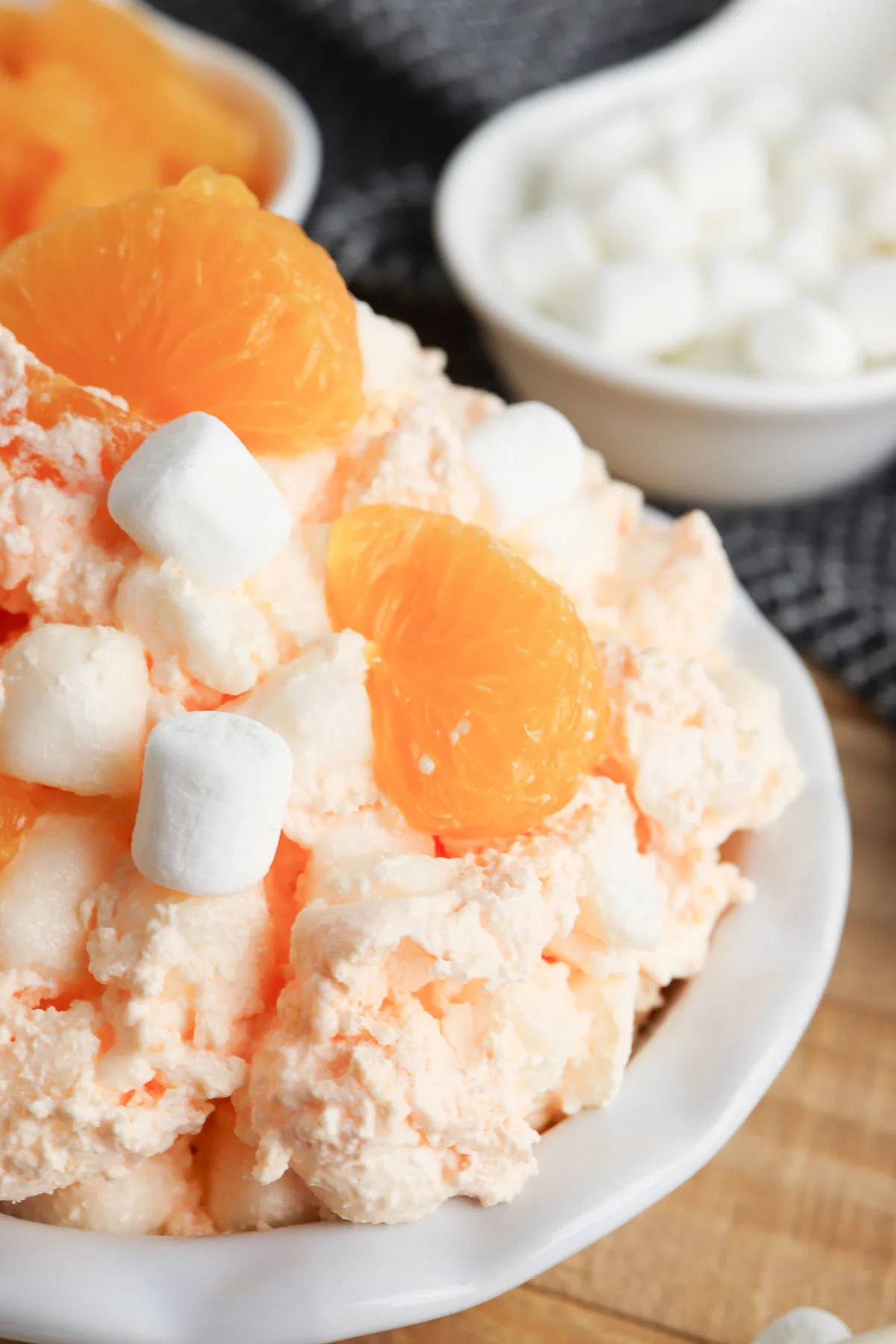 Fun Variations!!


Orange Creamsicle Fluff Salad is a versatile dessert that you can customize to your liking. Here are some variations you can try:


Different flavors of gelatin: Instead of using orange gelatin, you can try using other flavors such as lemon, lime, raspberry, or strawberry.


Different types of fruit: You can add other types of fruit to the recipe such as crushed pineapple, sliced peaches, diced strawberries, or raspberries.


Coconut cream: You can add a tropical twist to the recipe by using coconut cream instead of whipped topping.


Toasted coconut: For added texture and flavor, you can sprinkle some toasted coconut on top of the dessert.


Nuts: You can add chopped nuts such as pecans or almonds to the recipe for extra crunch.


Mini chocolate chips: You can add mini chocolate chips to the recipe for a chocolate-orange flavor combination.


Different pudding flavors: You can use different flavors of instant pudding mix such as chocolate or butterscotch to create a different flavor profile.


Remember, the key to creating a delicious variation is to balance the flavors and textures. Be creative and have fun experimenting with different ingredients until you find your perfect combination.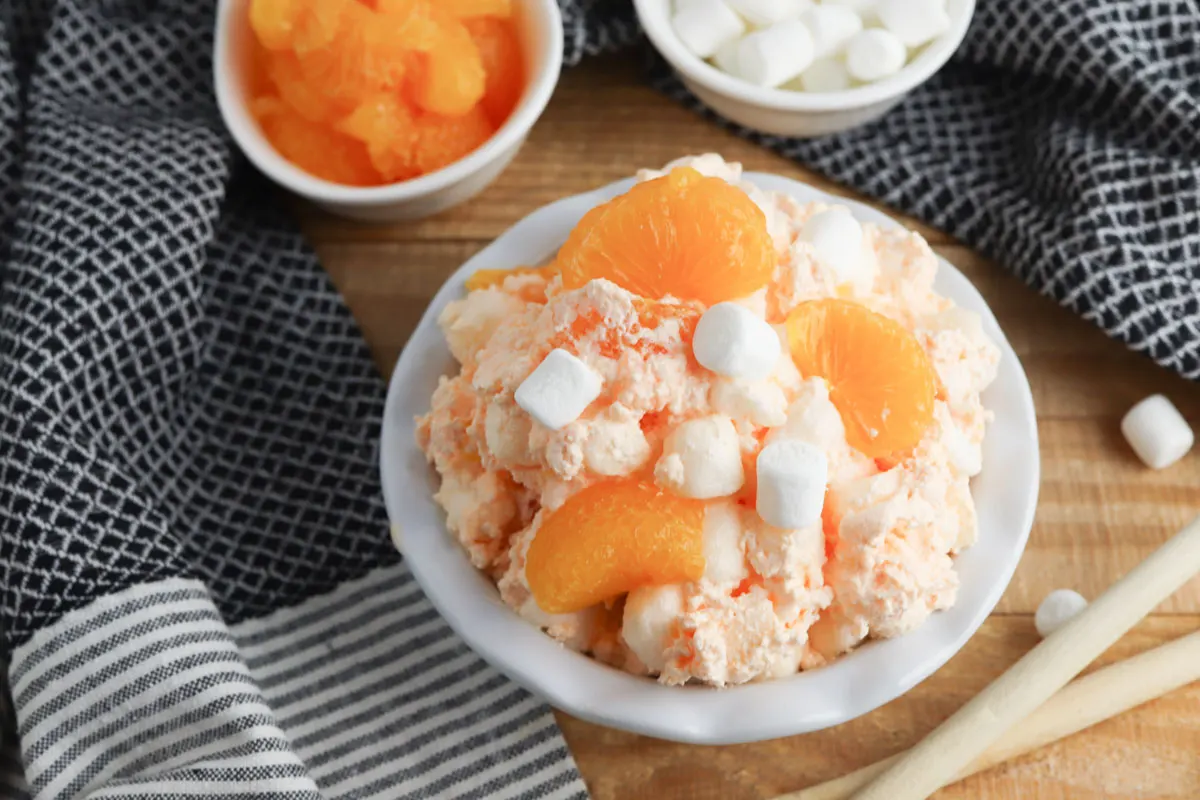 Can I use sugar-free gelatin and pudding mix?
Yes, you can use sugar-free gelatin and pudding mix to make a lower-sugar version of this dessert.
Can I add other fruits or nuts to the recipe?
Yes, you can add other fruits such as pineapple, strawberries, or raspberries, as well as chopped nuts like pecans or almonds for extra texture and flavor.
How long will Orange Creamsicle Fluff Salad keep in the refrigerator?
It will keep for up to 3 days in the refrigerator, but it's best to consume it within 24-48 hours for optimal freshness.
Can I make Creamsicle Orange Fluff Salad ahead of time?
Yes, you can make it a day in advance and store it in the refrigerator until ready to serve. It's a great make-ahead dessert for parties or gatherings.
Can I freeze Creamsicle Fluff Salad?
No, this dessert is not suitable for freezing as the texture may become grainy and the marshmallows may become tough. It's best to consume it fresh or store it in the refrigerator for a few days.
What can I use besides Instant vanilla pudding mix?
If you find yourself without instant vanilla pudding mix, there are a few substitutes you can use. One option is to mix 1 cup of heavy cream with 1/4 cup of sugar. Whip the cream and sugar together until stiff peaks form, then fold them into your recipe. Another option is to use a homemade vanilla custard, made with milk, sugar, eggs, and vanilla extract. Simply cook the ingredients together on the stove until thickened, then let them cool before using them in your recipe.
Can you use fresh oranges in place of canned mandarin oranges?
If you don't have canned mandarin oranges on hand, fresh oranges can be used as a substitute in salads. However, it's important to prepare them properly by removing the membranes and seeds before adding them to the dish. This will ensure that the texture and flavor of the oranges are similar to that of canned mandarin oranges.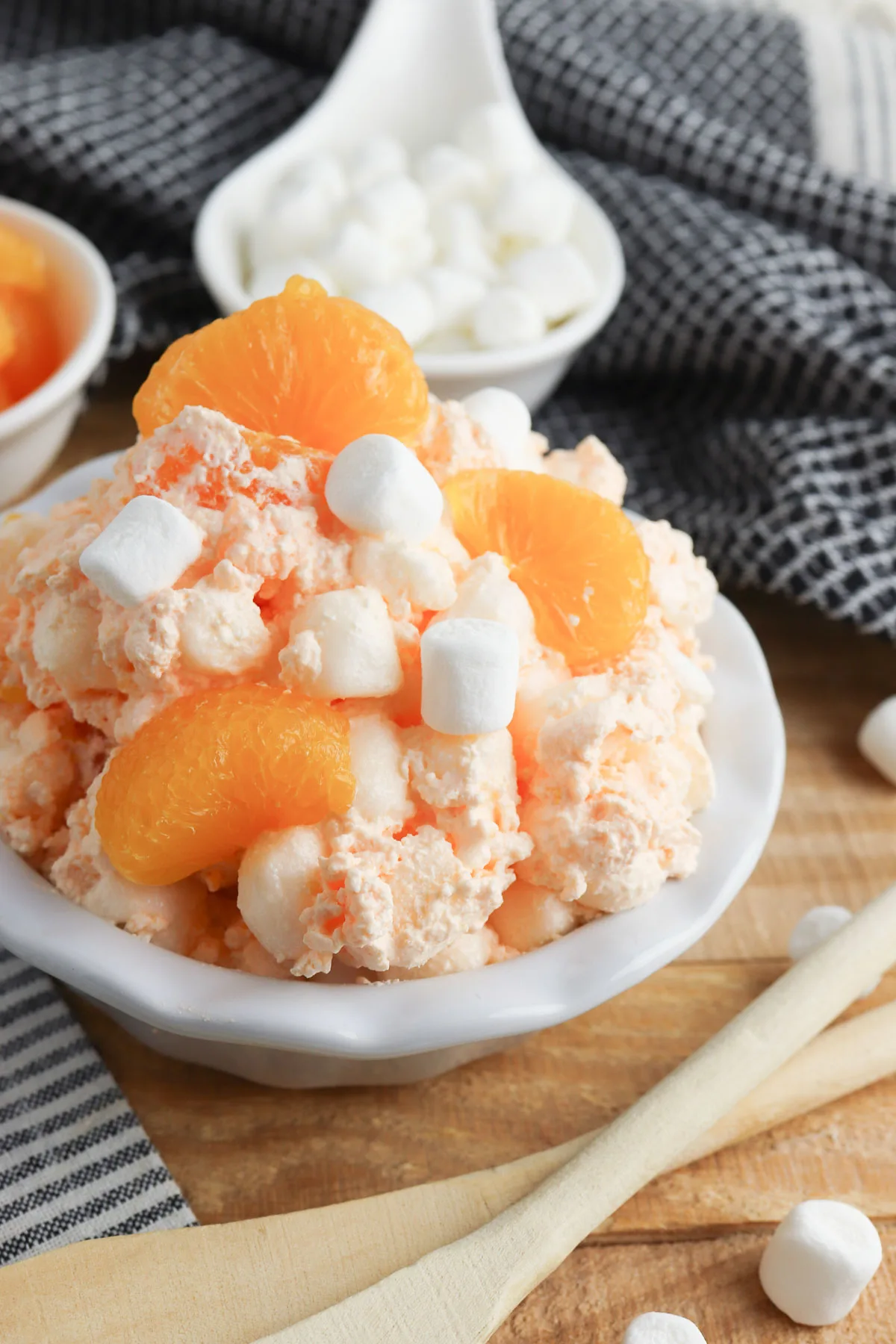 Don't miss these other amazing Orange Creamsicle recipes!




Even more delicious dessert recipes!