Are you craving a heavenly, refreshing treat that will transport your taste buds to a tropical paradise? Look no further than Ambrosia Fruit Salad!


This classic American dish is a delightful combination of fruit, marshmallows, coconut, and whipped cream, resulting in a heavenly dessert that many love.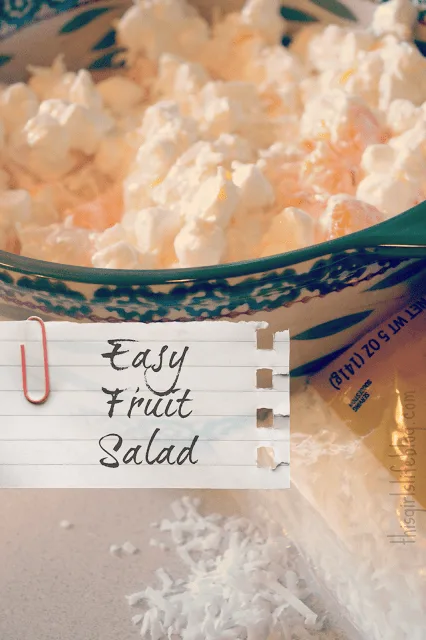 Ambrosia Salad is a staple at potlucks, picnics, and holiday gatherings, and it's no wonder why. With its vibrant colors and luscious flavors, this dessert is not only visually appealing but also bursting with taste.


The key ingredients in Ambrosia Salad are mandarin oranges, crushed pineapple, and maraschino cherries combined with mini marshmallows and shredded coconut.


The entire concoction is then folded into sour cream (or whipped cream if you prefer), creating a light and creamy base that envelops the fruit and marshmallows, resulting in a harmonious blend of textures.


One of the best things about Ambrosia Salad is its versatility. You can customize it to suit your preferences and dietary needs.


You can use a variety of canned or fresh fruits, such as strawberries, bananas, grapes, or even pomegranate seeds, depending on what's in season.


You can also adjust the amount of marshmallows, coconut, and cream to achieve your desired level of sweetness and creaminess.


Some variations even incorporate additional ingredients nuts for added crunch and flavor.




Ingredients you will need for Ambrosia Salad


1 can (11oz) mandarin oranges (drained)
1 can (20 oz) pineapple chunks (drained)
1 cup mini marshmallows
1 cup flaked coconut
1 cup sour cream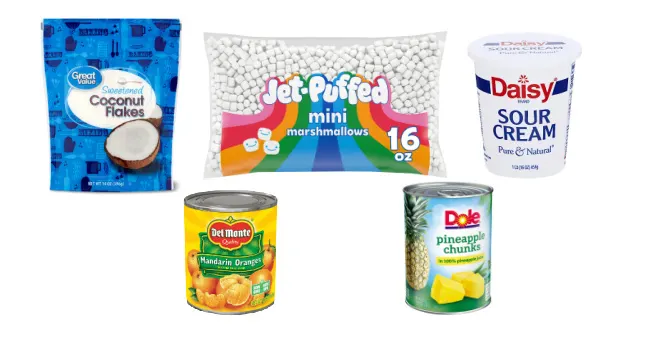 How to make Ambrosia Fruit Salad!


Combine all the drained fruit with marshmallows and coconut.


Fold in the sour cream.


Allow chilling in the refrigerator for 3-4 hours before serving. You can also make this ahead and chill overnight.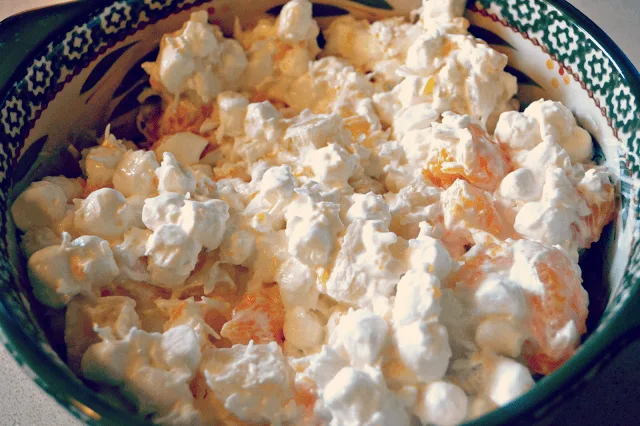 I rarely make my fruit salad with cherries but adding cherries to ambrosia salad is pretty traditional.


If you like cherries you can also add those to the salad as well. If you buy canned cherries you will want to drain them just like the oranges and pineapple.


How did ambrosia salad get its name?
The name "ambrosia" comes from Greek mythology, where ambrosia was considered the food of the gods, known for its divine taste and aroma. The term "ambrosia" was later used to refer to a delightful or heavenly dish, which could have inspired the naming of this sweet salad.
Can ambrosia salad be made ahead of time?
Yes, ambrosia salad can be made ahead of time. In fact, it is often recommended to prepare it a few hours or even a day in advance to allow the flavors to meld together. However, it is important to note that adding the whipped cream or yogurt too early may cause it to deflate and become watery, so it's best to add those ingredients just before serving.
Can ambrosia salad be stored for leftovers?
Yes, this recipe can be stored for leftovers, but it is best consumed within a day or two of preparation. If you have leftovers, store them in an airtight container in the refrigerator. However, keep in mind that the texture may change over time as the fruit releases its juices and the marshmallows and coconut may become softer. It is not recommended to freeze ambrosia salad as it may not hold up well to freezing and thawing, resulting in a watery and separated texture upon thawing


Even more delicious dessert recipes!




Want to print or save this fruit salad recipe?