Don't miss this tutorial on how to make DIY printed candles and make your own custom and personalized candle for any holiday.


A great and easy gift-giving idea as well! Think Mother's Day, Grandparents Day, etc.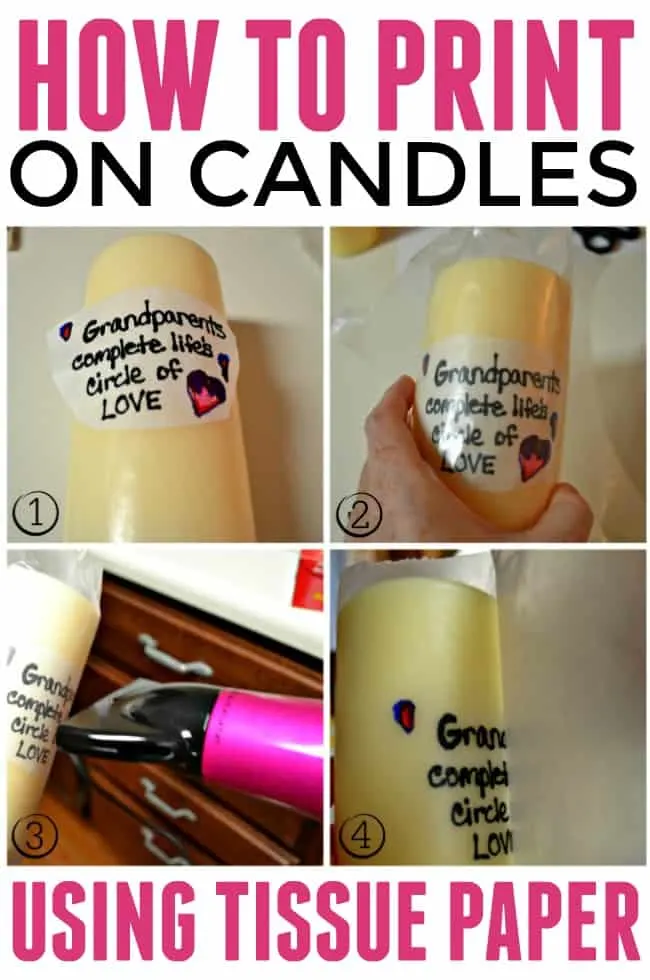 Today's tissue paper craft will show you exactly how to print on candles with tissue paper.


It is an incredibly simple project that makes a great gift for the young to the old.


There are all sorts of ways to make it unique to your own style and home.


Supplies you will need:


Copy Paper
Tape
Markers
Scissors
Blow Dryer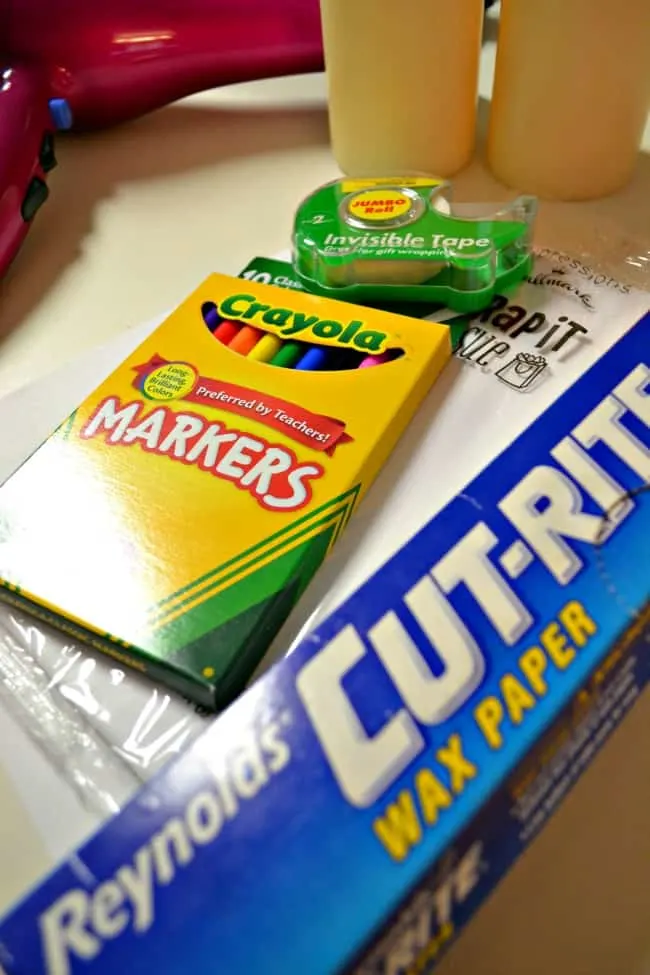 INSTRUCTIONS: HOW TO MAKE DIY PRINTED CANDLES


I'm sure you have seen the quote "Grandchildren complete life's circle of love" well my daughter decided she wanted her candle for her granny and papa to say "Grandparents complete life's circle of love."


It makes the perfect gift for Grandparents' day and it literally only takes a few minutes to complete this entire project.


Once you have gathered all of your supplies together you will want to cut a piece of the tissue wrap and place it on top of the copy paper or you can use whatever you have handy to place under it.


A magazine or piece of cardboard work just as well. This just prevents the markers from bleeding through to your countertop or table.


Once you have that set up let your kiddos draw away. Just make sure they don't get too crazy as it needs to fit on the candle.


Another option is to print out a design onto tissue wrap. Yes, this works!


You can tape your tissue wrap onto your copy paper or you can just run it right through, which is how I have done it.


This gives you loads of options for printing on candles.


You can make a holiday one, a special birthday candle, or even how about printing a picture of your kids for a grandparent's gift. My mom would LOVE that.




Now that your design is finished you will want to complete the other steps.


1. Cut around the tissue paper design and get rid of any excess.


2. Place a piece of wax paper over the top of the design to hold everything in place.


3. Use a blow dryer to melt the tissue paper into the wax candle.


As you move the blow dryer across the design it will begin to melt and disappear.


Once you can only see the design and not the paper it is ready.



A blow dryer with an extension works the best because it directs the heat where you need it.


The process may take longer than a regular one but it will work too, just be patient. On hot heat, it only takes a minute or two.


In this part, I would recommend the adult's handle because the heat can get hot on your fingers.


4. Once the tissue paper is completely gone gently pull off the wax paper and ta-da your design will transfer onto the candle.




How do you make custom candles?


There are so many awesome ways you could customize these candles.


If you know someone who loves animal print then how about a printed animal design. That would be fun!


Dog lovers might like their pups on a candle or how about one with your favorite sports team.


The sky really is the limit with what you can create using wax candles and some tissue paper.


How do you make candles with photos on them?


Another awesome idea for these printed candles is to make your own customized photo candles.


You can use this same tutorial for printing photos on candles.


If you enjoyed this how-to make DIY printed candles you might also like a few of these other craft ideas as well.




Want to print or save these instructions?