Do your makeup brushes get nasty? Mine too! Especially if I am constantly changing out darker colors. That is why I love this do-it-yourself makeup brush cleaner. It is a spot cleaner so that means you can use it daily as it dries super fast. I also have some tips below that will assist you in deep cleaning methods because at some point our brushes need to be deep cleaned too.

How to clean makeup brushes!
SUPPLIES:
1 cup water (distilled or purified bottle water)
1/4 cup alcohol
1/2 tbsp dish soap
1/2 tbsp hair shampoo (normal to oily hair)
1 tbsp leave-in conditioner
a bowl & spoon
funnel (optional)
spray bottle or container
DIRECTIONS:
After you collect all your supplies mix the water, alcohol, dish soap, shampoo and conditioner in a bowl. Using a funnel (or a steady hand) pour the mixture into your container. I prefer a spray bottle. It just makes things easier when it comes to cleaning your brushes. Below is how it looks when all mixed up, nothing fancy but works great.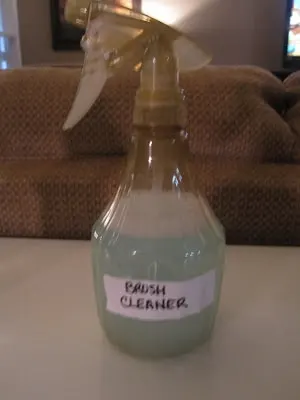 Once the cleaner is bottled and ready to go then you can start cleaning your brushes. Spray on a napkin or towel and swoosh your brushes back and forth or around in circles for larger ones until no more product comes off. If your brushes are super dirty then you may need more than one napkin.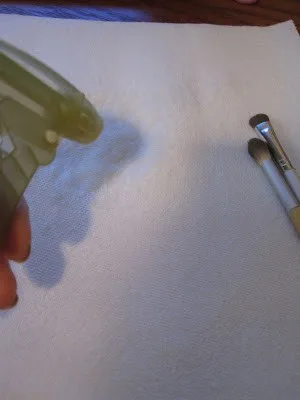 Eww! Right?
Depending on how many brushes you own and what colors you wear (esp for eyeshadow) you will want to spot clean weekly. If you don't own a lot of brushes and/or change your eyeshadow color dramatically you might want to spot clean daily. Like I said above that is the good thing about this cleaner. It dries super fast.
For a monthly deep clean you can take warm water, lather your brushes with baby shampoo and rinse until all traces of soap are removed. Squeeze out water and shape your brush, towel dry any excess and leave to dry on a towel overnight. You will also want to set the towel up at an angle so that you can leave your brushes angled towards their bristles. This will prevent any damage to your handles.
Lipstick brushes can be a little tricky because of all the sticky mess they can create. You can wash those with a gentle wash that you use to clean your face or olive oil works great too. I like to use my philosophy purity makeup cleanser I use on my face.
When your brushes start shedding and the bristles frizz, it's time to replace with new ones.
Why is it important to clean my makeup brushes?
Cleaning your brushes regularly and taking care of them will make them last longer, which in turn saves you money from having to purchase new ones. Over time your brushes will get oily from rubbing on your face so cleaning them makes application easier and does the job you want it to do. It also saves your face from getting nasty breakouts because yes, dirty brushes carry bacteria.
I love comments
, let me know how you clean your makeup brushes. :o)