How to build a functional PVC pool towel rack. A simple DIY that is perfect for your backyard pool needs. The rack will keep dripping towels and suits off the floor and out of the house.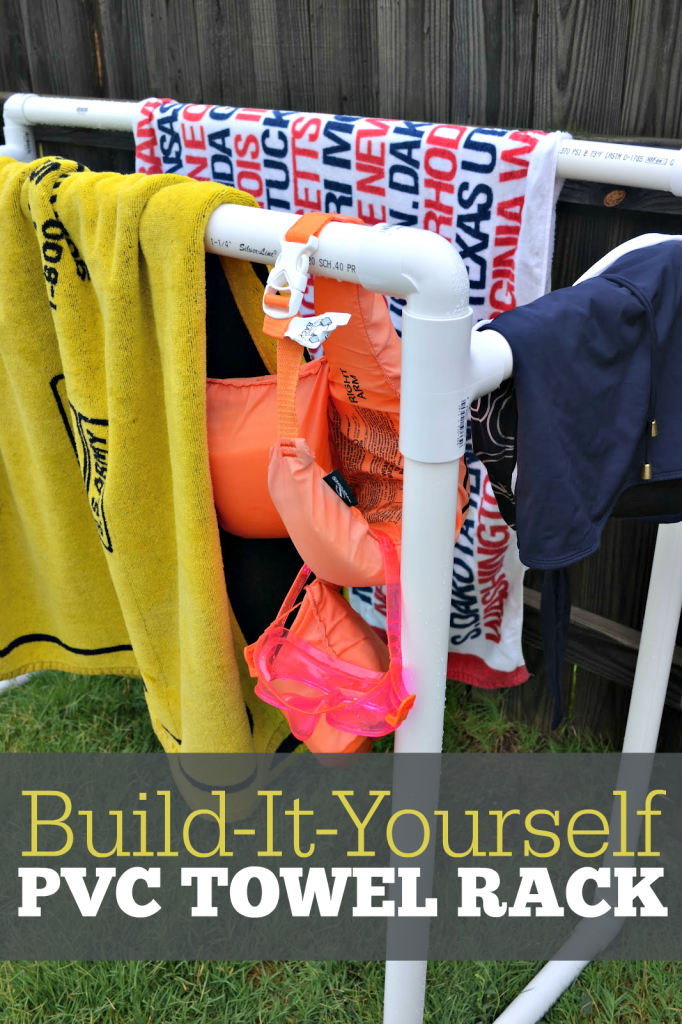 This post contains affiliate links.
There are so many great things you can do with PVC pipe, from kids car washes to shoe organizers. Just search PVC on Pinterest and you will find a boatload of ideas if you're interested.
During the Summer we are usually outside in the pool every single day so washing towels or swimsuits daily just wasn't going to work. Of course, you can purchase one if you would like but we didn't really need one that big nor did I want to spend $200+.
There are all kinds of ways you can go about making a PVC pool towel rack from simple designs to large designs but we just wanted something simple that would hold our towels plus a few swimsuits.
Want to make your own? Here is how…
DIY PVC Pool Towel Rack
Materials:
(3) 10′ PVC Pipes
(We used 1 1/4″ piping if you use a smaller/bigger size make sure you get the correct fittings as well)
(4) 1 1/4″ elbows (the feet)
(4) 1 1/4″ tees
(4) 1 1/4″ 90* elbow with slip
Here are some pictures if the fittings confuse you.
(Elbow for the feet, the tees that make the side crossbars, and the slip that goes into the tee to attach the bars to towels hang on.)
This picture below is a sideout elbow. This would work in place of the tee and elbow with the slip if you can find one in the sizing you need. We couldn't find any in the 1 1/4″ size.

Cuts:
(4) 37″ pipe cuts (legs)
(2) 60″ pipe cuts (towel bars)
(4) 17.5″ pipe cuts (side bars, top & bottom)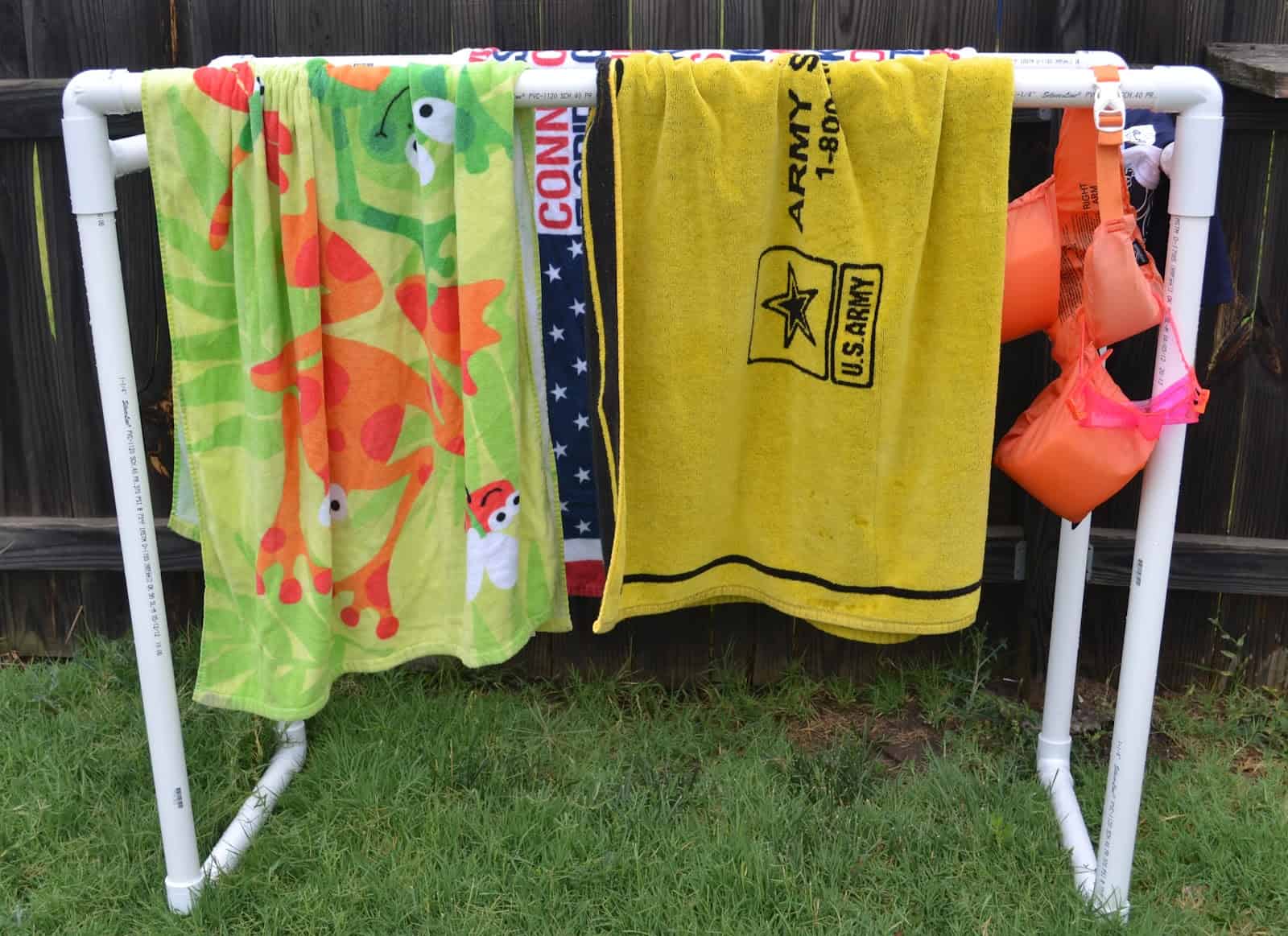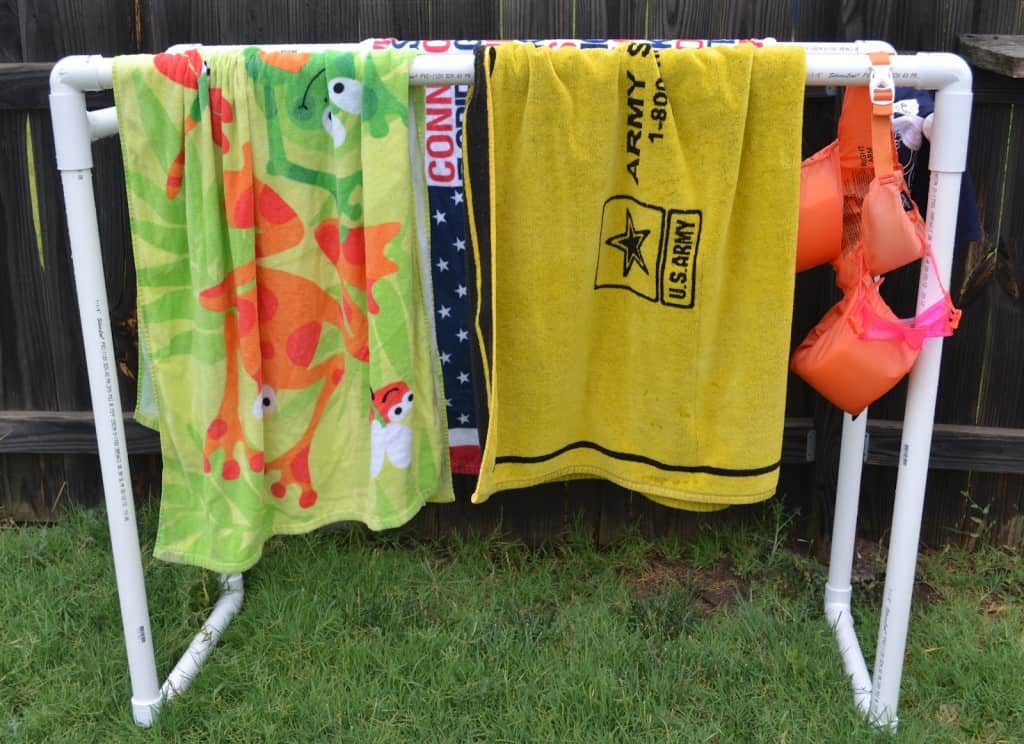 Instructions:
Once you have cut all your pieces start fitting the pipe pieces into the fittings.
You will connect the foot elbows with the 37″ pipes (the legs) and then connect 2 of the legs to one 17.5″ pipe. At this point, you should have created two large side legs pieces.
You will then connect the tees to the tops of the 37″ pieces and again connect the 17.5″ pipes to those. You will have created a rectangle and now you are ready to connect your elbows with slips.
The slip side will go down into the tees and you will connect your towel bars to the other side.
To be honest, trying to read the directions of me explaining it is probably more confusing than just using the pictures above and just eyeing it. I'm pretty sure all of you can figure out what goes where.
Notes:
This PVC pipe is not furniture grade so you will have the ugly wording on the sidebars. It doesn't bother me for now but if you want you can paint your towel bar. I would strongly suggest roughing it up with sandpaper prior to painting so the paint will adhere better. I would also recommend a coat of primer to help cover up the markings.
If you enjoyed this PVC pool towel rack post you may also love…
---