Create a spooktacular entrance for Halloween with this PVC pumpkin spider.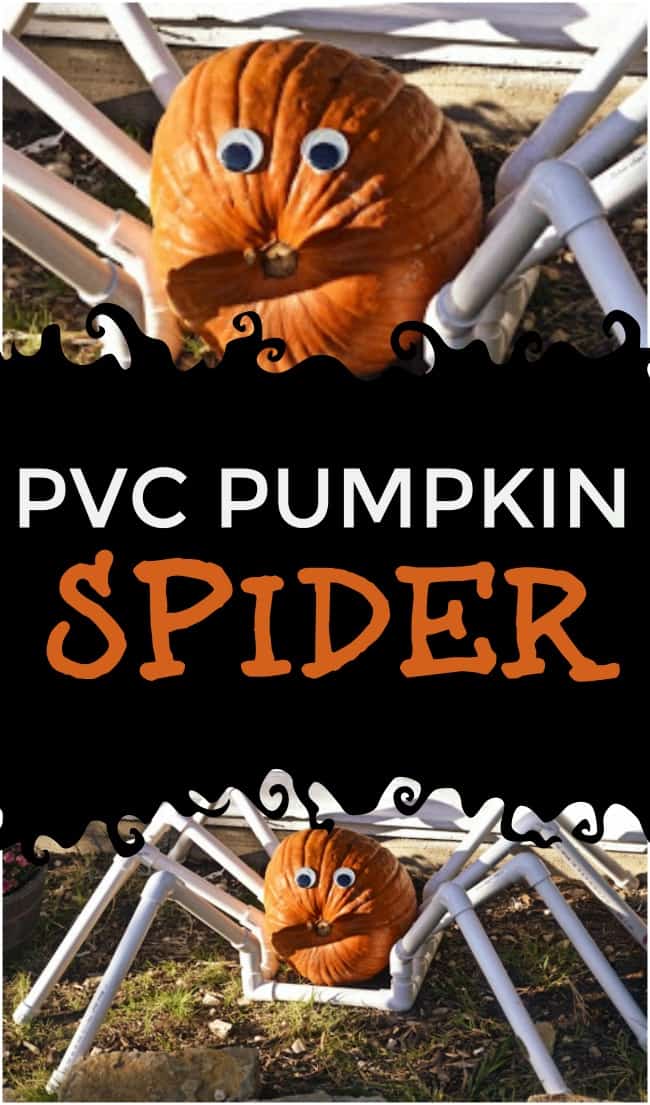 This post contains affiliate links.
Halloween decorations can get expensive but that is why we love to craft our own.
This PVC pumpkin spider is perfect for that do it yourself Halloween decor solution. Just a few PVC fittings will have you spooking up your place in no time.
PVC Pumpkin Spider
Supplies:
3 – 1″ (Pipe Size)  x 10′  pieces of PVC pipe
(If you can find a 5′ piece then you can purchase 2 – 10′ and 1 – 5′ PVC pipes)
8 – 1″ 90 Degree PVC Fitting
8 – 1″ 45 Degree PVC Fitting
Pipe Cuts: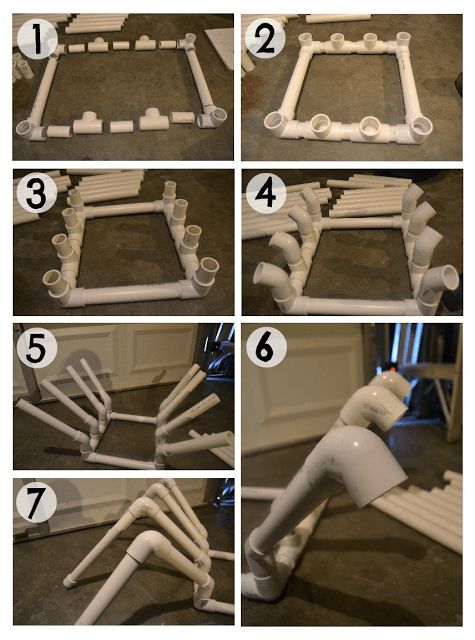 Directions:
Lay out your pieces as shown in picture 1 above. You are using 3-way fittings, 2-inch pieces of piping, tee fittings and 10-inch pieces of piping here.

Once you have all your pieces laid out assemble them together. This is where the mallet comes in handy to get all the pieces nice and snug.

Add 2-inch piping pieces to each slot, again making them nice and snug.

Add 45-degree angle pieces to each slot. Don't worry about getting the legs turned just right. You can adjust the legs once they are assembled completely.

Attach the rest of the 10″ pieces.

Add 90-degree angle pieces.

Attach the caps onto the 15″ pieces and then add them to the rest of the frame.

Adjust the legs to the way you like them and place your pumpkin on to finish the look.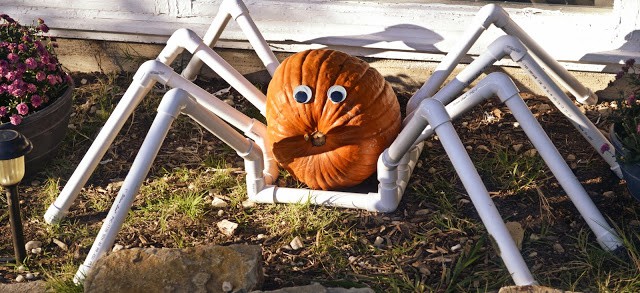 Extras:
You can use PVC cement while assembling this spider together if you want a permanent hold. I don't have anywhere to store something this big so I left mine with the ability to disassemble after Halloween.
For those wondering this PVC spider is approximately 4.5′ x 3′.5 and approximately 16 inches tall. You will need a medium to large size pumpkin for the center of the spider. I used wiggle eyes for the spider but painting them on or drawing them on with a sharpie would work great too.

If you enjoyed this PVC Pumpkin Spider then you might also enjoy…
---