Normally a twice baked potato is baked twice in the oven. Hence the name, twice baked.

The first baking of the potato takes approximately 1 hr and 15 minutes. That doesn't even count the time to scoop out the insides, mix the toppings, re-scoop and bake again.

By the time a normal twice baked potato is finished you have nearly 2 hours invested. All for a small side dish!

I love potatoes but coming up with an easy twice baked potato recipe in half the time was a must.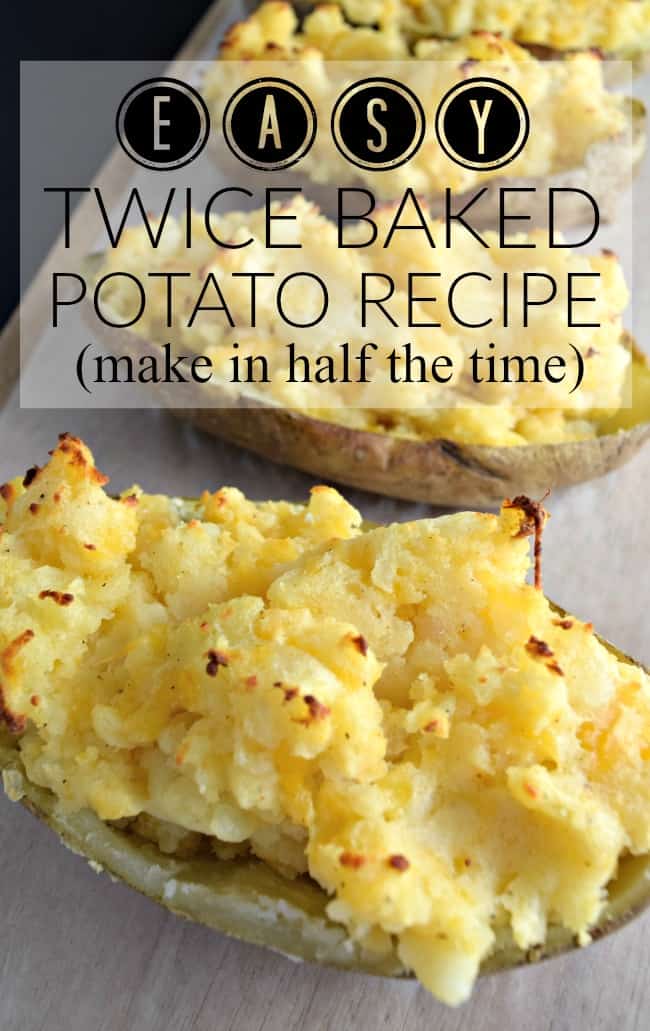 Ingredients you will need:

Potatoes – 1 potato will typically feed 2 people
Toppings – Use anything that you love on your potatoes. We fixed ours like we make mashed potatoes but added a few extras too.

Topping Ideas:

Cheese
Butter
Sour Cream
Bacon Bits
Salt / Pepper (We love [easyazon_link identifier="B00032A8UM" locale="US" tag="thgisli03-20″]Lawry's seasoned salt[/easyazon_link])
Chives

Directions for an easy twice baked potato

First, you want to preheat your oven to 350 degrees.

While the oven is preheating cook your potatoes in the microwave.

This is what cuts the time in half. By cooking the potatoes initially in the microwave you cut out a LOT of time. It takes about 15ish minutes to cook 3 potatoes in the microwave.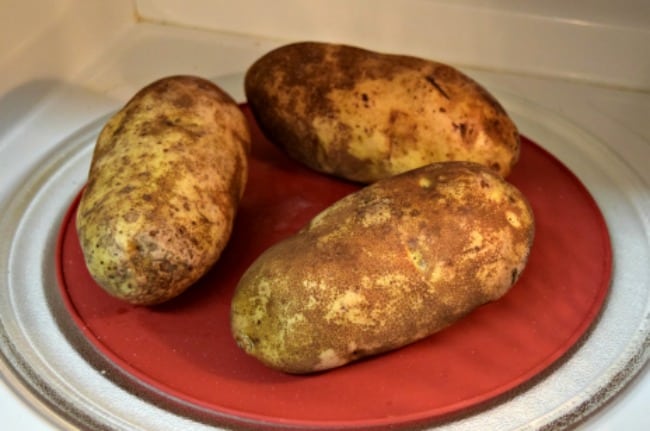 Once the potatoes are fully cooked through you can cut them in half and begin scooping them out.

Be careful not to over scoop otherwise, you will mess up your potato bowl.

Which if you do it's no big deal. You could actually throw this all in a casserole dish and bake it again. It doesn't have to go bake in the potato skins but that is just traditional style twice baked potatoes.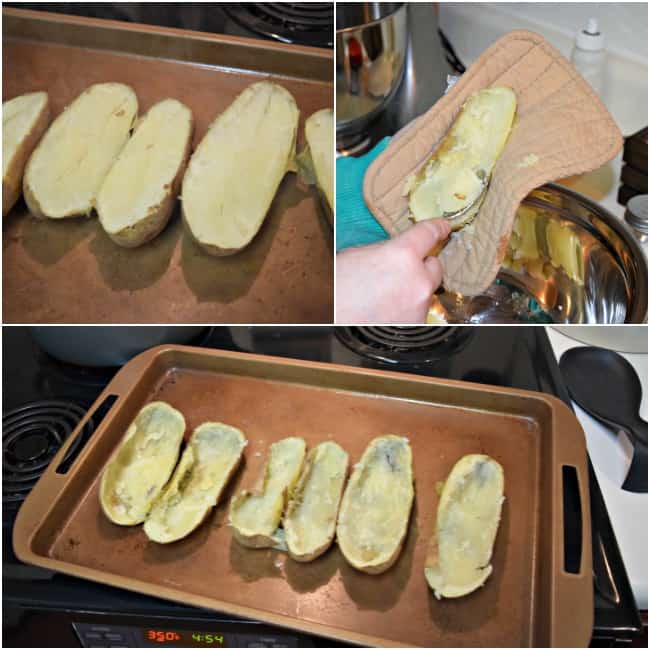 Now is the best part, mashing the potatoes and mixing together all the yummy toppings.

You can add in whatever you like on your potatoes. The sky's the limit.

We like to add in cheese, butter, seasoned salt, pepper, and sour cream. I don't have exact measurements for these topping as I never exact measure mashed potatoes.

I add a little, taste and add more of whatever it needs.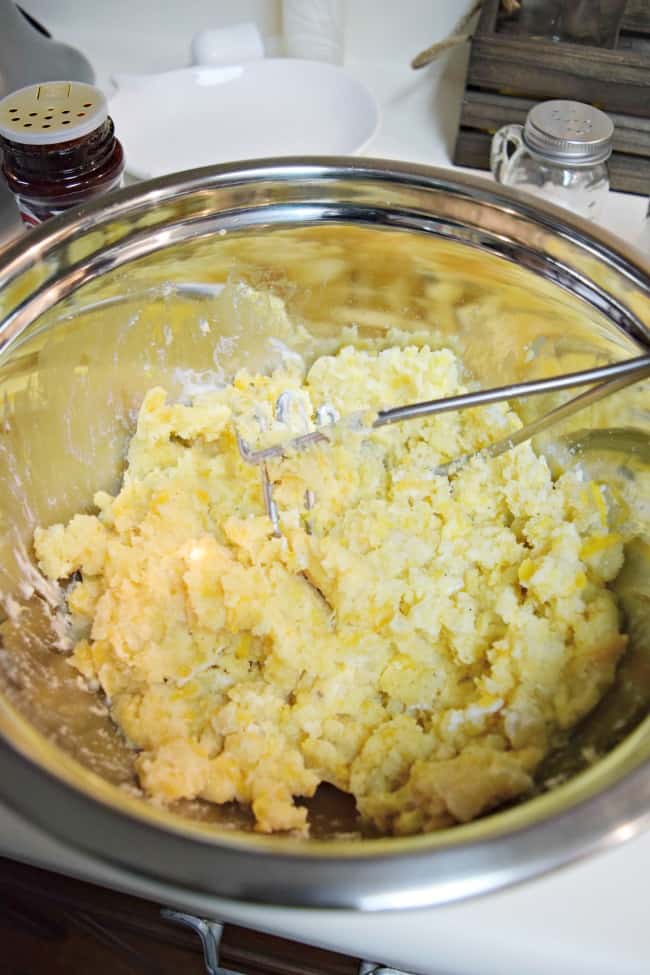 Add the potatoes back into your skins (or a dish) and heat in the oven for 15 – 20 minutes.

The tops will get golden brown when they are ready.

In total it takes about 45 minutes to cook this easy twice baked potato recipe. Still a little time consuming for a side dish but much faster than the 2-hour version.

Plus, it doesn't taste any different.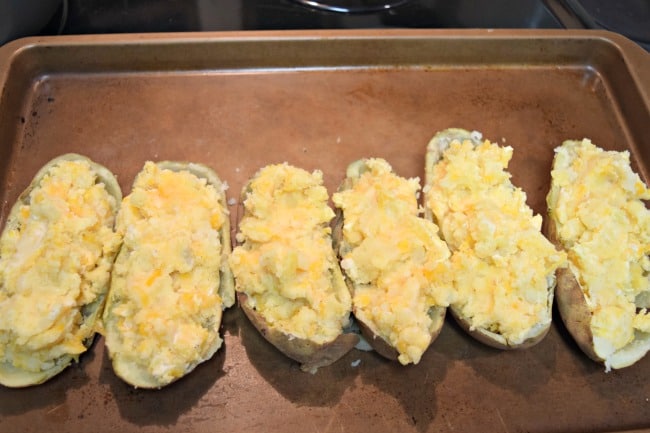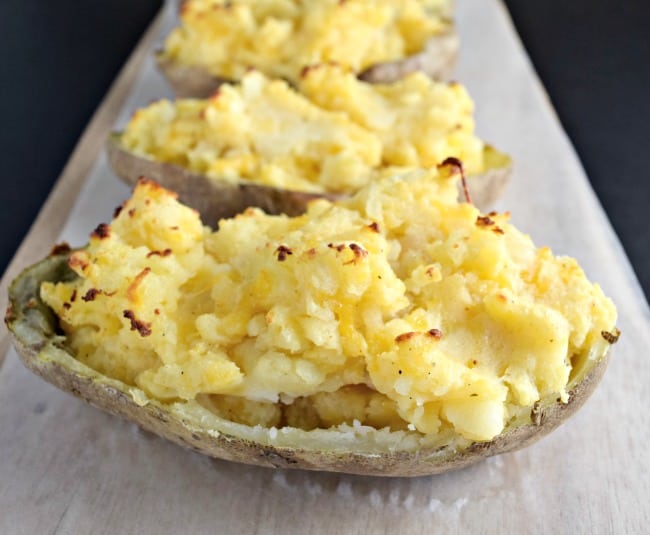 Let me know if you have ever tried a easy twice baked potato made this way.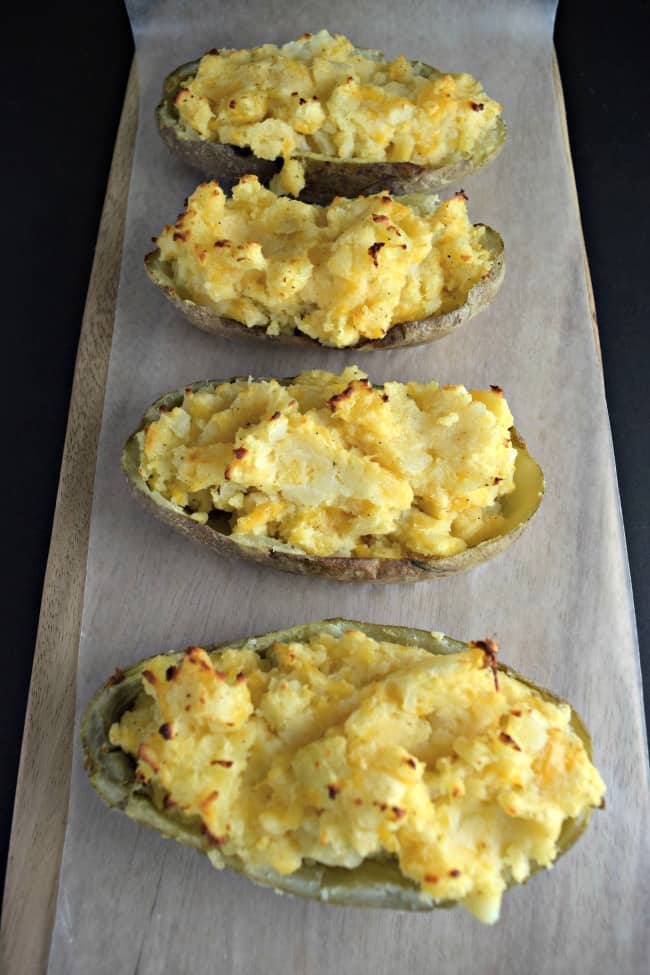 Some questions you may have

Are baked potatoes good for weight loss?

Potatoes are not necessarily bad for you if you are trying to lose weight. They are typically around 100 calories and are naturally low in fat and high in both potassium and vitamin C. However, potatoes are starchy, so people who are following a low-carb diet may want to avoid them.

What should the internal temperature of a baked potato be?

A potato is perfectly baked when it reaches an internal temp of 210 degrees F.

Should I wrap my baked potatoes in foil?

It is not necessary to cook baked potatoes in aluminum foil. However, wrapping potatoes will give you softer, steamed skin. If you like to eat the skins (and that is truly where most of the nutrients reside) then you may choose to cook them this way.

Want to print this recipe?


If you like this Easy Twice Baked Potato Recipe you also might like some of our other potato recipes.