If your family is anything like mine then you spend the vast majority of your summer outdoors.


Which means we often cook dinner outdoors multiple times a week.


After several summers of great outdoor grilling, I have come up with some of my must-have grilling essentials.


These tools can make all the difference when it comes to having that perfect backyard BBQ experience.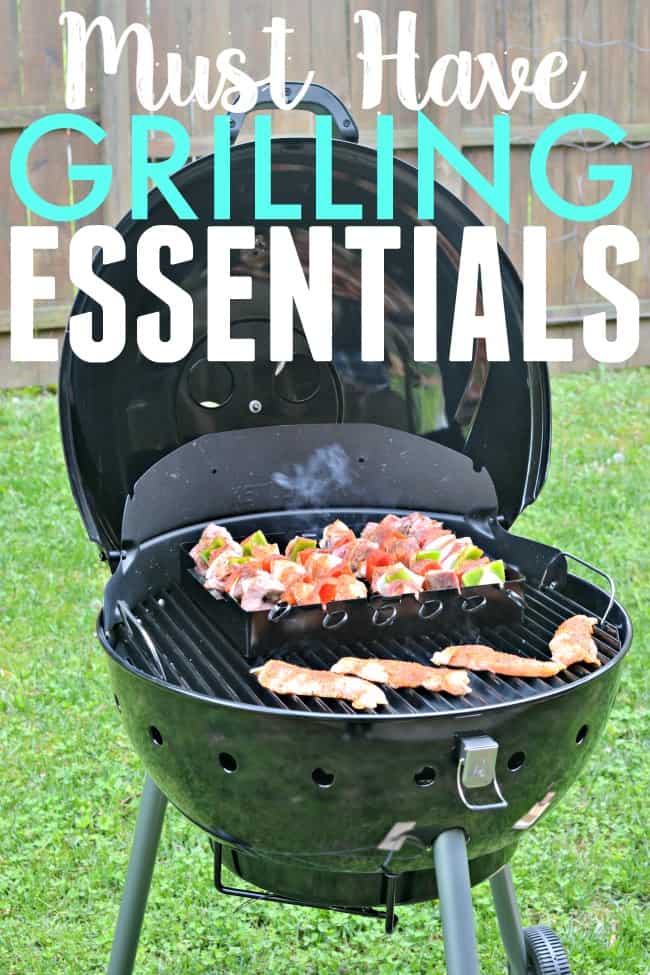 Essential Grilling Tools Everyone Should Own!


No fancy gadgets – these are classics for a reason.


1. Leave-in Thermometer:

I personally like the leave-in style thermometers, especially when smoking your meat long periods.

The one we have you can take the control with you around the house and do your chores while watching the temperature throughout the day.


2. Grill Gloves:

Having a leave-in thermometer brings me to my next must-have and that is grill gloves.

When you remove the thermometer it can be super hot.

Grill gloves save your hands from painful burns.


3. Charcoal Grill:

So I have named a few items already but I can't keep going further without naming the most important essential of all.

The grill!

We have been really enjoying the new charcoal grill from Char-Broil, the Char-Broil Kettleman Grill.

It is the perfect size for our family of 3 and has lots of fun features that make grilling so much easier with all sorts of control.


Temperature Control – With a super-sized cool-touch damper on the grill's lid, heat management is easy. Vents around the body of the kettle allow air to fuel the fire from all sides, providing even heat to the cooking surface.
Flare-Up Control – A porcelain-coated no-fall-through grate allows charcoal flavor through while keeping flames away from food. Wood chips can be thrown on the grate and small foods like shrimp or asparagus will never fall into the fire.
Charcoal Control – Designed to grill twice as many burgers with the same 50 briquettes as the leading kettle.
Ash Control – A slide-in, a porcelain-coated ashtray is tight against the grill making cleanup and maintenance simpler than ever.
Stability Control – Wide stance, heavy-gauge steel legs add stability and easy mobility. A bottom shelf doubles as a holder for the cooking grate or other accessories.




4. Basting Brush:

You have to have something to get all that yummy flavor added to your meat.


5. Tongs and Turners:

You can't flip or turn your burgers, chicken, etc without something to do it with, and as much as grill gloves protect your hand from heat lets not get them too messy. haha!


6. Aluminum Foil:

I will admit we don't use this technique quite as often but my dad swears by using aluminum foil.

I will say it makes for a quick clean up and because of that it makes the must-have essentials list.


7. Cleaning Brush:

Because we don't use aluminum foil as often as we probably should a good grill brush is definitely a must.

Grills can get in a mess quickly which is just no fun for you or your grill.


8. Grill Basket / Plate:

I love me some grilled vegetables and even fruit (pineapple anyone?)


9. Charcoal:

Another must-have is of course charcoal because without charcoal you can't effectively work a charcoal grill.

We like the kinds that light easy and burn clean.


10: Food:

Of course, like the grill and the charcoal, you can't have a BBQ without the yummy food.

So go grab you up some yummy steaks, chicken legs, or pork shoulder and get your grill on!


HAPPY GRILLING!!


We slow smoked a pork shoulder (wrapped in bacon) in ours this past weekend and let me tell you, so yum.




Do you have a must-have tool/accessory that I didn't mention?

Comment and let me know… I just might need to add it to my arsenal.


If you enjoyed these must-have grilling essentials post then you also might like…


Summer Burger Recipes

Summer Entertaining Essentials

Garlic Parmesan Corn on the Cob