These Halloween Cupcakes are a must for a frightfully fun Halloween Party.


These spooky cupcake recipes & ideas make Halloween so much sweeter for you and your whole clan.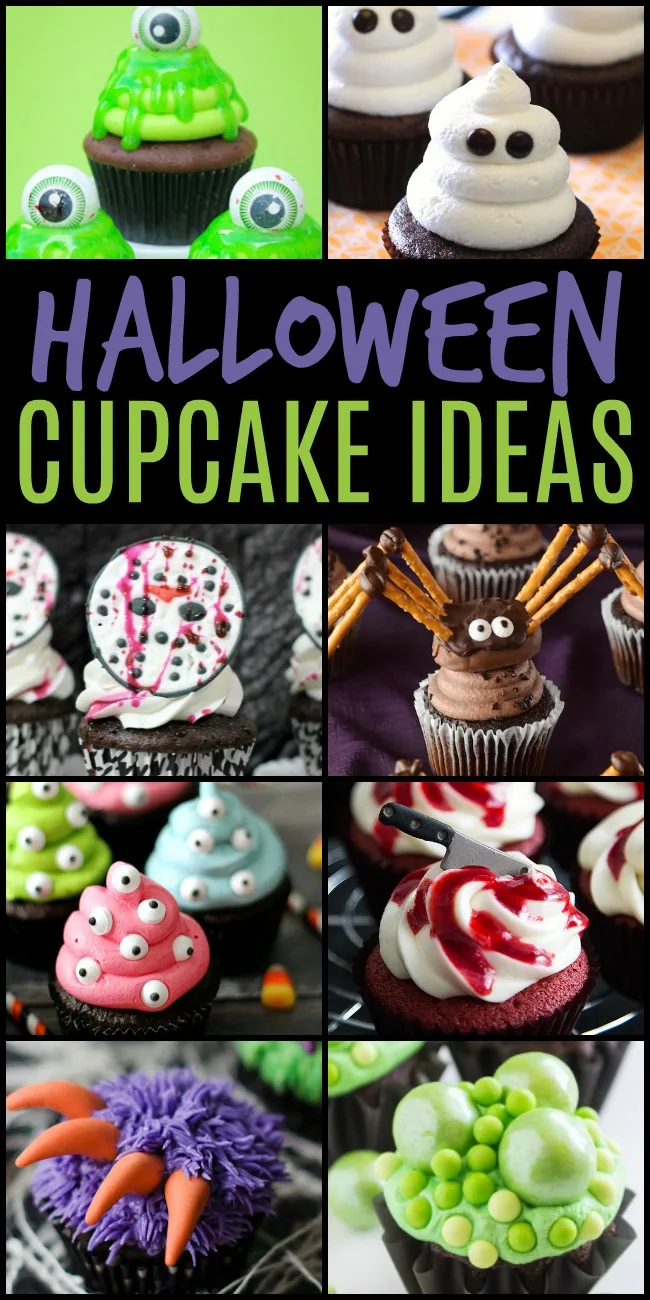 This post contains affiliate links.


Bring all of these fun Halloween cupcakes to your next Halloween party table.


Lots of cute ideas that the adults and kids will love including creepy bloody cakes to witches, bats, pumpkins and more.


Let your kids get in on the decorating fun because making these treats are a good time to be had by all.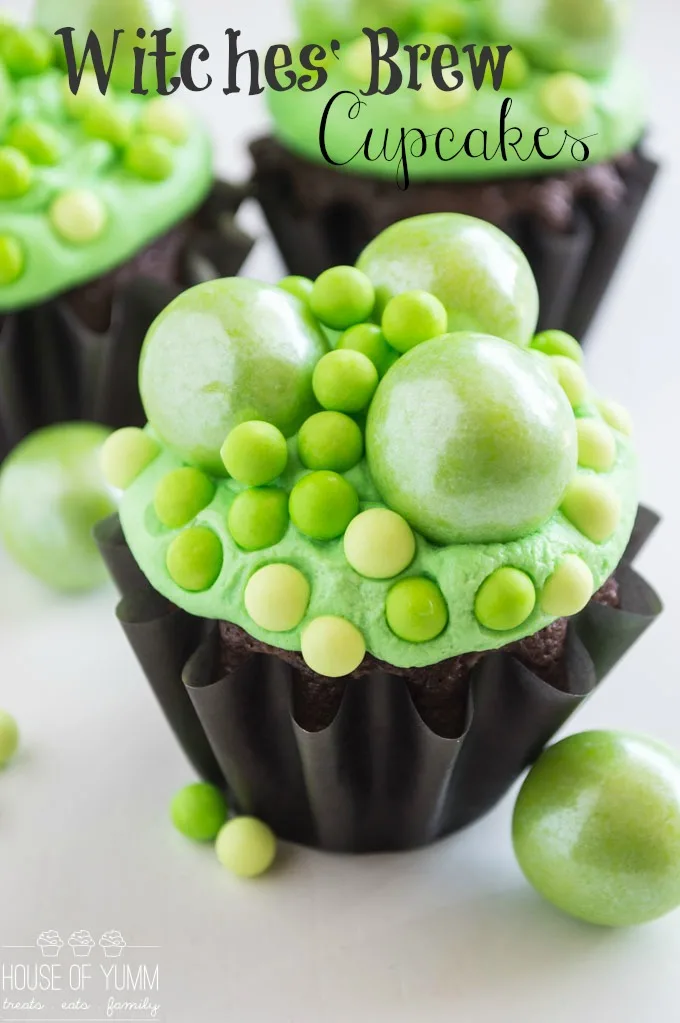 Witches Brew Cupcakes
Cupcakes and Kale Chips
Double, double toil and trouble, Halloween cupcakes with frosting and bubbles. - Cupcakes and Kale Chips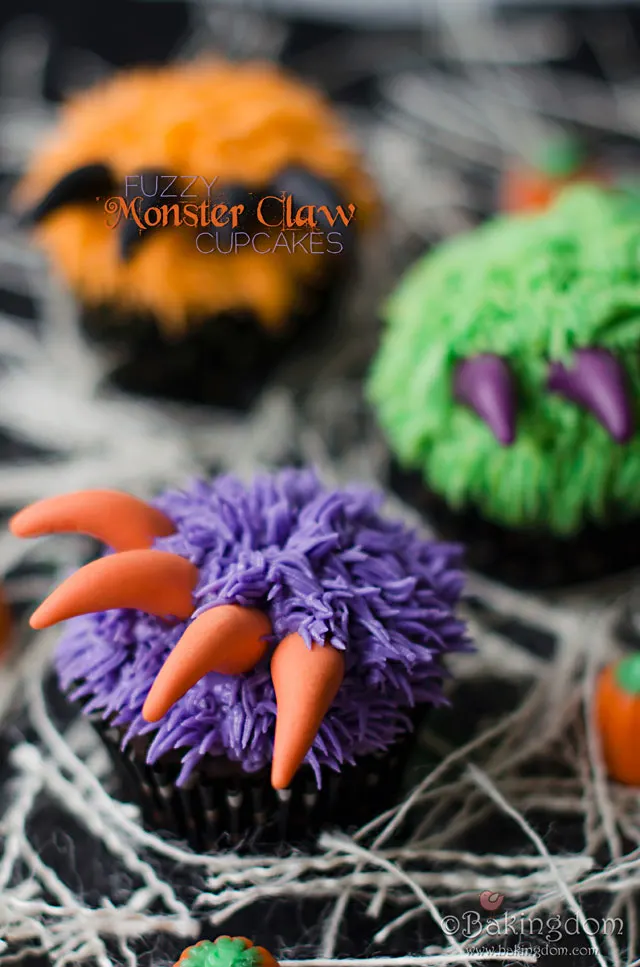 Monster Claw Cupcakes
BakingDom
I love these little monster claw cupcakes. The perfect touch of not creepy just way cute for even the littlest monsters.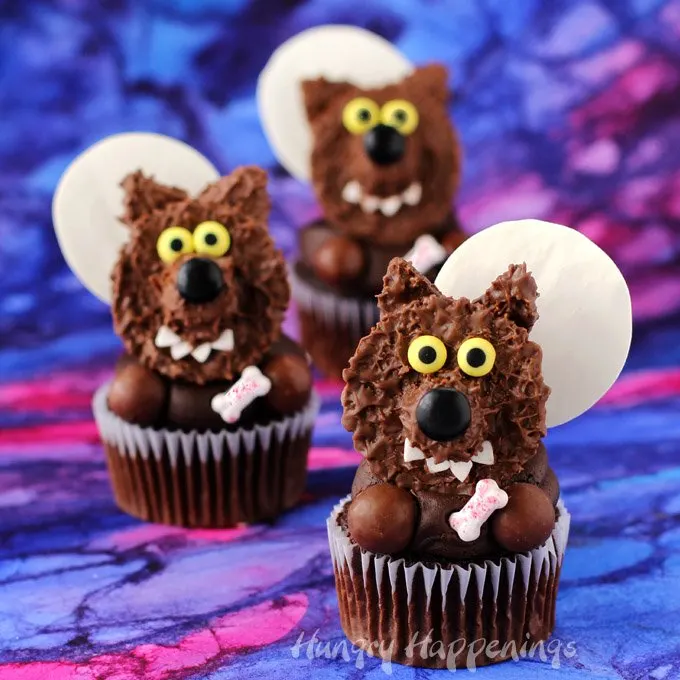 Werewolf Cupcakes
Hungry Happenings
This Halloween turn store-bought treats into adorably cute and slightly scary cupcake toppers. It's easy to make a whole pack of these Reese's Cup Werewolf Cupcakes for this fun holiday. - Hungry Happenings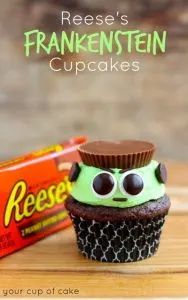 Frankenstein Cupcakes
Your Cup of Cake
Speaking of making cupcakes from Reese's check out how stinking cute Frankie is in cupcake form. Love it!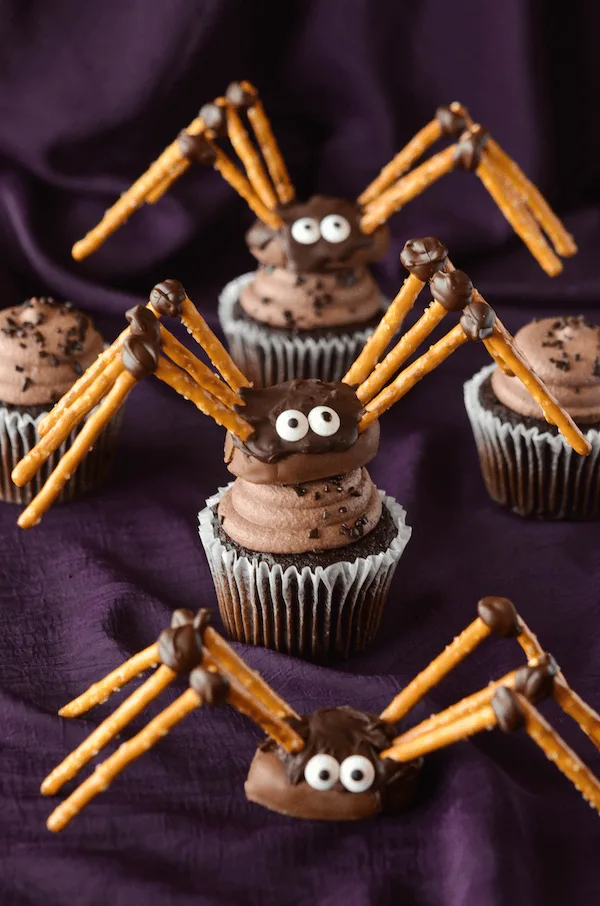 Pretzel Spider Cupcakes
The Novice Chef Blog
Even if they are missing 2 legs these spiders are the cutest sitting onto of the cupcakes.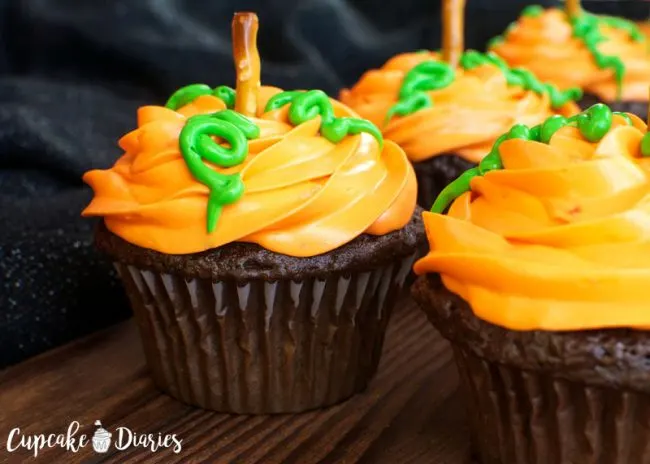 Pumpkin Patch Cupcakes
Cupcake Diaries Blog
Nothing says fall fun like heading to the pumpkin patch to find the perfect pumpkin for a Halloween jack-o-lantern. This is a great dessert to serve after coming home from the pumpkin patch! - Cupcake Diaries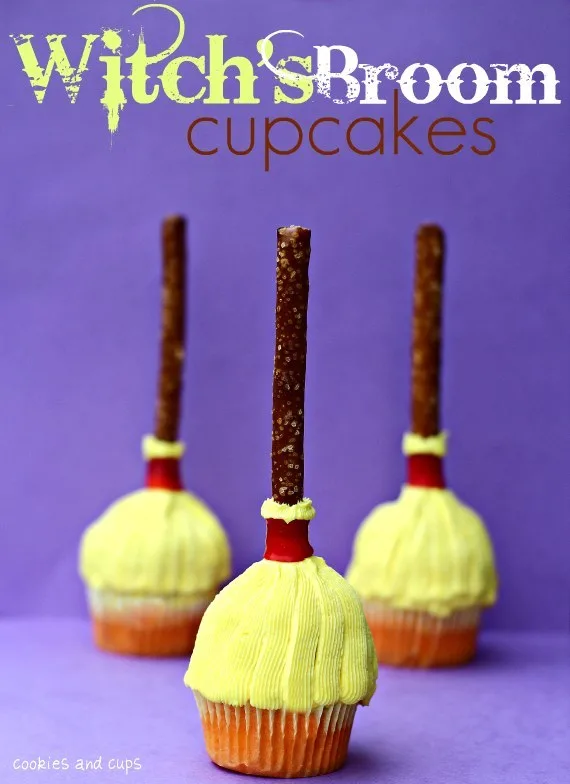 Witches Broom Cupcakes
Cookies and Cups
My daughter is being a witch this year and we are throwing a witch-themed Halloween party. We are really loving this witches broom idea.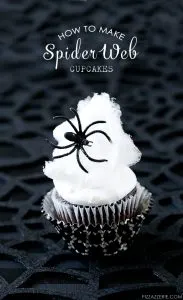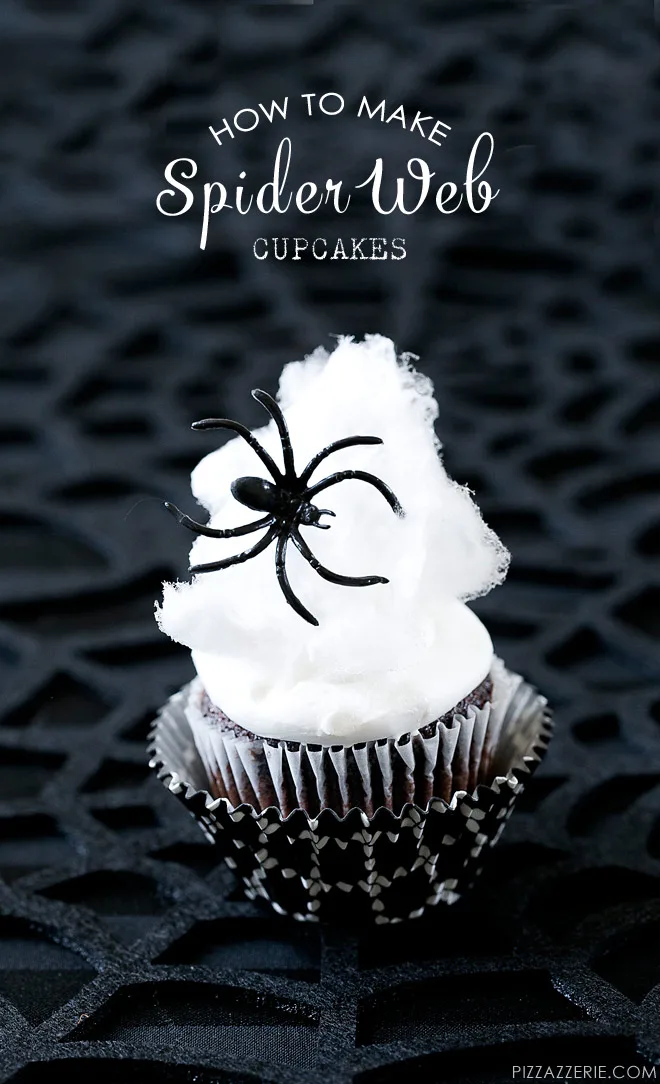 Spider Web Cupcakes
Pizzazzerie
Did YOU know that white cotton candy happens to look a lot like a spider web? Well well, it absolutely does which makes it a super easy and clever way to make spider web cupcakes for Halloween this year. - Pizzazerie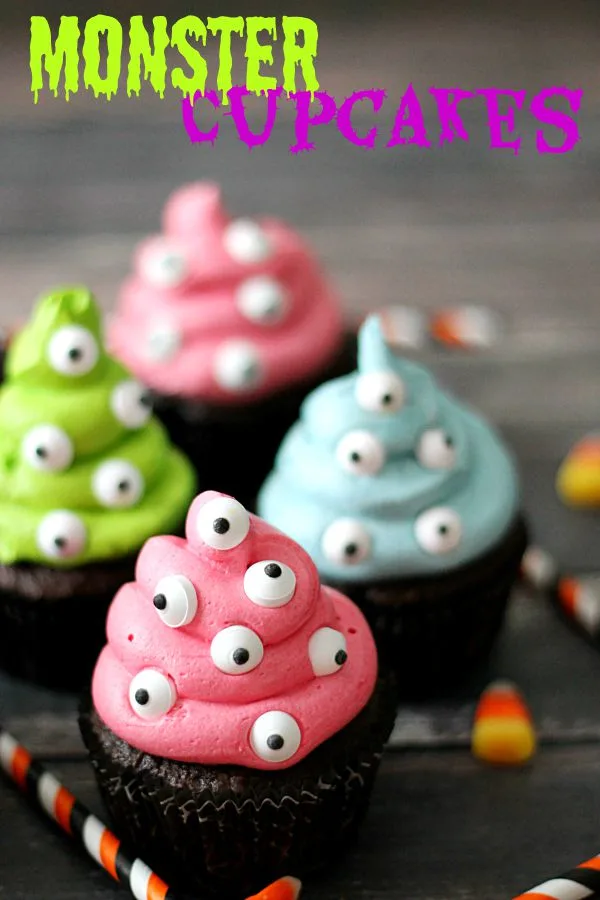 Monster Cupcakes
Life with the Crust Cut Off
If you are stumped on time these monster cupcakes are too easy but still look absolutely amazing.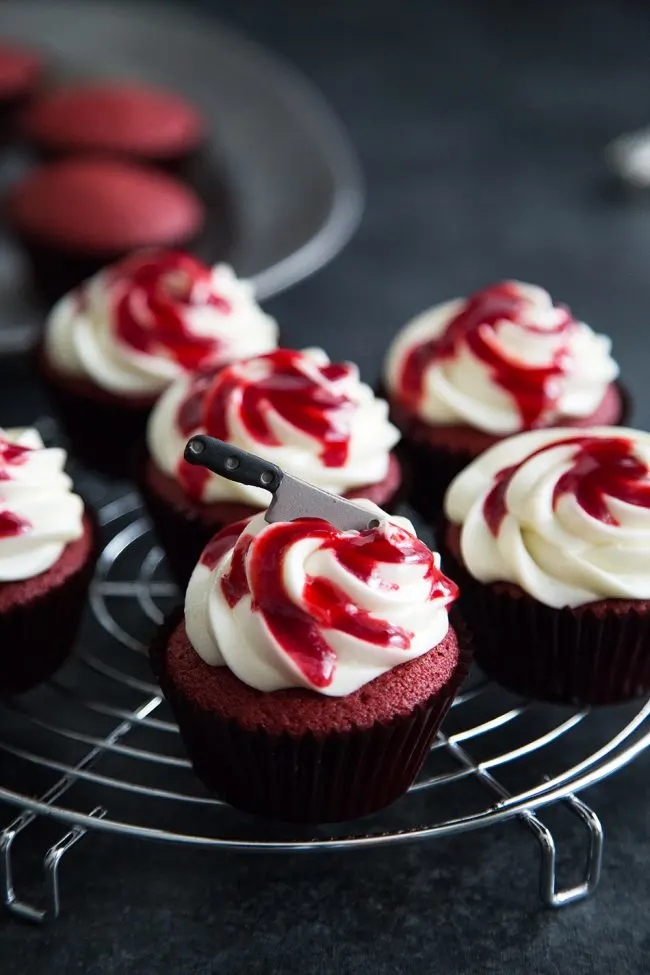 Bloody Red Velvet Cupcakes
The Little Picurean
You can't have Halloween without a little gore right?
Bloody Red Velvet Cupcakes: traditional red velvet cupcakes with cream cheese frosting and a shocking addition of raspberry coulis. It's my new favorite Halloween treat! - The Little Epicurean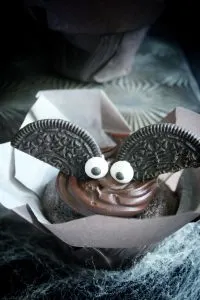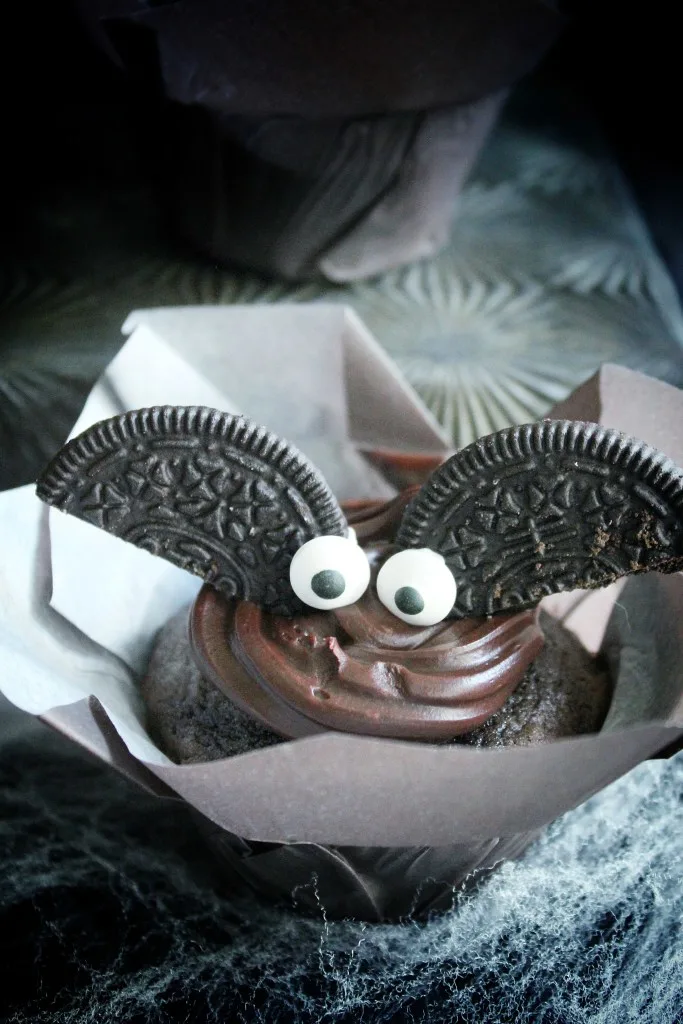 Bat Cupcakes
Simply Beautiful Eating
Don't these just drive you batty? Haha!
Ghost Cupcakes
Sarah Bakes Gluten Free
Another incredibly easy cupcake to throw together, even if you are doing it last minute. These are also allergen-free.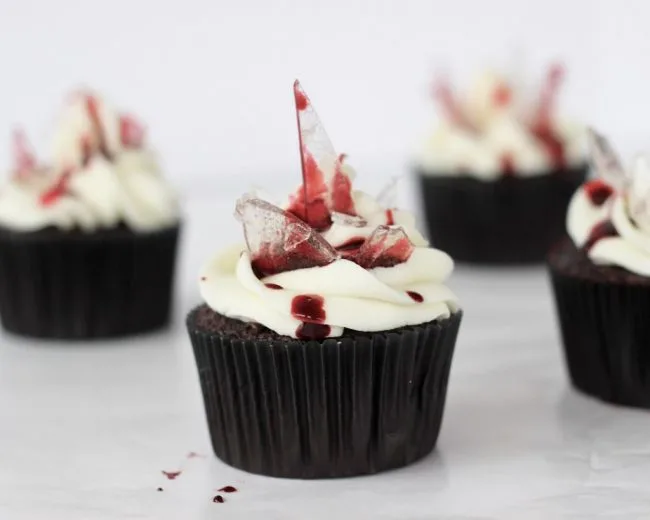 Broken Glass Cupcakes
Supper Boss
Another fun gore one!
Besides being creeptastic, they are delicious. For realsies. This is a black velvet cupcake with cream cheese icing candy glass and the drippiest chocolate sparkle blood. It's way too much. In the best way. - Superboss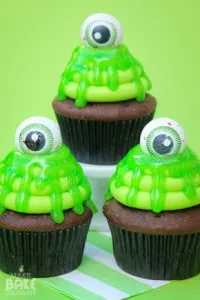 Slimy Cupcakes
Make Bake Celebrate
I mean, what kid wouldn't love this?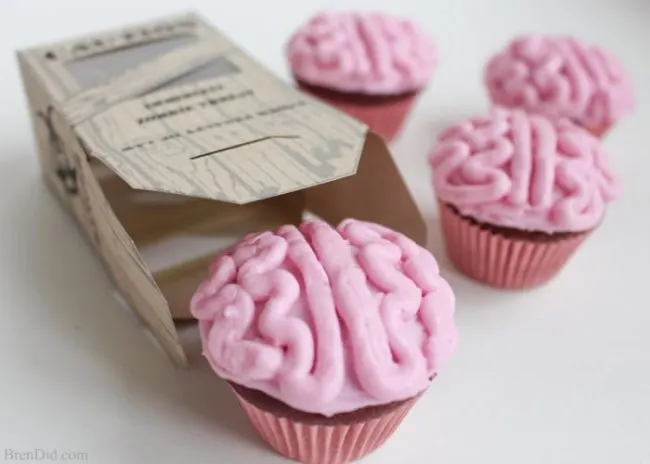 Zombie Brain Cupcakes
Bren Did
This fun Halloween cupcake recipe and icing tutorial makes blood-red brain cupcakes that are all-natural … no, they do not contain real BRAINS, but they are made with real ingredients and contain no artificial food coloring! - Bren Did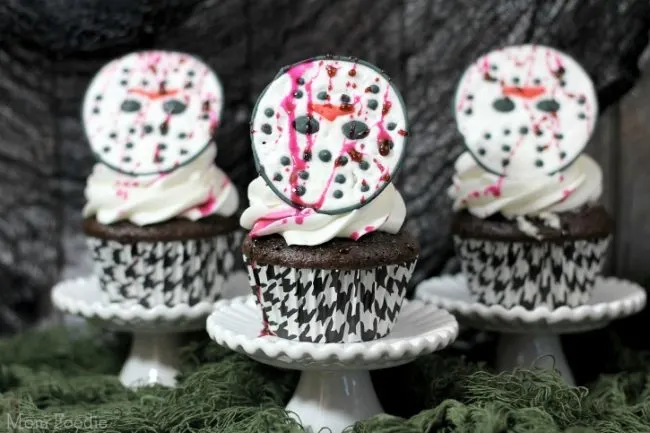 Jason Cupcakes
Mom Foodie
Back to another one great for an adult or even teenage Halloween party. Even better, Friday the 13th is actually legit this year.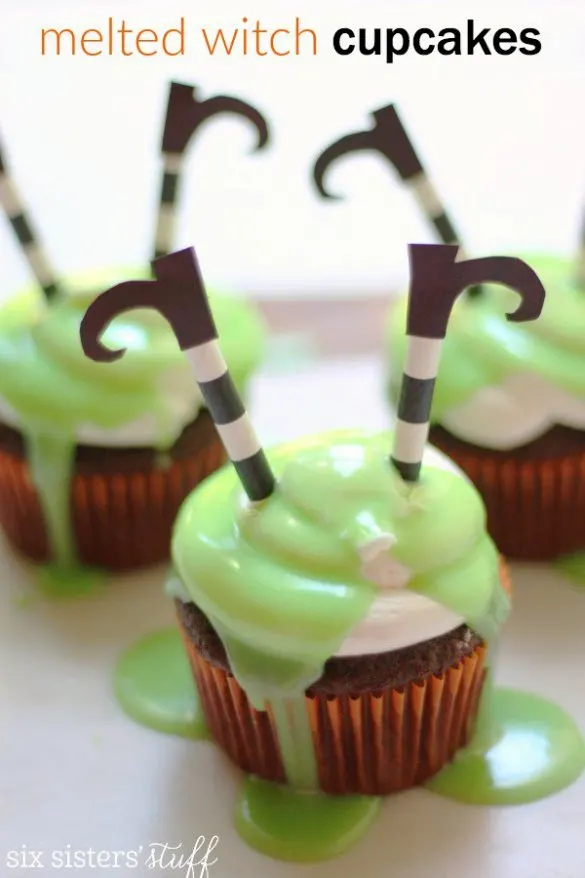 Melted Witch Cupcakes
Six Sisters Stuff
Lastly, but certainly not least. As I said, we are doing a witch-themed Halloween party this year and we really love this melted witch. Even great for a Wizard of Oz party too.


Did you love these Halloween Cupcakes? You might also enjoy these...


---
Halloween Drinks for Kids
Halloween Food Ideas for Kids
Scarecrow Treats and Crafts