These grilled chicken tenders are marinated in vinegar, dijon, pesto, garlic, sugar, salt, and pepper and then grilled to golden brown perfection.




This recipe has the most juicy, tender chicken with the easiest marinade.


Ingredients for Grilled Chicken Tenders


⅔ Cup white vinegar
2 tablespoons dijon mustard
2 tablespoons jarred pesto sauce or fresh pesto
2 cloves garlic, minced
2 tablespoons granulated sugar
2 teaspoons kosher salt
Pepper to taste
2 pounds chicken breast tenderloins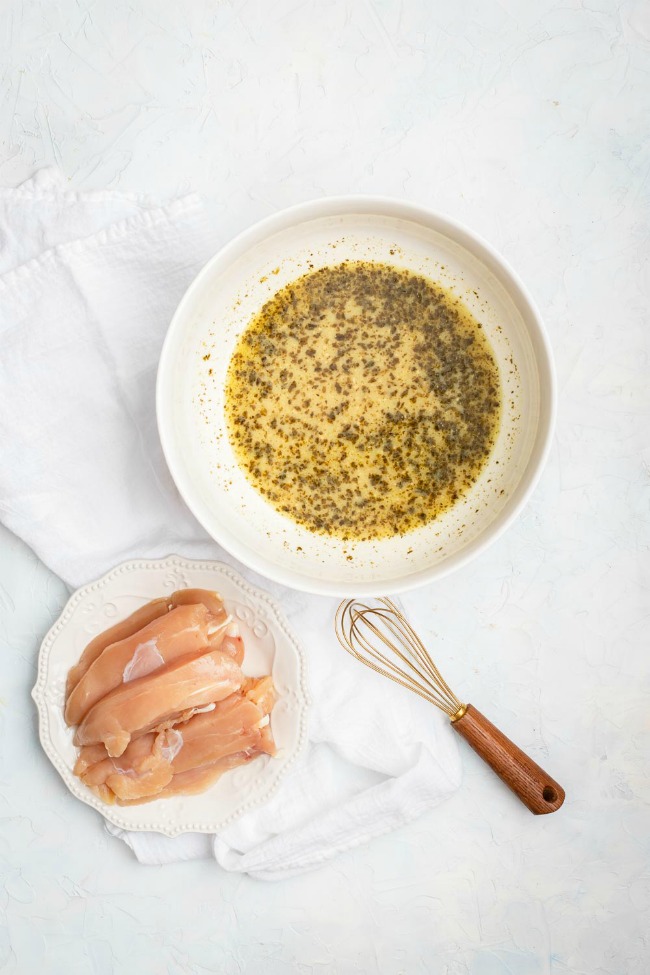 How do you grill chicken tenders?


Before you get started you'll first want to soak your chicken tenders in a marinade.


You can do as a little as 20 minutes if you are strapped for time but the longer the better. I prefer to marinade my grilled chicken tenders for 6-8 hours.


To make the marinade you are going to mix the vinegar, dijon, pesto, garlic, sugar, salt, and pepper in a large bowl. Whisk to combine.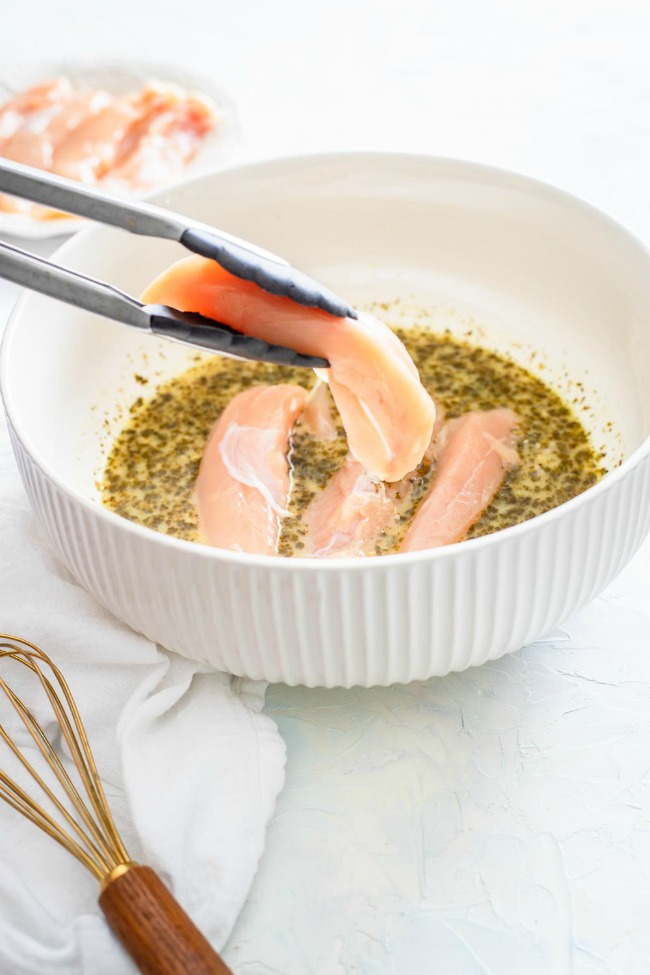 Take the chicken out of the marinade and allow to come to room temperature, about 20 minutes.


Add the remaining marinade to a small saucepan and bring to a boil, boil for 1 minute, take off the heat.


When you are ready to grill, preheat your grill or grill pan to prepare it for cooking.


Lower the heat to medium, place the chicken tenders directly on the grates, being careful not to overlap them.


Brush with the leftover marinade every 30 seconds or so.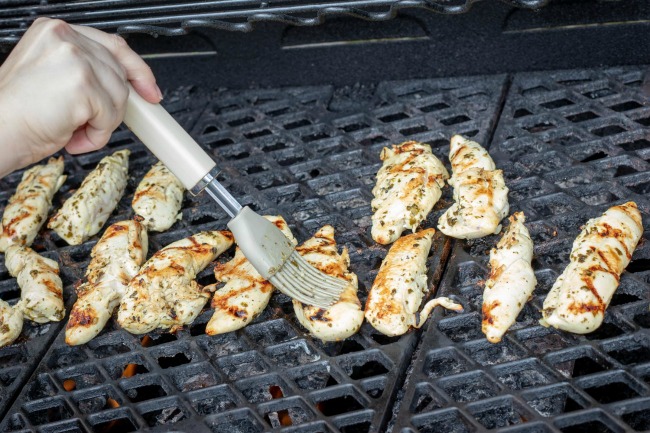 Turn occasionally until cooked through, about 3-5 minutes per side. They are ready when the internal temperature reaches 165°F.


Grilled chicken tenders cook fast. Where a chicken breast may take 12 minutes or more to grill, chicken tenders cook in around 6 minutes.


Make sure to use all the marinade up while the chicken is on the grill, this makes it extra flavorful!


Remove the chicken tenders from the grill and allow the chicken to rest for a couple of minutes before serving.


The key to grilled chicken tenders is to avoid overcooking them.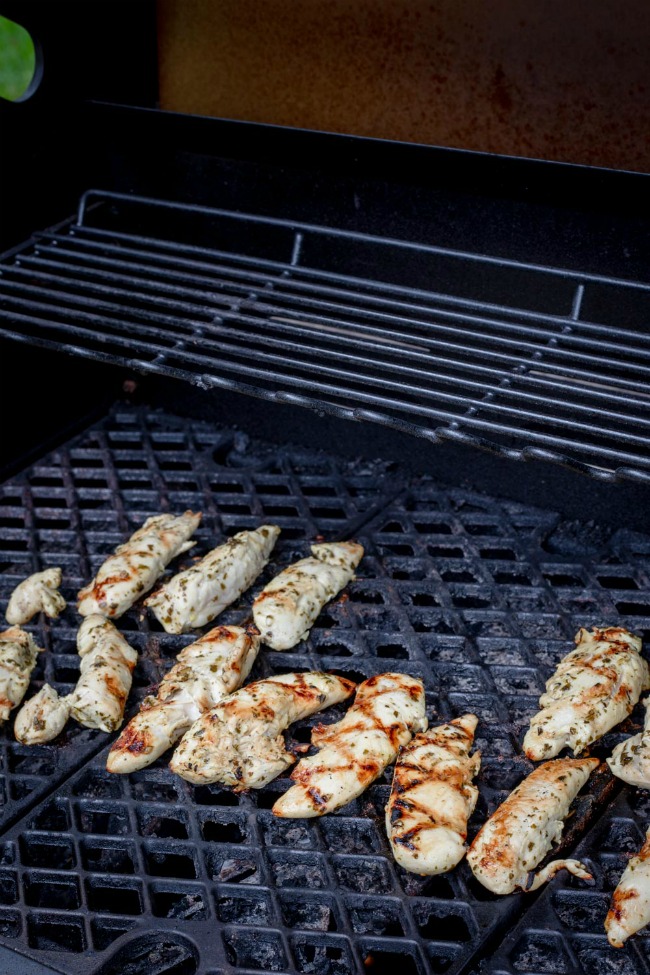 How do you devein chicken tenders?


The quick, easy, and clean way to remove that pesky tendon from your chicken tenders before cooking them is by using a fork.


All you have to do is place the tendon in the prongs of the fork, use a paper towel to grip it in your other hand, push down with the fork, and slide the tendon right out


Can you marinate the chicken overnight?


Yes, you can marinate these grilled chicken tenders overnight.


If your chicken marinade contains acid such as lemon juice, you'll want to be careful not to over-marinate as the acid can change the texture of the meat.


How long does it take to cook grilled chicken tenders?


It takes anywhere from 6 -10 minutes total to cook chicken tenders on the grill.

Be sure to flip your meat halfway through the grilling process to ensure even cooking.

Grill until the chicken turns from a pink color to white along the edge. You will see the white moving up the sides and at this point, you will want to flip and continue to finish off the tender until cooked through.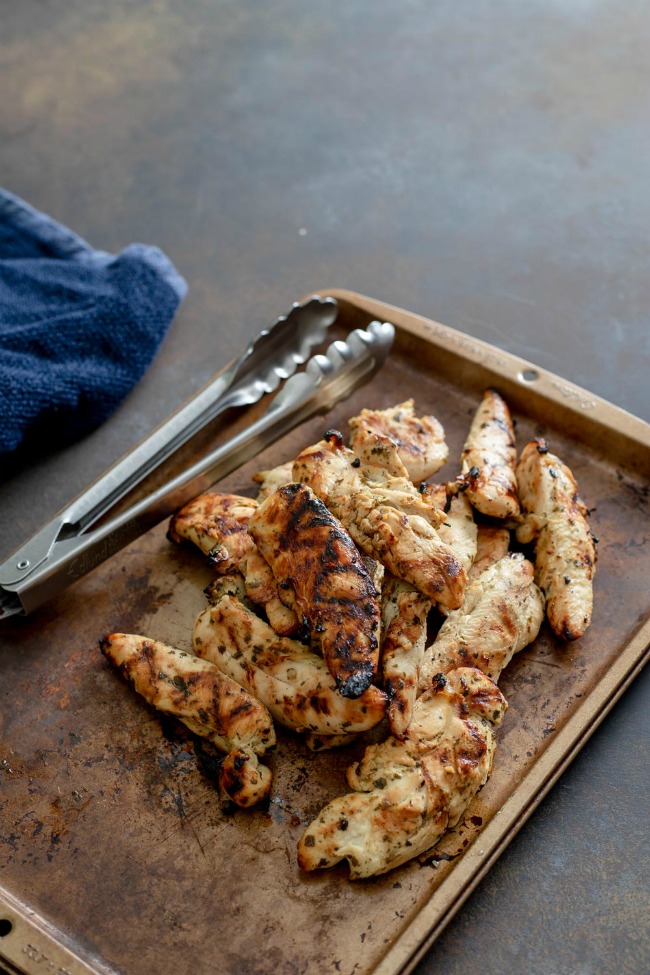 Another one of my favorite grilled chicken tenderloin marinades is a cracker barrel copycat recipe.


Cracker Barrel Copycat Marinade Recipe:

1/2 cup Zesty Italian dressing
1 teaspoon fresh lime juice
1 tablespoon honey


Cracker Barrel Copycat Grilled Chicken Tenderloin Instructions:

Mix dressing, lime juice, and honey in a large resealable bag or container. Add the chicken and marinate. Cook in a skillet on med/high, tenderloins cook fairly fast because they are thin so don't overdo it otherwise they'll dry out.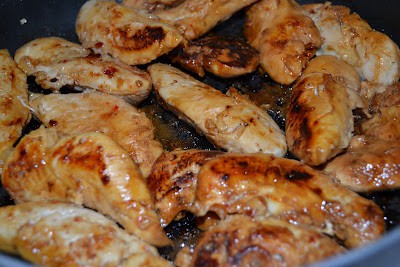 EVEN MORE DELICIOUS GRILLED RECIPES:


Want to print these ingredients and instructions?