This easy chicken and dumplings with canned biscuits recipe is a southern classic dish that is perfect as a cold-weather meal and pure comfort food.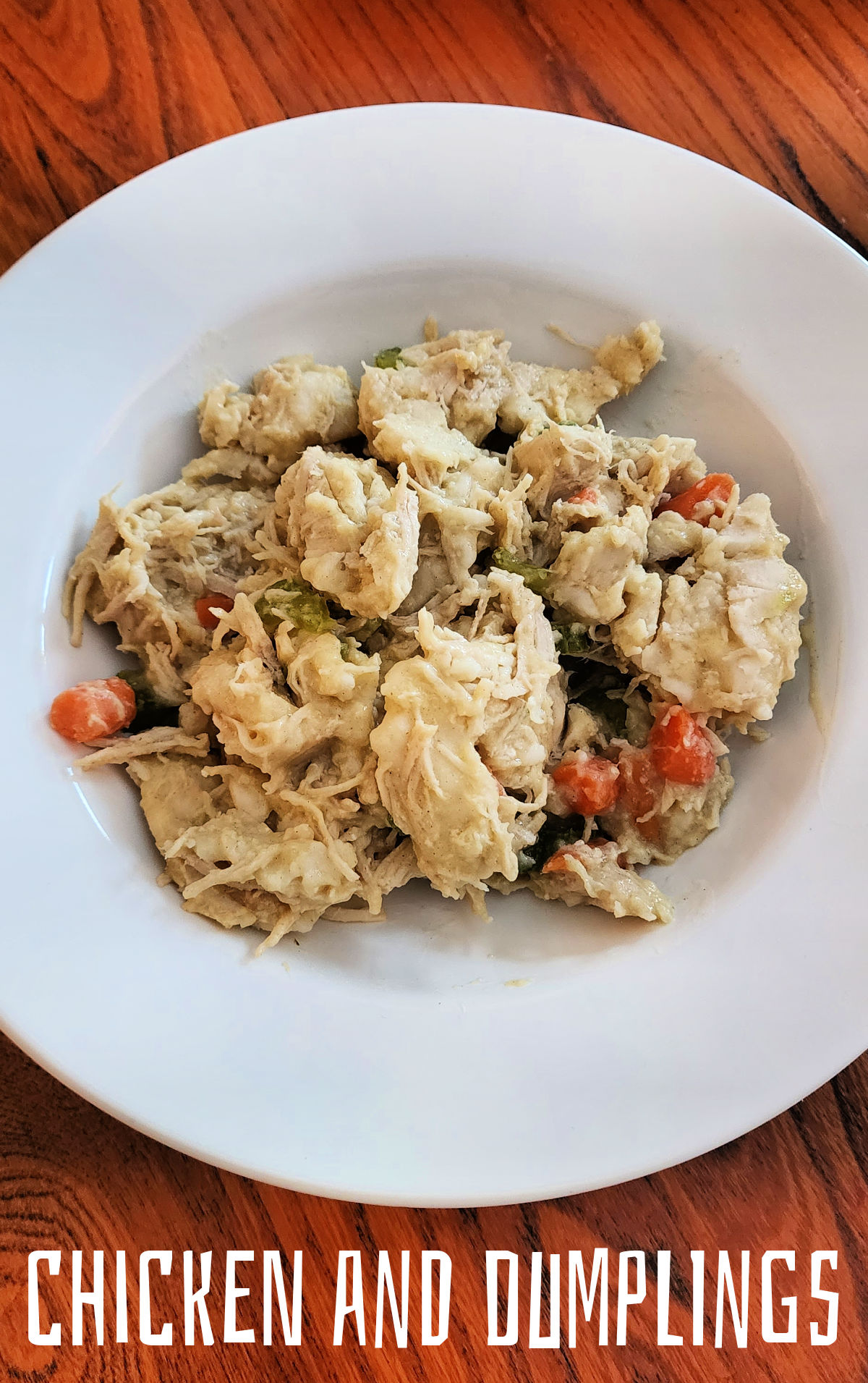 One of the best things about this chicken and dumplings recipe is that it can be made pretty quickly and easily using canned biscuits for the dumplings and an already-cooked rotisserie chicken if you prefer.


This creamy, hearty, and delicious dish is full of chicken and dumpling flavor, mixed with carrots and celery it's a family favorite.




Ingredients you will need:


1 carton (32 oz) of reduced-sodium chicken broth
2-3 cooked and shredded chicken breasts
1 can (10.5 oz) condensed cream of chicken soup
1/4 teaspoon poultry seasoning
1 can buttermilk biscuits (large biscuits)
carrots, chopped (approximately 1 cup)
3 celery ribs, chopped
salt and pepper to taste




How to make easy chicken and dumplings with canned biscuits!


Cook your chicken breasts until done, remove the chicken breasts, and shred them. I like to use my KitchenAid mixer to shred breasts quickly but you can also use a fork.


Set aside the chicken broth that was made while cooking your chicken breasts. You may want this later.


If you don't have time to cook your chicken you can make this recipe even quicker using already-cooked and shredded rotisserie chicken.




In a Dutch oven, heat your broth, cooked and shredded chicken, cream of chicken, and poultry seasoning to boiling over medium-high heat.


Once boiling, reduce the heat to low, cover, and simmer for about 5 minutes, stirring occasionally.


Increase the heat to medium-high and allow it to return to a low boil.


Pat out each biscuit and cut it into 1/2-inch-wide strips or you can just tear them into pieces.


Drop the strips or pieces, one at a time, into the boiling chicken mixture. Add your carrots and celery.


Reduce the heat to low, cover, and simmer for 15 to 20 minutes, stirring occasionally to prevent the dumplings from sticking.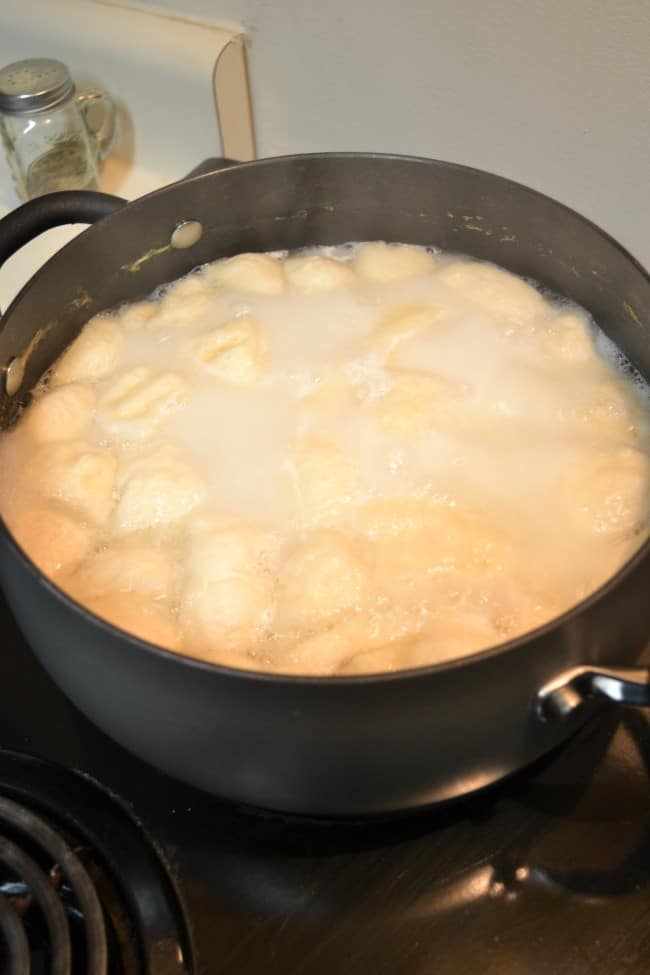 The dumplings will puff up and get big, but when they shrink back down to the normal size you will know they are done.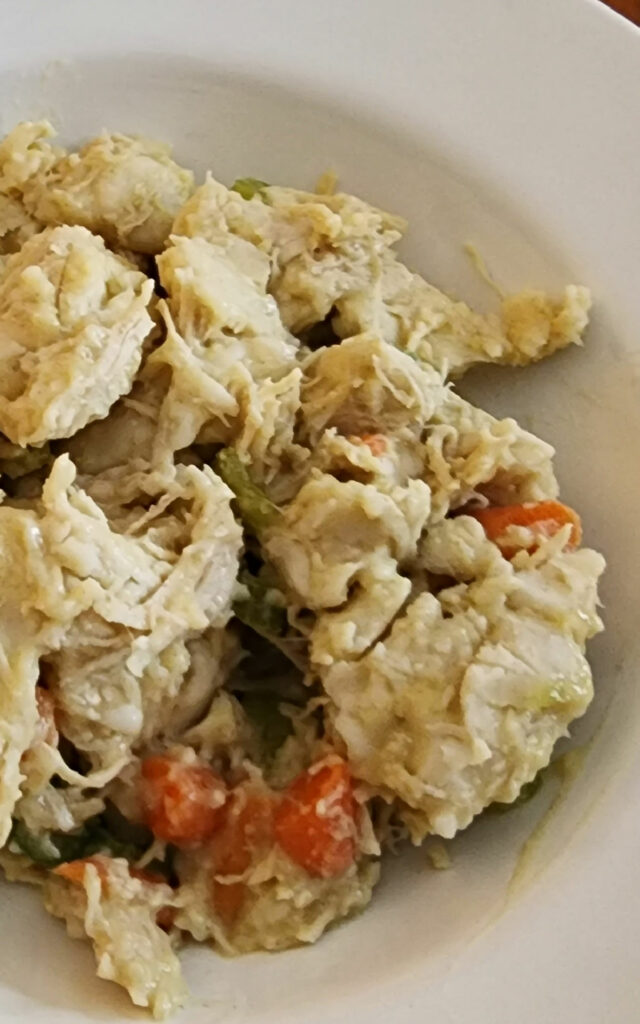 As the dish simmers it will lose some of the broth. We actually like our chicken and dumplings thick but if you want more broth use the leftover chicken broth from cooking your breasts to gradually add in as needed.


What do you serve with chicken and dumplings?

Chicken and Dumplings are a dish within itself for my family but you could serve it with mashed potatoes or a green salad.