Discover the art of crafting a stunning popsicle stick bald eagle.


Unleash your creativity with these step-by-step instructions.


Learn how to transform simple popsicle sticks into a majestic symbol of freedom.


Get inspired and create your own popsicle stick bald eagle masterpiece today!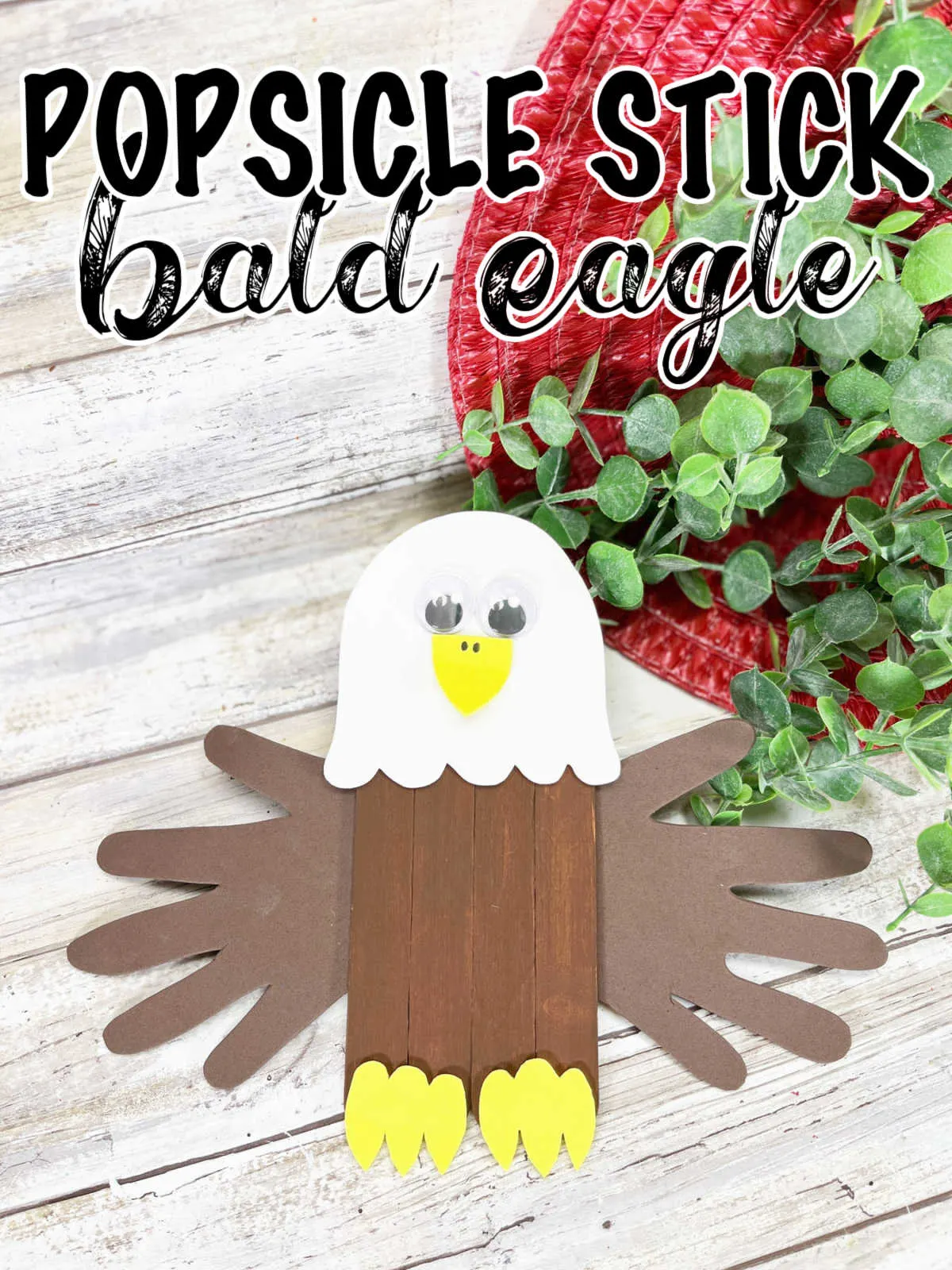 Crafting has always been a remarkable way to express creativity and create stunning works of art using everyday materials.


Get ready to spread your wings and dive into this step-by-step guide that will help you in transforming ordinary popsicle sticks into a symbol of strength, grace, and freedom.


Gather your materials, and let your imagination soar!




How to make a popsicle stick bald eagle!


Gather all supplies. To create the eagle, line up four jumbo craft sticks on your work surface. Using scissors, trim additional jumbo craft sticks to the width of the eagle and attach them with a glue gun and glue sticks.


TIP: You can use liquid craft glue for this project, but you will have to wait for it to dry.




Basecoat the front and sides of the jumbo craft sticks with brown acrylic craft paint. Let dry, and apply a second coat, if necessary.




Download and print the eagle patterns and cut them out with scissors.


Using a pencil, trace the handprint onto brown craft foam twice. Trace the beak once and the talons twice onto yellow craft foam. Cut out all patterns with scissors.


This is a great opportunity to trace your child's hand to create a keepsake craft.




Trace the eagle's head onto white craft foam with a pencil, and cut it out with scissors. You can also use construction paper, colored cardstock, or craft felt for this project.




Attach two wiggle eyes to the eagle's head with a glue gun and glue sticks. Glue the yellow craft foam beak just under the eyes.




Attach the two brown craft foam hand cutouts to the back right and left-hand sides of the eagle with a glue gun and glue sticks to create the wings.




Flip the eagle back over and attach the talons to the bottom with a glue gun and glue sticks.




To finish, accent the eagle's beak with two black dots created with a permanent black marker.




Crafts and books make a delightful combination, intertwining creativity, and imagination.


When paired together, crafts can enhance the reading experience, allowing readers to visually connect with the stories and characters they encounter in books.


Crafts inspired by literature bring the words off the pages and into the tangible world, fostering a deeper engagement and connection with the story.


These are some of our favorite books that would go perfectly with this bald eagle craft




Want to print or save the instructions for this popsicle stick bald eagle craft?