Spring is here and that means our nails need a fresh new makeover. Here are 8 beautiful spring nail designs to get your gears going and have you well on your way. Decorate your nails with these fabulous prints and patterns to make you stand out.
Pink and White with Glitter Tips | A Polish Addict
Angled Tips | So Nailicious
Flower Power | Love Maegan
Tribal Nails | My Life In Turquoise
Pastel Nail Art | Hippanonymous.
Spring Polka Dots | Paulina's Passions
Robins Egg | The Beauty Department
Bunny & Polka Dots | Pshiiit
If you feel like you aren't so great at doing all the artwork on your nails then you can do like myself and hit up Jamberry Nails. They have so many great options like these ones I recently put on for Spring, mint with yellow polka dots. Cute, right? I also love that their strips go up to a larger size. I am assuming because you can use them on your toes. However, I have 2 different thumbs, no lie. One is like my mom which is long and skinny and the other is like my dad, more short and fat. I have never been able to use acrylics because the thumb nails never fit. :/ No problems with the Jamberry nails though. Love these!!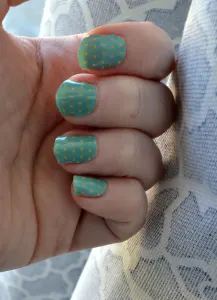 Don't think I'm going to leave you hanging if you aren't into the designs. I know I love a cute design but my mom would never wear nails like any of the above. She likes the basic solid colors. Here are 10 of the hottest nail color trends for this year. You can also find 30 other great colors I posted in my 2013 Spring Nails post which has lots of cute colors that would work for this year as well.
Colorful nails never go out of style!
Which is your favorite design or color?