Elevate your holiday dining table with one of these DIY Thanksgiving Centerpieces! Discover simple yet stunning ways to showcase fall's beauty. From easy setups to chic designs, make your Thanksgiving unforgettable.


Thanksgiving isn't just about the feast—it's also about the visual feast on your table. While your home may already exude fall vibes, Thanksgiving calls for a special touch.


Elevate the occasion with captivating centerpieces that steal the spotlight amidst family and friends.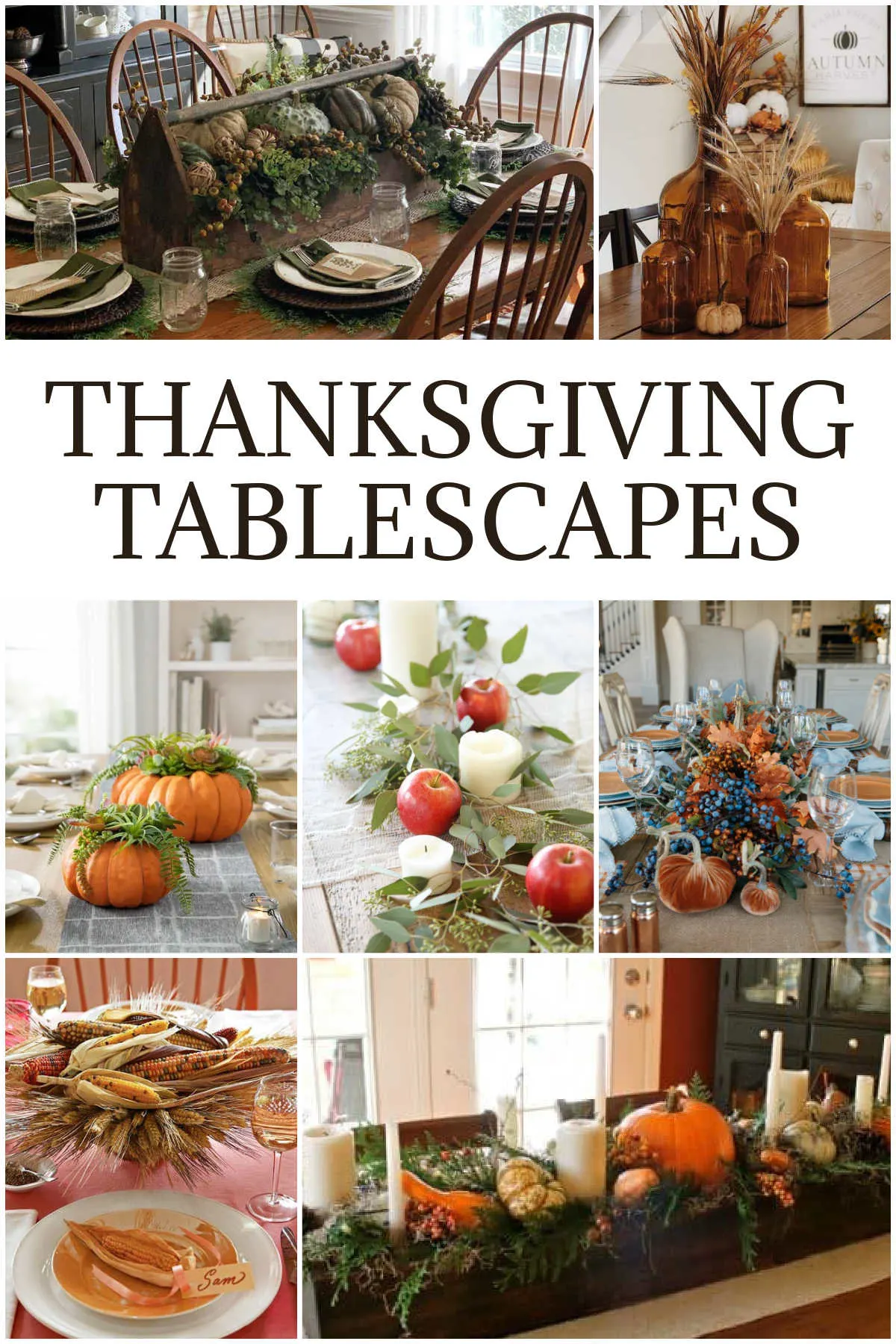 Impress your guests with a captivating focal point, making your table Instagram-worthy.


Crafting these eye-catching tablescapes might seem like an extra effort, but trust me, they're totally worth it.


Amidst sharing Thanksgiving messages and fun facts, let these centerpieces spark conversations at your dining table, showcasing the beauty of fall colors and flora.


Don't worry; these ideas won't add unnecessary complexity to your to-do list.


They're quick to assemble, allowing you to channel most of your energy into perfecting those Thanksgiving recipes and cooking up a mouthwatering turkey.


And if you prefer a hassle-free approach, we've got some ready-made options for you to shop.


Click away to discover everything from simple and elegant vibes to chic and sophisticated aesthetics—guaranteed attention-grabbers for your Thanksgiving celebration.




DIY Thanksgiving Centerpieces


01| Rustic Wood Tablerunner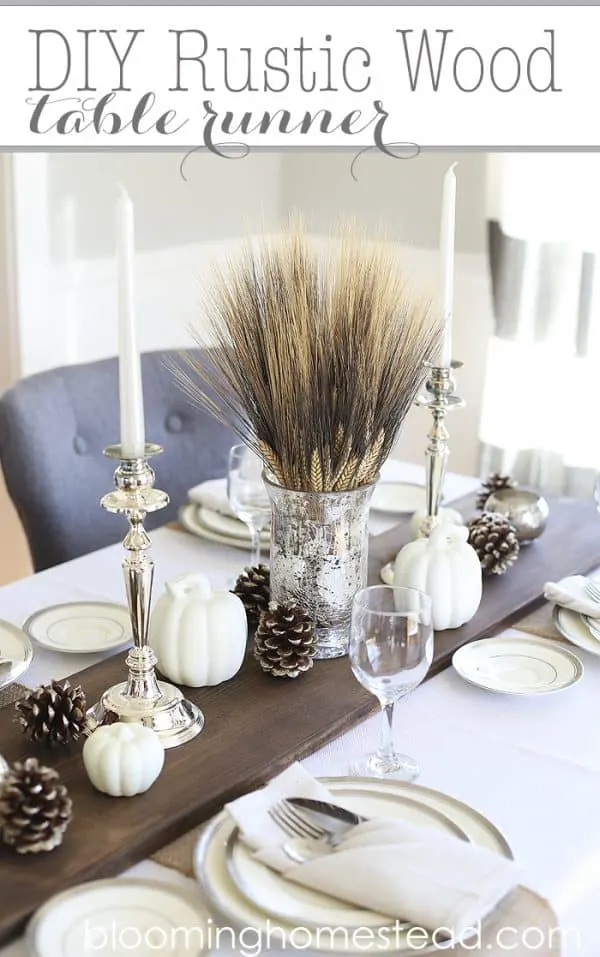 02| Dried Corn and Wheat Centerpiece


03| Wooden Box with Candles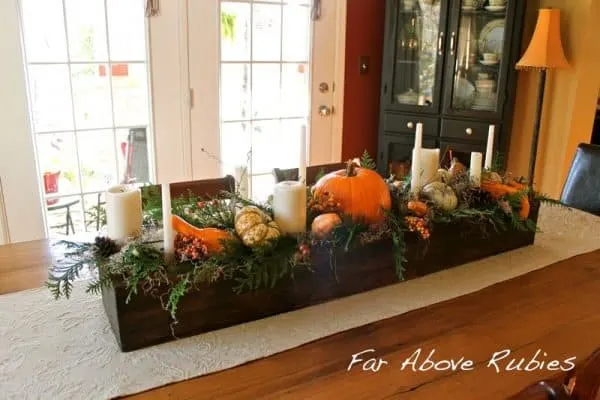 04| Apple and Eucalyptus Runner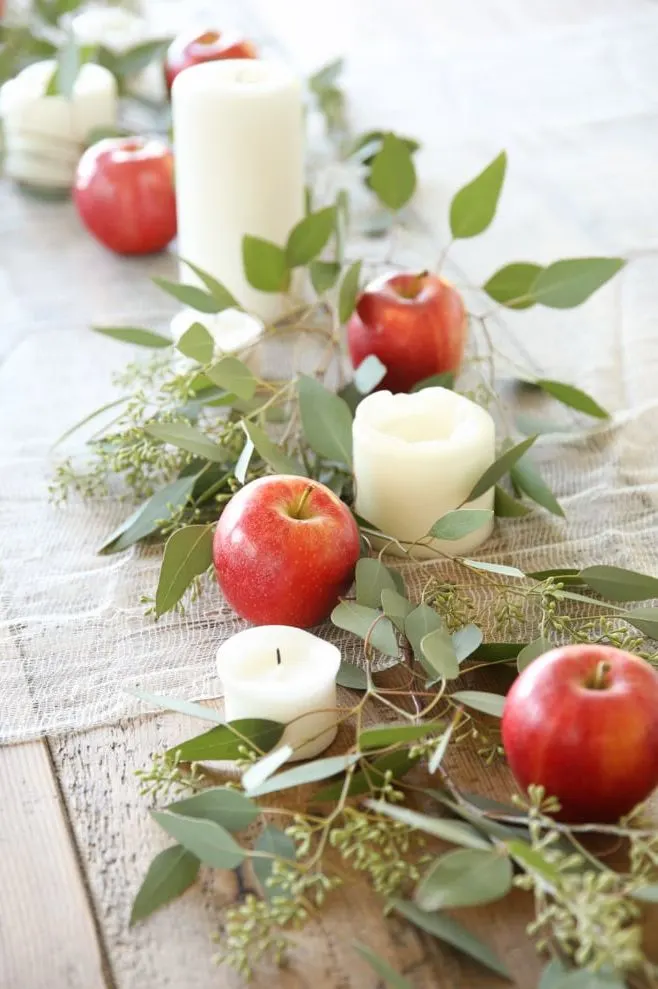 05| Succulent Pumpkin Centerpiece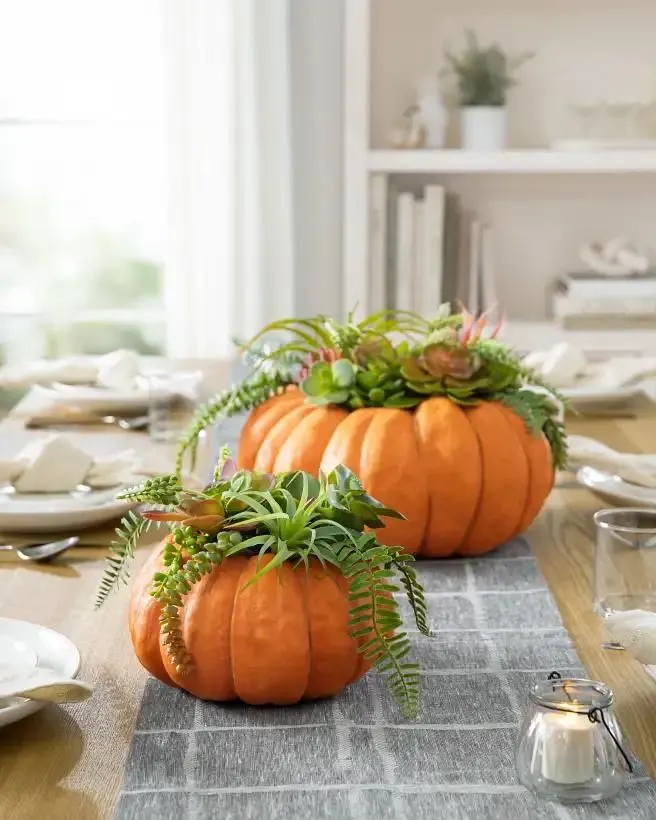 06| Autumn Amber Vases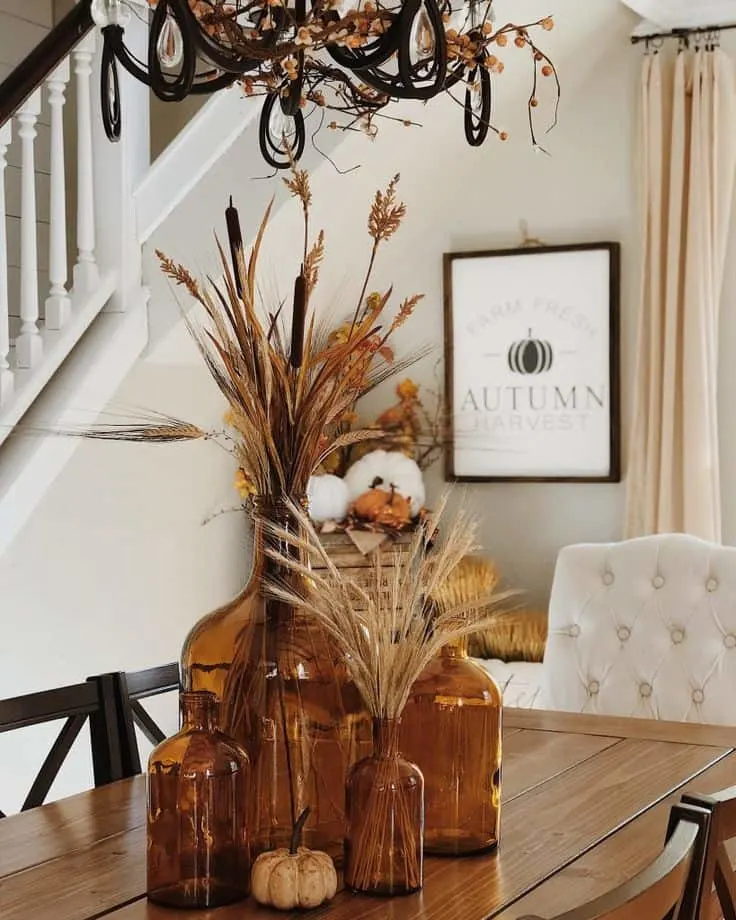 07| Rustic Charm Toolbox Centerpiece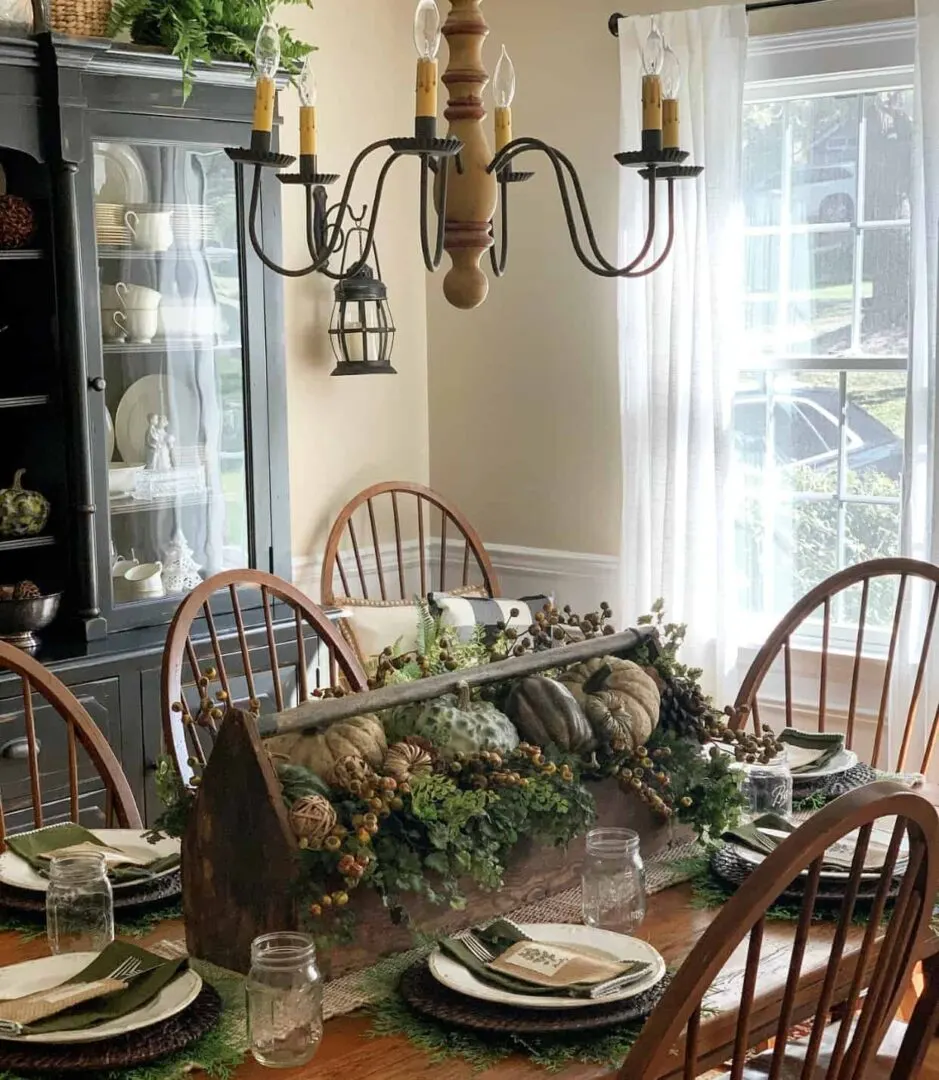 08| Blue and Orange Pumpkin Tablescape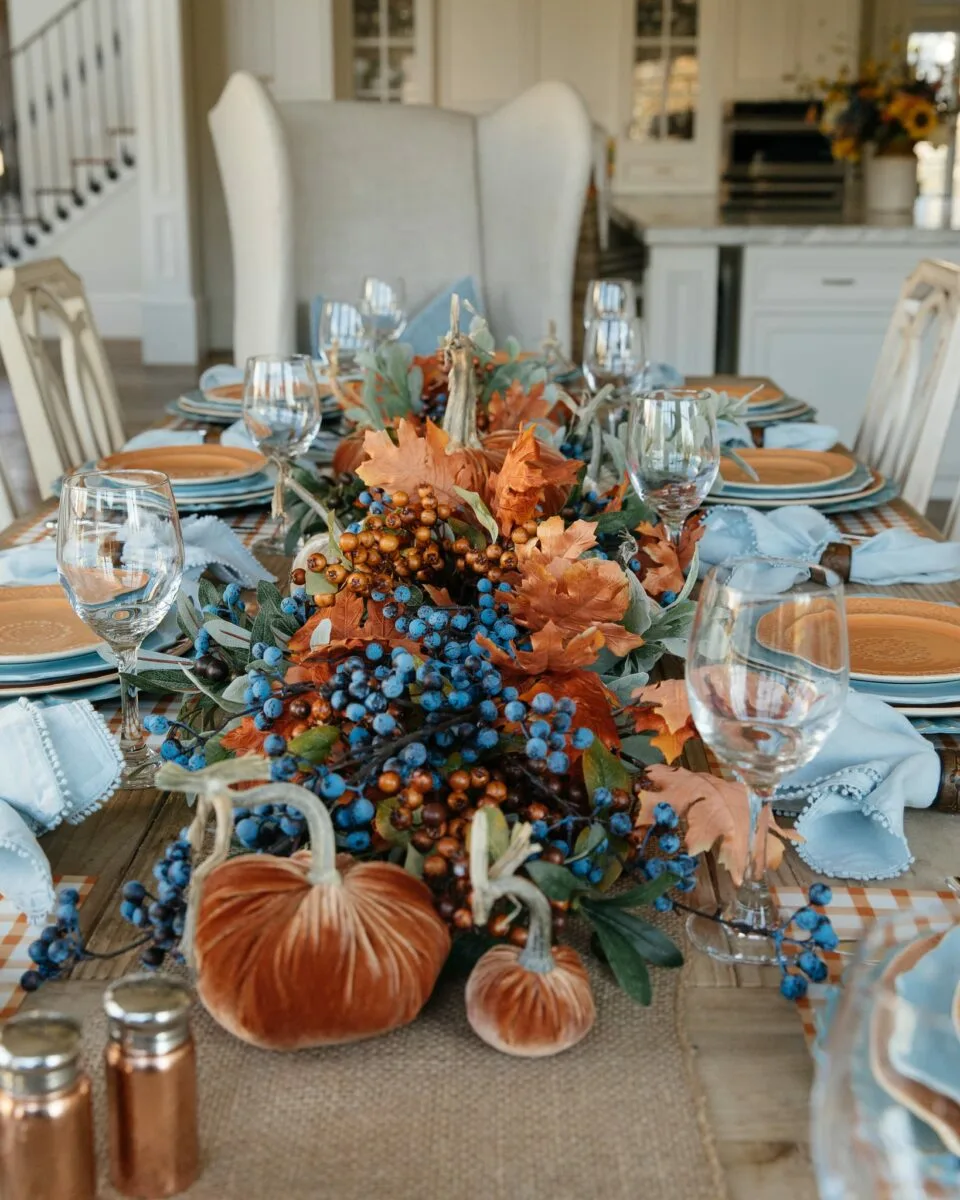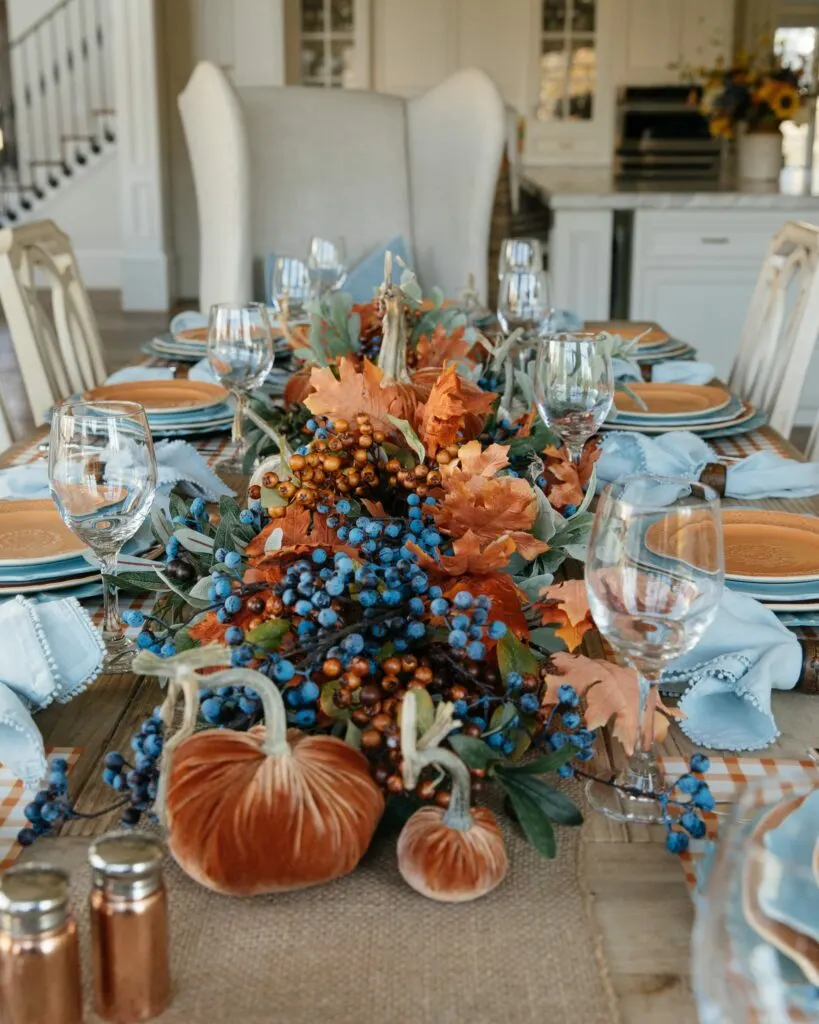 Here's a quick list of items to consider for decorating your DIY Thanksgiving centerpiece.


Pumpkins and Gourds: Embrace the fall spirit with various shapes and colors.


Fall Foliage: Gather leaves, branches, or vines for a touch of natural elegance.


Candles: Create a warm and cozy atmosphere with candles in autumn hues.


Seasonal Flowers: Choose blooms in rich, warm tones to complement the theme.


Pinecones: Add a rustic touch and texture to your centerpiece.


Berries: Incorporate cranberries or other seasonal berries for a pop of color.


Miniature Cornucopia: Symbolic of abundance, it's a classic Thanksgiving element.


Wheat Stalks: Bring in a touch of the harvest season with bundles of wheat.


Mini Pumpkins as Place Cards: Personalize your table with small pumpkins featuring guest names.


Fall-Themed Table Runner or Cloth: Set the foundation with a seasonal table covering.


Wooden or Metallic Accents: Introduce elements like wooden trays or metallic vases for variety.


Scented Pinecones or Candles: Enhance the ambiance with delightful seasonal scents.


Dried Cornstalks: Incorporate these for height and a traditional autumn feel.


Ribbon or Twine: Use to tie together elements or add bows for a festive touch.


Autumn-colored Tableware: Coordinate your dishes and utensils with the overall theme.