Kid-friendly and Cute Thanksgiving desserts is always a must for moms of littles. That is why I have rounded up the cutest recipes for Thanksgiving sure to please even the adults too.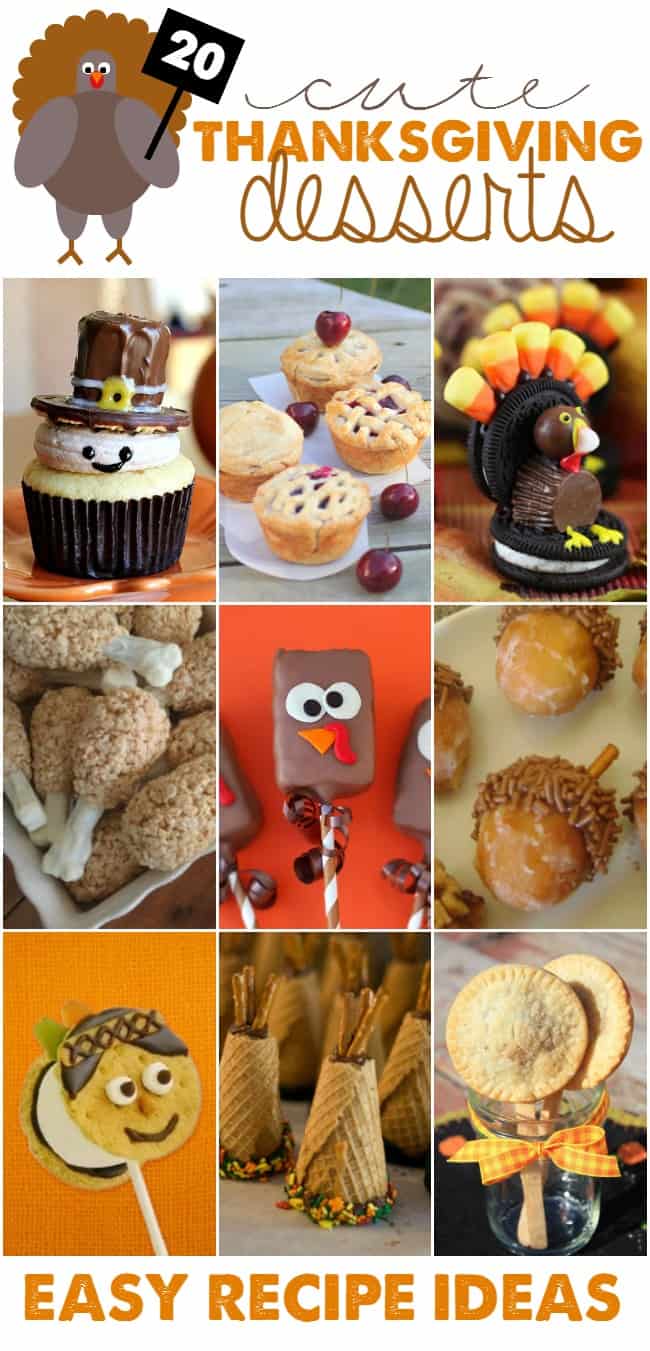 Don't get me wrong, I love Thanksgiving food. All of it!
However, one of my favorite parts are the cute Thanksgiving desserts. Give me one of the best Thanksgiving pies any day but I'm like a kid and can't resist these cute desserts.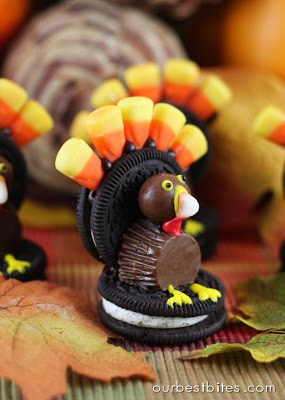 These darling turkeys are made from candy and completely edible! They are a fun activity for holiday parties, family nights, or just for fun! – Our Best Bites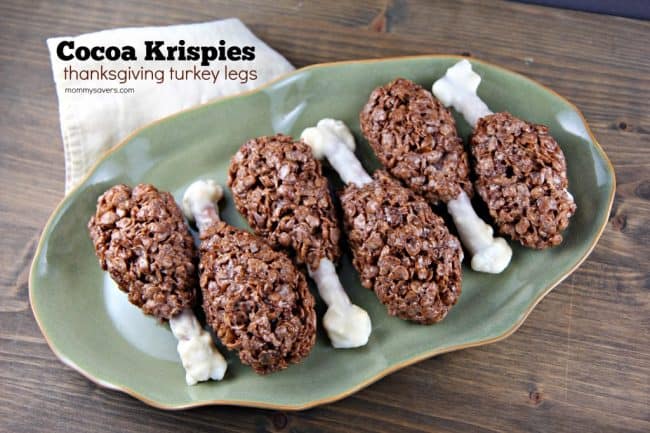 I know that turkeys are pretty iconic for Thanksgiving but how about a turkey leg? Love this cute idea for a Rice Krispie treat.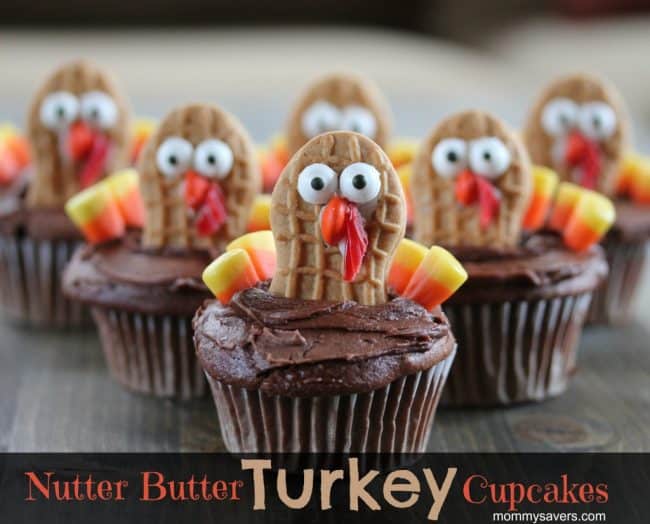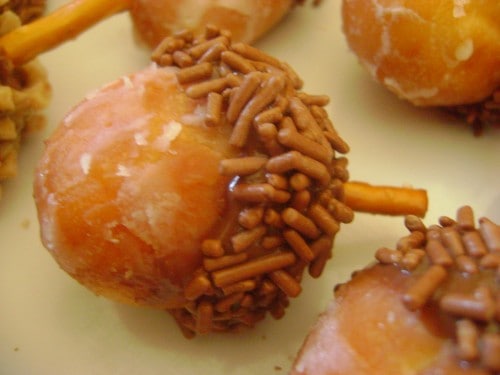 These sweet acorns look so delicious! Come to think of it I don't know if fixing these would be a good idea. I would eat them all! Nom… Nom… Nom!!! Thanksgiving breakfast? I think so!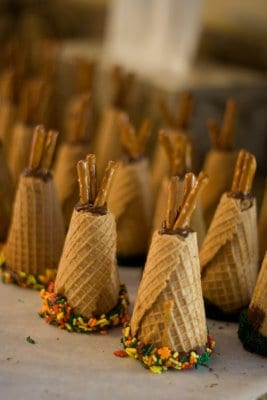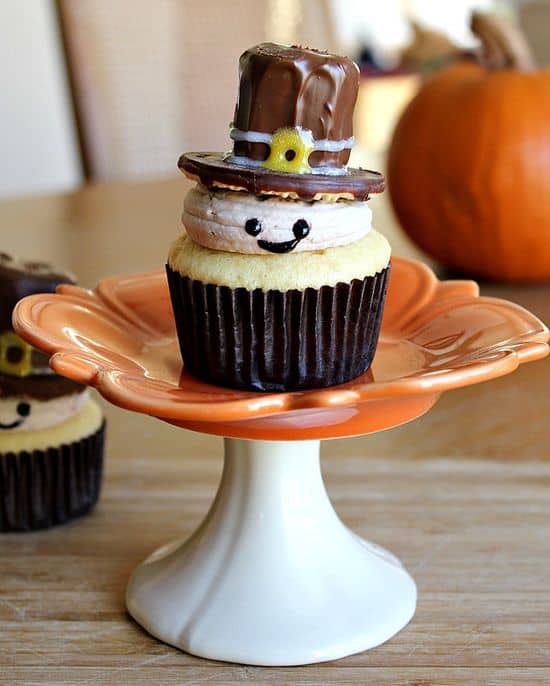 Omgosh, I die! These pilgrim cupcakes are the cutest things.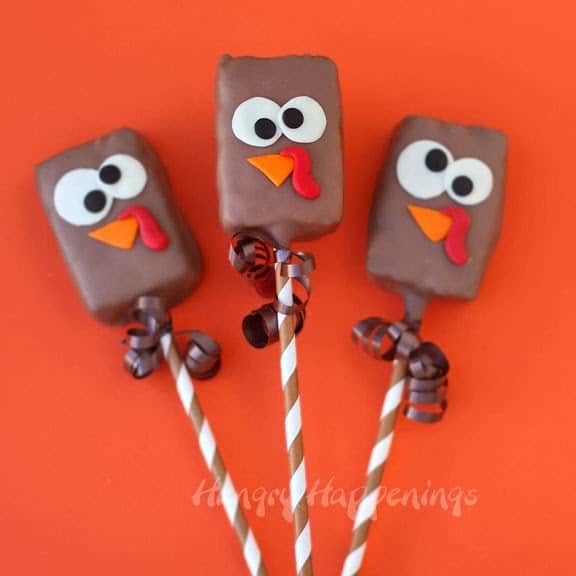 Want to serve the cutest Thanksgiving dessert ever? Make Chocolate Dipped Rice Krispie Treat Turkeys using store bought cereal treats, milk chocolate, and modeling chocolate. – Hungry Happenings.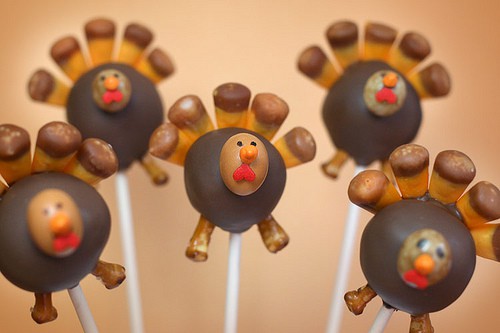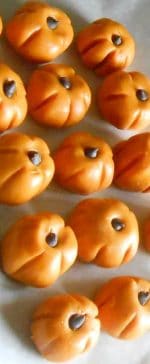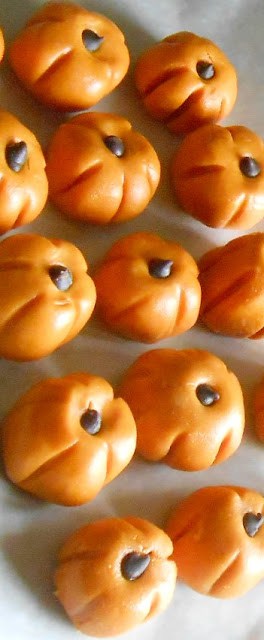 Speaking of something I could eat a bunch of, peanut butter balls. I love this classic dessert recipe turned into pumpkins for Thanksgiving.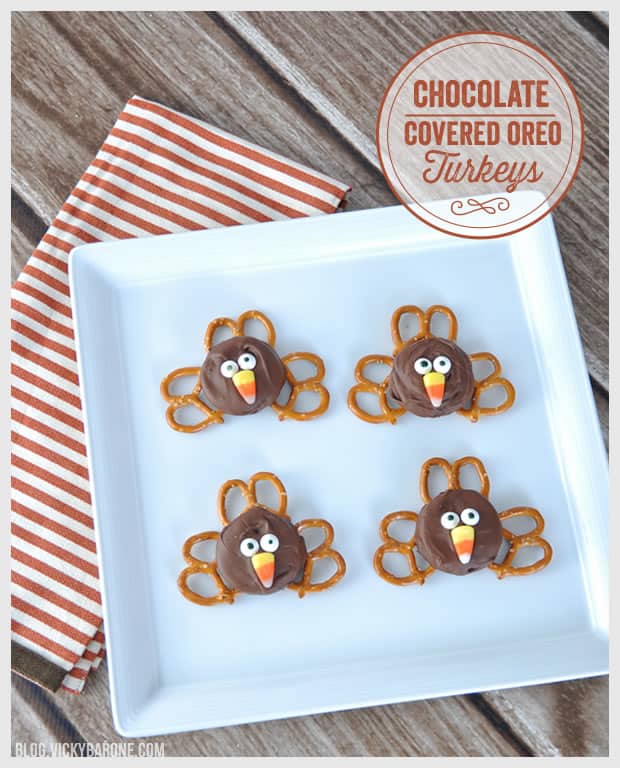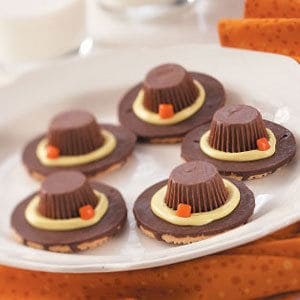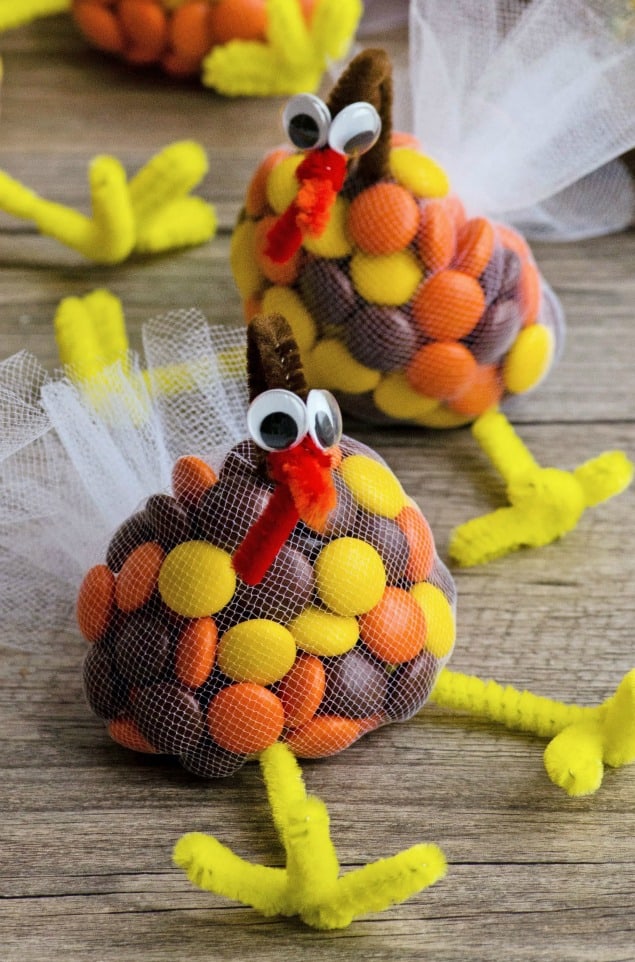 These turkey treats are a fun Thanksgiving craft for both kids and adults! Use them to decorate the Thanksgiving table, give them for little hostess gifts, or create a bunch for some cute Thanksgiving class treats! – Clean and Scentsible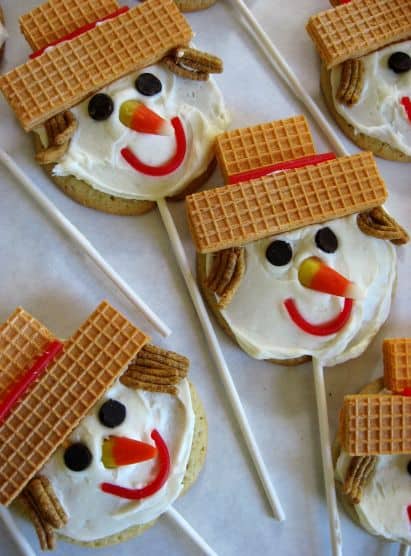 Just stop, I mean really… Do I have to explain how cute these scarecrows are? Definitely, a must add in a roundup of cute Thanksgiving desserts.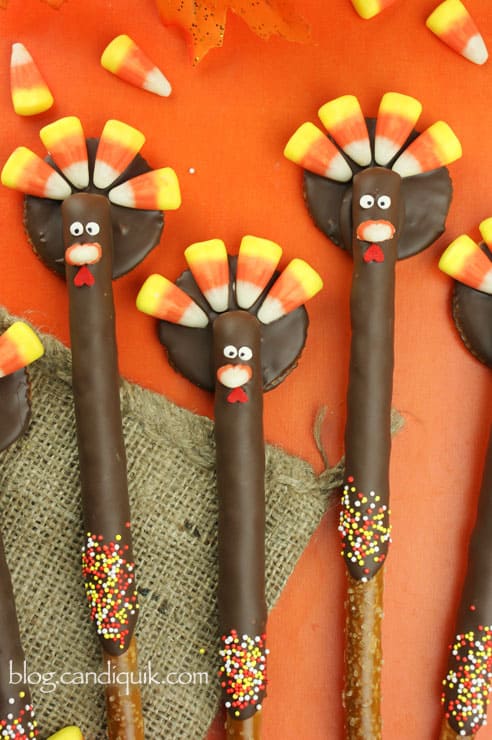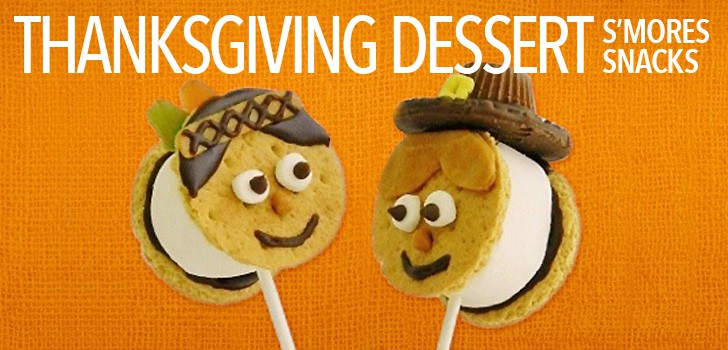 Thanksgiving Smores
The website for these Thanksgiving Smores is no longer available but I am leaving the idea here because it is super cute and I believe would be really easy to recreate.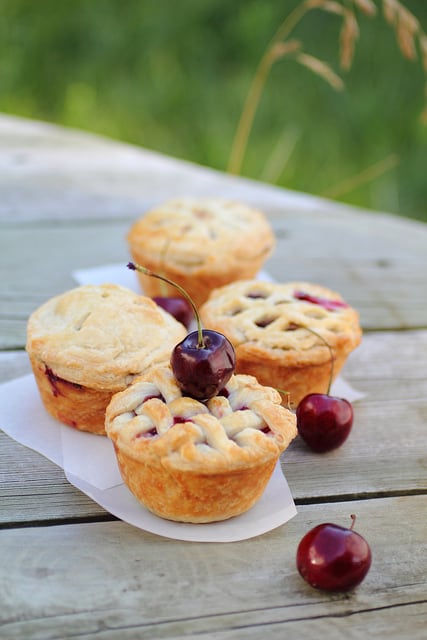 Cherry pie is delicious and these little mini pies are perfect for moderation. You know because you just ate the whole Thanksgiving meal before you moved on to the dessert. 😉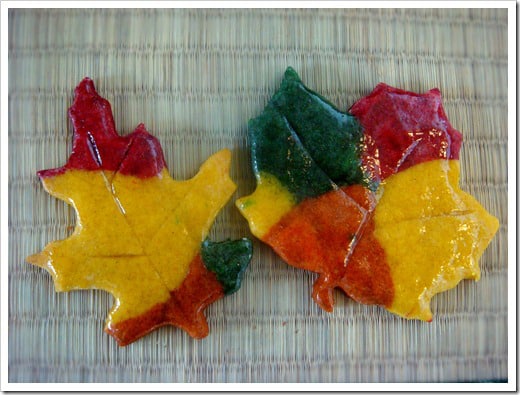 All of these desserts are super cute and your guests are sure to love them, the kids and the adults too. Now the hard part is just figuring out which ones to fix. Oh heck, just fix them all. I won't tell!
If you enjoy this cute Thanksgiving desserts post you might also enjoy…
---