These baked ravioli appetizers have the perfect amount of seasoning and topped with your favorite pasta sauce makes them a super delicious snack.


This recipe is made so easy because it uses frozen ravioli, breaded in Italian breadcrumbs and toasted to golden, crispy perfection.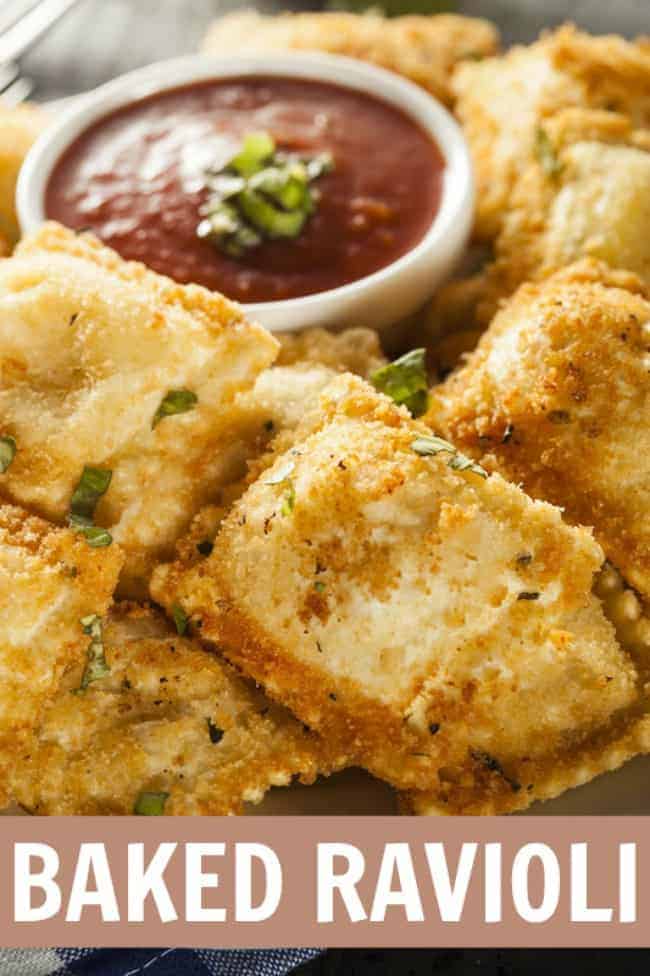 I have mentioned it before, how much we LOVE (yes with all capitals) pasta around here so it no wonder these baked ravioli appetizers are a family favorite.


I am calling this dish an appetizer because it's a dipper-style food that is great for parties and it is a copycat recipe of one of the Olive Garden Appetizers.


You will definitely want to add it to your holiday party menu.


With that said, we have it for dinner often with usually just a side salad.


One of the best parts about this recipe is that you probably have a lot of the ingredients already on hand.


That is 100% always a bonus in my book.


Ingredients you will need for Baked Ravioli Appetizers


1 lb package (thawed) Meat Ravioli (or cheese-filled if you prefer)
4 Eggs
1/2 cup Water
1 cup Flour
2 1/2 cups [easyazon_link identifier="B005GXMN1U" locale="US" tag="thgisli03-20″]Italian-style breadcrumbs[/easyazon_link]
1 jar of your favorite pasta sauce


You can also substitute regular plain breadcrumbs if you already have those on hand.


If you decide to do that I would suggest mixing in some garlic salt (2 teaspoons), oregano (1 teaspoon), and basil (2 teaspoons).


The good thing about the Italian style breadcrumbs is that it's already mixed with these seasonings.


Directions:


Preheat oven to 350 degrees.
Pour the pasta sauce into a saucepan and heat.
Beat the water and eggs together.
In a second bowl pour in the Italian breadcrumbs and set aside.
In a third bowl, place the flour.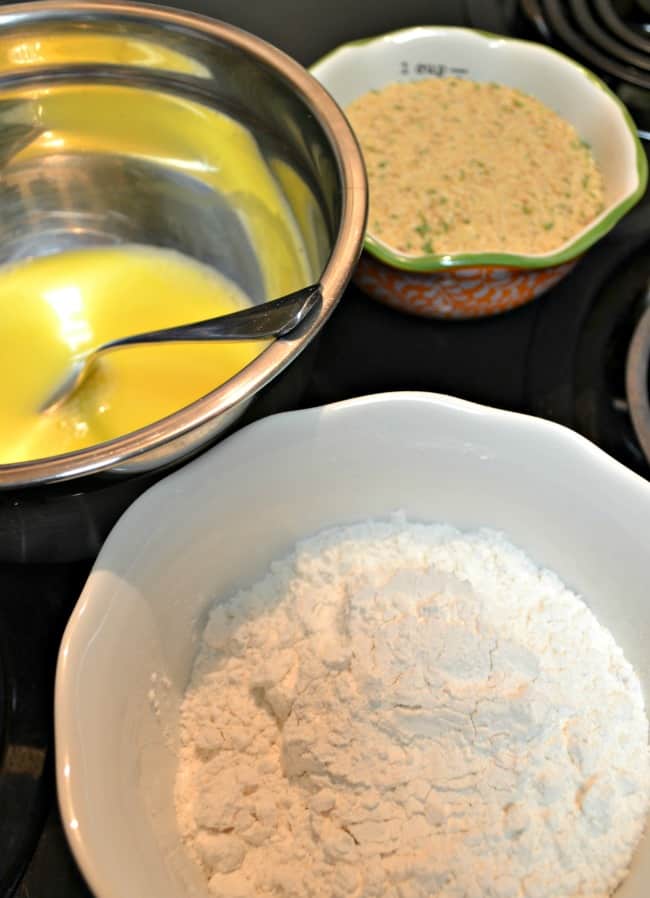 Dip each thawed ravioli into the flour, then egg wash and finally in the breadcrumbs
Place them on a [easyazon_link identifier="B001TE3MKG" locale="US" tag="thgisli03-20″]cookie sheet[/easyazon_link] and bake in the oven for 15 minutes. If you want a good brown and crispy texture, broil them on low for approximately 5 minutes after baking them.


NOTE: Broiling can burn food fast. Be sure to watch it carefully to make sure it doesn't burn as ovens will vary.
Serve with your favorite [easyazon_link identifier="B00FQGP20Q" locale="US" tag="thgisli03-20″]pasta sauce[/easyazon_link] that you warmed up.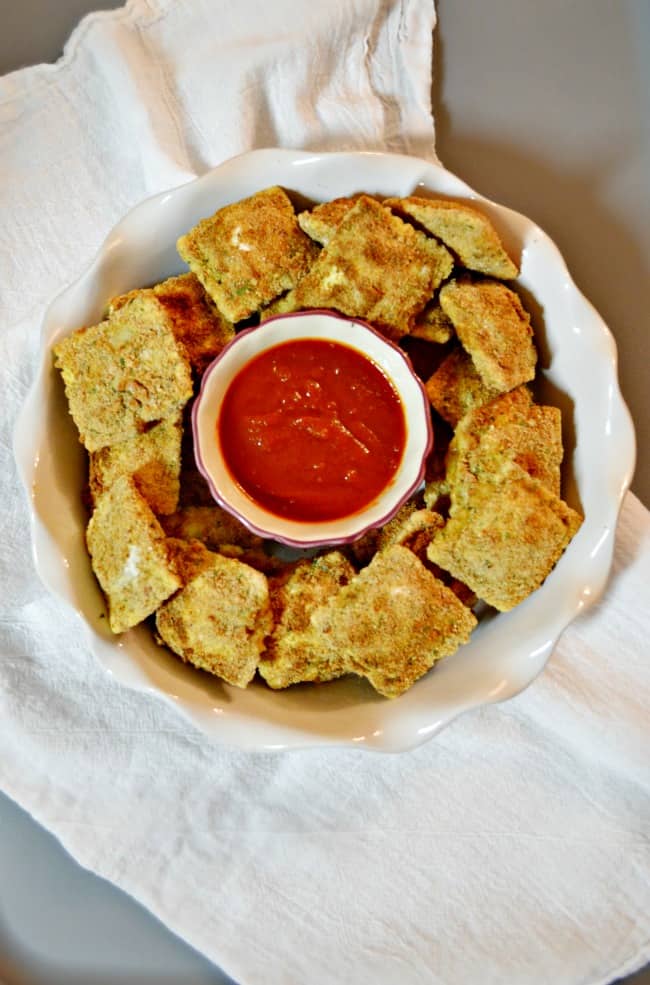 Some questions you may have…


Should you rinse pasta?


Do not rinse your pasta.


The starch in the water is what helps the sauce adhere to your pasta and rinsing will only prevent absorption.


The only time you should ever rinse your pasta is when you are going to use it in a cold dish like a pasta salad.


Want to print this recipe?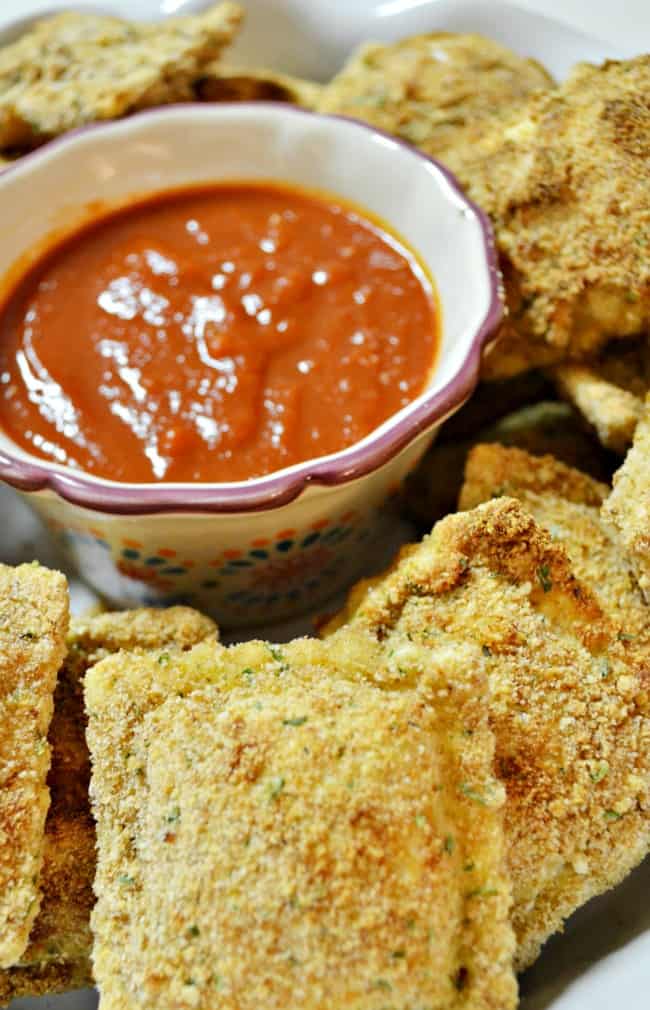 If you enjoyed this Baked Ravioli recipe then here a few other pasta recipes you might also really like.


Three Cheese Manicotti

15+ Delicious Pasta Dishes

Olive Garden Copycat Recipes