Baked Feta Pasta is a simple recipe made with feta cheese and cherry tomatoes to make a cheesy pasta deliciousness.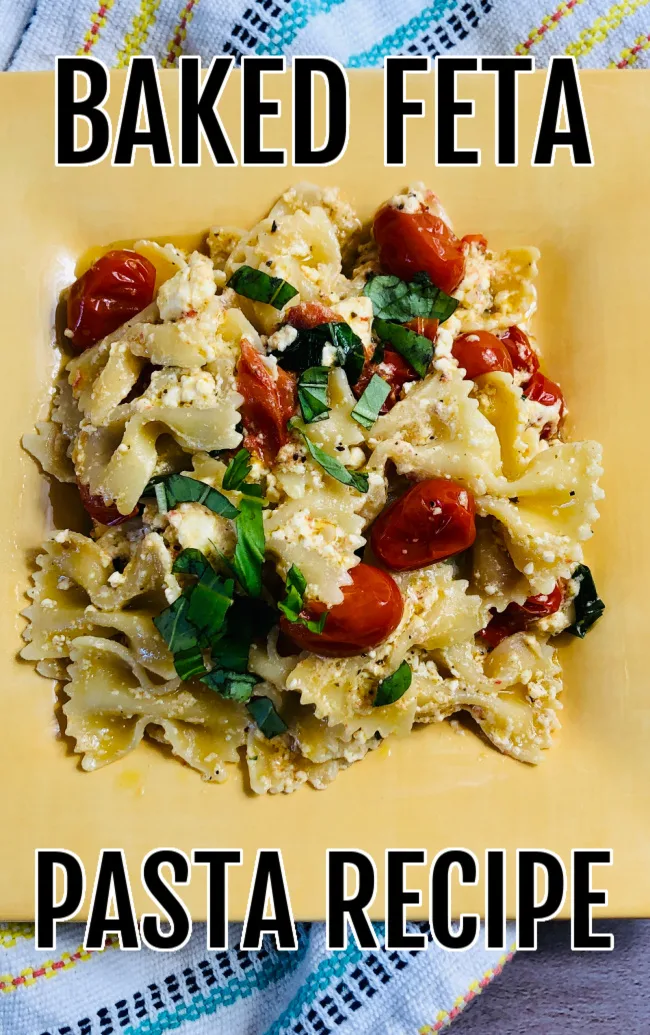 There is a reason this dish is going viral. It's a fuss-free dish that is loaded with flavor and perfect for weeknight dinners whether it is as a side or the main meal.

Who would've thought this simple pasta and cheese dish could dang near break the whole internet.

There is just something about the feta cheese and cherry tomatoes mixed together to make this recipe absolutely amazing and irresistible.


Ingredients you will need for Baked Feta Pasta


2 pints of cherry or grape tomatoes
8 oz of block or crumbled feta cheese
½ cup olive oil
¼ cup fresh basil, sliced thin
2 tablespoons minced garlic
1 tablespoon dry Italian seasoning
Pepper to taste
8 oz cooked pasta, any kind you prefer


Note on Ingredients:

Be sure to opt for cherry or grape tomatoes for this recipe. Their small size will get you the bold flavor you are looking for and of course great for presentation as well.


For best results, I would recommend using a block of feta cheese but you can of course use crumbled as well. Crumbled was used in this recipe and it still turned out great. The block will just give a more melty consistency when baked.


You can use any pasta, yes even gluten-free pasta.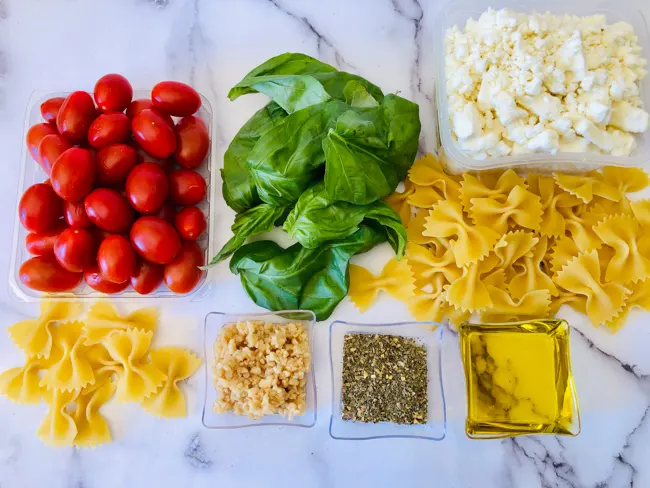 Preheat oven to 400 degrees

Place tomatoes in a 13 x 9 baking dish, drizzle with ½ of the olive oil

Sprinkle garlic and Italian seasoning over the tomatoes.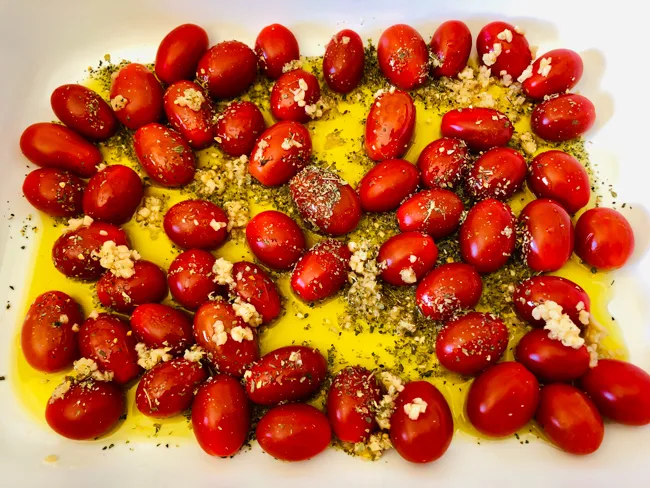 Place block feta in the middle of the dish or sprinkle crumbled feta evenly over the tomatoes.




Drizzle remaining olive oil over the top of the feta




Bake for about 30 minutes or until tomatoes have burst and cheese has melted.

While the feta is baking, cook pasta per package directions, drain and set aside.




Remove feta and tomatoes from the oven and immediately toss in basil and pepper.




Add pasta and gently stir in until well coated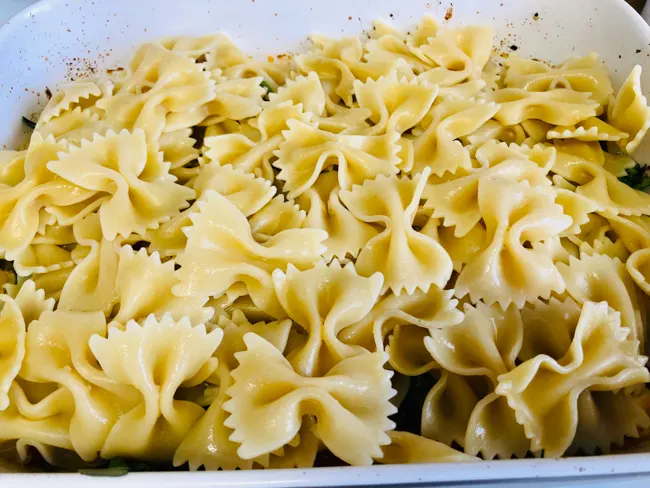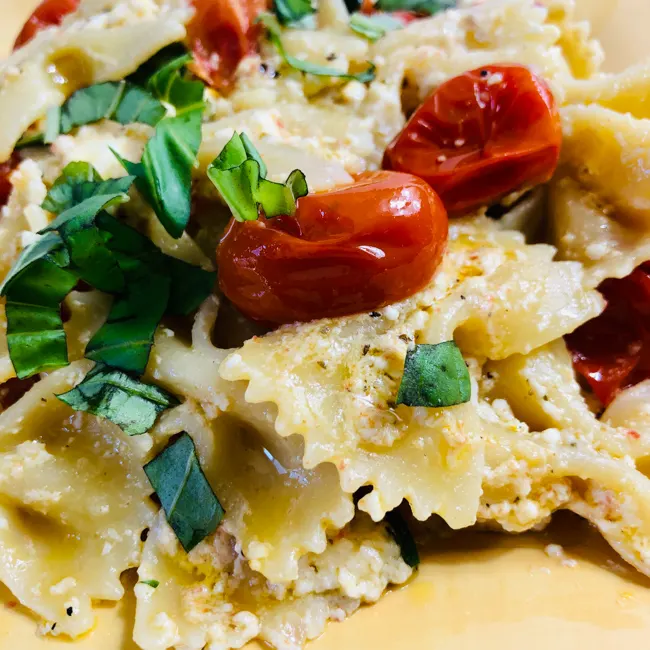 Garnish with more basil, serve immediately and enjoy!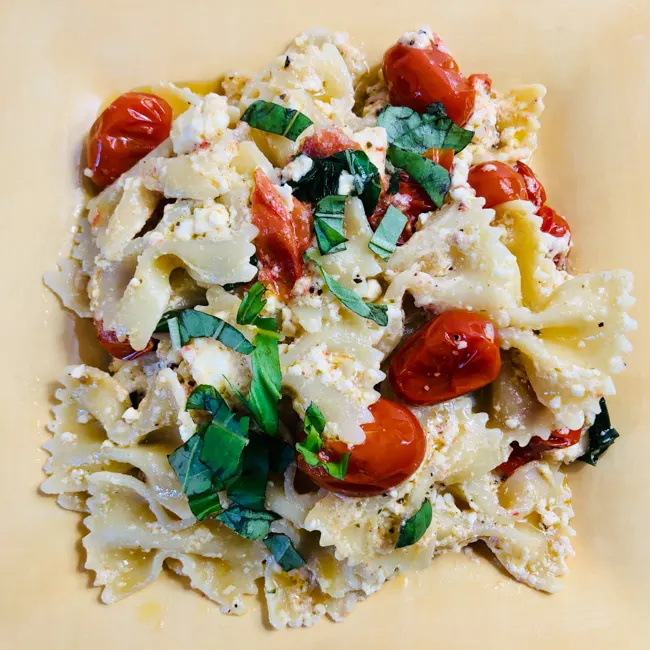 What is the best type of pasta to use in this recipe?


It can be made with penne, spaghetti, bowtie, you name it. Whichever you like best is the one you should use. We prefer to use bowtie pasta, the cheese and sauce just cling to the nooks and crannies so every bite is so yum.


Can you make this with any other type of cheese?


Yes, you can, others have used goat cheese and ricotta with success. Just keep in mind that if you do try a different cheese that it may change the cooking time needed.


How long does this keep?


If you have any leftovers, I would be surprised if you do, but if you do, you can store them in an airtight container in the fridge. It will be good for 2 or 3 days.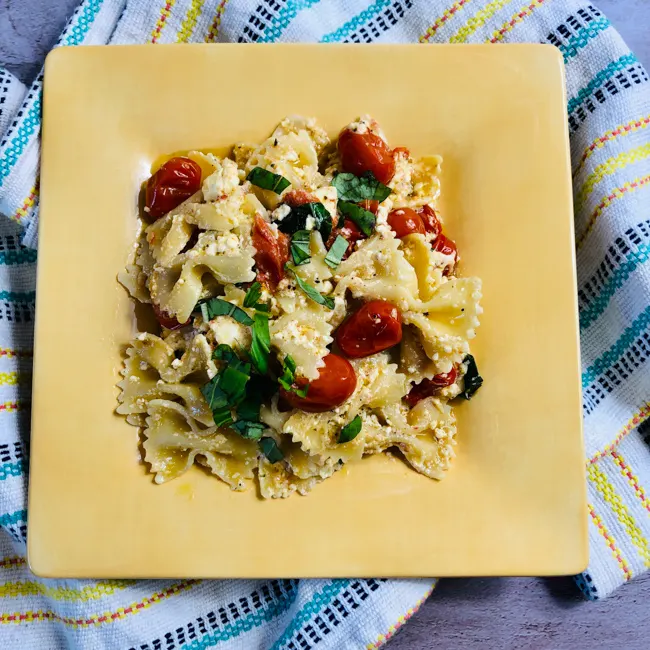 Even more pasta dishes you don't want to miss!!


Want to print or save these ingredients and instructions for Baked Feta Pasta?