Amazon is one of my favorite places to shop, mainly because I don't have to leave my house or my pajamas but also because they have such cute stuff, great prices and if you have Amazon Prime then ship quickly too.


Today I wanted to share with you some of the cutest and best Easter decor finds on Amazon.


I have been checking out Easter decor for a few weeks now and these cutest pieces keep crossing my path.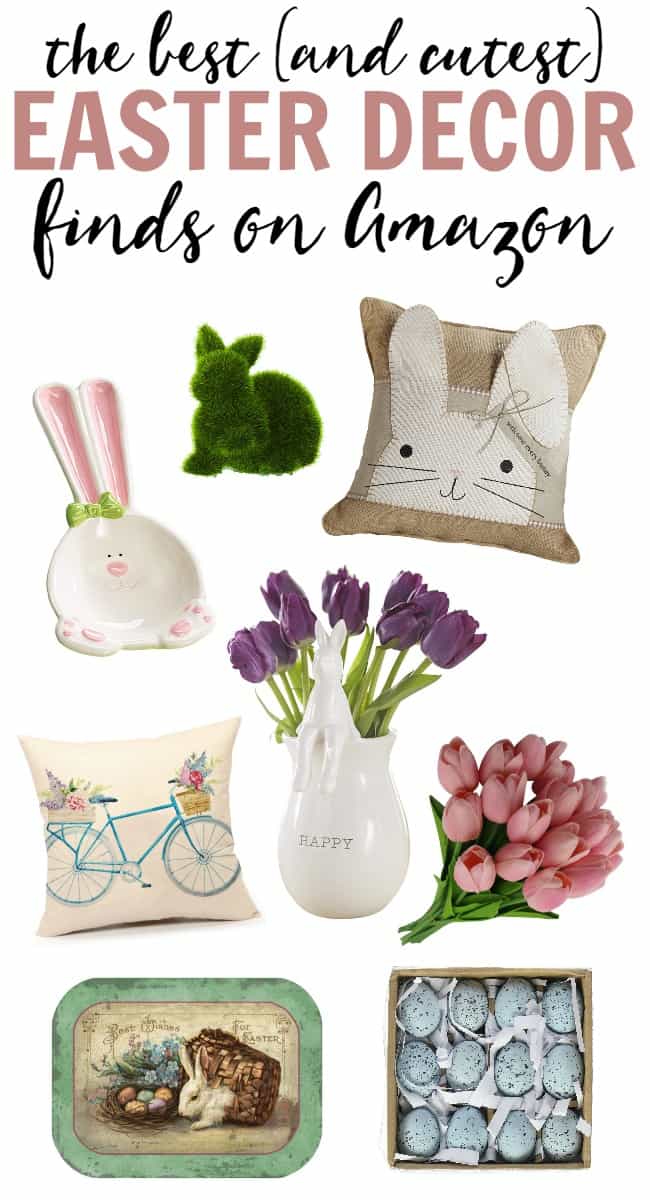 1.) Easter Happy Bunny White Ceramic Vase: This vase is super adorable with a simple "Rae Dunn" inspired happy across the front. I just love it and if you find the Rae Dunn products hard to find but love them then this could be a great alternative.


2.) Easter Bunny Ceramic Spoon Rest: I use a spoon rest all of the time when I'm cooking. So, of course, an easy way to add a little holiday decor into my kitchen is to change them out for cute ones like this Easter bunny. How cute right?


3.) Another fun spot I like to decorate for spring and Easter is the front door. It probably is the first spot a start with and this grapevine bunny wreath is simply the cutest. I have seen similar before but this one has lights which I think add a fun touch.


4.) Adding in actual holiday pillows is fun but can be a challenge when it comes to storing them, especially if you are low on storage space but a pillow wrap like this bunny one would be easy to put away with your other items. If you have some simple burlap or just plain colored pillows then this would be a fun solution.


5.) Speaking of pillows, another fun idea for not buying the actual pillows is using one you already own and covering it with some like this bicycle and floral pillow cover. How sweet is this design?


6.) Back to fun ceramic pieces, I am loving this bunny candy dish. I'm thinking to add some colorful spring coated almonds. Not that they would last in the bowl around here. haha!


7.) If you didn't want to add real candy then you could go with something fun like these speckled eggs. Such a pretty blue color!


8.) If you are thinking about picking up that super cute vase in #1 this real touch tulips would be gorgeous in it. If you are like me and don't have the greenest thumb then having a few faux items around is necessary. These are beautiful and they look real which is a huge plus.


9.) One of my favorite ways to decorate is with vintage items or with vintage reproduction items like this bunny tray. So stinking cute and would look great tucked into a china cabinet.


10.) I typically stick to the white ceramic items but I couldn't help but add in these more realistic set of bunnies because they were just too cute and not everyone likes the same thing as me.


11.) If the white nor the realistic is your taste then what about these mossy bunnies? I have a set like these and they are the perfect little addition for spring.


12.) Lastly, I always like to add a touch of whimsical in my decor and this little bunny hat centerpiece does just that. Love it!


Below are pictures of all the Easter decor finds I mentioned above. Just click on the photo if you want to check out further details for each one.
Let me know if you get any of these fun pieces. Feel free to tag me on Instagram. I always liked to look at cute pictures.
Want more ideas like this Easter Decor Finds on Amazon? You might like these too…
---