Easter brings the hippity hoppity Easter bunny full of lots of goodies. Here are 101+ non-candy Easter basket ideas for all of you bunnies out there that need them.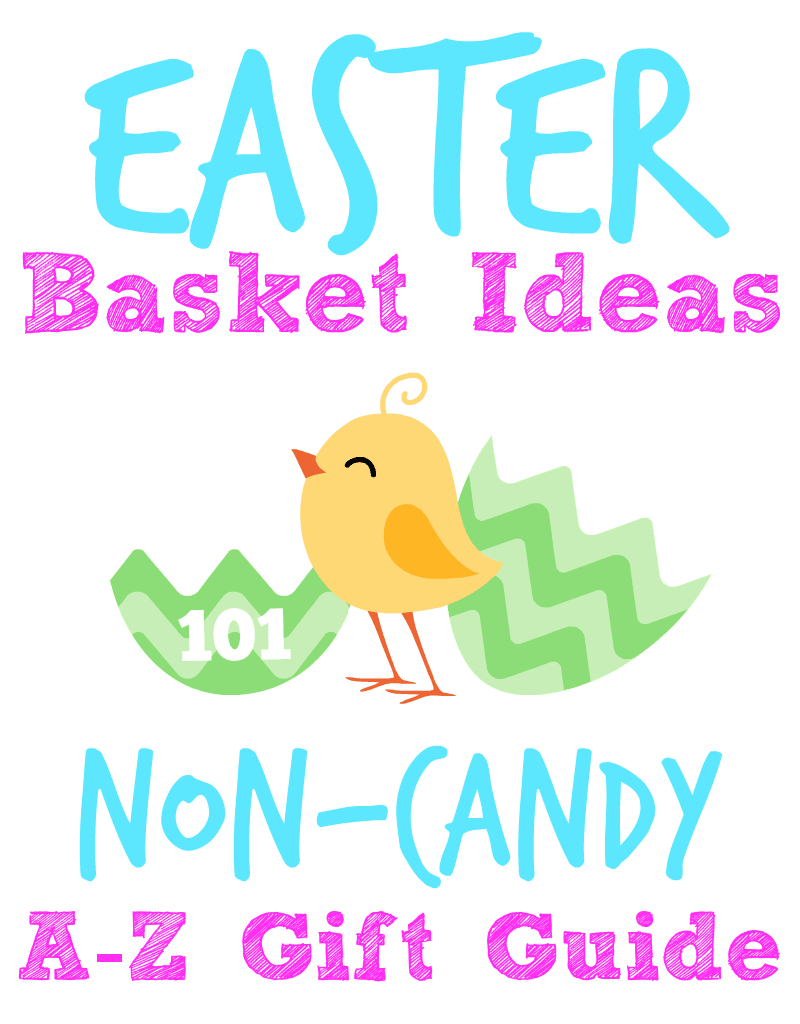 This post contains affiliate links.


This list is non-candy Easter Basket ideas for kids of all ages from babies to toddlers, tweens to teens. However, it is geared mostly towards kids ranging from 5 to 10.


If you are looking for more ideas for the older crowd be sure to check out our post on Easter basket ideas for tweens and teens.

Plus also we have a great gift buying guide for the younger kiddoes too at Easter basket ideas for toddlers and Easter Basket Ideas for Babies.


Non-Candy Easter Basket Ideas: A to Z Gift Guide


What can you put in an Easter basket besides candy?


A:

Animals (Stuffed and Plastic)
Art Supplies
Action Figures
Apron (cooking or art one)


B:

Books
Bubbles
Bath Toys
Bouncy Balls
Blocks
Bike Accessories
Barbie's
Bubble Bath
Baseball Cards


C:

Cars
Crayons / Colored Pencils
Coloring Books
Card Games
CDs (or gift "cards" for iTunes or music)
Cups (cool character ones)
Craft Kits


D:

Doll Accessories
Diary
Dinosaurs (small plastic ones)


E:

Erasers
Etch-A-Sketch (mini one)
Eggs (prefilled plastic ones)


F:

Frisbee
Flashlight
FlashCards
Feather Boas
Fidget Spinners




G:

H:

Hair Accessories
Hat
Hot Wheels
Harmonica
Hexbugs
Headbands


I:

Ink Pens (fun kid ones)
I Spy Books


J:

Jump Rope
Jacks
Jewelry (play or real)


K:

L:

Lipgloss
Loom Band Supplies
Legos
Littlest Pet Shop
Little People


M:

Markers
Movies
Mini Magna Doodle
Matchbox Cars
My Little Ponies




N:

Nail Polish
Notebooks (drawing pads)
Nerf Toys


O:

P:

Puzzles
Play-Doh
Pool Toys
Pajamas
Piggy Bank
Posters
Polly Pocket
Pencils
Pop Its


Q:

Quality Time (the best gift of all)


R:

S:

Silly Putty
Stickers
Sand Toys
Sidewalk Chalk
Shoes (flip flops or sandals for Spring/Summer)
Sunglasses
Slinky
Stamps & Ink
Silly String
Silly Bandz
Suncatchers




T:

Toothbrush
T-shirt
Temporary Tattoos
Travel Games
Transformers
Top


U:

Umbrella (fun kid ones)
Uno Card Game


V:

Video Games
View-Master (and slides)


W:

Watch
Watercolor Paint
Webkins
Washcloth (character ones)


X:

Y:

Z:

Zhu Zhu Pets
Zoobles
Zoo Tickets




I like to shop at Dollar Tree when I'm looking for Easter basket filler and stuffer items. They carry loads of the things I mentioned like coloring books, flashcards, puzzles, silly string, glow sticks, etc.


You can find so many great things at the dollar store.


Another great spot is Target's Bullseye's Playground and of course finding deals on Amazon as well.


More Easter Ideas you don't want to miss!