During this time of year, there are two staples that are always in my home, Rotel and Velveeta.


You can't have game nights without queso and my go-to queso is Rotel & Velveeta. When I make this I grab enough to make one of my all-time favorite winter soups, cheesy potato soup.


This creamy and cheesy Potato Soup Recipe is the perfect combination of flavors that makes this soup so delicious.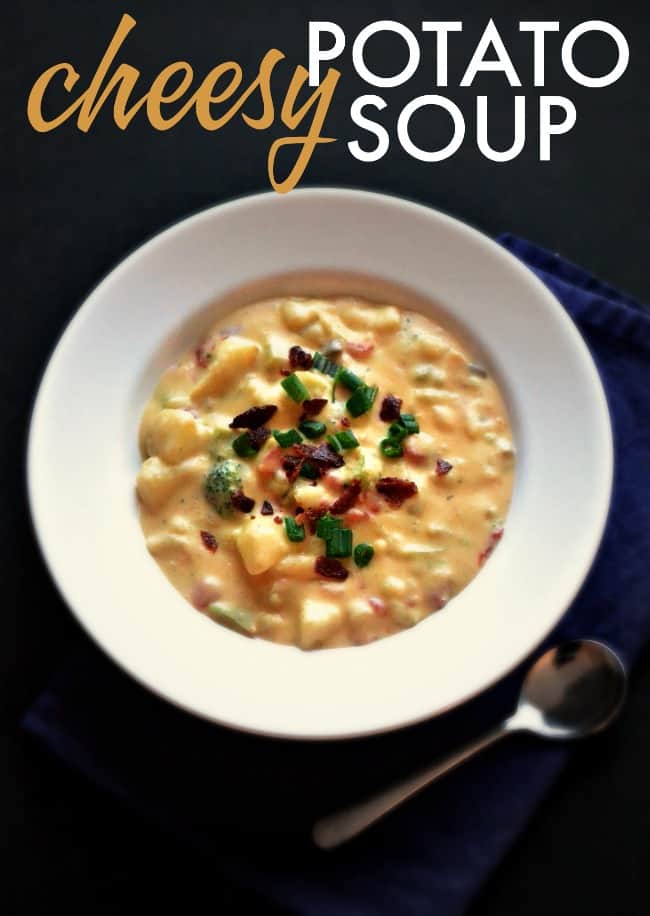 Not only is it incredibly amazing but it is also super easy to make in just one single pot (or it can also be made in the crock pot).


All it takes is around 30 minutes and a handful of ingredients to have this bowl of comforting bacon and potato goodness on your table.


It's the perfect family favorite and hearty meal for a busy cool-weathered night.




Why you'll love this recipe!


Takes only 30 minutes to come together.
Hearty and warm for a cold winter night.
Makes enough to feed a whole crowd, or to have leftovers.
It's creamy, cheesy, and delicious!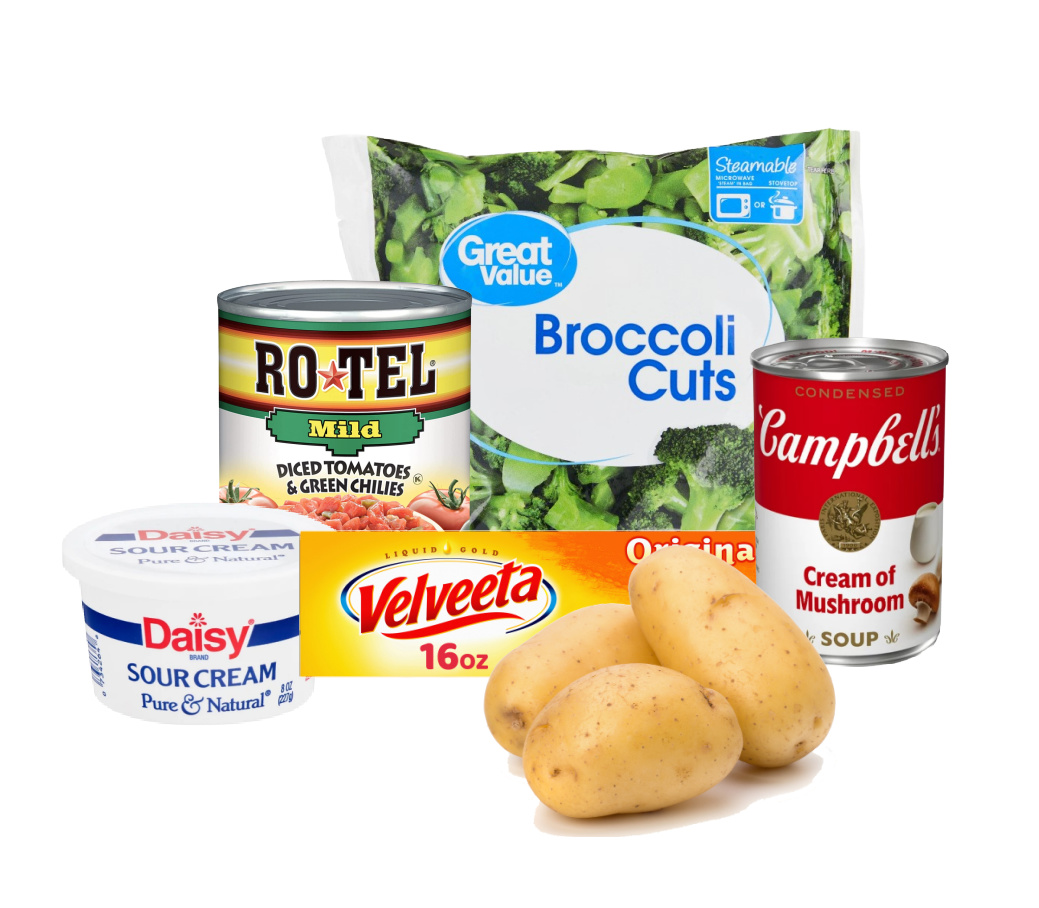 Equipment Needed:




Old Fashioned Potato Soup Recipe


Peel and cube your potatoes.


Boil the potatoes until tender. This will take approximately 30 mins.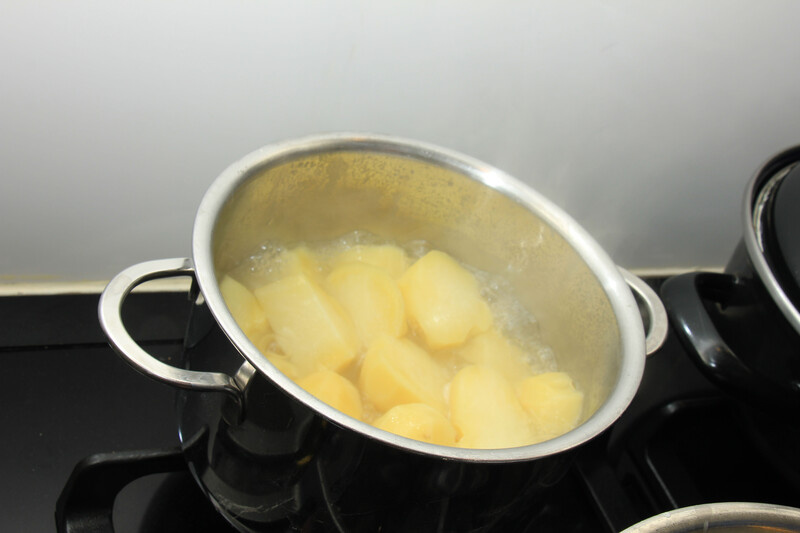 Steam your broccoli while you are waiting for the potatoes to boil.


I just buy a bag that you can steam in the microwave to save time. This is especially handy on a busy night.


Also while you are waiting, mix the rest of the ingredients together mushroom soup, Rotel, sour cream, and Velveeta and heat through melting the cheese.


Once the potatoes are tender, gently mash them. Do not fully mash into mashed potatoes!


Combine all of the ingredients in a large pot, stir and let simmer for approximately 10 minutes.




This recipe makes a huge pot so you will have plenty to entertain your guests or like us to eat for leftovers the next night.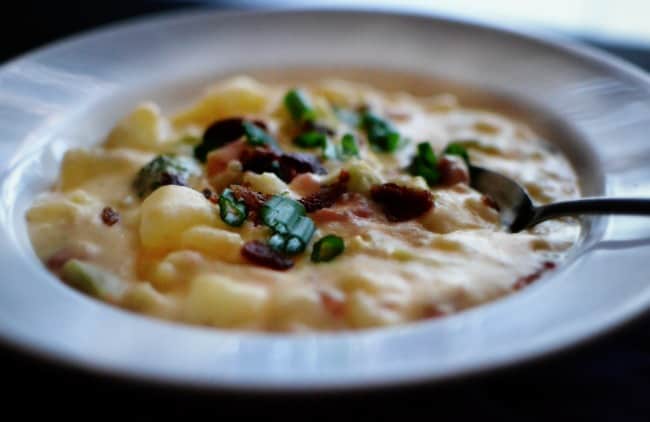 Tips for making potato soup:


Cut your potatoes into equal size pieces so that they cook at the same time. It is best to cut them around 3/4 to a inch cubes.


To make this soup even creamier, you can puree about half of it using an immersion blender or by transferring a portion of the soup to a blender, pureeing, and then stirring the pureed soup back into the pot.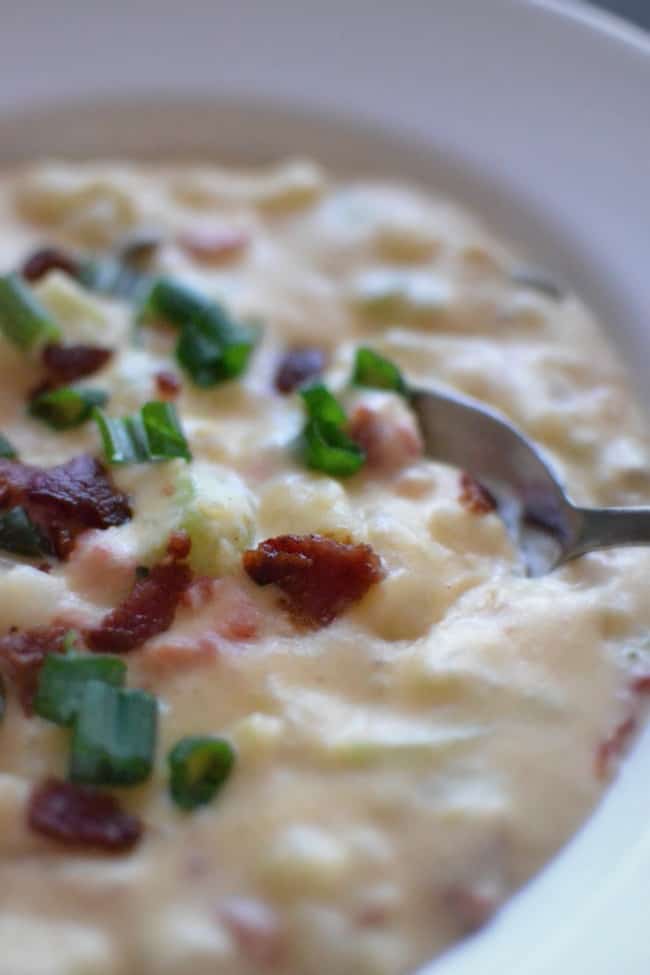 Can you Store this Potato Soup?
Yes, this potato soup can be stored for up to 4 days in the refrigerator. Be sure it's tightly covered in a plastic or glass container.
Can You Freeze Cheesy Potato Soup?
Yes, you can store this soup in freezer bags or containers.
Once you are ready to cook, defrost and whisk thoroughly while reheating on the stovetop.
Top with extra toppings for a complete dish.
It is important to note that because of the dairy in the soup, even though you can freeze it, it doesn't freeze very well. It is ultimately best when served fresh, or reheated within a couple of days.
What Potatoes are Best for Potato Soup?
Yukon golds are the absolute best for this potato soup recipe, they give you that creamy texture.
you don't have any on hand, red potatoes or good old Idaho russets will do just fine.
Want to print or save this recipe?