Easily customize your child's own Cookies & Milk Santa tray with a thrifted frame and some glitter Mod Podge.
A fun DIY to get your kids crafting this holiday season.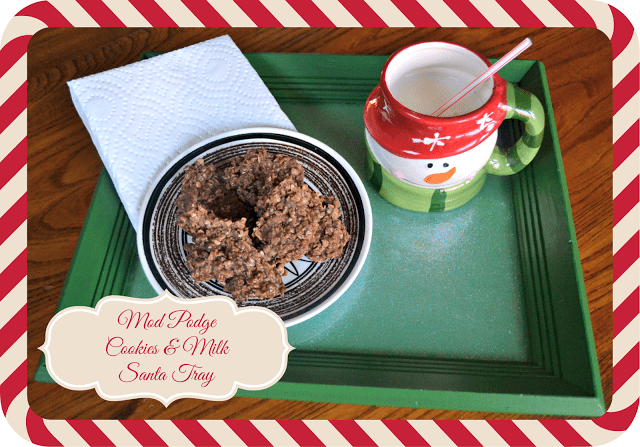 Supplies Needed:
(This post contains affiliate links.)
[easyazon_link identifier="B00DV91GBY" locale="US" tag="thgisli03-20″]Mod Podge Glitter[/easyazon_link]
[easyazon_link identifier="B00CHQ7IBO" locale="US" tag="thgisli03-20″]Mod Podge Brush[/easyazon_link] (optional, but works great)
Thrifted or New Frame
Paint
Paint Brush
Construction Paper
Tutorial Steps:
Step 1: Gather supplies.
Step 2: Remove the frame backing and brush on the Mod Podge straight to the glass. The Glitter Mod Podge does best with several coats. I coated the glass 5 times before I had just the right glitter look. Once your Mod Podge dries you are ready to paint your frame.
Step 3: Paint your frame! You can use any color of your choosing but some great colors for Christmas are obviously red and green. I chose to use green.
Step 4: Now that your paint is dry you can flip over your frame and place a piece of construction paper behind the Mod Podge and then replace the backing. I found that the paper allowed the glitter to really pop. You can again use the color of your choosing. I wanted to keep it monochromatic and went with green on green.
Step 5: This is optional but since you only use the Santa tray one night during the entire season I think it would be fun to either use a dry erase marker or cut vinyl and do a Christmas silhouette on the front of the glass. It would look great with a vignette on the mantel and it can be erased or peeled off for Christmas Eve.
If you enjoyed this Cookies & Milk Santa tray craft then you also might like…
---