We have slowly been redecorating our office. I showed you the bookcases we made and mentioned that we would be building us a desk too. Here it is!!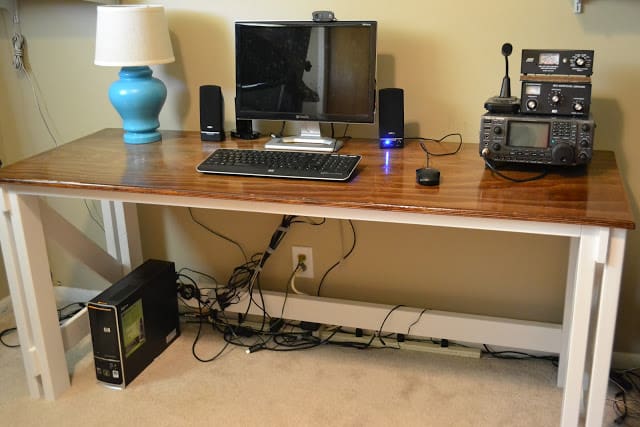 Don't mind the cords. We haven't had any free time to reorganize everything yet. We finished the desk and got it moved in the house around 10pm and pretty much just threw everything back on the desk, messy cords and all, just so that I would have it for blogging. I have my netbook but I really dislike using it for blogging. Hopefully this weekend we can finally get the cords all nice and organized.
I finally got my lamp put somewhere too. 🙂 Though I haven't decided if it's too short for this long desk. We'll see if it ends up staying there or finds a new home.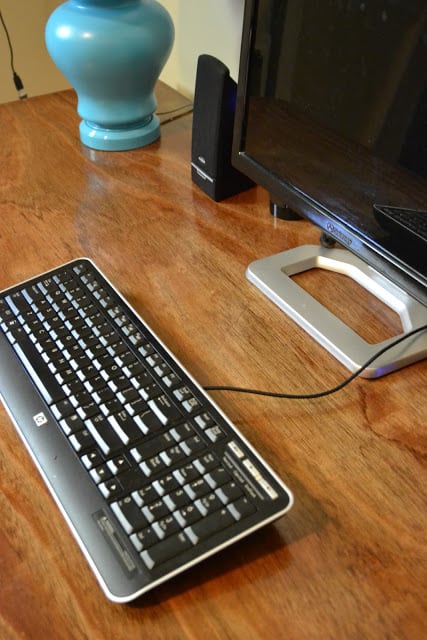 I love all of this room. Why didn't I have this when I was in college? I have plenty of room for books now. 🙂
So the office has been a slow process. We still aren't done. I had shelving up with the old desk which is going to be removed and hopefully hubby will decide to build him a little side table for his ham radio (all that "junk" on the right). haha!
We followed these plans from Remodelaholic if you're interested in building your own. We tweaked ours just a little, a little more support underneath the top but overall the concept was the same. The top is done in Minwax English Chestnut and we spent around $50ish on the whole project (minus paint/stain cost).
Do you have any projects going on in your home?