Your holiday cookie game is about to be strong with these easy Easter pinwheel cookies that are beyond mesmerizing with their swirl but also so simple to make.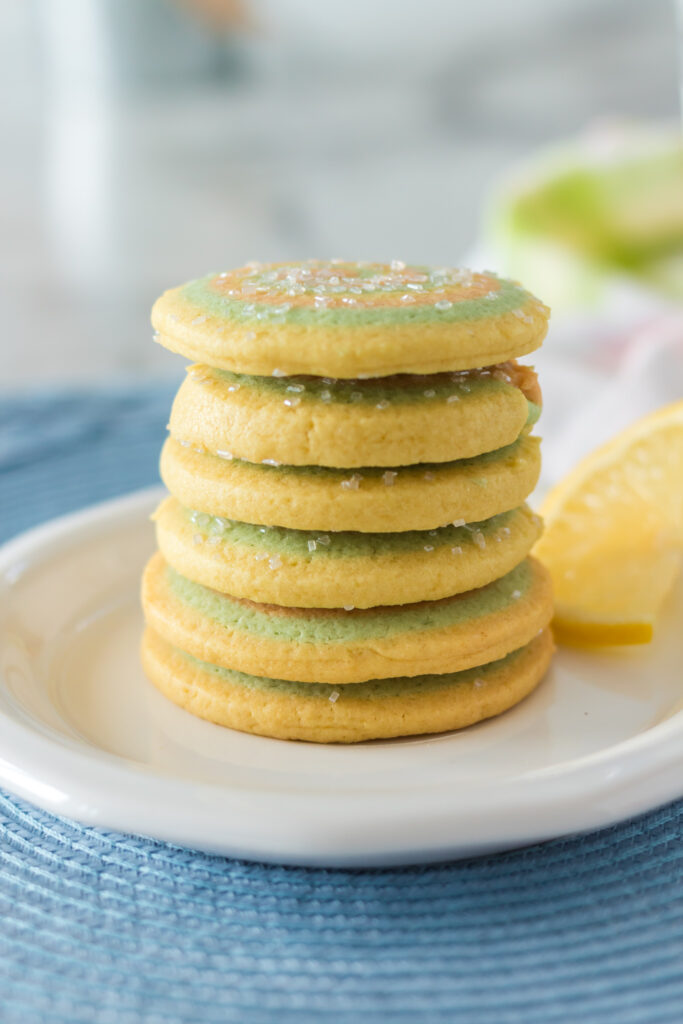 What are pinwheel cookies?


Pinwheel cookies are a classic old fashioned swirled sugar cookie.


A recipe that seems a lot harder than it really is but, in reality, they are pretty darn easy to make.


Plus they make the perfect festive cookie for any holiday because you can interchange the dough with different fun colors.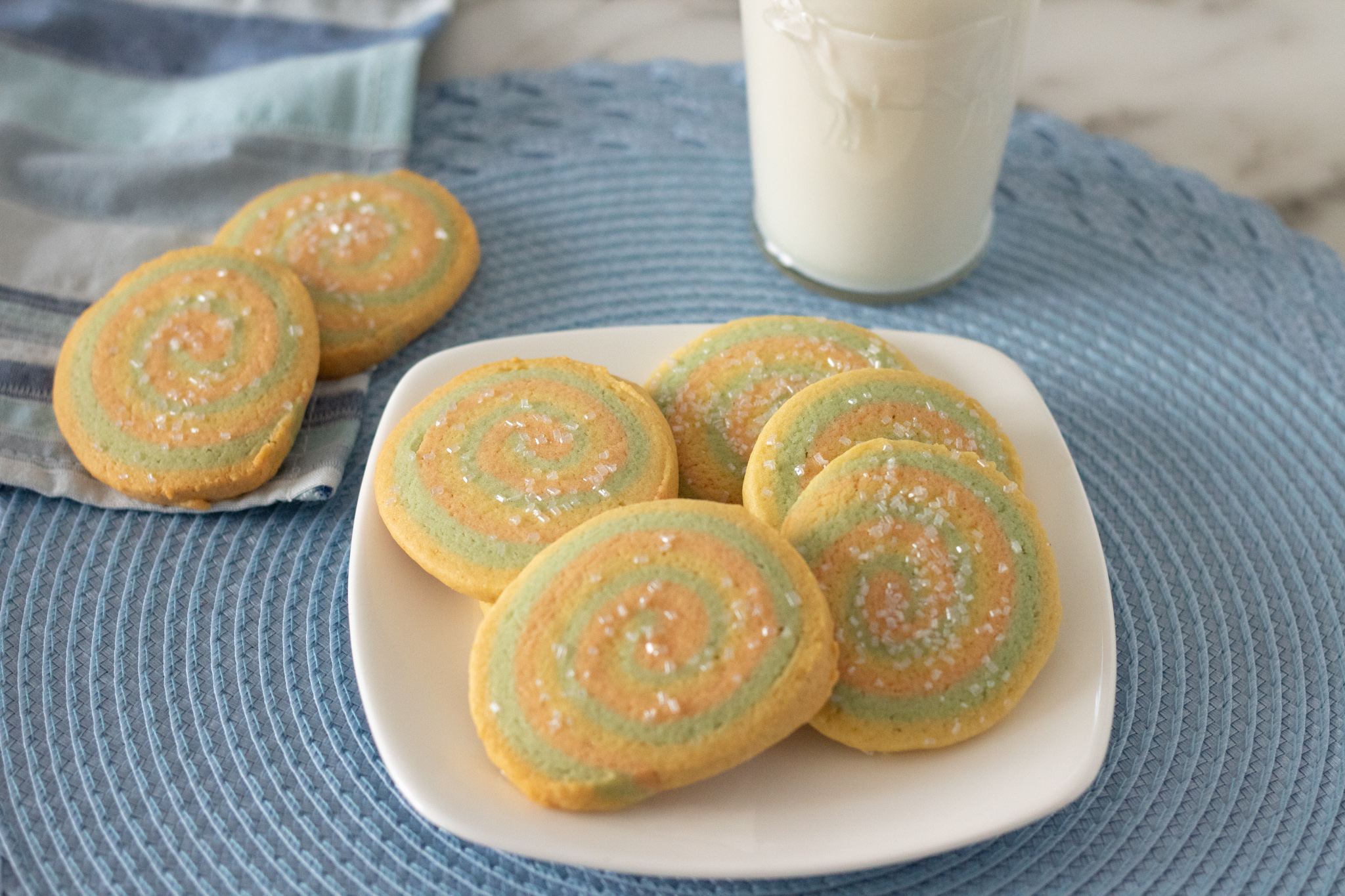 Ingredients you will need for Easter Pinwheel Cookies


2 cups all-purpose flour
1/4 teaspoon salt
1/2 teaspoon baking powder
12 tablespoons butter (unsalted and at room temperature)
3/4 cup sugar
1 teaspoon lemon extract
1/2 teaspoon orange extract
1 large egg
Food coloring: 2 drops yellow for yellow, 2 drops yellow and one red for orange (or if you have orange food coloring, use 2 drops) and 2 drops green for green.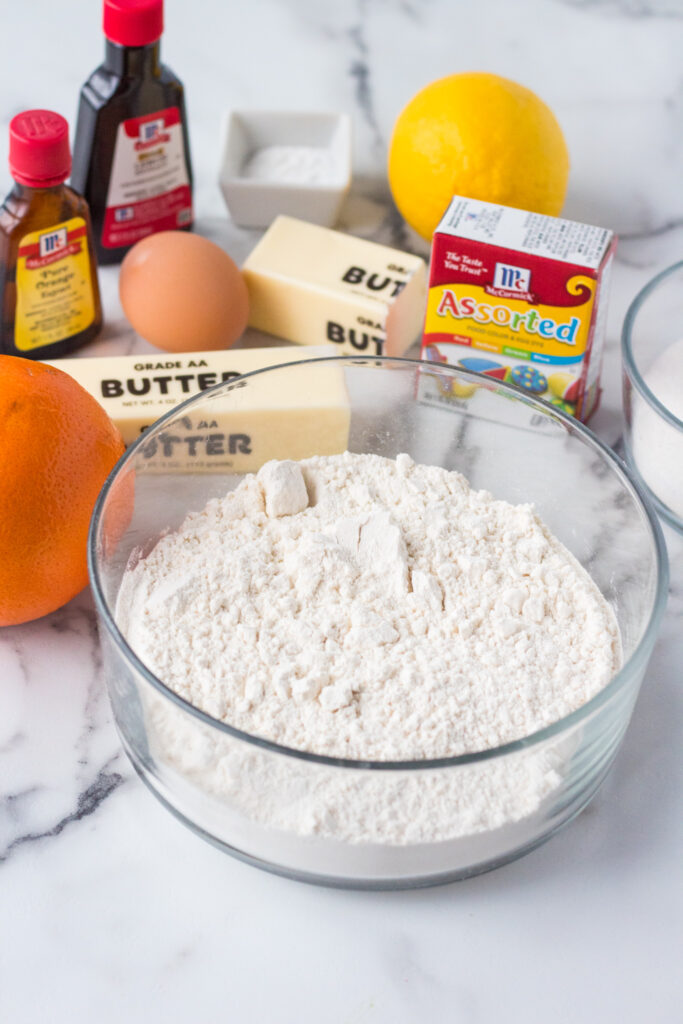 Directions:


Combine flour, baking powder, and salt. Set aside.


In a large mixing bowl, beat together the butter and sugar until fluffy.


Add lemon and orange extracts and egg to the bowl and mix well, be sure to frequently scrape sides of the bowl.


Add dry ingredients to wet mixture and combine well.


Remove dough and split into 3 equal pieces.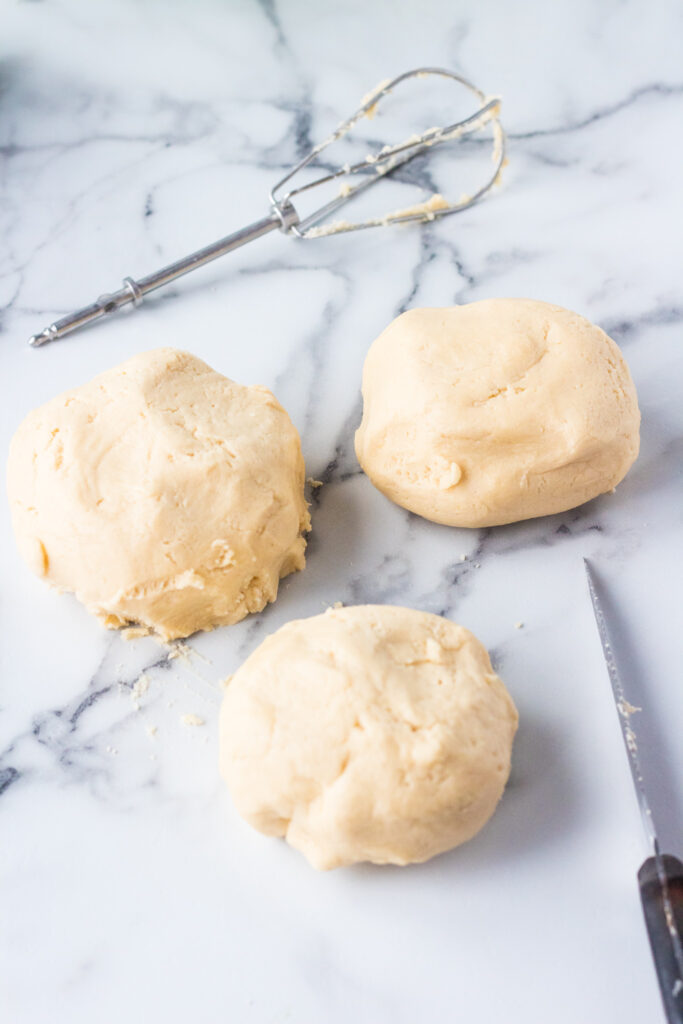 Place one piece back into a mixer bowl. Make a thumb indentation in the center of the dough and place one color into the center.


Mix well until the color is fully incorporated into the dough. At this time you can add more color if desired. Repeat this step with the remaining two pieces of dough.


Wrap each piece in plastic wrap and chill for 1 hour.


How do you roll Pinwheel Cookies?


Remove dough from the refrigerator and place a sheet of parchment paper on a flat surface. Place one dough square in the center of the parchment sheet and cover it with another sheet of parchment.


Roll dough into a 10 in. square.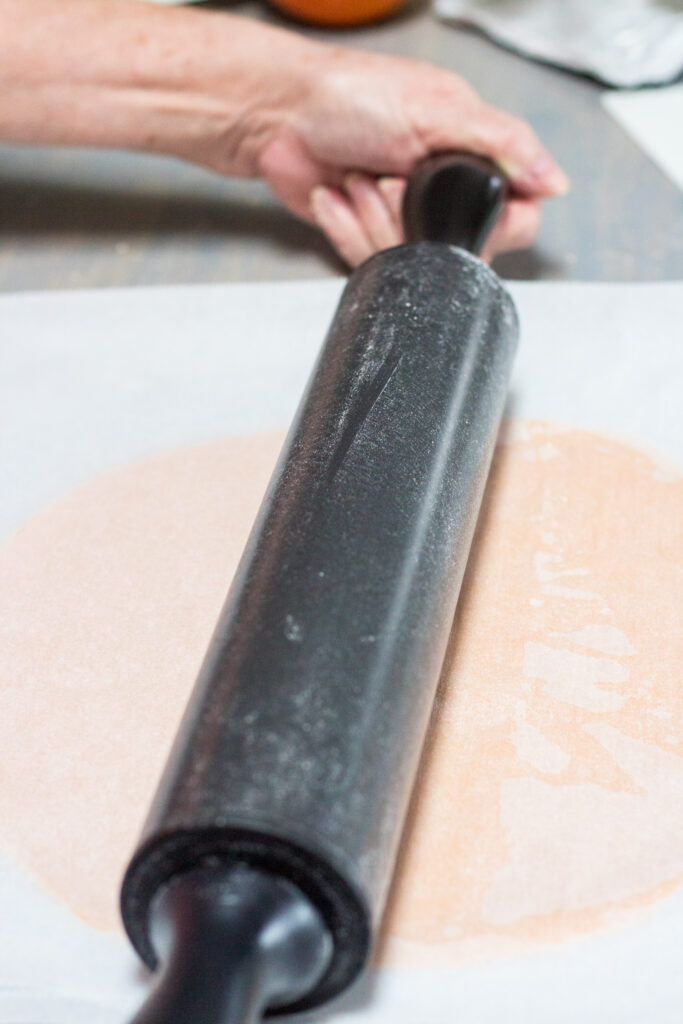 Repeat with the remaining two dough squares.


Leave parchment paper on and chill for another 1/2 hour.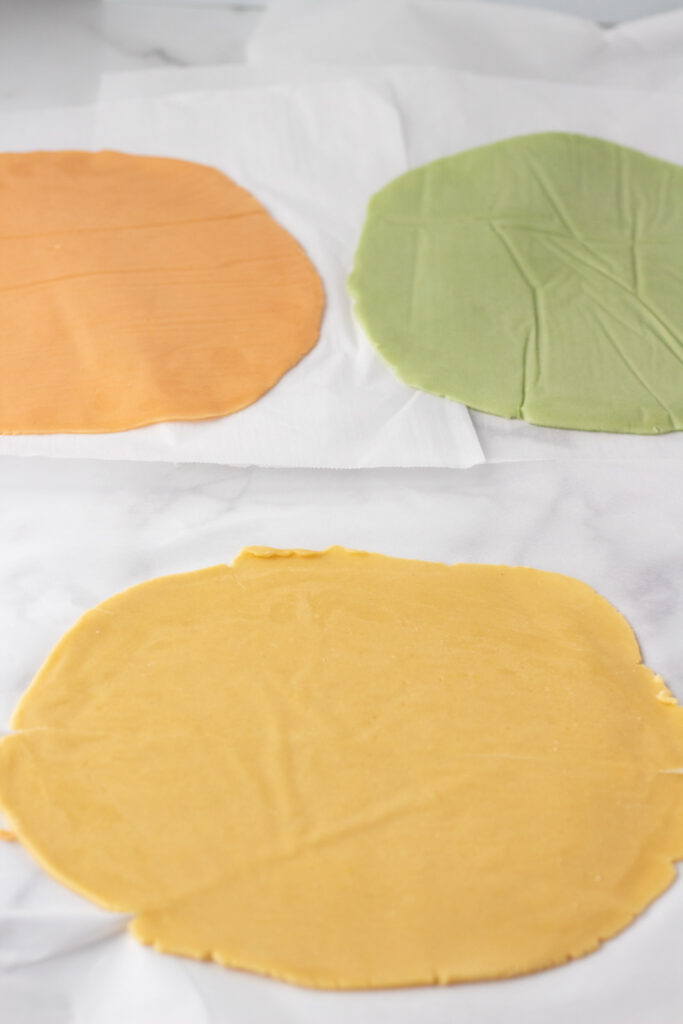 Remove dough from the refrigerator. Carefully remove parchment paper from orange dough and place it on a flat surface. Place green dough on top of yellow and finally, add orange to the top.


Starting at one end, carefully roll dough trio into a log shape. Pinch seam together and trim ends of logs.


Wrap dough log in plastic wrap and chill for 1 hour.


Remove dough from the refrigerator and preheat oven to 350 degrees.


Using a sharp knife, cut the log into 1/4 in. pieces.


Place cookies on parchment covered cookie sheet, approx. 2-1/2 in. apart.


Sprinkle tops of each cookie with coarse sugar and bake for approx. 13 min. until firm.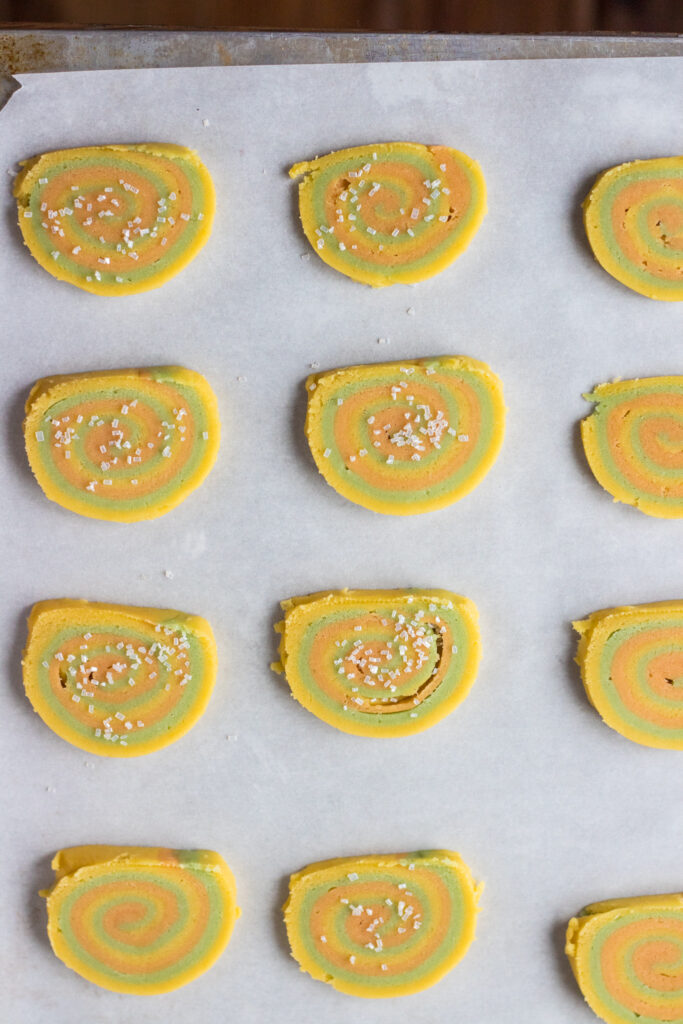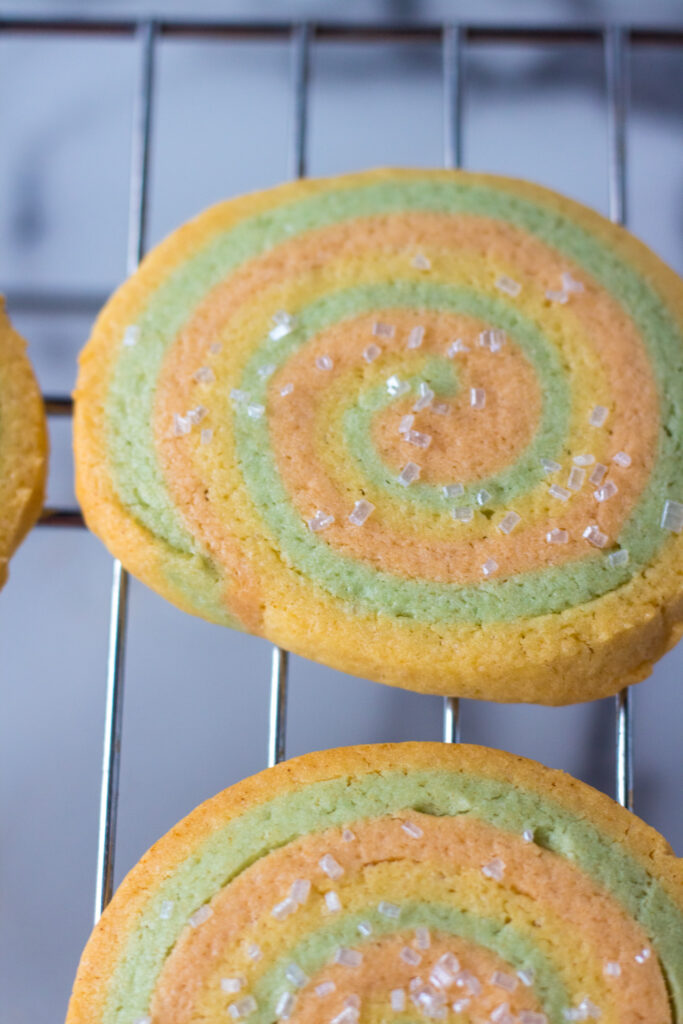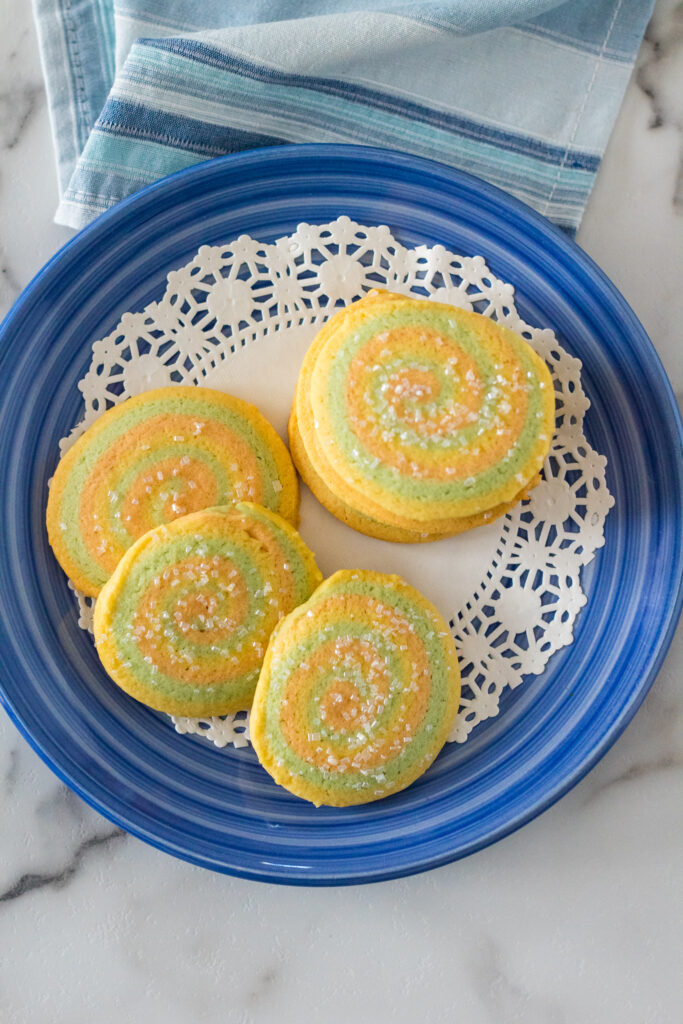 Want to print this recipe?




You can share these Easter Pinwheel Cookies with your kids and get them in on the fun baking action.


It is the perfect activity to do as a family and you get rewarded with a yummy treat in the end.


If you enjoyed these old fashioned pinwheel cookies you might also like…


No-Bake Chocolate Oatmeal Cookies

Soft and Chewy Peanut Butter Cookies

Easy Easter Desserts